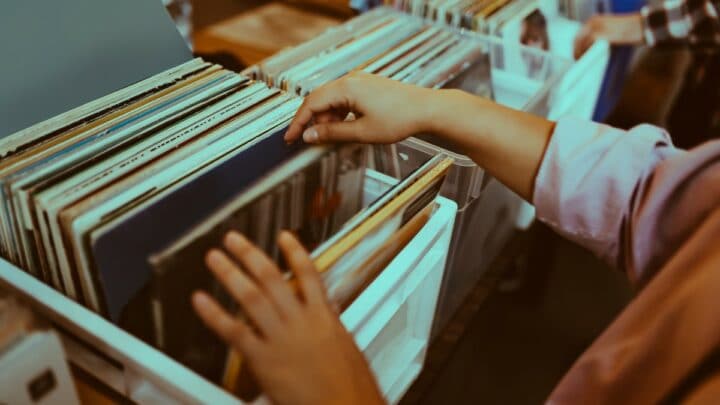 Looking to explore the many record shops London has to offer? These are our favourite spots to shop records in the capital.
While there's no denying that digital streaming is king, vinyl records are back in fashion – and there are plenty of places in the capital to get your record fix.
Whether you're looking for a new album or want to rediscover a vintage gem, London's got a record shop for you.
Read on to discover the best London record shops…
The Best Record Shops in London
Sounds of The Universe
Sounds of The Universe has been providing groovy records to the people of Soho for over twenty-five years. It's one of the best record shops central London boasts.
It started when owner, Stuart Baker, founded its company, by selling the records from a stall in Camden. He later moved into a shop in Soho, and became a part of the vibrant record shop scene.
Sound of The Universe is one of the best record shops to visit for cross-cultural music. In fact, Baker himself established Soul Jazz, a label that produced cross-cultural connections between jazz, reggae and soul.
The staff at Sound of The Universe are incredibly helpful. Whether you're looking for a techno beat, or seeking out a vintage jazz record, you're sure to find it at Sound of the Universe.
In fact, this record store is incredibly popular with touring celebrities, with one of the most notable guests being Prince. Yep, this is one of the greatest record shops that London has to offer.
Honest Jon's Records
Portobello Road
You can pretty much trust that if a record shop has been around since the '70s, then they understand music and vinyl. Honest Jon's Records has been around since 1974, providing the local community with the best music finds and records.
The record store was founded by sociology lecturer John Clare, and then in 1992, he passed the store on to Mark Ainley and Alan Scholefield, who expanded the record store to include music from all around the world.
This is a record store with a ton of history and remains an important part of London's record store scene. It's one of the best record stores to find jazz, experimental music, and reggae.
There's a collection of old and new records at Honest Jon's Records, and it's definitely worth a visit.
Rough Trade East
Rough Trade is one of the most popular record stores in the whole of Britain, making Rough Trade East a popular stop for Londoners. When it comes to London record shops, this one is the best.
Rough Trade offers some of the best indie LPs in London. If you're on a hunt for the newest and coolest LPs, then Rough Trade is the place to go.
Not only that, but Rough Trade often has tons of great gigs, so it's the perfect place to check out new music while buying a record. Plus, they even have a fair trade coffee café, making it the perfect record shop in all of London.
From punk, to electronic, and experimental – Rough Trade will always supply the latest and greatest LPs.
Phonica Records
Soho
Phonica Records opened its record store in 2003, during a time when record shops were closing rapidly in Soho. They are game-changers in the record store industry, and are committed to providing Londoners with the best dance tracks in all of Soho.
In fact, Phonica Records is known to regularly host in-store parities, and in-store live streams, unifying dance music lovers all over the country.
If you're looking to discover new dance music — from all across the world, then you need to visit Phonica Records.
Flashback Records
Islington, Topsfield Parade, and Shoreditch
Flashback Records is one of the best record shops in Islington and has been there for over twenty years. They also have stores in Topsfield Parade, and Shoreditch. Yep, you can find Flashback Records pretty much anywhere in London.
Why? Because they sell some of the best records, and their customer service is fantastic – making it one of the top independent record shops London has.
These are people who understand music, and are known for their vast varieties of vinyl selections. There are incredible hip hop, disco, and even soundtracks to be found at FlashBack Records.
If you're looking for a record, you'll probably find it here – along with records that you could only dream of!
Sister Ray
Soho and Shoreditch
Sister Ray is one of the most exclusive and reliable record shops in London, and has existed since 1987. Quality is never in question, nor is the staff's expertise on vinyl, and music.
Sister Ray rarely ever sells their records online, because they believe in the old fashion method of finding gold in the record store.
While a lot of record shops might sell their best buys online, Sister Ray lets people find the records for themselves, and truly appreciate the authenticity of record shopping.
You can pretty much find any genre at Sister Ray – whether that's disco, indie, punk, or even football records – this record store has it all.
Jelly Records
Lower Clapton
Jelly Records only opened recently, but it's become very popular with local vinyl hunting Londoners.
This record store hosts the coolest vinyl, supplying everything from soul, groove, Latin, disco, and jazz. It's one of the best record stores for old fashion vinyl hunting and is packed with treasured vinyl records.
Don't worry, though, because Jelly Records also stocks the latest released records, so they stock everything a music lover could ever dream about.
If you are seeking out rare second-hand records, Jelly Records is the place to visit.
Kristina Records
Kristina Records sells some of the coolest experimental records in London.
There are tons of incredible records, with everything from ambient drones, avant-garde jazz, and even extreme techno finds. Plus, there are tons of disco records at Kristina Records too, including extremely rare original pressing records.
There's no way you'd visit Kristina Records without buying up a new vinyl. It's definitely worth checking out.
World of Echo
Columbia Road
Looking for the best jazz record shop London offers? Look no further. This is a tiny record shop, in the heart of Columbia Road. Interestingly, Columbia Road is known for its amazing flower markets, but within the madness of the petals, is this small record shop.
While it may be a small shop, it stocks tons of records – both second-hand records, and newly pressed records.
World of Echo sells mostly jazz, art-rock, and electronic, with unique albums on offer. It's a great record shop to visit, and while you're at it – you can visit an independent flower shop for some fresh roses!
Palace Vinyls
Upper Norwood
Palace Records has been trading vinyl records for 25 years, and now stocks over 40,000 records. Palace Records is the place to go for electronica and dance music.
With old and new sounds, Palace Records knows the very best of the history of electronica and dance, as well as the latest music releases. While they have an online website, the store is seriously cool – in fact, it's among the best record shops London boasts.
It's definitely worth visiting Palace Records. The staff is incredibly helpful, and always willing to help music lovers find the perfect record. If you're looking for the latest releases, they're very helpful and up to date with the recent trends.
Zen
Broad Ln
Zen is one of the top reggae record shops London boasts, selling the very best reggae and soul vinyls.
The store is extremely refined, with everything being planned out and detailed.
While this is a store that you can rummage around, it is incredibly organised, which makes finding records super easy.
The staff has an incredible knowledge of reggae and soul, so if you're looking for new vinyl recommendations, Zen is the place to go.
Sounds That Swing
Sounds That Swing are experts in rockabilly and blues. This store has been selling rockabilly and blues records since 1995, becoming a staple record store in Camden Town.
There are tons of fantastic records here, including rockabilly and blues memorabilia.
This is a super cool niche record shop, and if you struggle to find rockabilly and blues records, then you need to visit Sounds That Swing.
Yo Yo Records
Hackney Road
Yo Yo Records is a newly established record store in London.
They primarily specialise in U.S. original vinyls, as well as vintage pressings.
Don't be fooled, however, Yo Yo Records sells a huge variety of records — from soul, jazz, fusion, Latin, and even gospel.
Yo Yo Records has every type of genre you could look for. It's great for anyone looking for a new record, a rare vintage record, and even an original pressed record.
Yo Yo Records is a staple for music lovers – it's our favourite record shop London has to offer.
The London Record Store Guide: Map
Looking For More London Shopping Guides?