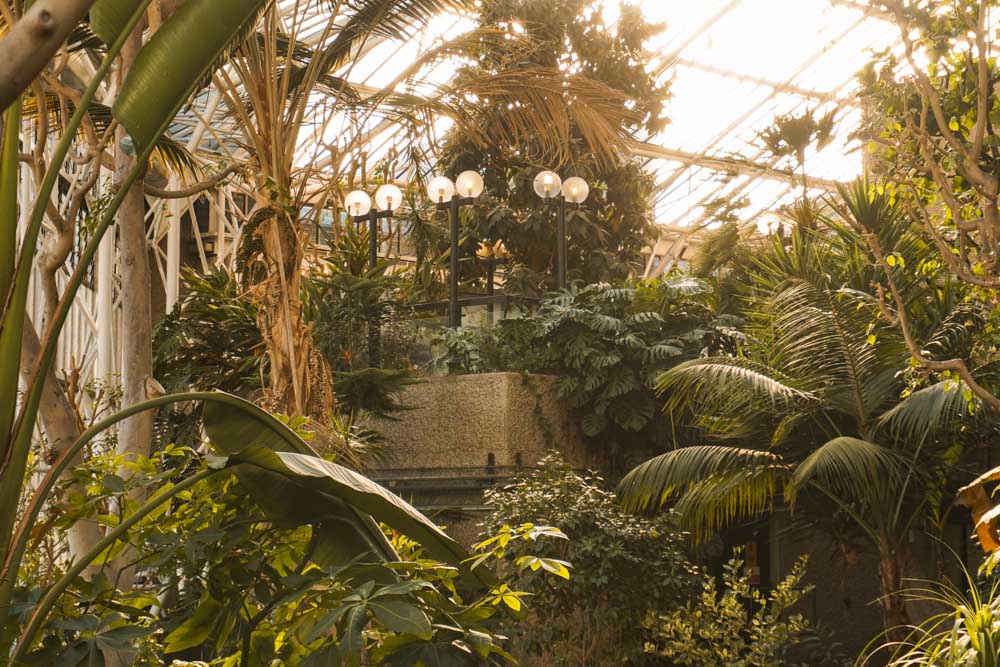 Our guide to London's so-called 'ugliest building'. The history, the brutalism and what's good to do at The Barbican Centre.
The Barbican Centre, whatever you may think of it, is a London icon. In its short existence (compared with much of London's other architecture) it's become a hub for hangouts, the home of the London Symphony Orchestra, a poster child for Brutalism, stage for some great theatre – the list is exhaustive.
We love it, and so we thought we'd write you a guide to the place. Wondering what's cool at The Barbican Centre? Or why it's so special in the first place? Read on to find out…
The Barbican Centre Today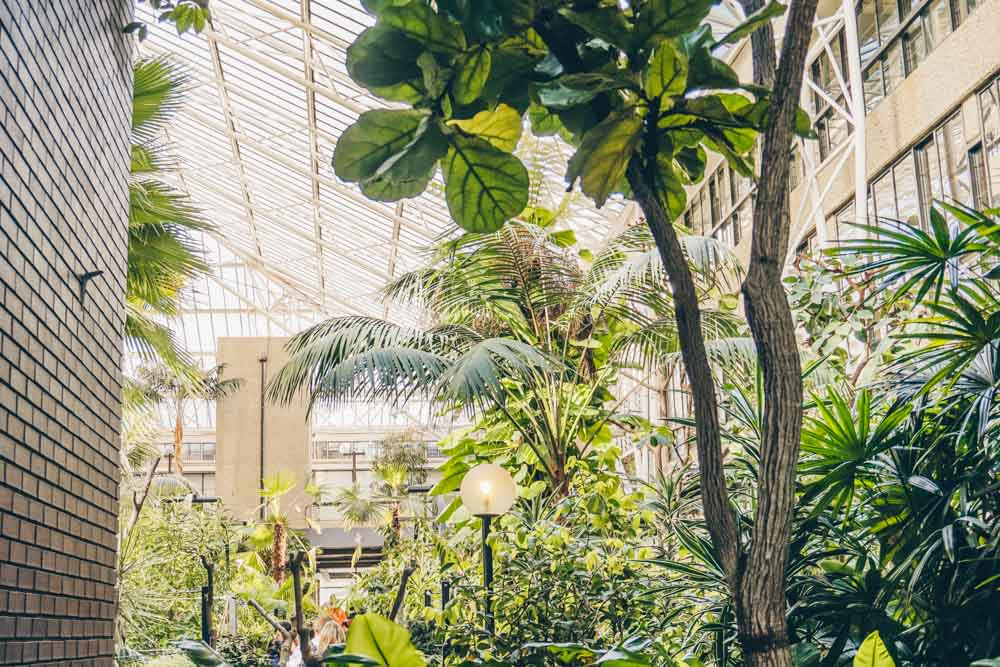 The Barbican Centre is a London hotspot. People head there on a daily basis to do everything from eating dinner to watching musical performances, hitting the cinema, or exploring the estate's architectural history.
The Barbican Estate is also home to around 4000 people. That's spread across 2000 apartments, most of which are owned by the tenants.
The Conservatory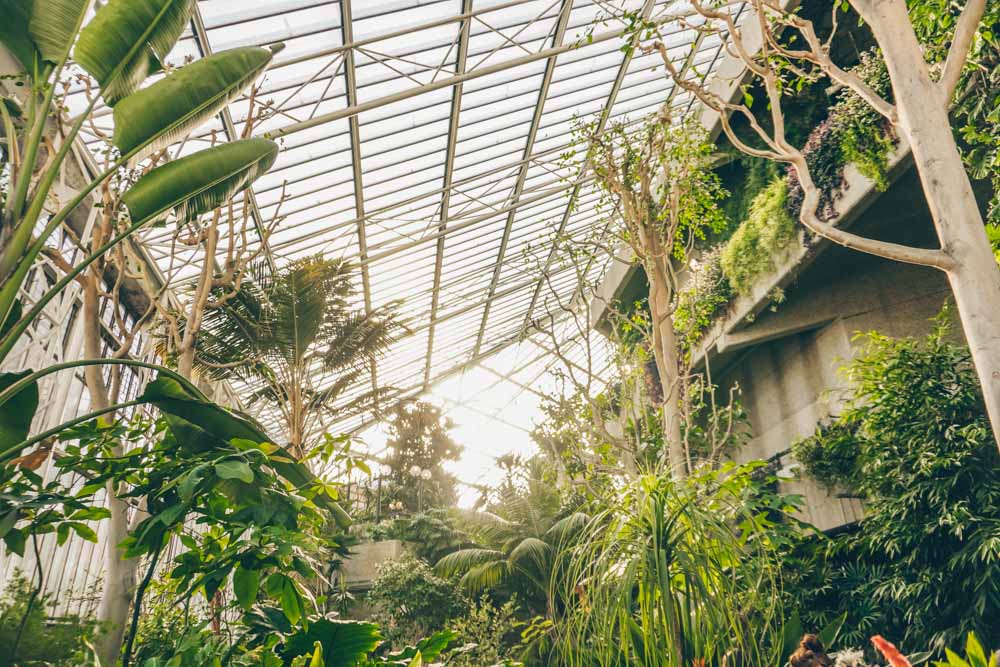 The Barbican Centre Conservatory is one of the estate's hidden gems. Not many people seem to know about it, but everyone gets pretty excited when we tell them about what's there.
It's basically a giant greenhouse attached to the side of the building. Stunning greenery makes the space its home, in places creeping up the brutalist terraces. It looks amazing and could be a vision of what our cities would look like if nature reclaimed them.
Best of all, it's totally free. You'll need to book a slot though, and you can do that here.
The Concert Hall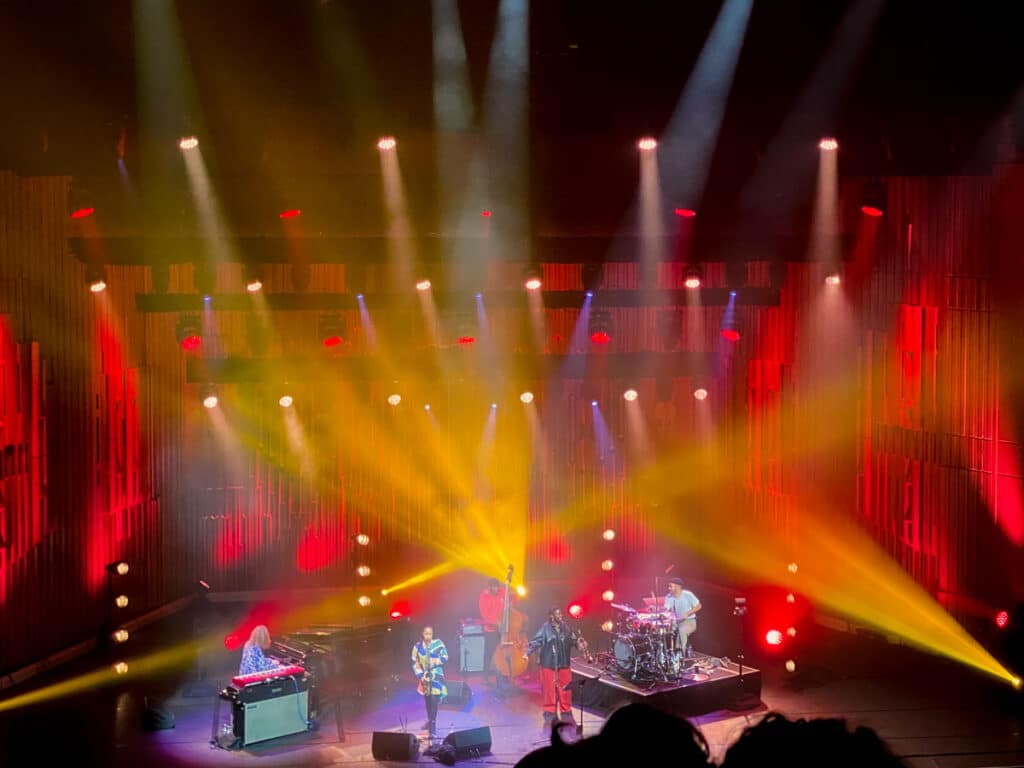 One of The Barbican Centre's main draws is its concert hall. This is the home of the London Symphony Orchestra. They also put on regular concerts from other internationally acclaimed artists and orchestras.
You can see some great jazz here among other things. It's worth keeping an eye out for what's upcoming. You can also sign up for their newsletter for information on future acts.
Barbican Arts Centre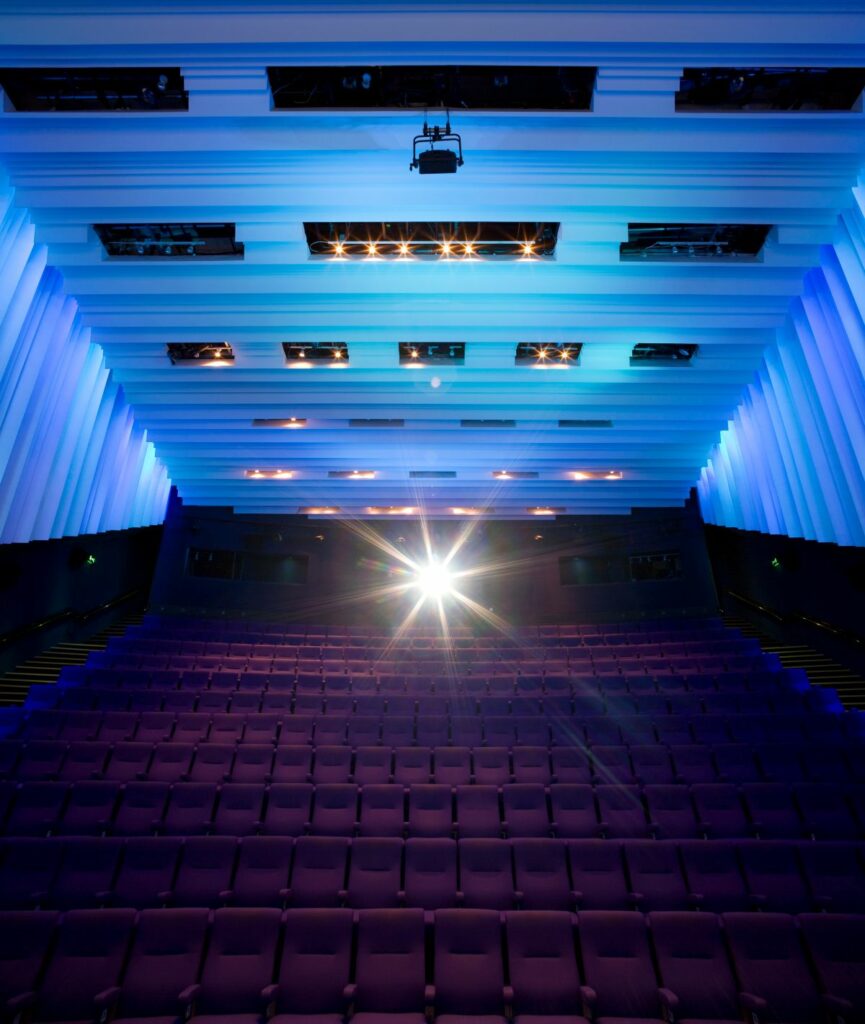 More than just doing music and great hidden conservatories, the Barbican also lays on cinema screenings and theatre. They've also got heaps of other talks, workshops and cool events you might be interested in attending.
These cover a range of topics too broad to cover in full here but highlights include architectural tours of the estate and ever-changing exhibitions by notable artists.
You can see everything that's on now and coming up here
History of The Barbican Centre
The Barbican Centre's history is way wayyy older than you think. It might look like a very modern building but – would you believe it – the Romans (yes those 2000-year-old Romans) have a hand in this story.
That hand is present in the centre's name: Barbican. Back when London was Londinium, Barbican was Barbecana, which in Latin translates to something like 'fortified outpost' or 'gateway'. And that's exactly what was here – It was later known as Cripplegate, but that's a story for another day.
Building Barbican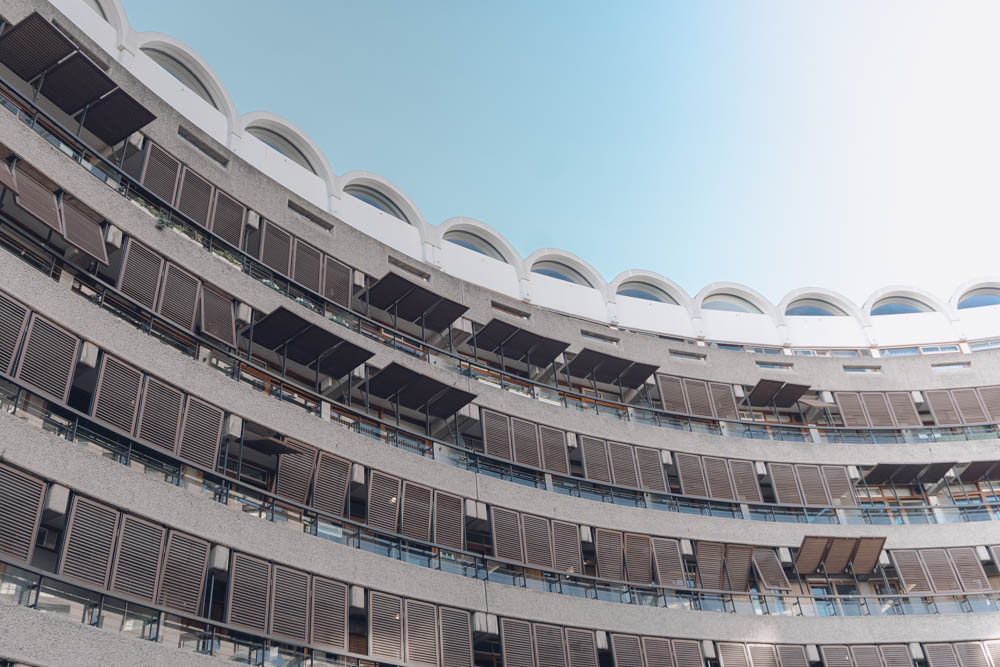 The area known as Barbican was bombed to high hell during the war. There was almost nothing left standing. By 1952 the local government was starting to think about what to do with the bombsite and after five years of discussion decided to build residential property on it.
The decision was, in part, a response to concerns that the population of the City of London was dwindling after the war. In 1951 only 5,324 lived there. To illustrate just how widespread the destruction was, the total population of Cripplegate was 48.
Surely a nice swanky housing estate would solve that problem.
In 1957 plans were proposed, and by 1965 (we guess things moved a little slower back then) construction had begun. The build took 11 years.
A common misconception about the Barbican Estate is that it was designed as low-cost social housing. Its actual target market was middle to upper-middle-class folk.
Why So Special?
The team brought on to design the place was architectural firm Chamberlin, Powell and Bon. The Barbican Centre would go on to be their most notable project, though they also designed the nearby Golden Lane Estate.
They opted for a Brutalist design – a style popular in post-war Britain that emphasises the textures of materials and a sparing use of decoration, instead creating striking structures through bold construction designs – think all those hard concrete lines and sturdy, solid pillars.
The style has a reputation for being a hate-it-or-love-it type thing, but whatever you think about it, The Barbican Centre has become a textbook example because of its scale and ambition.
Another aspect of city planning popular in post-war Europe was the concept of an estate – a fairly novel idea at the time – where you could have shops, theatres, community spaces and housing in one place. That's why the Barbican Centre has so much going on all the time.
As a nod to its importance, The Barbican Centre was made a Grade II listed building in 2001.
The Barbican Centre: Practical Information
Address
The Barbican Centre, Silk Street London, EC2 United Kingdom
Getting There
Your best bet is to take the tube right there. Barbican has its own underground station. It's on the Circle, Hammersmith and City and Metropolitan Lines. Moorgate is also very nearby and adds a Northern Line option.
Touring the Barbican
This is an impressive building with a great history. If you want to know more, you can join tour groups that'll take you around and show you what's what. The Barbican Centre organises these themselves. You can check upcoming dates here.
If you'd like to know more about Brutalism these folks at Brutalism for Beginners do some great tours too. Check their website for more information.
The Barbican Centre London: Map