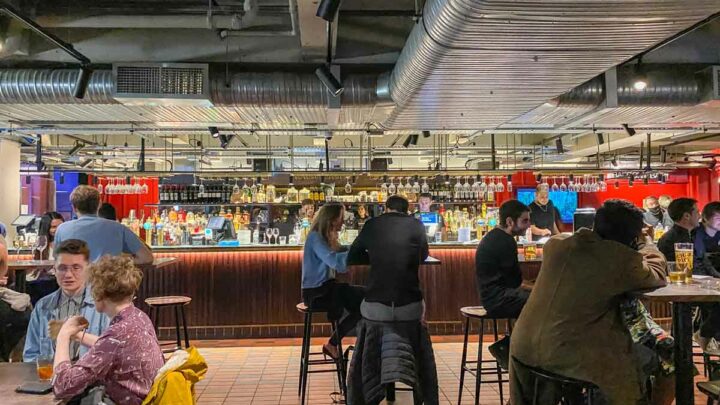 Waterloo might not be the first area you think of when you think of cool bars in London, but there are a lot of them… if you know where to look. Discover the best bars in Waterloo with this insider's guide.
Whether you plan to stop in for an after-work drink or are looking for a great night out with the gals (or guys) on a Saturday night, there are plenty of great bars around Waterloo.
But how do you avoid the aimless wandering around trying to find said bars? Easy – you read this guide first.
Best Bars in Waterloo
Bar Elba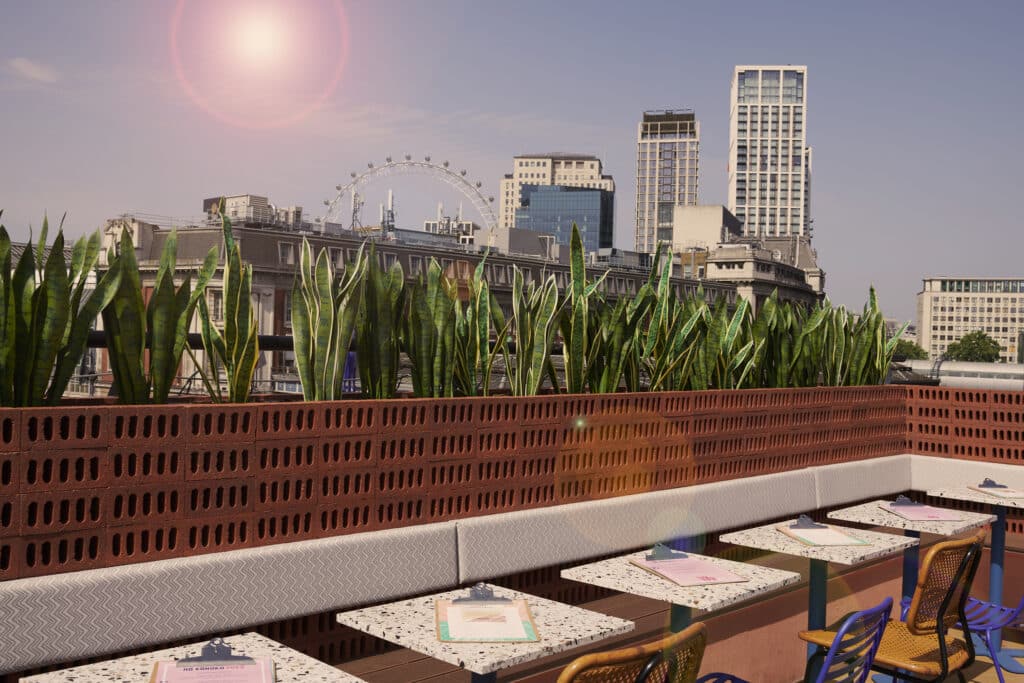 Undeniably one of the more popular rooftop bars in London's Waterloo district, Bar Elba is located within walking distance to Waterloo Station. There is shelter over the rooftop seating, so it's a great place to visit almost any time of the year.
The drinks menu is extensive, offering everything from your classic wines and beers to frozen cocktails and Skittles-infused vodka shots. The bar is a favourite spot for everything from birthdays to hen parties: you name it, and Elba has probably hosted it.
But you don't have to wait for a big bash to enjoy Bar Elba. Book a table for your group and enjoy a mimosa brunch, afternoon cocktails, or midnight drinks.
There's also a seasonal ice rink to try out before the shots appear.
Tonight Josephine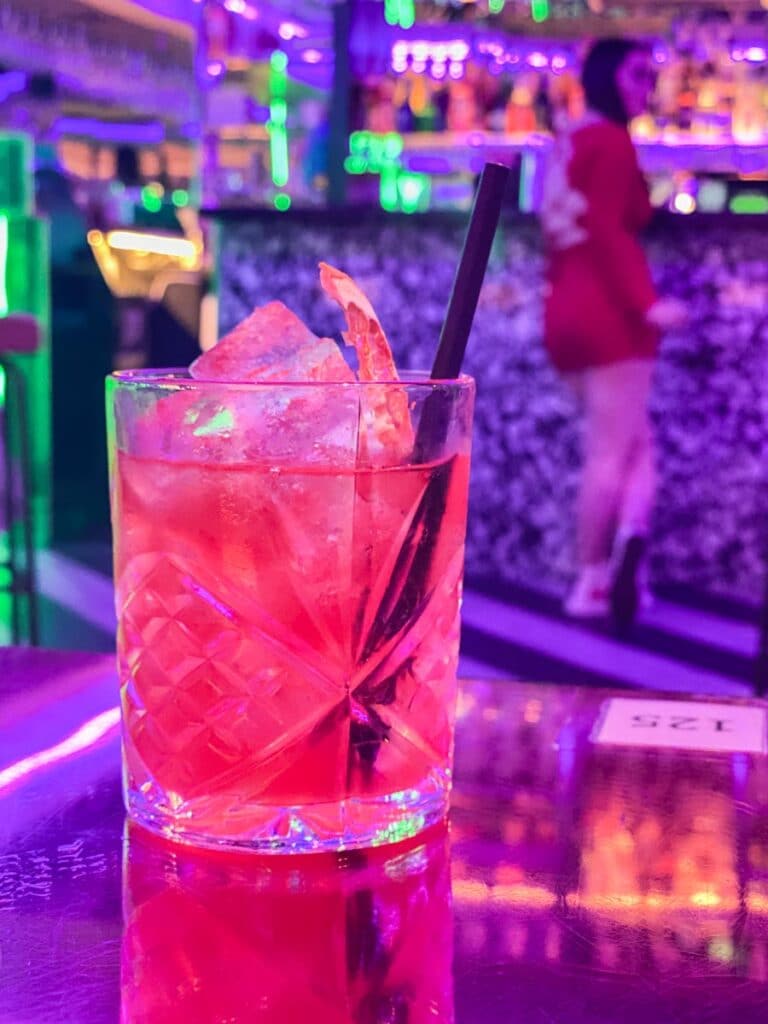 Modelled in the spirit of French Empress Joséphine de Beauharnais, Tonight Josephine is all about unleashing your fierce and fabulous self – with the help of their cocktail menu, of course. There's a full menu of cocktails, including rum, gin, and vodka creations, so you can take your pick.
And with a motto like, "Well-behaved women don't make history," you know that it's a place infused with fun and a little bit of mischief (but all the best kind).
The decor here is completely OTT, perfect for taking photos to remember special moments (do this first, before the cocktails).
Word from the wise: we're not the only ones who think this place is exceptional, so be sure to book a table in advance.
Skylon Bar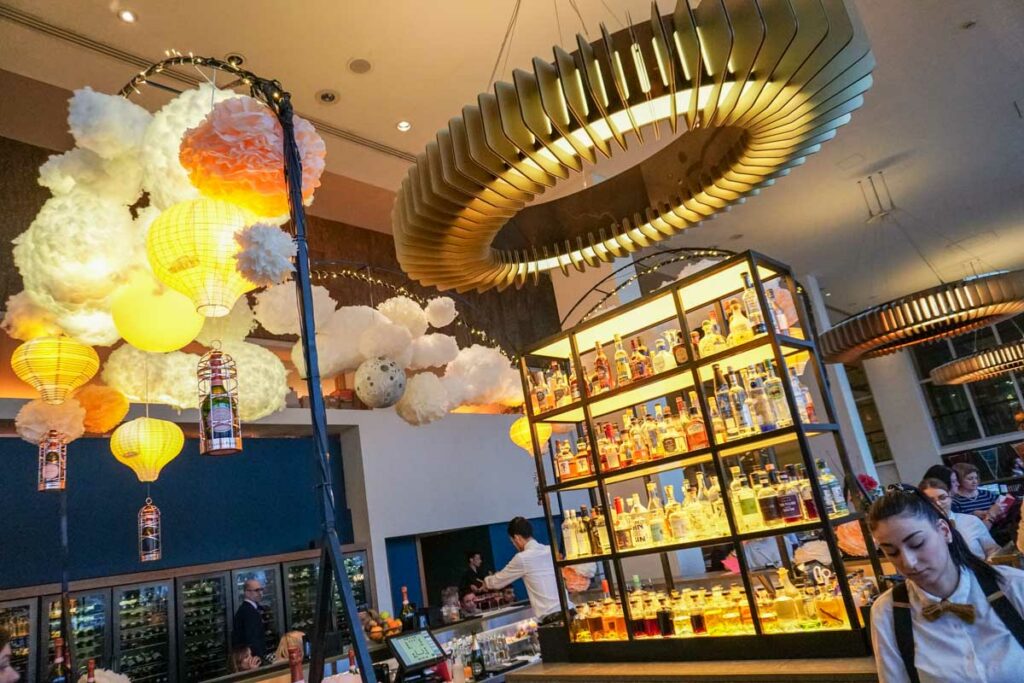 One of our favourite bars near Waterloo Bridge, Skylon boasts the perfect spot for Thames River views. You can admire the scenes through the Southbank bar's floor-to-ceiling windows.
Skylon is known as a restaurant with mouth-watering meals, but no one will disagree that it's a magnificent cocktail bar in Waterloo too. The centrepiece bar boasts some of the best mixologists in town, and they're not afraid to show off their skills.
Seats are available at the bar, where you can try to pick up some cocktail-mixing knowledge. Or you can unwind in the River View lounge.
BFI Riverfront Balcony Bar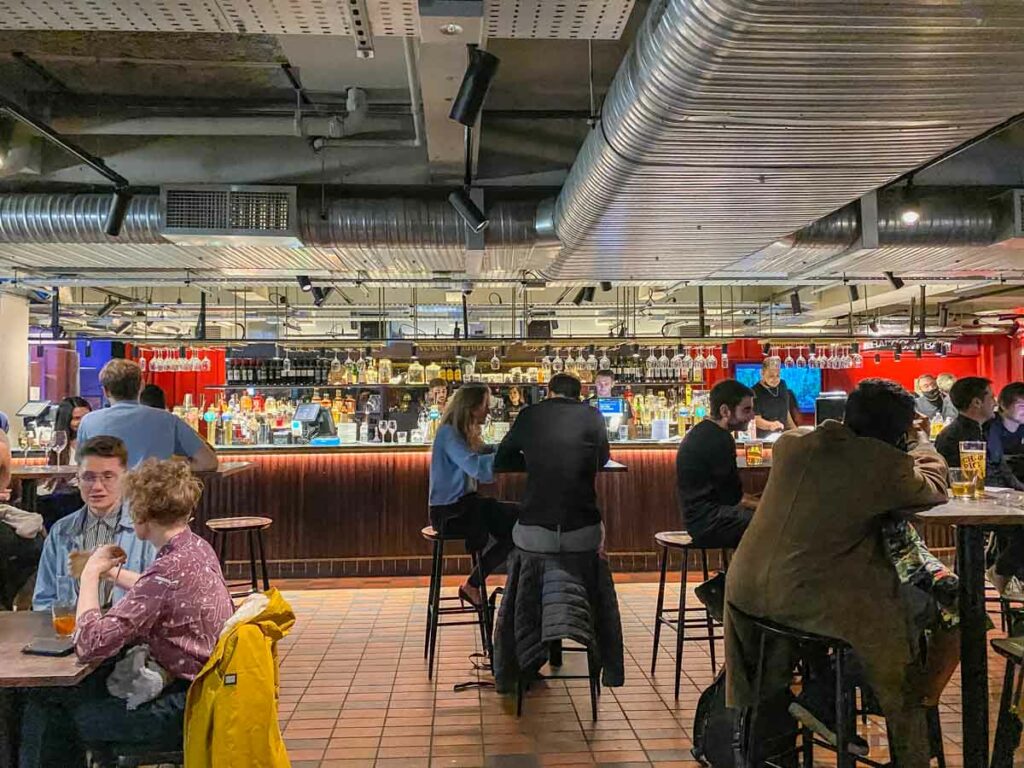 Those looking for bars near Waterloo's movie theatre often end up having a drink – and perhaps a pizza – at the BFI Riverfront Bar, before or after a film. However, it's an excellent place for anyone wanting views of the River Thames as you enjoy a great drink.
The restaurant serves lunch and dinner, but this serves as one of the relaxing outdoor bars Waterloo has, and it makes for a great spot to sip a cold one with friends at sunset.
Aures London
This Waterloo music bar is an entirely new concept – an immersive experience, if we take the words right from the creator.
The bar owner and a Waterloo entrepreneur, Sam Davis, decided to turn this spot on Leake Street into one of London's best-sounding event spaces – the result was Aures London.
Teaming up with London's top audio professionals, Davis has brought his dream to life. It's more than just audio, though, as the Aures team plans to immerse guests in tasting, smelling, seeing, and feeling events too.
So check out their next event and book your spot.
Cubana
You haven't experienced the top cocktail bars in Waterloo, London if you've never been to Cubana.
Known for their mojitos especially, this Cuban restaurant and bar is a solid favourite in the area. The lively music and great-tasting food draw in a large crowd, especially over weekends.
The service here is known for being a bit on the slow side. We'd recommend going with the flow – don't expect your food or drinks to arrive super-fast and you won't be disappointed. Once you have your platter and mojito on the table, it's worth the wait.
Fire Station
This is one of the best bars near Waterloo Road, whether you're after a hearty lunch or a fun dinner with colleagues. The Fire Station even serves breakfast, so this is a great place to be if you want a full day out.
The restaurant is fire station-themed, creating a unique atmosphere and experience.
You'll hear no bad words said about the food here, and the drinks list is so extensive that there's something for every taste and preference.
Jack's Bar
A family-run bar and business, sharing generations of history and entrepreneurial spirit, Jack's Bar can be found right behind the Southwark Tube.
This 'hole in the wall' bar and kitchen was originally opened by Jack himself in the 1970s in Ireland. Now, his sons Ryan and John McElhinney run the vibey spot in Waterloo while Jack enjoys his (well-deserved) retirement in Spain.
You'll find Jack's to be the ideal spot for almost any occasion that pairs well with craft beer, cocktails, and appetising wines. There's also Thai-inspired food on offer to soak up some of the cocktail jugs.
Vaulty Towers
Vaulty Towers is one of Waterloo's most unique watering holes. The decor in this place is as playful as the atmosphere. Funky, penned-out murals on every bit of blank wall, furniture mismatched and no shortage of quirky signage will be the backdrop for your night out.
They put on some good, fun nights throughout the week too. Every Monday is pub quiz night – entry just £2 per head. Thursdays see a DJ come in to kick off the start of the end of the working week. There's also regular comedy nights and low-key theatrical performances. Check their website for the hefty listings.
12th Knot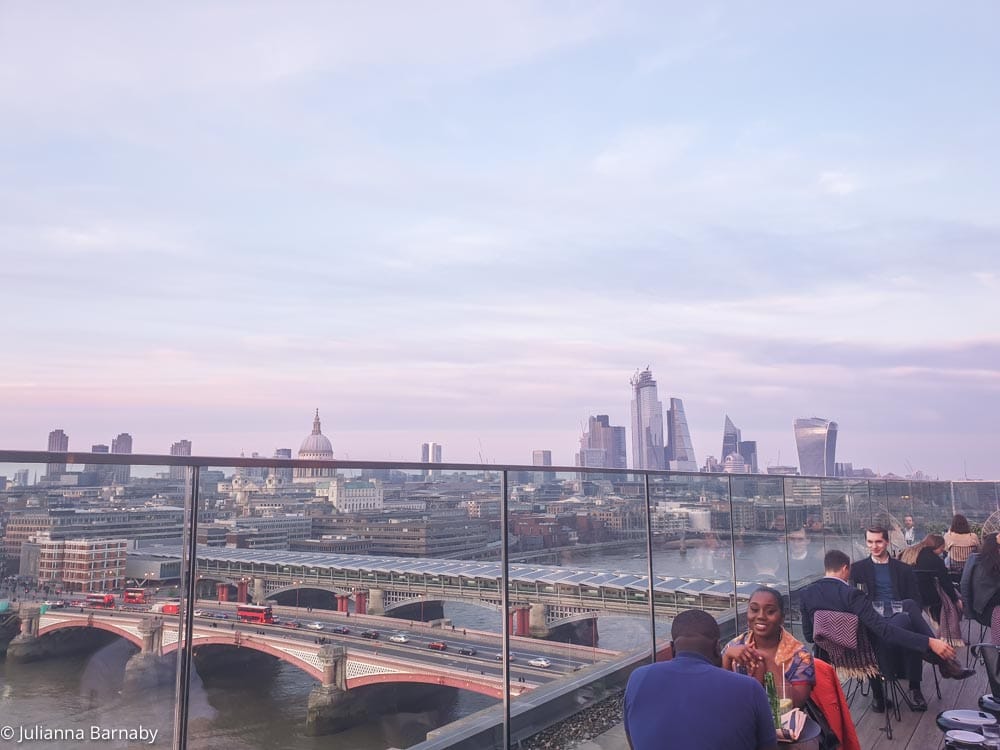 Wander round the corner toward the Southbank and you'll have a great option for a classy bar to drink in: 12th Knot is a great spot to put away a few cocktails in sophistication.
The drinks here are good, but the views are better. The lounge is at the top of The Sea Containers and looks right over the river with St Pauls up close and personal and The City making a frame behind it.
Seating at that view is super comfortable, and all the better with a Jolly Roger – Bacardi lime, apple and saffron with a dash of Absinthe for kick – in your hand.
Scootercafe
One of the main spots to hang out near Waterloo is Scootercafe, a mainstay of the Low Marsh road cafe scene. The place is a cafe by day, but when the sun goes down it turns into a bar offering a range of cocktails wines, and beers and staying open until 11:30pm.
The vibes are very chilled – This isn't the sort of place you want to pile in with all your mates and get wild in – but that's perfect if you're just after a quiet drink or two, or maybe a bit of privacy for date night.
Why is it called Scootercafe? Its hard not to notice all the nods to Vespa. Even the retro furniture has a certain scooter-esque feel to it.
Waterloo Bars: Practical Tips
Most of these bars get pretty busy, so it's always a good idea to book a table ahead of time. And, with a lot of them, if you go to their websites and sign up for their newsletter, they'll send you a free cocktail voucher. You're welcome.
Waterloo is a big area for people coming and going from London, as such many of these bars will be just as busy during the week as they are at the weekend, especially on a Thursday night – gotta get those after-work drinks in right?
Waterloo isn't just a good area to get on the beers. There's plenty of good restaurants around too – some of them good spots to line the stomach while still getting on the drinks – Mamuśka! is one of those. Should you want a few more choices, we've written a full guide here.
---
Waterloo Bars: Map