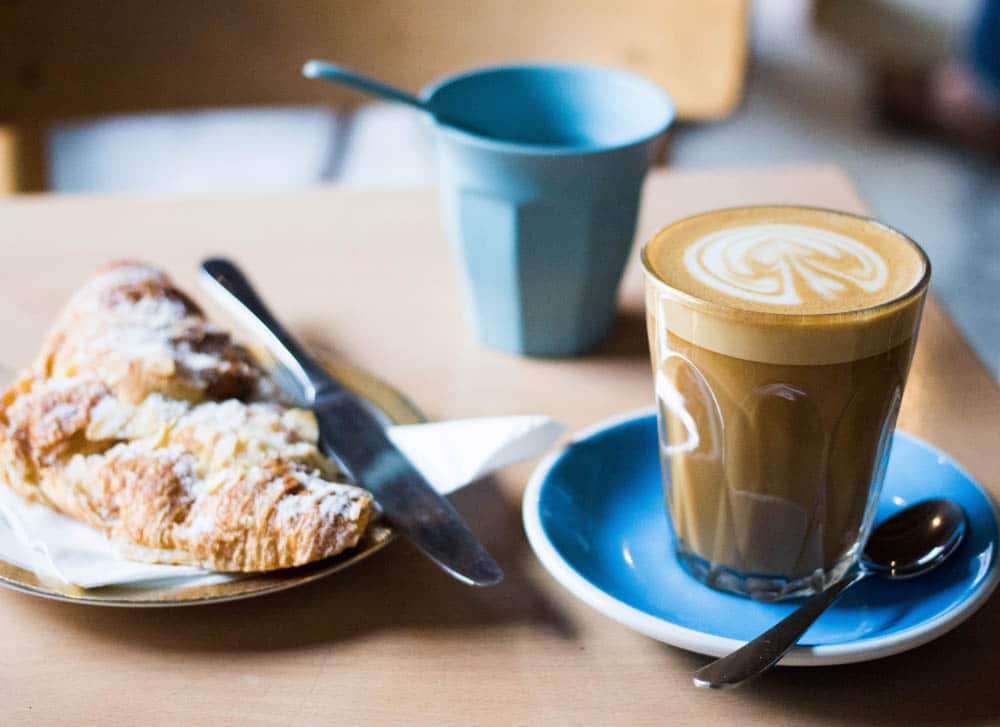 Looking for the best cafes and coffee shops in Kensington? Look no further. Here are 8 brilliant coffee shops you shouldn't miss.
Kensington is one of London's most affluent areas, so it should come as no surprise that it is home to more than its fair share of stellar coffee shops.
Don't miss this Kensington cafe guide to help you find your next perfect brew.
The Best Cafes and Coffee Shops in Kensington
Cafe Tarte
Got a sugar craving? You can't look past the gorgeous treats on offer at Cafe Tarte, one of my favourite High Street Kensington cafes.
Their pastry and cake selection is seriously divine – some of them look more like works of art than baked goods (not that that stopped me from gobbling them down).
If you're more savoury then sweet, don't worry, Cafe Tarte has still got you covered. They put just as much care into crafting delicious light meals like paninis and poached eggs.
While this cafe's quite the talk of the town, it's still humble and down-to-earth which I just love. It's a bit like dropping by your friend's place – if your friend was an absolute baking superstar.
Hjem Kensington
There's something about Scandinavian design. Everything is just so perfectly organised, yet warm and friendly at the same time.
Like that perfect person at uni that you just can't hate because they're so darn nice.
To experience a little piece of Scandinavia – Denmark, specifically – in Kensington, you've got to check out Hjem.
The dream-come-to-life of owner Marianne, the name means 'home' in her native tongue. I'm certainly happy to declare this my Danish home away from home.
Think rye bread baked fresh every morning and perfectly poured coffee served up in oh-so-stylish glassware.
So, if you're looking for a fabulous south Kensington cafe – or just want some serious design inspo – then you'd best check this one out.
Cafe Phillies
I'm not sure about you, but I sometimes find it difficult to choose between a coffee and a vino. With Cafe Phillies, there's no need to choose – both are on offer.
Now, most foodies wouldn't recommend having coffee and wine at the same time – but you do you. I'm certainly not adverse to the idea.
Whichever way you go, you're sure to be impressed by this warm and inviting Kensington cafe.
Their tasty breakfasts are delish (I can't resist the smoked salmon bagel), and best of all: it's served all day!
Breakfast whenever you feel like it and a wine list that will impress your snobbiest wine friend? I'm in.
Italian Gardens Cafe
I love London, but as a traveller I've got to admit that it's not unusual for me to have itchy feet dreaming of lands afar.
For those times, I'm glad to have Italian Gardens Cafe by Colicci – it's a little slice of Italy, in the form of a Kensington coffee place.
From the Italian garden to the intense espresso and the mouthwatering Italian gelato, Colicci really is the real deal.
It's no wonder – it was started in 1982 by an Italian man who came to London with little more than the (very apt) idea that Londoners would love his gelati.
So they did, and what started off as a humble food van has now grown into one of the best cafes in Kensington.
Caffe Concerto
If you're looking to enjoy the British institution that is an afternoon tea, but with a distinctly Italian flair – you've got to visit Caffe Concerto.
There's plenty to love about this gorgeous Kensington coffee shop.
In a world where "minimalism" is the done thing, you've got to love those places are just unashamedly that little bit extra.
Think a full wall of roses and tulips on every table. Who said less is more?
This cafe is certainly not all style and no substance, however. It's serves up excellent light meals and sweets, including a prosecco afternoon tea that is just a dream.
Oh, and there's frequent live music events as well, just to add to the glamour. I love it all.
Coco Momo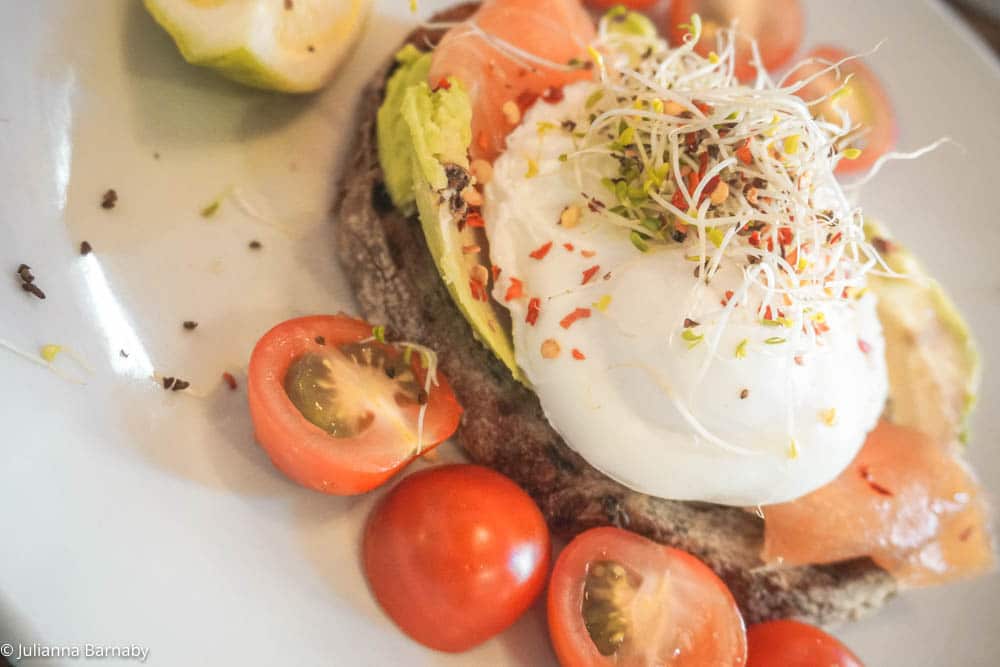 Coco Momo is a totally charming South Kensington coffee shop that's perfect if you're off to check out the Victoria & Albert Museum.
It's hard to miss; just look out for the pastel green exterior and beautiful potted plants framing the doorway.
Inside, the decor is quirky yet perfectly curated. A collection of eclectic portraits is hung on the wall, some of the subjects seemingly staring you down.
I half expected one to tell me to be sure to finish everything on my plate.
I didn't need any stern words to do so; the whole baked camembert was so good I could have had another.
There's also larger meals plus the baristas sure know their way around a coffee machine – definitely a fab lunch spot in Kensington.
Fait Maison
Bright and colourful, Fait Maison is a sugary-sweet coffee hotspot and I totally love it.
Afternoon tea is just better when you're surrounded by an explosion of flowers and pretty things.
The decor may have been made for Instagram – from the floral arrangements to the crockery – but I'll be impressed if these sweet treats stay around long enough to photograph.
Just looking at the cake stand is enough to have your mouth watering, while the multi-coloured macarons are almost too pretty to eat. Almost.
If the decor and pastries don't have you hyped up on a sugar rush, there's also fabulous coffee to give you a kick. Chances are, you'll bounce out of Fait Maison.
Read Next: The Prettiest Cafes in London
Muriel's Kitchen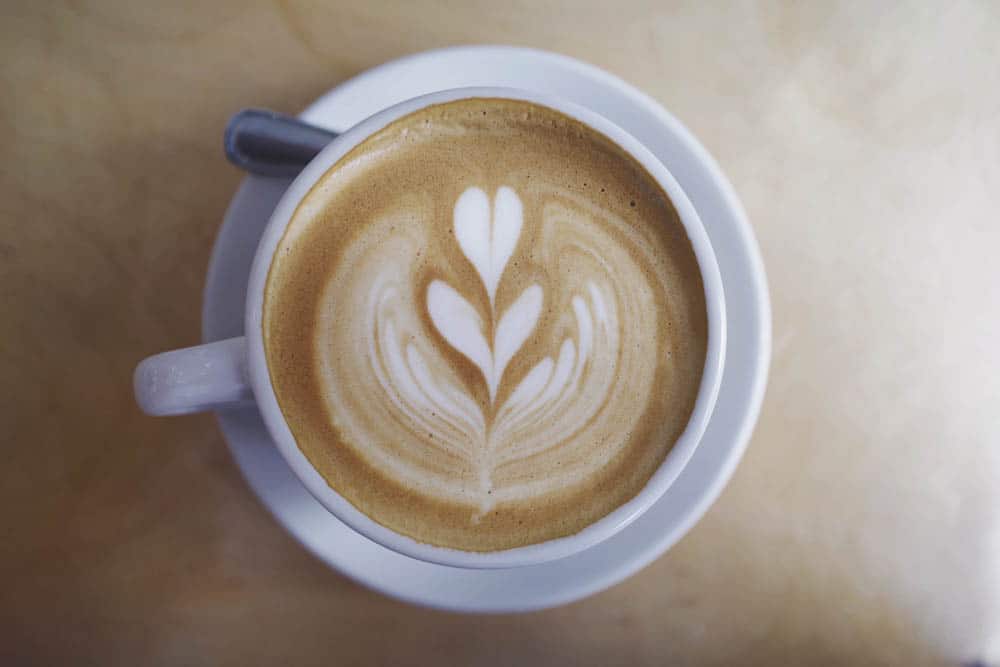 Light and breezy, Muriel's Kitchen is one of those classic coffee shops where you just want to slow down and linger.
If the bright decor and plethora of plants doesn't give you an energy boost, then the delicious smoothies and perfectly-poured coffee sure will.
As well as all the British cafe classics you'd expect (like sandwiches, sans crust), Muriel's Kitchen serves up all those new-fangled options too.
You know, like lattes in all kinds of colours. Forget when sugar was the only addition to your coffee. After Turmeric? Matcha? Activated charcoal? Muriel's got you covered.
You can also dine guilt-free – Muriel's is committed to environmental and social responsibility, and all their coffee is fair trade.
Also, they have wine. On tap. So there's that.
Nouvelle Kensington
Nouvelle Cafe being tucked away on a quiet Kensington street means that it doesn't get overrun by tourists flooding out of the museums and galleries of this part of town. Instead it's more of a local's hotspot – the sort of place that if you frequented you'd see the same old faces coming back day after day.
It's not just for convenience that these locals keep coming back either. An all-day menu of food ranging from breakfast classics to hearty-but-healthy lunch options makes this a good spot for all times of the day.
Consider a slice of freshly baked coffee alongside your coffee and it's no surprise that this place is loved so much.
Cafe Jumo
Light, airy and rustic. Cafe Jumo ticks three major boxes on the list for making a heavenly place to sip on a coffee.
Throw in the fact that the coffee you'll be sipping is invariably great quality and the selection of muffins, pastries and cakes they've got at the counter are basically impossible to decline, and you're on for a winner.
And just to put a cherry on top we should mention how charming the staff are and that they are more than welcoming to any furry, four-legged friends you might be bringing along.
Montparnasse Cafe
Sometimes coffee at a quiet, understated Kensington cafe just won't do. Sometimes you need to feel a touch of that continental flare that makes French Cafes famous around the world.
When that time comes a knocking, Montparnasse Cafe is your go. The interior sits somewhere between being a true parisian cafe and charming english tea room which means it never lacks for atmosphere.
What you're really looking for here though is a bite of some of the excellent cakes and sweet things they have on offer. These definitely lean towards the French end of the bakery spectrum and hit all the right notes alongside a cup of their well-brewed coffee.
Kensington Cafe Guide: Map