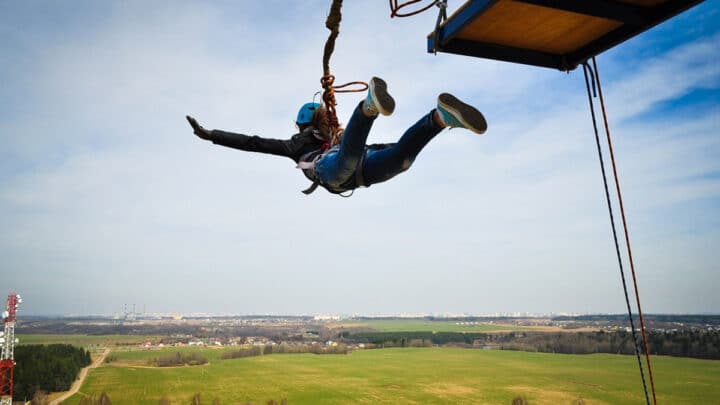 Feeling brave? Here's your guide to all the best bungee jumping spots in London.
We're just going to come right out and say it. Bungee jumping is not for us. Even thinking about throwing ourselves towards the ground – strapped in or not – fills us with a crippling terror the likes of which you can't imagine.
We are, though, consummate professionals and we know that there are some brave (or nuts) folk out there that want to go bungee jumping in London. Because of that, we decided to put together a guide of some places it can be done.
At the time of writing this, there's only one company offering bungee jumping options in London (that's UK Bungee Jump) so we've included a list of locations where you can do it with them – there are some doozies.
If you're serious about this, read on. We'll be back at the office dreaming up days out that don't involve near-death experiences.
Where to go Bungee Jumping in London
Battersea
You can make the big jump in Battersea Park right next to the River Thames. That means you'll have views of the park and the river as you hurtle toward the ground.
You'll probably also have nice views of Westminster and Battersea Power Station too. Not that it will matter, you'll be falling so fast you won't have a second to take in the views.
The Battersea jump is 160 ft high and done over an airbag. Its starting point is the top of a crane that looks utterly dangerous but we can assure you it is 100% safe (ok, 99.9%).
More information can be found here
Bloomsbury
Bloomsbury. Known for its calm and leafy streets and the fact that it once played home to some of London's best-known writers and thinkers. Today that legacy continues in the quiet cafes and bookshops that line the streets…
At least it did until the sound of your blood-curdling shrieks cut through the still summer air, shattering windows and causing old women to clutch their handbags in fright.
If you like the sound of terrifying said old women as much as yourself, the Bloomsbury jump may be the one for you. It too is a 160-footer from the top of a crane.
Jeez, even typing that gives us the heebie-jeebies.
More information and booking here
Putney
London bungee jump location number three is in
Fulham,
home of the football club – and the famous site where you proved yourself by taking a nosedive from a 160 ft crane with nothing but a glorified elastic band to stop your head being forced through your shoulders and ending up where your feet used to be.
This jump too is taken over an airbag just in case it all goes tits up – which it won't, we're like totally sure about that. But just in case. And can be done in tandem, if you're too chicken to go it alone.
We really shouldn't say stuff like that when we're too chicken to go at all… Anyway, the location for this one is actually the WWT London Wetland Centre, which makes quite a pretty spot for a bungee jump. We'll stick to the bird watching thankyouverymuch.
More information and booking here
Bungee Jumping Near London
If none of the above appeals to you, you might want to go further afield to find the right bungee jumping spot.
Windsor
The Windsor jump is a good option for a couple of reasons. The main one of those is that it happens at Bray Lake – a watersports centre with heaps of other things for you to do to fill out your day like windsurfing, kayaking, paddle boarding and more.
The second reason you might want to head to Windsor for your bungee jumping day out is that they have an option for a 300 ft jump. They also do 160 footers but the 300 foot one is bigger than any that you'll be able to do in London itself.
You know what they say, go hard or go home.
More information and booking here
Brighton
You can choose to add some adrenaline to that charming seaside holiday by taking a bungee jump in Brighton. For this jump, the good people at UK Bungee park their crane right on the Marina and you jump in full view of the ice-cream-licking tourists and seagulls.
It's a classic 160 ft affair over an airbag (to stop you from going splat) and yes, they do offer tandem jumps so you can terrify your other half by strapping them into the sling of death too.
Oh, you thought you were in for a relaxing trip to the seaside honey? Wrong.
More information and booking here
Cambridge
Another fairly close place to go for the bungee jump experience is Cambridge.
This gorgeous university town was home to the band Pink Floyd, among other notable folks, and therefore might be just the place for another great gig in the sky. One that comes hurtling back to earth and twangs on a bungee cord to avoid oblivion.
Trains up to Cambridge are regular from Liverpool Street Station meaning you could feasibly head up, take the jump and be home in time for lunch. All in a day's work as they say…
Practical Tips for Exploring the Best London Bungee Jumping
At the time of writing this, there's only one company doing bungee jumps in and around London. If you're reading this in a couple of year's time it might be worth giving a quick Google to see if anything else has popped up.
Speak with your instructors before you go to know if there's anything you need to avoid doing before you jump – we imagine it's not wise to go and eat a full KFC bargain bucket to yourself before launching yourself 160 ft from a crane.
We take zero – and we mean absolute, ice-cold zero responsibility for this if it goes wrong – jump at your own risk.
Make sure you're 100% sure you want to do this. There's probably nothing worse than getting to the final hurdle and turning back. We say this for your own good because we know our mates would never let us live it down.
London Bungee Jumping: Map