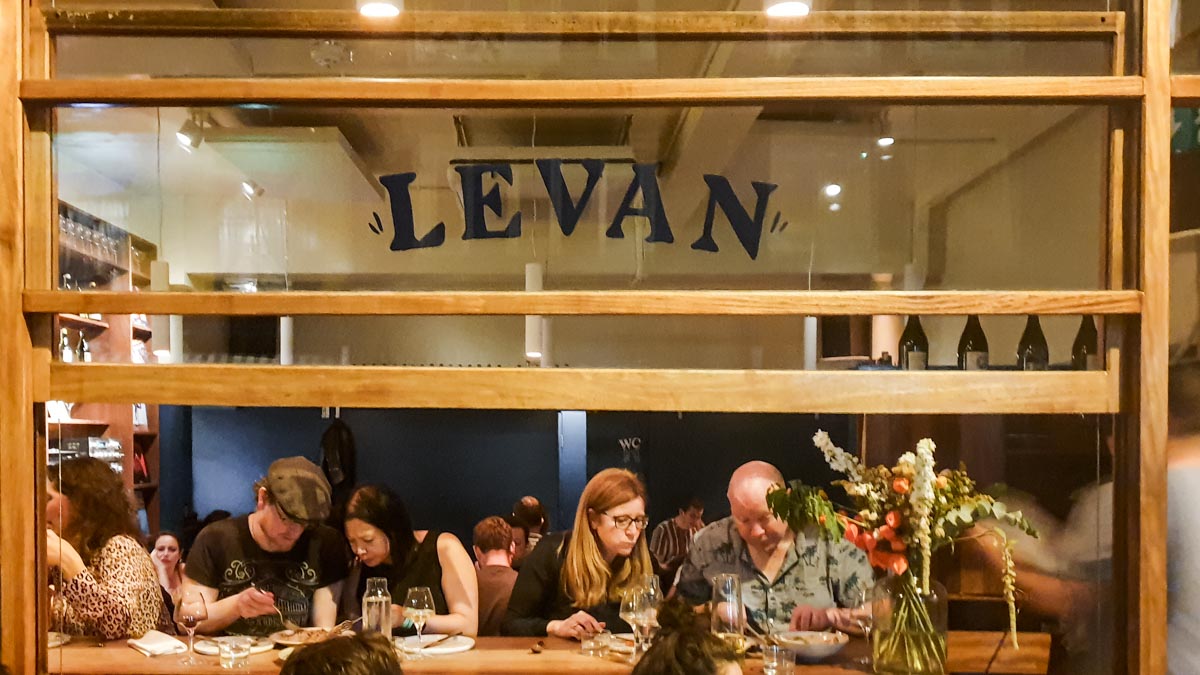 Looking for the best neighbourhood restaurants in London? Here's where to find the best food in the capital.
So many neighbourhoods… So many places to eat…
London, they say, is a bunch of villages joined into a city. That's probably why the city has a strong neighbourhood vibe, each area being home to certain communities of immigrants, however many generations old, that turn out excellent food like nowhere else in London.
Then, of course, each neighbourhood has that swanky wine bar that doubles up as a Mediterranean eatery, or that restaurant that's such an institution it's like the neighbourhood has been built around it.
When you start to think about it, we're spoiled with great hidden gems. But what's in your neighbourhood?
Read on for our guide to the best neighbourhood restaurants London has to offer.
London's Best Neighbourhood Restaurants
Mantanah, South Norwood
£
One of the first things a keen eye will notice when they sit down at Mantanah is that most of the diners here seem very familiar with both staff and menu. No wonder. This certainly is a place you'll want to keep coming back to.
Serving up a spread of solidly good Thai food at a price you can't argue with, Mantanah is a restaurant worth busting out a map for, and working out where exactly South Norwood is.
It's probably worth figuring out how long it will take to get there because you need to taste their Country Curry.
Nadine, Camberwell
£
We love a restaurant with a good story and being started by a Kurdish woman on the run from Saddam Hussein's murderous government, Nadine has it by the bucketload.
A meal of finely prepared kurdish food on a menu that runs from light and zesty salads to meat charred gently over the grill, and mezze spiced to a depth of flavour you didn't know it was possible to reach, delivers as much satisfaction as Nadine's history has drama.
And it all comes at a very reasonable price.
Han, New Malden
££
Easily the most visually impressive restaurant in New Malden's Korea town, Han rocks four traditional Korean jeongja (basically pavilions) that are made from wood imported all the way from Korea.
Despite the fancy decor, a bill at Han still comes with a neighbourhood price tag, and of course a killer spread of Korean BBQ with all the trappings: army pot noodles, soju, a river of Cass…
And when you finally stumble away from the table you can take the party downstairs to their karaoke rooms and sing your heart out.
Machan Kitchen, Croydon
££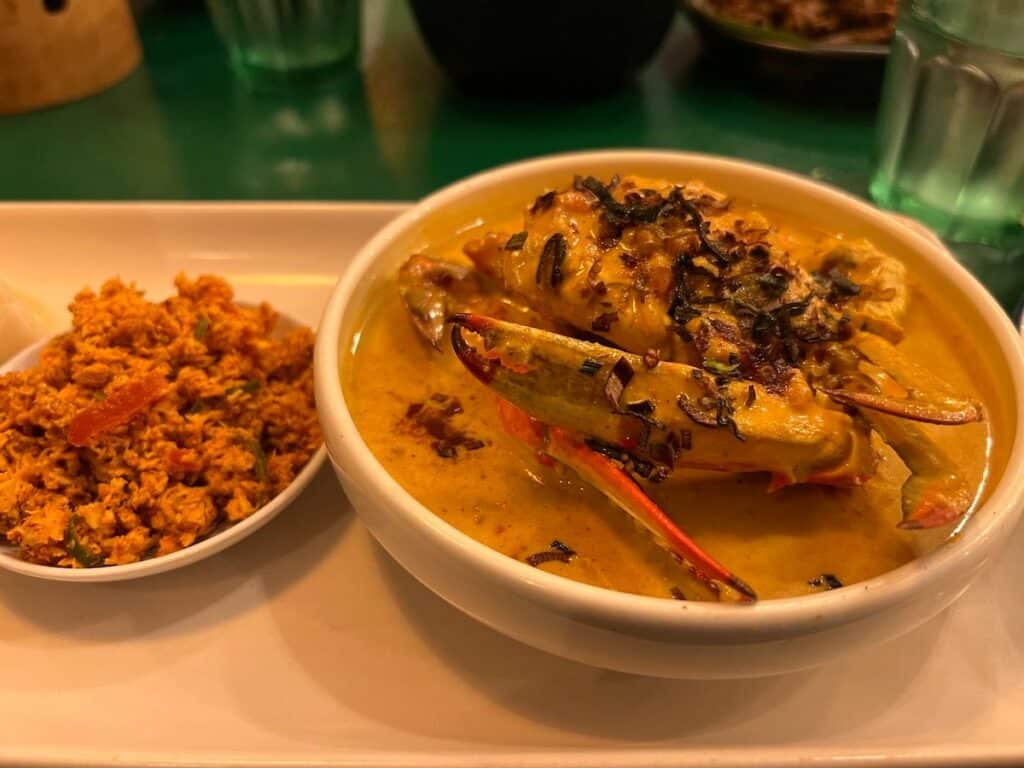 Machan is one of those restaurants that London does so well, a place that champions quality, and authentic overseas cooking that's not hen-pecked into being anything other than it should.
Coming from the kitchen you'll find a spread of Sri Lankan dishes that speak to a love for the food that is clear in the chefs. Top dog Roshan imports all the spices directly from Sri Lanka and roasts and grinds them himself each week just to ensure the flavours are on point.
And they almost infallibly are.
Joanna's, Crystal Palace
£££
Run by husband and wife team John and Christina Ellner, Joanna's is named from the rhyming slang name for a piano (top true-Londoner marks if you don't have to look that one up). This homely eatery will feed you hearty meals three times a day if you want it.
The food is as pristine as their dark-wood walls are timelessly classy. The fare takes cues from the brasserie world, with lots of red meats coming off the chargrill with those appetising blackened griddle marks, but you'll also find British-type dishes, and a roast that ticks all the right boxes
A special occasion should be celebrated in their famed private dining room that's gone under many a moniker over the years, but for those in the know is referred to as "table 99".
Levan, Peckham
££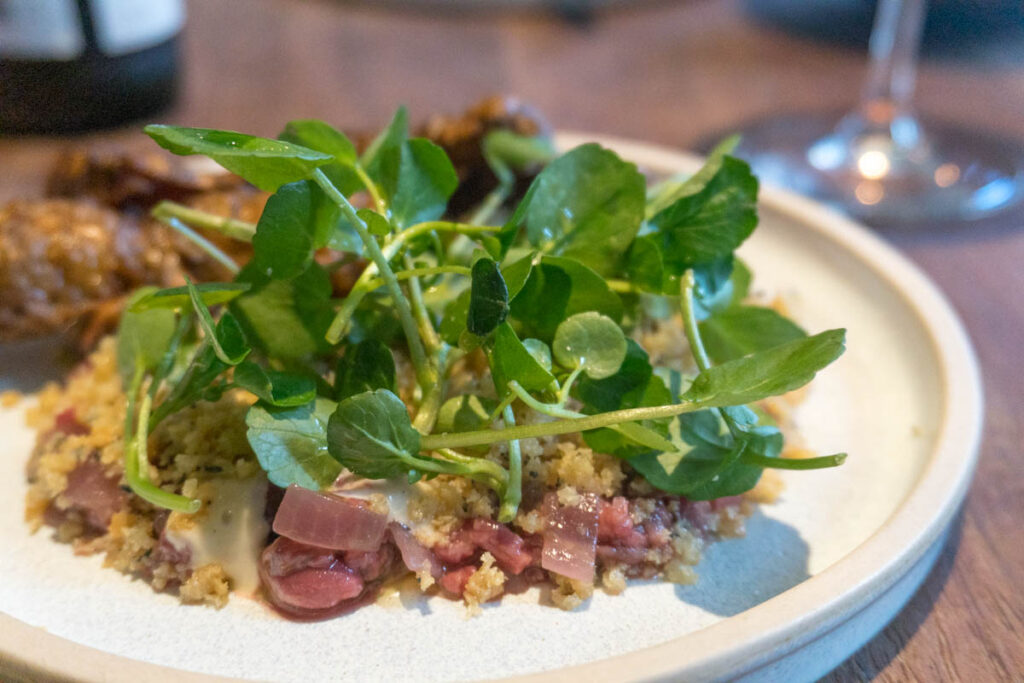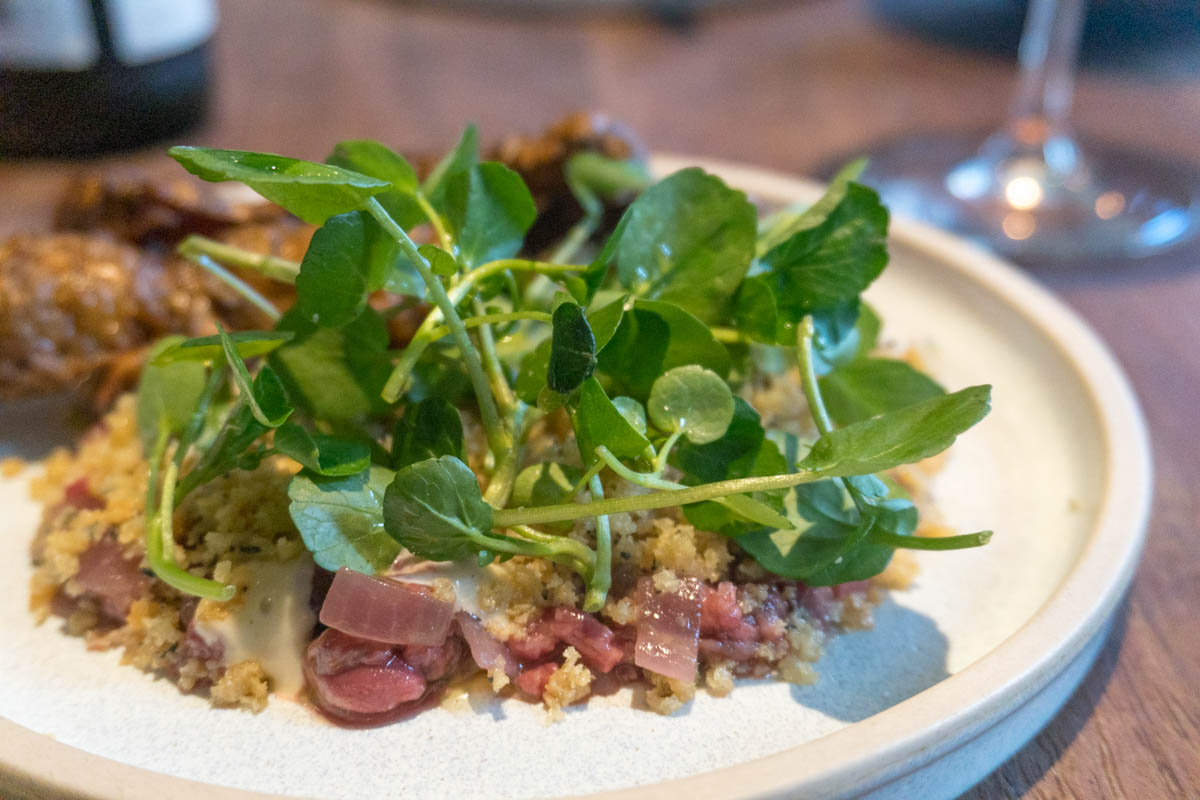 Levan is cool with a capital C. The place is named after DJ Larry Levan who pioneered modern dance music. What you'll find here is a laid-back atmosphere and some very nice cooking in the form of contemporary European cuisine served small-plate style.
The wine menu has a heavy focus on low intervention and naturals, which is in keeping with their commitments to seasonal and sustainable produce. With a menu and wine program like they've got you might expect Levan to be a bit stiff.
It's anything but. The staff here are pally and the vibe is utterly welcoming so no need to worry if your knowledge of skin contact wine isn't on point.
Adulis, Brixton
£
Everlasting Eritrean excellence could be a possible motto for this African restaurant in Brixton. Adulis is named after an ancient port city on the coast of the continent that was famous for being the jumping off point for the jewels of Africa that were shipped to Ancient Rome.
The restaurant's history doesn't stretch back that far, though it does have a sizable near-25 years of operation under its belt. Unless you're familiar with food from Eritrea it's unlikely you'll recognise much on the menu. Just sit back and enjoy.
Most of the food comes served as an assortment of ice-cream-scoop-sized dollops of curry or meat on a platter, so you won't even have to worry about choosing the wrong thing.
E Pellicci, Bethnal Green
£
One of London's most iconic greasy spoons, E Pellicci has been in the hands of the same Italian family since the year 1900.
The building still has the same wood panelling that was put in in 1946 – a style choice that gives Pellicci's Grade II listed status, but easily their most exciting slice of history comes in the fact that this was the old hangout of the Kray twins.
They do some Italian dishes but you'll be here for the fry up. The classic set comes with a pretty monstrous banger and other bits so bountiful they often hang off the plate. You'll see one on every table.
Da Maria, Notting Hill
£
This classic little Italian joint breaks the trend of Notting Hill restaurants being casual up-market type places that only serve things on small plates and wouldn't think of drinking wine unless it's organic.
At Da Maria you'll get straight-up, stick-to-your-ribs Italian cooking. The food, and indeed the whole vibe of the restaurant, feels so timeless that it's almost out of place in such a swanky part of town.
The owners say they don't just want to feed you, but give you the full Neapolitan experience. They aren't doing a bad job.
Dim Sum Duck, King's Cross
££
Steaming baskets of har gao are a must, as are the cheung fen if they have any left. Don't resist the urge to stray further into the menu than just the dim sum page, Dim Sum Duck serves some pretty decent (mainly southern) Chinese food.
The Chinese name, Dian Du De, is the same as an enormously popular restaurant in Guangzhou, China.
It's unclear if they are a London branch of the aforementioned restaurant or just piggy backing off their branding – either way Chinese people queue down the road in all weather conditions to eat here.
Morito, Hackney Wick
£££
Morito changes their menu almost daily depending on what the chef can get his hands on. That doesn't stop them maintaining a consistent level of yum that makes this a great spot to dine pretty much any time of the day.
You'll likely be sharing the food. A few small plates tapas-style, then maybe something off the grill for the centre of the table. Though the decor, and dimly lit crescent barback makes this place look slick, the food is more on the traditional Spanish side.
As neighbourhood restaurants go, this is one of the higher-end ones in the guide, but they regularly host music nights with local musicians that gives the place an intimate community feel.
Negril, Brixton
£
Boasting a lovely little front garden that heaves come summer time, and a decor up that is about as minimal as it can get. Negril is a no frills Caribbean dining spot on Brixton Hill.
Don't let the lack of effort they put into decorating the place put you off the grub. It's Caribbean comfort cooking at its best. Steaming bowls of goat curry, beautifully charred bits of jerk chicken, all with the kind of spice that punches a hangover square in the jaw.
Make sure you order a portion of their roti to mop your plate clean with.
Pique-Nique, Bermondsey
£££
This charmingly rustic French restaurant can't be missed if you're in Bermondsey, not least because its mock-Tudor exterior stands out like a saw thumb, but also on the quality of the kitchen's cooking.
Pique-Niques' menu flaunts a list of quintessentially French dishes scrawled in cursive hand across a blackboard. It's countryside stuff, pheasant appears on occasion as do things like pate en croute.
The latter is a dish that's name is easily recognisable, but you may need a hand from the waiting staff to work out what some of the other dishes are. You can guarantee they'll come with a characteristic bit of French gusto.
Le Rif, Finsbury Park
£
You won't believe the price of a tagine in the hidden Moroccan gem, especially when the food is so damn good. The vibes are pretty spot on too, very North African cafe, often with lots of folk that look like they might be sticking around for the whole day.
And you could do the same, taking a few hours to sip on some mint tea, repeat ordering from the selection of sweet bites on offer. One thing's for sure. When you won't find anything on the menu for over a fiver, you know you'll have to stick about for dinner.
Mamuska, Elephant & Castle
££
Started on the romance of a Canadian guy and Polish girl when her friends decided to get the new bf hooked on the food of their home country. A rollercoaster few years later and they were turning out some of the best, most approachable polish food in the city.
The vibes at Mamuska are very relaxed, they built the whole idea around the desire to welcome people of every background to the restaurant to share in the food this Canadian fella fell in love with.
You'll find a variety of dishes and smaller bits and bobs that are ideal for a session on some of the polish beers that serve Mamuska's other function as a bar.
Evernight, Nine Elms
£££
With the gentrification of Vauxhall so comes the arrival of hot new restaurants. We're not complaining. One of the best in up-and-coming Nine Elms is Evernight, a contemporary izakaya that's hot on every foodie's radar.
They do contemporary Japanese cooking with seasonal British produce and the result is pretty spot on. The style of eating compliments a few drinks and their twists on cocktail classics like the highball and the negroni go down a treat.
It's also not a bad place to branch out into the sake game if you're curious.
Hong Kong Restaurant, Angel
££
You can tell a good Chinese restaurant by the way its name is written in Chinese before English. The colour red is often a good sign too. As is a selection of roast duck and pork belly hanging in the window.
The unimaginatively named Hong Kong Restaurant in Angel has all of the above, its markers don't lie. If you've made it here before 5pm you'll have free reign over a quality dim sum menu, which you should take advantage of.
If you're here at around dinner time it's worth checking in on what they might still have going from the aforementioned dim sum menu (it's really pretty good), but if not you'll have to go for a spread of highly authentic Cantonese dishes from the atlas-sized mains menu. They're also really pretty good too.
Mangal 2, Dalston
££
Mangal 2 was the point of much attention when it broke with traditional ocakbasi formula, innovating on classical dishes until it grabbed the attention of the likes of Jay Rayner and Action Bronson.
The heat is still on – getting a table here is best done by booking several weeks in advance – and the quality has not been allowed to slide. Even taking into account its innovations the food still feels deeply tied to its Turkish roots.
You'll be dining out on kebabs that seem straight from heaven. Really they're just off the grill that's smells waft through the restaurant, permeating everything with the divine scent of charred meats.
Ramo Ramen, Kentish Town
£
This long, slim ramen joint in Kentish town fuses two unlikely cuisines in one bowl: Japanese and Filipino. There's no point trying to imagine what that comes out like, so we'll tell you. It's mighty fine.
Ramo Ramen's oxtail kare kare ramen is where you should be heading first, though you'll have to return to work your way down their menu in future visits. Its oxtail is melt-in-the-mouth and the broth is richer than Jeff Bezos.
No matter what you're eating, it's sort of a must that you wash it down with one of their calamansi margaritas.
Bad Sports, Haggerston
£
It's not uncommon to hear people in the foodie community, and Americans funnily enough, bemoan the lack of quality Mexican restaurants in London. There's some truth to the sentiment, but if you know where to look it doesn't have to be a hard-and-fast rule.
Take Bad Sports for example. This neighbourhood sports bar and taqueria in Haggerston does some quality tacos that demand a drink to accompany. They do a shot called 'Unnecessary Roughness'. Maybe best to swerve that one and stick to the margs.
They'll most likely have American sports on the tele, but if you ask them nicely to put the footie on they usually oblige. If that doesn't work, try referring to it as soccer.
Vijaya Krishna, Tooting
££
This beloved neighbourhood Indian joint has been serving Tooting locals, including plenty of the subcontinent's South London diaspora for what feels like forever. Vijayakrishna does a menu of mostly Southern Indian dishes with the more narrow definition of Kerelan cuisine.
You'll find all the hallmarks of a traditional British Indian restaurant, the tikka masalas and madras. But there's also plenty of scope to be a bit adventurous as with their Chicken 65, a dish of chicken marinated in red chilli and pepper, then deep fried.
Pay attention to the spice guide. Things get hot here.
Bravi Ragazzi, Streatham
££
You know when you've tasted good pizza. Pizza that squeezes out the 1% that makes all the difference when you're at the top of your game. It's something magical you can't quite put your finger on.
On the surface, Bravi Regazzi has all the hallmarks of any other London pizza joint: the classic dome pizza oven. And the wood that fires it. The claims to traditional roots in an Italian city, in this case, Napoli.
But what comes out of that oven is special. Deeply authentic sourdough pizzas that absolutely pack that magic something. Their Neapolitan cheesecake is equally delicious too.
Gökyüzü, Harringay
££
Anyone who regularly makes the trip up to the stratospheric reaches of North London in search of kebabs will likely be stopping by Green Lanes. And whilst they're there, they're probably going to hit Gökyüzü.
We'll go out on a limb and say that this joint is a bit of a mecca for lovers of that meat-over-coal flavour. We'd even promise that a vegetarian will find something to love in the form of the grilled aubergines. Just don't ask us to pronounce the restaurant's name.
Proud Mary's, Shepherds Bush
£
A slice of down-under in West London, Proud Mary's turns out brunchy items in the vein of a Melbourne cafe – except the owners are Kiwi. Expect plenty of avocado on toast, coffees that you can add a little booze to and waffle stacks that we have a tendency to go straight in for any time we're there.
They've got ample outdoor seating for the warmer months where you're likely to find a crowd of brunchers that came to kill a hangover and just ended drinking themselves right into another one.
Phat Phuc, Chelsea
£
Phat Phuc is a total hidden gem. Tucked into a courtyard in Chelsea, the restaurant looks something like a portable kitchen that's morphed into the space around it, with seating spilling communally forth under a small gazebo.
You'll order from a cheerful guy leaning out of a booth and scramble for a seat. Then a few minutes later, along comes a bowl of steaming laksa, so rich and creamy it could belong in a French restaurant.
But it doesn't. It's at this charming neighbourhood spot that's worth trekking across the city to try, just make sure it's a warm day. That gazebo won't seem inviting in the middle of winter.
Practical Tips for Exploring The Best Neighbourhood Restaurants
Take a gamble every now and then. A lot of the best neighbourhood restaurants are off the radar, so to find the real beauties sometimes you've got to roll the dice and risk the occasional bad meal. You might find that diamond in the dirt.
Be open-minded. London has a full-on multicultural diaspora of folk and food. The chances are you're not going to know what some of the dishes at a super-local Ethiopian restaurant are. Give 'em a go. It might just be your new fave thing.
The Best Neighbourhood Restaurants: Map