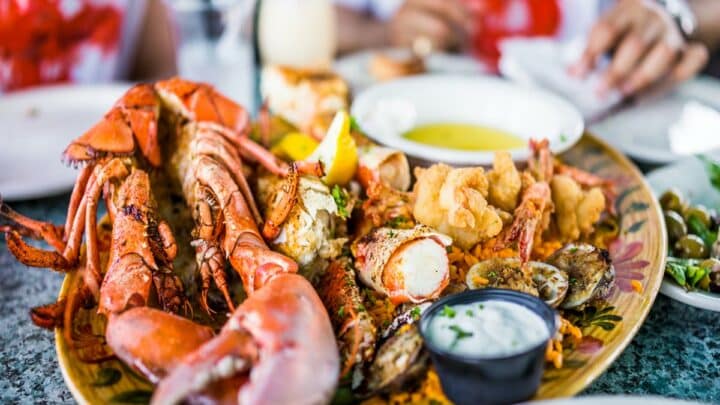 Wapping is one of London's unsung culinary heroes. Discover the best restaurants in Wapping with this insider's guide.
Words by Sam Jeans
Nestled between Tower Bridge and Limehouse in East London, Wapping is an intriguing district characterised by quaint cobbled streets and regenerated warehouses.
Though it might seem like one of the capital's sleepy corners, Wapping is fast becoming a hive of activity thanks to innovative venues like Tobacco Dock. With the Thames to the south, Wapping's light-industrial aesthetic is well worth experiencing.
All in all, this quiet district has flown under people's radars for too long – it's time to expose this atmospheric riverside district's best-kept secrets.
From seafood eateries with riverside views to chic modern restaurants, here are the best restaurants in Wapping.
Best Restaurants in Wapping
The Melusine
£££
The Melusine is a seafood restaurant in the St Katherine Dock area on the western fringe of Wapping. It's hard to argue that The Melusine is a hidden gem – but it is one of the spots you should try in Wapping at least once.
Founded by Theodore Kyriakou, also responsible for the Livebait, The Real Greek and the Greek Larder, his dockside restaurant offers exquisite yet simple Greek-inspired Mediterranean seafood dishes.
Opt for delicious plates such as mackerel fillet, plaice and octopus for mains and a large selection of small plates perfect for lunch. A rather lengthy and well-represented wine list completes this near-perfect riverside venue.
River View
££
Another superb Wapping fish restaurant, River View delivers exactly that, with excellent views of the Thames when the weather permits al fresco dining.
Set in one of Wapping's numerous converted warehouses, this straightforward Chinese restaurant combines an inventive seafood menu with plenty of Chinese classics.
While River View specialises in seafood, those not partial to fish won't be left at sea thanks to stacks of well-known dishes ranging from Chow Mein to crispy shredded beef, crispy duck and beef or chicken satay. There are vegetable and bean curd options too.
Da Nonna
££
Da Nonna serves up a wonderful selection of warming classic Italian cuisine from their riverside venue in east Wapping.
With a focus on classic Roman cuisine, Da Nonna serves wonderful small plates, "Cicchetti", ranging from the Mini Panino Con (small bread roll with roasted pork) to panzerotti (folded pizza dough filled with tomato and mozzarella). Pasta dishes offer something heartier for lunch and dinner.
In Da Nonna's own words, "meals are not complete without pudding", so you'll find some superb desserts here, which you'll definitely want to make room for.
Smith's of Wapping
£££
Smith's of Wapping is yet another exemplary seafood restaurant with gorgeous views of the Thames.
It's perhaps unsurprising this waterside location features a wider selection of seafood restaurants than you'll find in most other London districts. So, seafood fans – get yourself to Wapping!
True to other restaurants in the chain, Smith's restaurant in Wapping is slick and comfortable, decked out with a contemporary interior and floor-to-ceiling windows.
The menu features an eclectic mixture of fish and crustaceans that can be either plain grilled or meunière (lightly floured and shallow fried in butter). While veggie options include an indulgent gnocchi, ragout and tempura cauliflower florets.
Don't like seafood? Smith's selection of roasted meats and steak has got your back.
Bravas Tapas
££
Truth be told, St Katharine Dock is barely in Wapping – we had to push the boundaries a bit to include this wonderful independent Spanish restaurant.
Among restaurants near Wapping, Bravas Tapas offers something that mixes it up from an abundance of excellent Italian and seafood restaurants.
Bravas Tapas specialises in modern small plates from the Basque Region. The menu won't need much selling to tapas lovers with its smattering of short ribs, lamb chops, bravas potatoes and mushroom bisque, among numerous other tasty dishes.
Il Bordello
££
A straightforward Wapping restaurant, Il Bordello is an authentic Italian pizzeria that also serves pasta and various classic meat dishes. And, boy, does it do them well.
This spacious restaurant is warm and friendly, with quite the reputation for colossal portion sizes. Yet another Italian restaurant, Wapping is evidently making a mark for its Italian cuisine and seafood. And we're here for it.
The menu will be very familiar to lovers of Italian cuisine, with pizza, pasta, seafood, and meat making up the majority of the offerings. Booking ahead is a must, as this restaurant is virtually always full.
Other Places to Eat in Wapping
The Turk's Head
££
The Turk's Head, ou La Tête Du Turc en Français, is a French-English Bistro restaurant in the heart of Wapping.
Located near Wapping Park, The Turk's Head was allegedly the last pub condemned pirates would visit for their last drink before heading to the Execution Dock.
Though, today, this bistro pub offers a variety of classic and inventive cuisine at reasonable prices with a warm and relaxing atmosphere.
The interior and exterior seating areas are super-fresh and airy, too. A relatively quiet, welcoming spot to wind down from metropolitan London.
Town of Ramsgate
££
The Town of Ramsgate, built around 1500, is perhaps the oldest pub on the River Thames.
A snug, compact pub with a big atmosphere, the Town of Ramsgate's menu is packed full of English classics, including handmade pies, bangers and mash, ham, egg and chips, and of course, the traditional fish and chips.
A selection of highly-rated pizzas and sharing platters tops off a fully-featured menu.
Skylight Tobacco Dock
£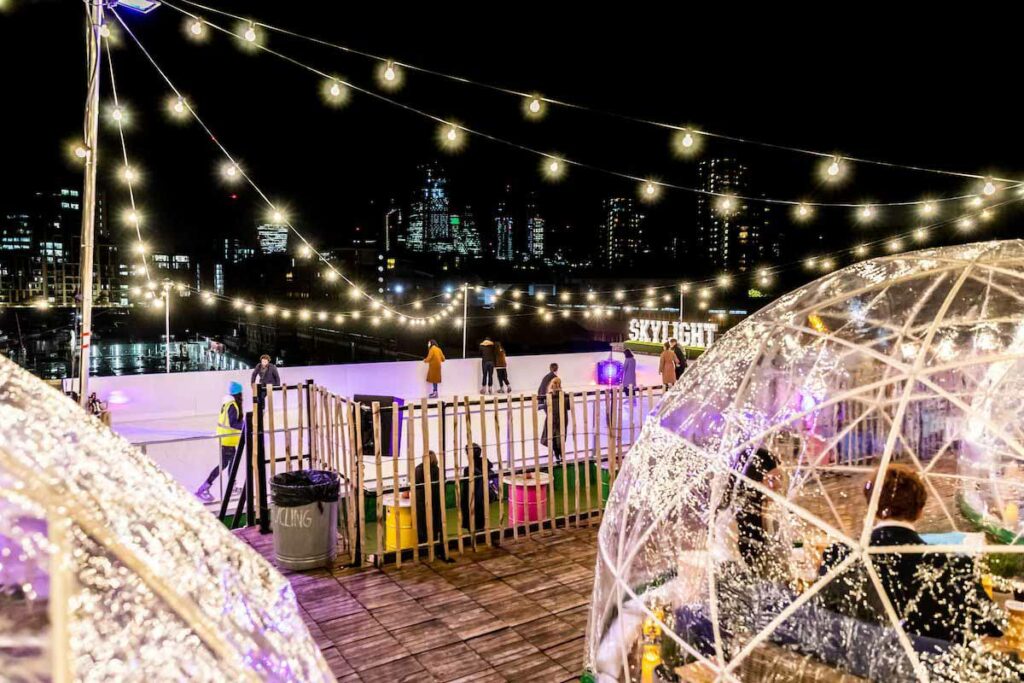 To the north of Wapping, you'll find Tobacco Dock, a Grade I listed regenerated warehouse with plenty of places to dine and drink. Our favourite of the bunch, however, is Skylight Tobacco Dock – a vast outdoor venue with games rooms, heated tables and even ice skating during the festive season.
The menu here consists of delicious street food like burgers, chips, mac and cheese and veggie and vegan options. But the cocktail menu is really what makes Skylight so special.
Rock up with a group of friends and enjoy stunning views of the East London skyline.
Tondo Pizza Wapping
£
Last, but certainly not least, the relatively new Tondo Pizza Wapping offers incredible pizza that any aficionado simply must try. Pizza lovers – this one's for you.
The restaurant sports a short menu, but that just makes ordering way easier. Try to leave room for the Nutella calzone.
They deliver, too – so don't worry too much if you can't get a table.
Practical Tips for Exploring The Best Wapping Restaurants
If you're looking for places to eat in Wapping, then you'll find plenty of Italian and seafood restaurants. As London's historic dockland, Wapping retains much of its nautical heritage, which shows in its abundance of fish restaurants.
Wapping is served by Wapping overground station, or you'll need to head there from Tower Hill, Tower Gateway, or Shadwell.
Explore Wapping on foot to enjoy its cobbled streets and modern-industrial aesthetics.
Wapping Restaurants: Map