Looking for things to do in Vauxhall? Discover the area's hidden (and not so hidden spots) with this local's guide.
Londoners used to flock to Vauxhaul for its brothels and racy theatre performances, or to find a dark alleyway in which to bump off a rival. Oh how things have changed.
Nowadays it's not such a hub of danger and debauchery, and the famed Pleasure Gardens of yore are home to a park and a city farm.
Within a short walk's distance you'll find galleries brimming with pieces by Damien Hirst, flower markets, and a slew of restaurants catering to and pubs that have been attracting foodies like the magnetic south attracts birds.
Here's our pick of cool things to do in Vauxhall.
Best Things to do in Vauxhall
The Newport Street Gallery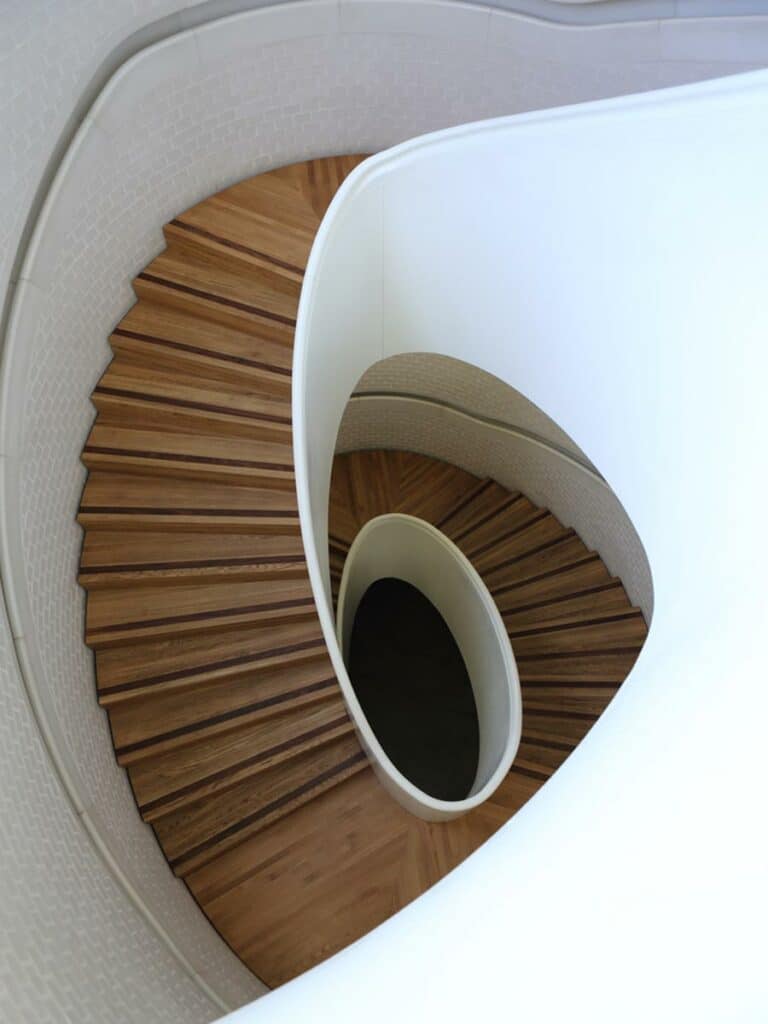 If you're a Damien Hirst fan (we are), then you need to head to The Newport Gallery in Vauxhall.
The gallery continuously exhibits Damien Hirst's art through exhibitions of solo and group shows.
The Newport Gallery is housed inside a renovated scenery-painting studio that was purpose-built in 1913, joining three listed buildings together the gallery now spans half the street.
You'll also be pleased to know that this is one of the best free things to do in Vauxhall.
Vauxhall City Farm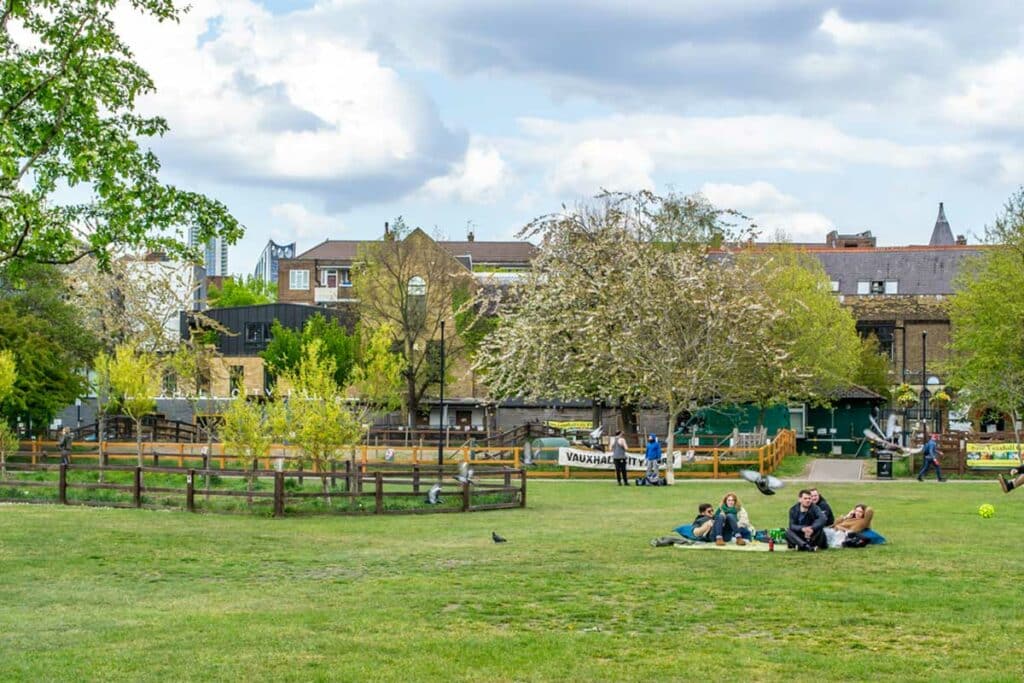 In the mood for visiting a city farm? Yep, you heard that right, there's an urban farm in London.
Vauxhall City Farm is one of the oldest and most central-city farms in London and a really fun place to visit if you're wandering around Vauxhall.
At the farm you can expect to see lots of cute, furry animals from donkeys to alpacas and some very adorable chinchillas. It's a great place for some animal therapy.
Animal petting is hungry work, so you'll want to head to The Old Dairy Cafe for coffee, treats and a selection of delicious sandwiches.
New Covent Garden Flower Market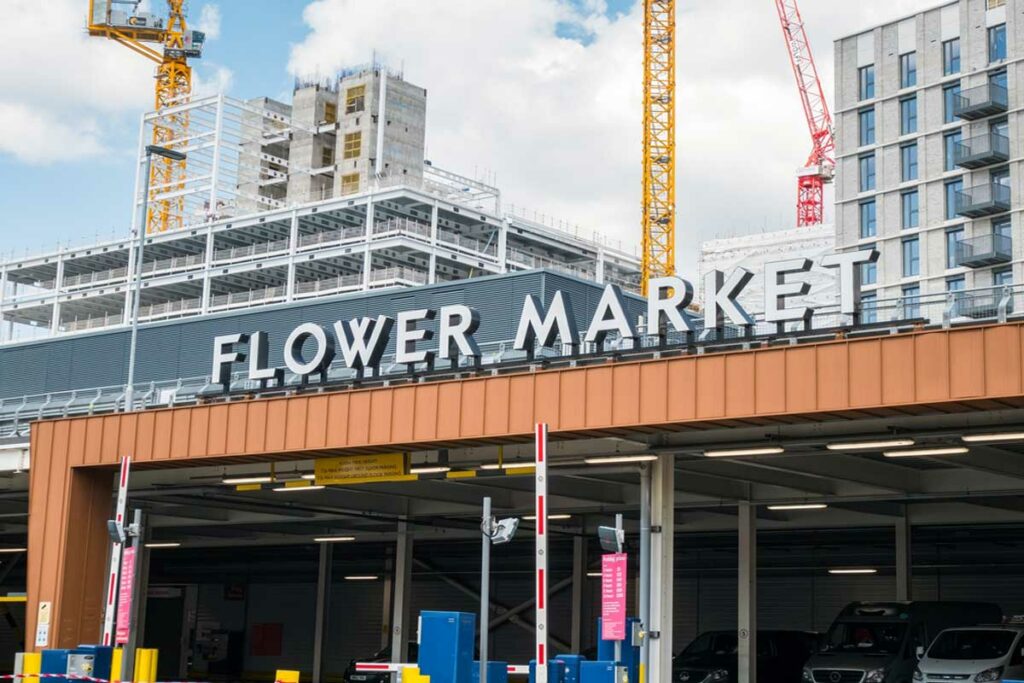 New Covent Garden Flower Market is quite possibly one of the most unique places to visit in London.
It used to be located in Covent Garden (hence the name), but later moved to its current home in (technically not Vauxhall) the up-and-coming Nine Elms.
What you should know about this market is, it's open from 4am to 10am only, so you'll need to be an early riser – but we promise it's worth it.
Flowers are shipped overnight, so the earlier you go, the better offerings you'll find.
The industrial building is kept cold for the flowers, so wrap up. Once inside you'll see flowers galore, and then some. They even have seasonal displays.
Vauxhall Bridge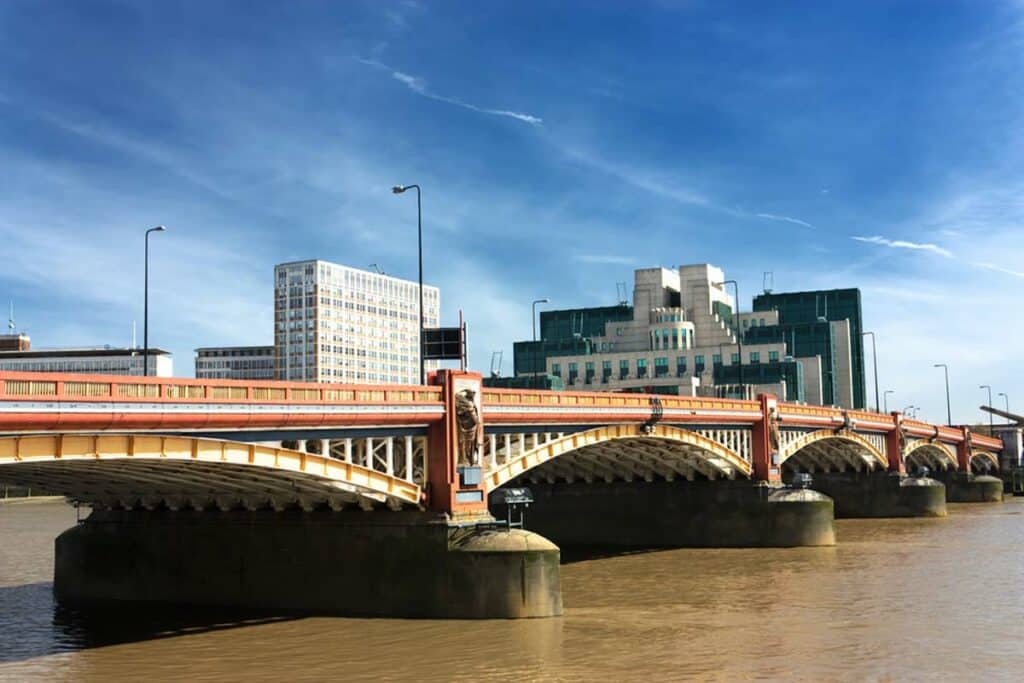 This one is a bit of a historical landmark, but one that makes for a great backdrop for your next instagram upload.
Vauxhall Bridge is not quite as glamorous as Chelsea Bridge, but if you're already in Vauxhall we say it's well worth a visit.

You can walk along the bridge (it looks best at sunset) or you can see it in all its steely glory from the banks – if you don't care too much about your shoes that is.
Vauxhall Park
It's always nice stumbling across a park among the skyscrapers, and that's why we love this place.
Vauxhall Park is a lush green space perfect for a leisurely walk, and dogs are allowed there too. If you do decide to bring your pup, bear in mind there's some dog-free zones too.
There's also a lot of fun to be had here. Vauxhall Park has tennis courts and basketball courts as well as a cafe to fuel your walk with coffee and cake – park walk necessities.
Things to do in Vauxhall: Eating & Drinking
Tamesis Dock
Since Vauxhall runs along the Thames, we couldn't not include this ultimate waterside watering hole – which just so happens to be one of our favourite pubs in the area too.
Tamesis Dock is a floating pub on a converted 1930s Dutch barge that's permanently moored on the Thames between Lambeth and Vauxhall Bridge.
The brightly-coloured barge is good for indoor drinking or outdoors on the top deck with beautiful views, and even better views at night time with the city lights glistening along the Thames.
Tamesis Dock does craft beers, hand stretched pizzas and tasty cocktails, but we suggest heading here when there's a live music event because there's no party like a boat party, right?
The Rose
Overlooking the Thames and the Houses of Parliament, The Rose quite possibly has some of the best views in London.
Sunday roasts here are legendary and have the balance of gravy, roasties and meat down to a tee.
Although a Victorian pub, The Rose is fairly modern-chic on the inside with a 360 bar, wisteria-covered furnishings and decorative wall art.
Like with any gastropub, the menu covers all the best of British. Expect everything from fish and chips to sirloin steaks.
The Rose also has a weekly quiz, so if you and your team dare to battle it out, head there on a Tuesday and you could win some very exciting prizes.
Brunswick House Restaurant
Located on Vauxhall roundabout, housed inside an antique-filled Georgian mansion is the delightful Brunswick House Restaurant.
There's plenty of places to hangout in this charming Vauxhall spot, from the restaurant to the cafe and bar, all of which are adorned with chequered floors, banquettes and antique clocks.
As for the food, well, that's grand too. For lunch, or for dinner, you're bound to find something that will impress.
Brunswick House Restaurant is certainly a place where wine lovers will feel content, as well as a single bottle wine list. The by-glass list is the perfect opportunity to try new wines.
Mother Kelly's
Mother Kelly's is an independent taproom with locations in Bethnal Green and Vauxhall, head here if you're searching for a perfectly poured pint.
As well as decent beers, Mother Kelly's Albert Embankment space spans a huge railway arch so also gets a tick for cool location.
This buzzing taproom is one of the best places to hangout in Vauxhall with your choice of 33 taps and two outdoor spaces and even beers to take home.
Drinking all that beer makes for hungry bellies, but fear not, mother Kelly's bar menu meat boards, cheese boards and sandwiches to line your stomach.
The Black Dog
It's always good to hang out with locals, that's why this neighbourhood pub is well worth a mention when thinking about things to do in Vauxhall.
The Black Dog is a rustic local pub with wood panels, bare brick walls, and an eye-catching stained-glass wall mount behind the bar.
The regularly-changing food menu draws big foodie crowds and features classic pub food with a Spanish twist. Expect padron peppers, chicken karaage and burrata on the menu.
Vauxhall Food & Beer Garden
Did you know that there's a really cool food and beer garden in Vauxhall? Well, there is and here's why it's worth a visit.
Set atmospherically beneath a row of railway arches, Vauxhall Food & Beer Garden has lots of different cuisines to try from around the world.
From Greek and American to Asian and Italian dishes, we're certain it'll be a tough call when it comes to choosing.
You'll find lots of outdoor seating, rustic tables, amazing street food and all round good vibes at Vauxhall Food & Beer Garden. It's also a good place to catch major sporting events with three big screens to watch them on.
What to do in Vauxhall: Practical Tips
Vauxhall is a good place to visit, day or night. We recommend hanging at a tap room during the day and then head to Kennington Lane's bars by night.
Things to do in Vauxhall: Map
What To Do in Vauxhall: Read Next