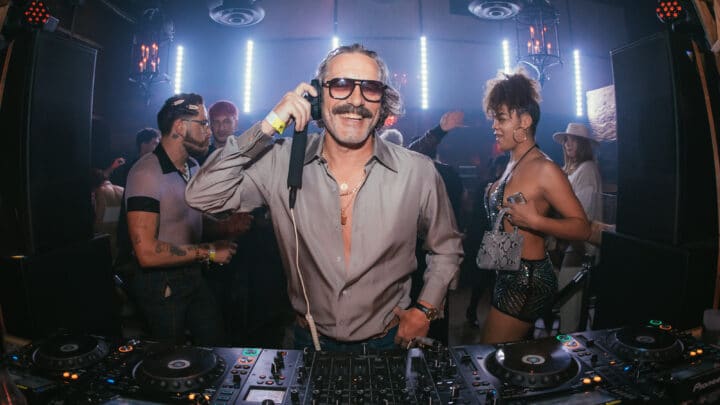 Get your party shoes on… Krankbrother's annual street party is back with DJ Harvey in the hot seat.
This is one of those events that if you know, you know.
Every year, party lovers, friends and families gather for the long-awaited Krankbrother's street party. Last year we watched one of the leading DJs of electronic music, Dixon, take to the stage and this year we've got none other than the revered maverick DJ, DJ Harvey.
Shoreditch's Hottest Street Party
If you know dance music, you'll be well acquainted with this musical genius and if you need any more reasons to attend, this will be his only UK date this year. This is your only chance to see DJ Harvey in the UK in 2022!
The street party will take place on Saturday 18th June on Christopher Street nestled behind Finsbury Park. The day-to-night party will involve a 5-hour set from DJ Harvey who will also be joined by the wonderful Bestley and Krankbrother.
DJ Harvey played a huge role in defining British dance music in the 90s. The hype around his rise was well-earned as he was once named by Rolling Stone in their top 25 DJs who rule the world.
Does it get much better than that? He also had a part to play in some of the craziest events in the US and above anything is known for his contagious high-energy sets most famously described by his quote:
"You can't understand the blues until you've had your heart broken and you can't understand my music till you've had group sex on ecstasy". Risqué.
Guaranteed to have everyone on their feet, DJ Harvey's performance is exactly what London needs post-Jubilee blues. Rain or shine, Saturday is going to be a very special day.
Krankbrother Street Party: Practical Tips + Map
We suggest you either start your day in Shoreditch by taking in the scents of Spitalfields market or make your way straight to Hackney and get nestled into the energy of the day. Whether you go with a group of friends or even alone, you'll certainly meet new people on the dance floor all there to share the same love of music.
Tickets
Grab your final release tickets here and get them fast, the event will sell out! And lastly, don't forget to wear comfy shoes! Trust us, heels will be regretted.
Map