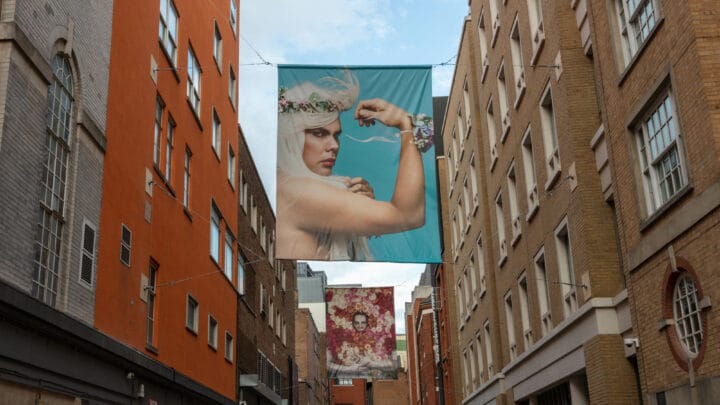 The Photographers' Gallery opened Soho Photography Quarter on June 9th, a brand-new outdoor space where the public can view world-class photography exhibitions for free.
Move over tradition, there's a brand new kid on the block. Soho Photography Quarter joins the long roster of brilliant London art galleries with a cool focus on modern work and a fabulous debut exhibition (more on that later).
This opening follows the total transformation of Ramillies Place from a desolate alley into a beautiful pedestrianised gateway to Soho – and oodles of dazzling artwork is the perfect decoration.
Read on to discover why you need to visit.
About the Art Gallery
The Photographers' Gallery first opened in 1971 in Covent Garden and has played a crucial role in the UK's independent photographer scene ever since – and this new gallery is a highly-anticipated extension of this.
Tucked away around the corner from Oxford Street, Soho Photography Quarter (or SQP, if you want to be a lil' bit swanky) will host a rotating programme of artworks that will change bi-annually.
SQP will also host live events, artist talks, presentations, and specially-commissioned projects throughout the year, with a huge focus on accessibility and inspiration for all. As well as providing a little leg-up for some of the best photographers across the globe. Christian Thompson: Being Human Human Being
The gallery's debut exhibition, Christian Thompson: Being Human Human Being, will run until December 2022 and is a large-scale installation of works that includes a huge art frieze, banners draped across the street, and soundscapes and projections.
Thompson's work explores some fascinating topics, including identity, sexuality, cultural hybridity, and memory, amongst plenty others.
His work is based on a series of performances (or "anti-portraits", as he likes to label them) in which he takes on personas with the help of handcrafted costumes and authentic backdrops.
This particular open-air collection of work will include pieces from Thompson's series King Billy (2010), Polari (2014), Equinox (2018), and Flower Walls (2018-present), covering the notion of indigenous representation and diversity through universal symbols and visual language.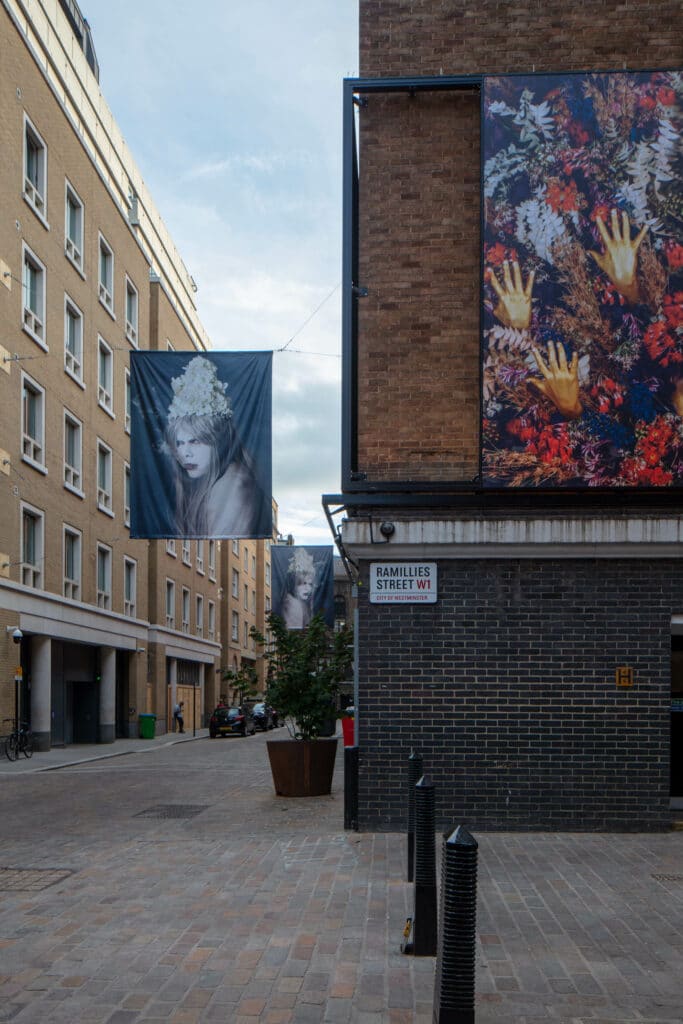 Soho Photography Quarter: Practical Information and Map
When?
The brand new gallery is open now. Christian Thompson: Being Human Human Being will run until December 2022.
Where?
The gallery is on Ramillies Place, just a short walk away from Tottenham Court Road and Bond Street tube stations.
Tickets?
Tickets are totally free, just turn up and enjoy.
Discover More Arts + Culture Guides