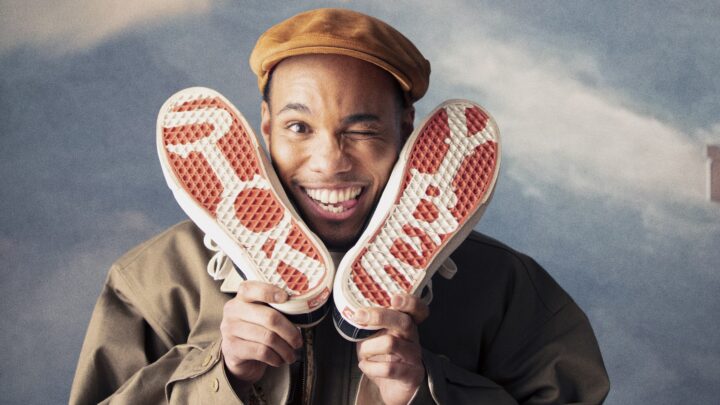 Anderson .Paak fan? Who isn't? You won't want to miss the chance to see him perform IRL in London this month. Here's what you need to know.
JEWELZ at the ready, House of Vans is set to host an exciting performance by Anderson .Paak & The Free Nationals on Monday 27th June 2022. And you do not want to miss out on snagging FREE tickets.
In celebration of Anderson .Paak's latest collection with Vans, he will be taking to the stage for an exclusive performance of his biggest hits right here in London. Underneath Waterloo Train Station, to be exact.
Yes, the energetic, cheeky hitmaker is bopping onto London's scene with all of his biggest hits in tow. His performances are always off the charts, so you wanna make sure you grab your spot.
Read on to discover just how you can get involved.
Hang On… Did You Say Free Tickets?
Yes. Yes, we did. But if it seems too good to be true, it most certainly is. You'll have to enter a ballot in order to be in with a chance of winning tickets to see Anderson .Paak perform.
Be warned: The ballot goes live on the Vans website on Monday 13th June at midnight and you'll need to be very, very quick to be a winner.
As well as dazzling performances by Anderson .Paak and The Free Nationals, the event will also include a bespoke UX experience inside the 32,000-foot venue hidden underneath London's iconic Waterloo Train Station.
About The Vanderson .Paak Collection
.Paak has been a global music ambassador for Vans since 2020, coming full circle since the days when he used to work part-time at a store in California. So far, he has released three collections with the brand, and the latest "Vanderson" drop looks set to be the best yet.
Expect classic pumps, tees, and jackets with a whole lotta Anderson .Paak flair – if his recent Met Gala outfit is anything to go by, it's going to be wild.
Oh, and in case you were wondering, the Vans x Anderson .Paak Collection will be available at vans.co.uk and in-store from June 24th 2022. You might want to set an alarm to avoid missing out.
Anderson .Paak at House of Vans: Practical Information and Map
When?
Anderson .Paak & The Free Nationals will be performing on Monday 27th June 2022.
Where?
The exciting performance will take place on the main stage in the eclectic music and skateboarding venue House of Vans, underneath Waterloo Train Station. The nearest tube station is Waterloo.
Tickets?
Tickets will be free and will run through a ballot system on the website that will go live at midnight on Monday 13th June.
Discover More London Arts + Culture Guides