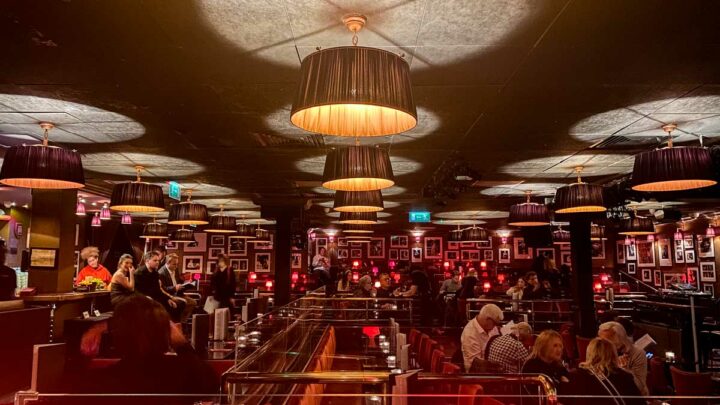 Looking for a hearty meal with some live entertainment on the side? Look no further. These London restaurants with live music are perfect, no matter what kind of groove you're into.
We can't think of a pairing more iconic than food and music – well, perhaps cheese and wine, but we happen to think smooth jazz goes pretty well with that, too.
Luckily, plenty of London's restaurants have got the memo and many of them host live music evenings so that you can enjoy your dinner with a backdrop of tunes. Toe-tapping is 100% guaranteed.
London's music scene has something for everyone and every occasion – so we've written this guide to the top restaurants with live music and dinner London has to offer. You're welcome.
Best Restaurants with Live Music in London
28°-50° by Night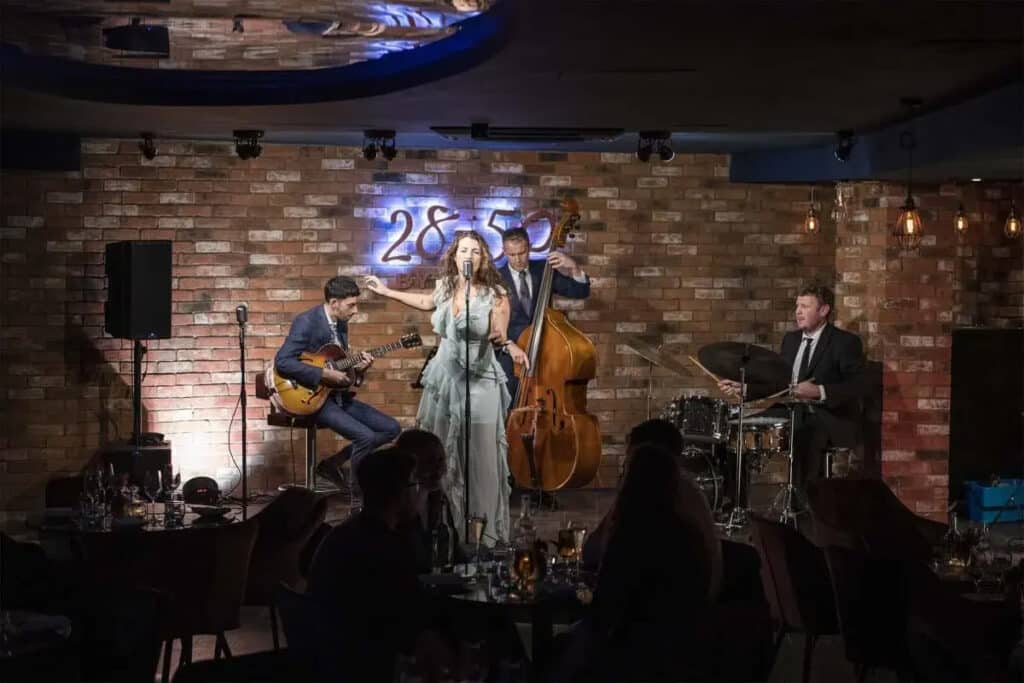 Head over to Marylebone and you'll discover a hidden London gem. It's an intimate jazz club that leans hard on the roaring 20s vibes and underground New Orleans atmosphere. It's 28°-50° by Night.
They run a raucously good time of a dinner service with live jazz, soul, and blues played by London's top musicians from Tuesday to Saturday, 8pm until 2am – no wonder then they're considered one of London's best jazz clubs.
As for the food: the kitchen stays open until midnight so you can make the most of selections of light bites or heartier mains well into the early hours (Seared Tuna with Shiitake Mushrooms for us please).
Naturally all this should be paired with a recommendation from their house sommelier – would you expect anything less than a mouthwatering collection of wines from a classy joint like this?
Quaglino's
St James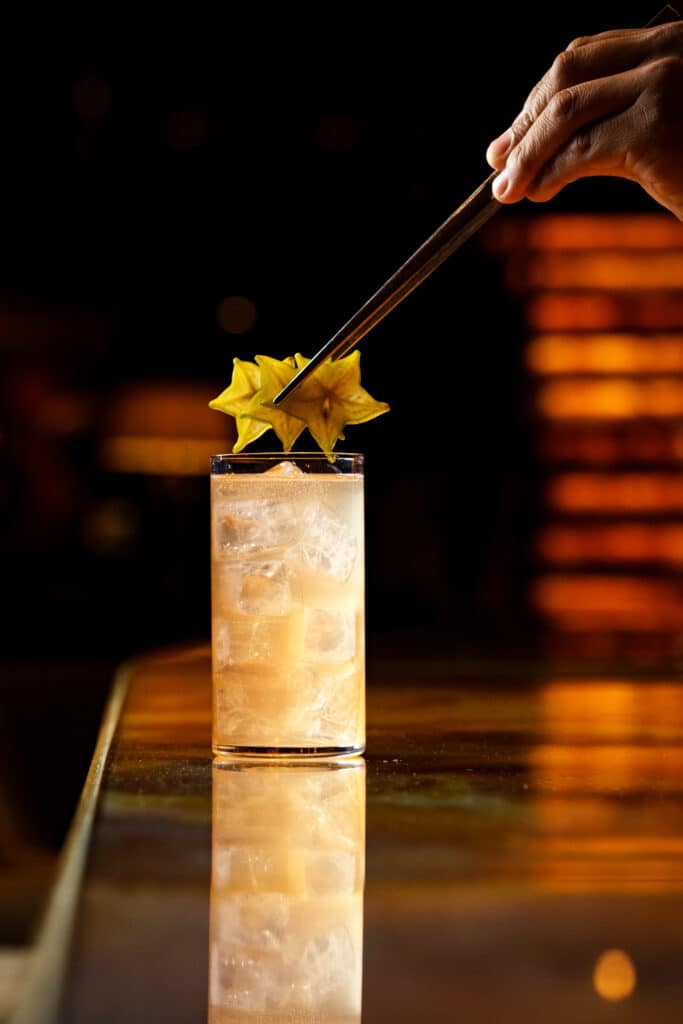 This upmarket restaurant offers dinner with live music in London, St. James. Quaglino's is open seven days a week and it's the perfect spot in the city for great food and entertainment.
Quaglino's serves a European-inspired menu that takes heavy inspiration from the flavours and techniques from contemporary cooking.
We're talking slow-cooked pork belly with spiced carrots and onion, smoked duck and pear salad, and an array of caviar options if you're feeling particularly indulgent.
This restaurant hosts a new musical act every night and, while blues and jazz are favourites, you'll find pretty much any genre of music performed at Quaglino's.
Tip: This is a cashless restaurant. Bring your cards, and leave your change at home.
Brasserie Zédel
Piccadilly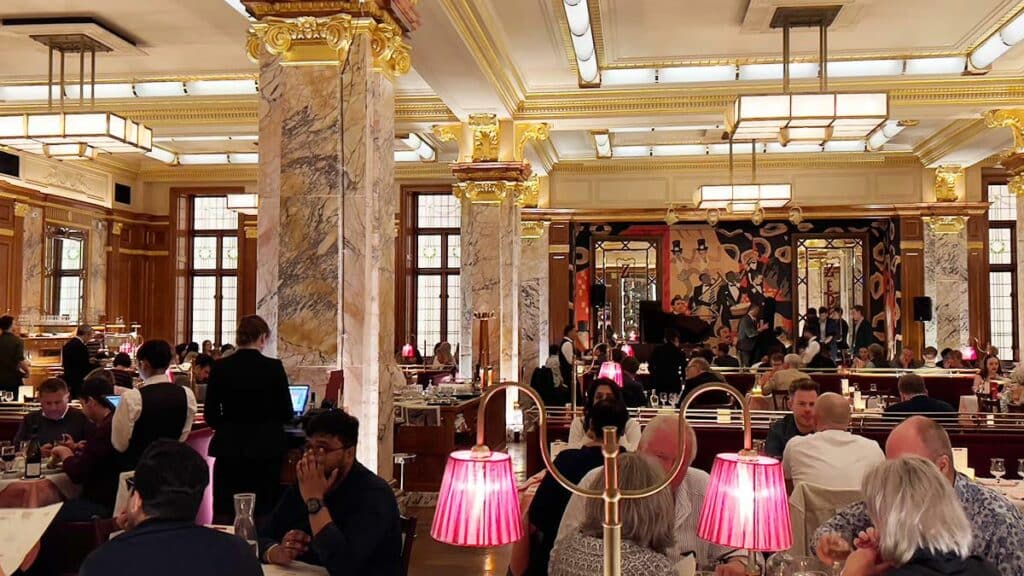 Brasserie Zedél serves traditional French cuisine alongside outstanding entertainment every night in the heart of Piccadilly.
Music-wise, it's mostly jazz – the good stuff mind – the perfect accompaniment to the dazzling belle-epoque interior.
Little wonder then that Brasserie Zedél is one of the most popular restaurants with live music in London.
Brasserie Zedél shares the property with the ZL Café, Bar Américan and the Crazy Coqs cabaret venu. With dishes like their delicious braised Ox cheek and smoked garlic mash, it's little wonder they've earmarked a spot as one of the go-to London spots for French food too..
The Blues Kitchen
Multiple Locations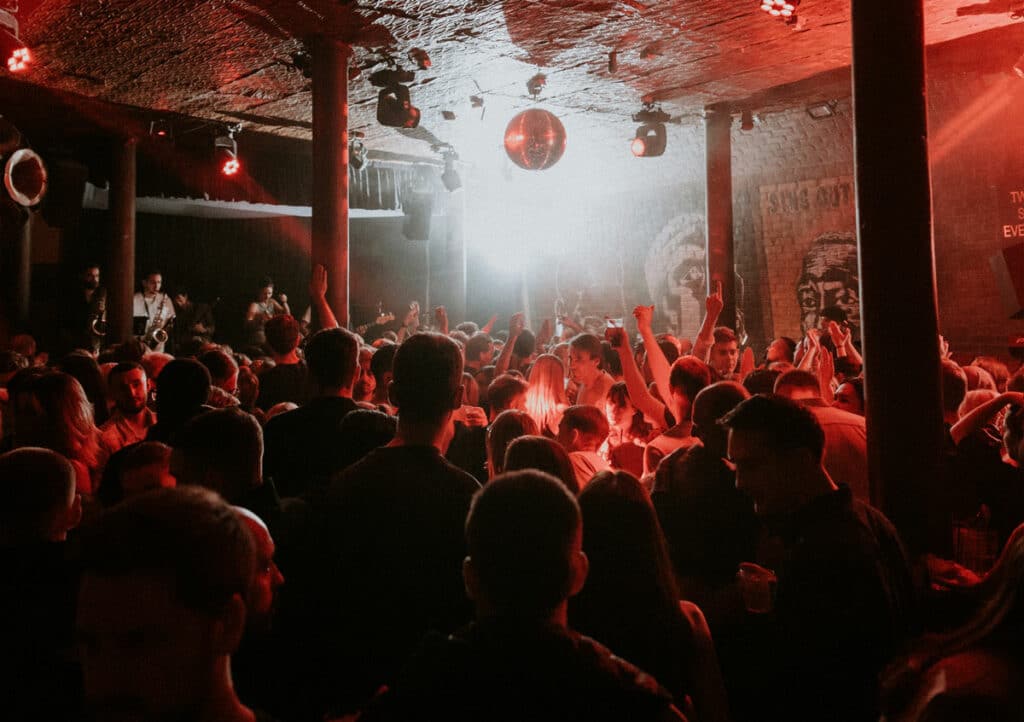 You can find The Blues Kitchen in three locations around the city. Their Brixton, Shoreditch, and Camden restaurants are all terrific for dinner and music in London, with an array of bluesy acts taking to the stage each evening.
And, if you like the vibe at The Blues Kitchen, you can even rent it out for private bookings or parties.
You'll find an abundance of Cajun flavours and barbeque dishes for the meat-eaters, though vegetarians and vegans fear not. We know it can be hard to find food at a lively joint on a night out. But, The Blues Kitchen has a couple of fantastic meat-free items on the menu.
This restaurant is open every day from around mid-day till late.
Boisdale of Belgravia
The Boisdale group are three spirited Scottish restaurants with jazz music in London – and we especially love the one in Belgravia. Boisdale of Belgravia hosts live jazz acts every day of the week.
You can also watch live tribute performances to musical icons like Frank Sinatra, Aretha Franklin, Ray Charles and Michael Bublé at Boisdale of Belgravia.
Scottish cuisine primarily influences the Boisdale menu. However, you'll also find inspiration from Italian and French cuisines, with the likes of a delicious lobster fettuccine and truffle burger on the menu.
Tip: This eatery doesn't offer many vegetarian dishes.
Toulouse Lautrec
The Toulouse Lautrec restaurant in London's borough of Southwark resembles Paris in the 1920s. It occupies three floors and offers a restaurant on the ground floor, a piano room on the first floor, and a jazz club on the second floor.
This restaurant's menu pays tribute to classic French gastronomy. They use modern techniques and seasonal ingredients in creating their internationally renowned selection of meals.
Toulouse Lautrec is one of the best live music restaurants London has on offer. For a laid-back and elegant evening, the Piano Room is the perfect spot in the house, while the Jazz Club is ideal for having a drink while you watch the show.
Ronnie Scott's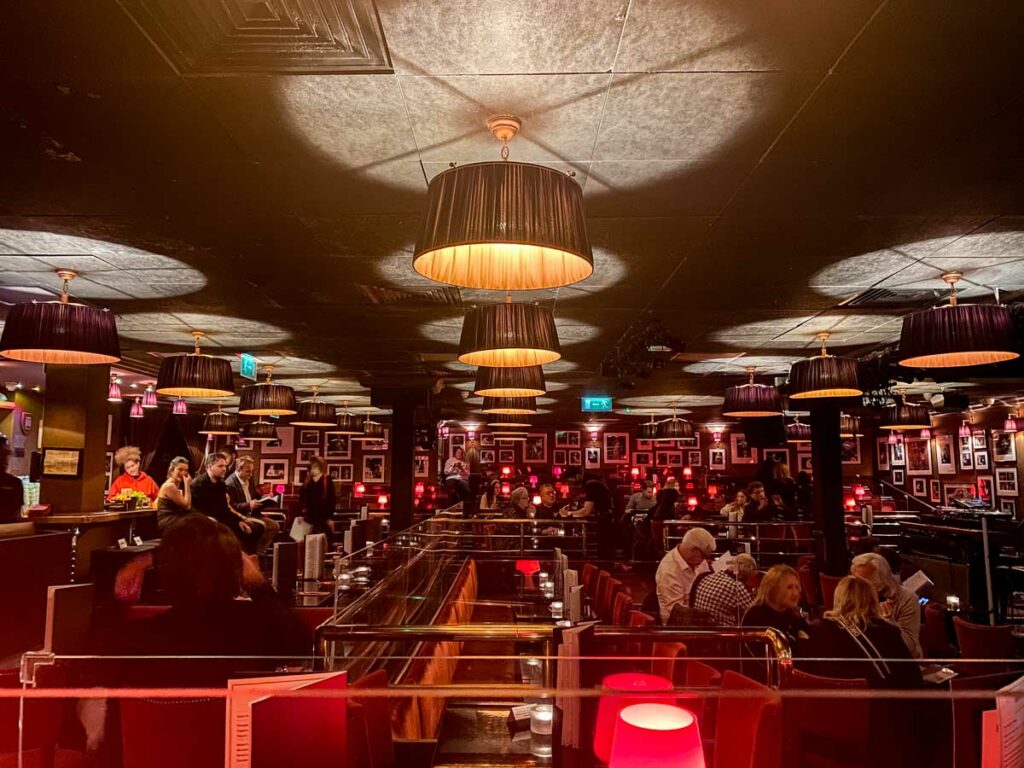 This iconic jazz club in Soho has been in full swing since 1959. Named after the club's founder and British tenor saxophonist, Ronnie Scott, the club has since seen many talents take to its stage. It has to be said that Ronnie Scott's is one of the most famous clubs in the world.
Still among the best restaurants with live entertainment in London, Ronnie Scott's is primarily a jazz club but also has a menu that keeps diners coming back – we particularly adore the herb-crusted rack of lamb.
They also have an allergen-specific menu to make the dining experience at Ronnie Scott's enjoyable for everyone.
Pizza Express Jazz Soho
Soho
Since 1976, this vibrant pizza joint has remained among the top restaurants with music in London. This jazz club saw performances by many talented musicians, comedians and performers over the years—like Norah Jones and Amy Winehouse.
Pizza Express in Soho hosts a new act almost every night and welcomes diners for a comfortable and enjoyable evening. This restaurant lives up to its name, serving an array of great pizzas with vegetarian and gluten-free options.
100 Wardour Street
Soho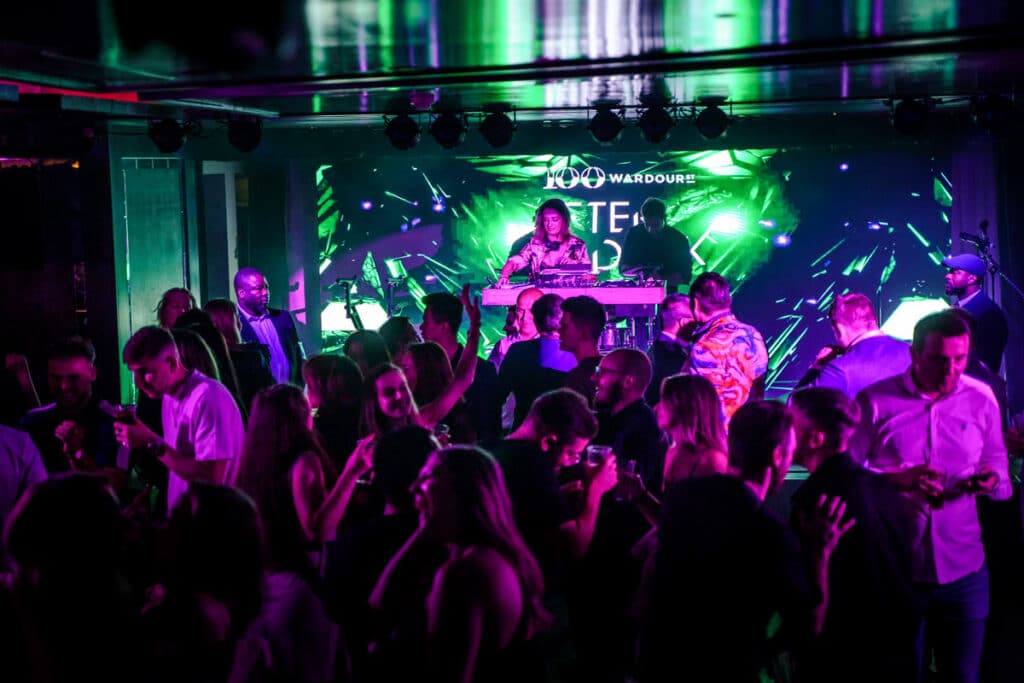 100 Wardour Street is a swanky location for both dinner and music in London and one of the most popular spots to party in Soho. Open from Wednesday to Sunday, this restaurant starts the weekend early with Wednesday Fiestas.
Wednesday Fiestas include a glass of bubbly, live music, and a three-course meal for £35 per person. You can dine a la carte from the set menus or check out the bar for light snacks and small plates on the other nights. Whatever you do, ordering the blackened salmon burrito is a must.
Old Street Records
Old Street Records is a lively venue in Shoreditch. They offer fantastic cocktails, delicious food, and great live music and entertainment.
The restaurant's basement area provides an intimate setting for jazz nights and is the perfect area for high-energy parties. Old Street Records hosts a variety of acts—from blues to rap. The restaurant has a small menu with a couple of tasty pizzas. However, the drinks menu is pretty extensive.
Happy hour is every day from 5 to 8 pm.
The Spice of Life
In the heart of the bustling area of Soho sits The Spice of Life pub and cellar bar. This pub has been around under different names since 1898. Since then, it has survived two World Wars and has stood as The Spice of Life pub since 1986.
In the 60s and 70s, this location, known then as The Scots Hoose, played an important role in the music industry. It hosted performances by Cat Stevens, Bob Dylan, Paul Simon, and the Sex Pistols.
Although it's no longer a popular spot for grungy musicians, The Spice of Life is now a thriving jazz club and still amongst the best London restaurants with live music.
The Strings
You can find The Strings restaurant behind the London Eye in the esteemed County Hall Building. The Strings offers a unique Italian and Spanish fusion dining experience and is a fantastic venue for groups.
Diners can choose tapas-style or regular main dishes from the a la carte menu or dine from the chef's set menu, which changes every day. As you dine, The Strings has live classical guitar performances every thirty minutes.
Jazz Cafe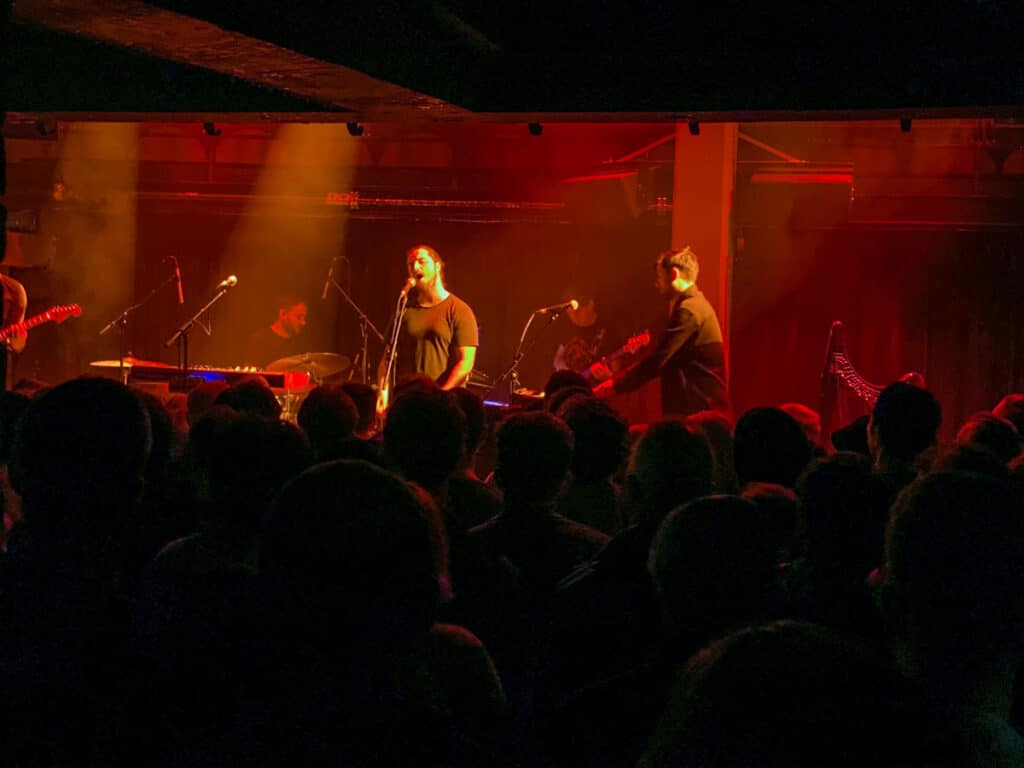 It's all in the name. The Jazz Cafe is primarily a jazz club but often features a variety of musical artists from other genres. On Fridays, you'll find the Jazz Cafe hosting Club Night. Here they play the globe's most celebrated artists.
Every Saturday at Jazz Cafe is Soul City—a blend of soul, house and disco tunes from throughout the ages. This restaurant is the perfect setting for music lovers and foodies too.
The Jazz Cafe has an impressive selection of snacks, mains and drinks to chow down on as you groove.
The Lexington
For unforgettable Mexican food served with a hint of LA style, head to The Lexington in Islington. The Southern American charm, superb food, and live entertainment make for a thoroughly enjoyable experience.
You can find all of The Lexington's guest acts for the month on their website. While you're there, have a look at the range of tacos, burritos, and quesadillas – and drool over the chicken burrito.
Practical Tips for Booking London's Live Music Restaurants
Most restaurants in London with live music and dancing will require you to book a table or tickets in advance – especially if you're planning to visit with a group.
Soho is a good place to start – it's home to some of the best jazz clubs in the capital.
The best restaurants in London with music can get crowded on weekends. Visit in the week for a more intimate experience.
London Live Music Restaurants: Map