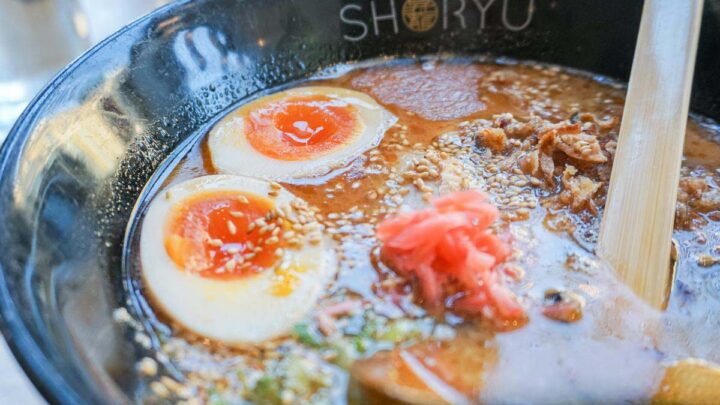 What did London do before it discovered ramen? Luckily, we don't have to imagine – London's ramen scene is popping. Here are the restaurants serving the very best.
Where to Find the Best Ramen in London
Shoryu
Shoreditch and others
££
You can find Shoryu dishing up their premium ramen in Shoreditch, Soho, Carnaby, and more locations. This traditional ramen restaurant serves dishes that are as authentic as London ramen comes.
Among the treats, the signature Shoryu Hakata Tonkotsu is a favourite brought to life. It's perfect for sharing or gobbling up all by yourself – we don't judge.
If a plant-based diet is more your thing, there's a vegan dish comprising lighter sonyu milk, shiitake mushroom, miso and a string of noodles.
Koi Ramen Bar
Brixton and others
£
Koi Ramen's on a mission to feed Londoners high-quality ramen at an affordable price. They have spots in Brixton, Elephant, Tooting, and Herne Hill. So, it's not too farfetched to say mission (almost) accomplished.
Grab a seat and choose between the pure white tonkotsu, old skool shoyu, and vegetarian mellow miso. If you're afraid of ruining your favourite white tee with the whole day still ahead, opt for the soup-less naked ramen dish.
You can down your ramen of choice with a selection of drinks and cap your visit with a scoop of some of London's best desserts.
Nanban
Brixton and Covent Garden – ££
Nanban is the baby of MasterChef winner Tim Anderson and boy did he deliver. Nanban specialises in Japanese soul food fused with Brixton Market flavours with Caribbean, African, Latin America, Asian, and Middle East influences.
Their ramen menu includes pork broth, chicken broth, and vegan delicacies.
We recommend the signature Lazy Goat Ragu-men. It's a goat leg and thick noodles in an Indo-Caribbean sauce with eggs and fried shallots that play an Oscar-worthy supporting role.
Nanban's impressive menu extends past ramen. It also has other Japanese delicacies, drinks, and desserts ready to convince you to stick around longer than you intended.
Kanada-Ya
Angel, Piccadilly, and Covent Garden – ££
With roots in Japan, Kanada-Ya is a ramen restaurant in London that's (rightfully) earned a reputation of serving delicious authentic Japanese delights.
Before you even get a taste of the food, the smell's enough to convince you to try every dish there. Their pork bones simmer for 18 hours, and noodles get cooked on-site, ensuring you get to sink your teeth into perfectly cooked ramen.
The menu at Kanada ramen in London is pork-heavy, but there's chicken ramen and other lighter selections available too.
Once you've chosen the dish of your choice, grab a drink and down your meal – we recommend the sake for an authentically Japanese feast.
Ippudo
Canary Wharf, Villiers Street, Goodge Street, and Central Saint Giles
£
Ippudo is a chain of stores with origins in Japan, gracing English shores to bring Japanese gastronomy to the world.
Notable dishes include classic ramen, akamaru modern, and karaka-men with a veggie option also available.
The Villiers Street and Central Saint Giles store also have signature dishes like tori shoyu and hakata niku ton.
If the ramen wasn't filling enough, there's an a la carte menu with hirata buns, salads, and some of London's best ice cream to appease your hunger.
Ramo
££
Want to try unique ramen offerings that turn their noses on traditional Japanese dishes? Ramo serves some of the best ramen in Soho and Camden for your non-traditional tastebuds.
The restaurant infuses Japan's famous delight with Pinoy flavours from the Philippines.
With dishes like oxtail kare kare, chicken sopas, and the seafood sinigang, you won't regret trying something not-so-traditional. Not to mention, they're one of a few places that sell halal ramen in London – meaning every Londoner can enjoy a dish.
Bone Daddies
Soho, Bermondsey, Old Street, Bond Street, and more
££
New York-inspired Bone Daddies lets you enjoy your meal in a buzzing environment that can border on rowdy after a few beers and sake. Their Bermondsey outpost is the perfect place to enjoy some ramen near London bridge.
Their menu comprises pork, chicken, and plant-based broths. Choose the mild options if you have a sensitive stomach or light a fire in your belly with their hot varieties.
Tonkotsu
Kentish Town, Mare Street, Stratford, and more
£££
Aptly named Tonkotsu ramen in London houses mid-century noodle-making Japanese machines, proof that this place knows its stuff.
They cook their noodles for 32 seconds, providing you with that tender bite and chew noodle enthusiasts chase like treasure.
You can find Tonkotsu ramen in Shoreditch, Mare Street, Soho, and many other London suburbs, ensuring everyone can enjoy the dishes.
In addition to their pork broth dish, Tonkotsu sells chicken broth delicacies and Japanese mushroom miso for anyone with a plant-based diet.
Taro Ramen
Soho, Balham, Kennington, and Finchley
£
Taro, having been around since 1999, is one of the OG ramen places in London. It has stood the test of time with an impressive menu with different variations of ramen.
Visit to pay homage, and you'll stay for some of the best ramen noodles in Soho, Balham, and more.
Their menu features mainstay noodles in soya soup with seafood, beef, pork, or chicken in support. Their mixed vegetable variation is one of the best vegan ramen in London.
Cocoro
Marylebone, Highgate, and Bloomsbury
£££
Don't let their locations scare you off. Despite sitting in some of London's most fashionable areas, Cocoro is very affordable.
It's a Japanese restaurant with excellent sushi, ramen, izakaya-style dishes, and Japanese drinks. The restaurant has shot to fame thanks to their kumamoto pig bone ramen.
They have a somewhat bespoke offering, allowing you to choose flour or rice noodles in your ramen.
Monohon Ramen
Old Street
£££
"Monohon" loosely translates to "the real thing", need we say more? Okay, we probably do.
As the name suggests, Monohon serves the best ramen in central London with an authentic Japanese experience shaped by the founder's years of experience living in Osaka.
Like the ramen shops in Japan, the spot is bustling and the ramen is as excellent as ever. Their ingredients are all cooked slow and by hand as they often boil them for a day or two for exquisite taste.
That sounds like it makes for a delicious meal because it does – don't just take our word for it, try it yourself.
Okan Ramen
Brixton and South Bank
££
"Okan" is a Japanese slang term for "mum", meaning this comfort food infuses home-cooked love for extra comfort.
Their signature treat is a soy-based clear chicken broth with bean sprout and spring onion., It's all cooked to perfection, providing a tender bite and chew. There's a vegan option, plus many other nibbles if the ramen wasn't filling enough and drinks like umeshu and sake to enjoy.
Practical Tips for Exploring London's Ramen Restaurants
There are many variations of ramen, with variety in broths, bases, noodle thickness, and more.
London ramen spots use the common animal and vegetable broth bases and boast shio, shoyu, and miso seasoning, which often indicates the thickness of the dish. You can get the full low-down on ramen styles here.
When going for Japanese ramen in London, be ready to stand in long queues as the above shops are popular. Once you've grabbed a seat in your choice of ramen bar in London, it's always best to try their signature dishes.
London's Best Ramen: Map
Looking for More London Food Guides?