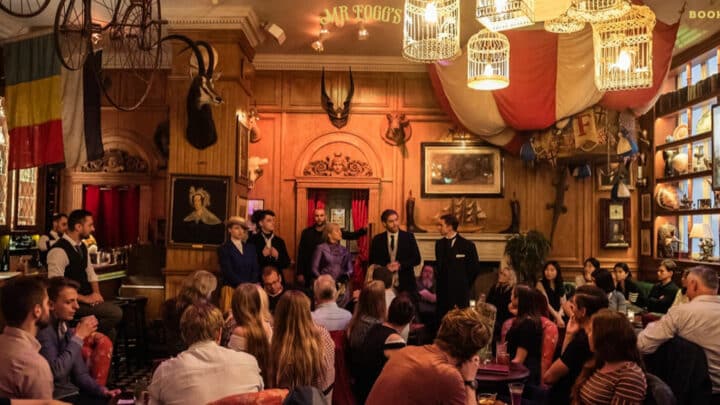 Looking for a creepy murder mystery evening in London. We've got you covered with our guide to the very best.
London, you love an immersive experience. The city is full of them. Some of the best of the bunch will plunge you into the dark and murky world of murder, having you put on your detective's hat and get to the bottom of a case to put a killer behind bars.
The themes on these lean into some of crime fiction's best-known characters, Sherlock Holmes popping up more than a lot, and Agatha Christie-like locations playing the setting of one of the best.
If you fancy plunging into a world of murder and intrigue, here are the best murder mystery nights London has to offer.
Best Murder Mystery Events in London
Mr Fogg's Murder Mystery
Mayfair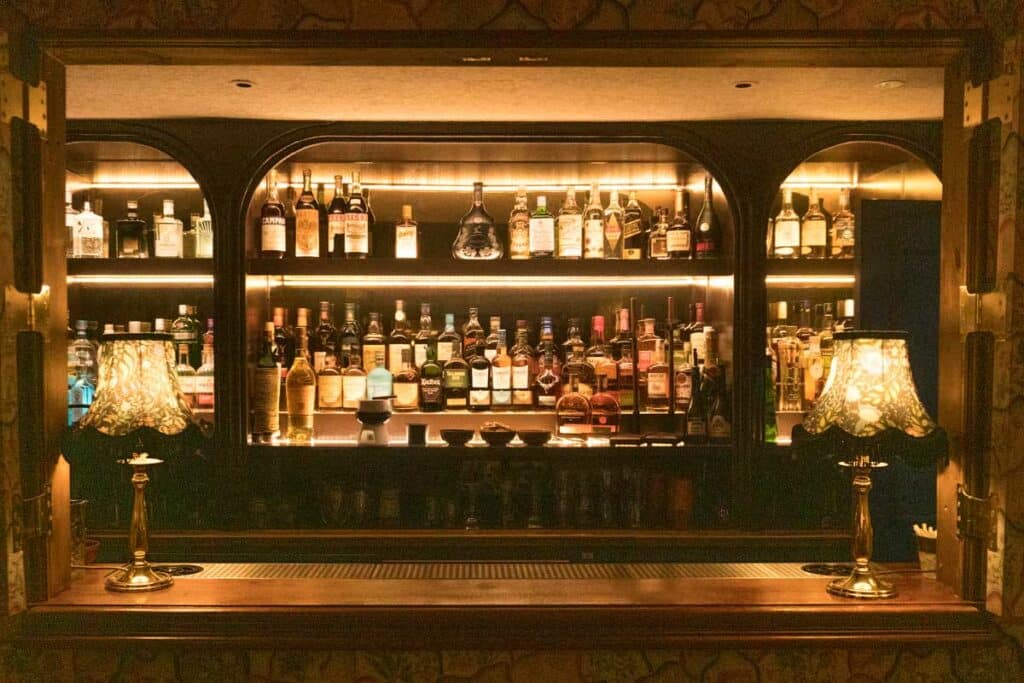 Have you ever been invited to Mr. Fogg's Residence? The old chap lays on quite a night. When he's not off around the world he throws a killer (literally) murder mystery event or two.
They take place several times throughout the month and are never anything less than a right hoot (as we imagine Philias would say). The setup? His old pal has been murdered *corseted woman shrieks and feints*. It's down to you to find out whodunnit.
You'll swan around the Mayfair cocktail bar interviewing potential suspects. There's just one hitch: they'll be plying you with champagne and cocktails to cloud your judgement. You've got one hour to crack the case. The heat is on.
Sherlock's Despair
This one comes from the team at the excellent Breakin' Escape Rooms. It's a murder mystery experience that gives you a chance to step into the shoes of Britain's most iconic detective: Sherlock Holmes.
You pick up after a night of tragedy befalls Baker Street. The dear-stalker-hatted detective himself has washed up dead in the gutter of an opium den. Now Moriarty, unchallenged, plots world domination and it's down to you and your pals to stop him.
Explore locations close to Holmes as you get to solving a series of trials to find a secret file that will help you finish off Moriarty once and for all.
The Murdér Express
Shoreditch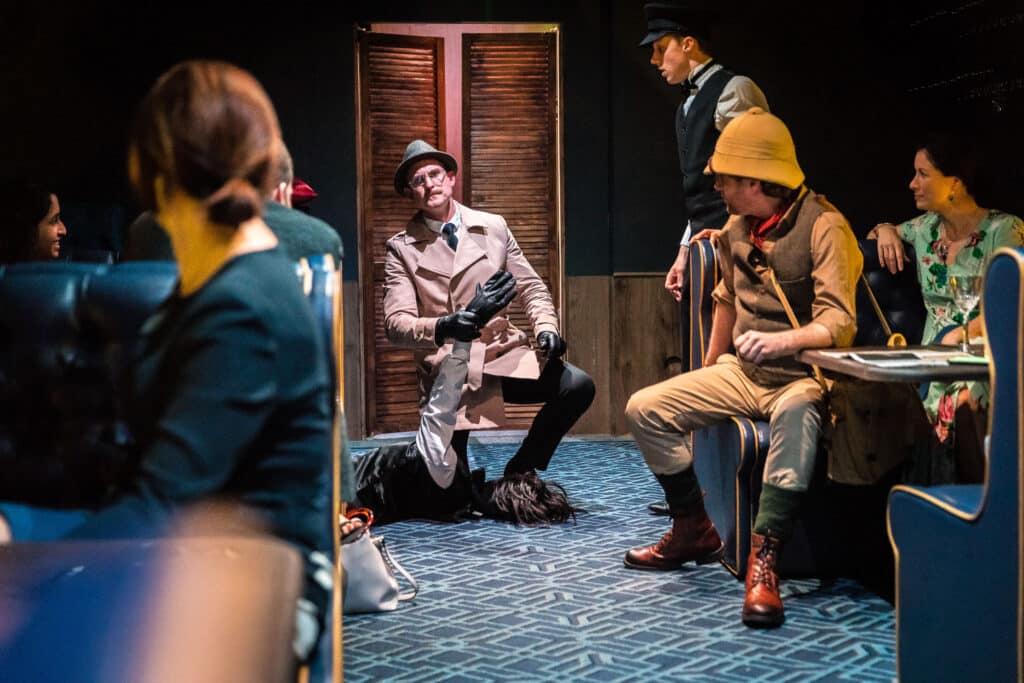 If you want a hot dinner with your side of cold-blooded murder, check out The Murdér Express. It's probably the best murder mystery dinner in London.
Funicular, Have this thing down to a fine art. They've been running their original Murder Express experience for years now and have recently added a coda to the dinner party solve-a-long.
You'll be immersed in an Agatha Christie-esque case that unfolds as you dine out of a four-course meal of food that has no business being this delicious outside of a dedicated restaurant.
The setting: a luxury train's dining carriage, replete with actors in full costume and a whole lot of intrigue.
The Murder by Trafalgar Square: Interactive Game Experience
Trafalgar Square
Another great murder mystery experience London has to offer is this number: The Murder by Trafalgar Square: Interactive Game Experience. It'll have you getting out and about in the city centre.
To kick things off, you'll be presented with a mystery envelope full of clues. Following them you'll encounter some of London's most iconic landmarks and sights, unravelling a murder mystery story that takes you back in time to 1899 to shed light on the unsolved case of missing person Thomas Meyer.
Bring your thinking cap, you'll be required to solve riddles and use your smarts to crack the case.
Murder Mystery Dinner Cruise
Tower Pier
How about a side of murder with your glamorous river cruise? On this fantastic murder mystery night, you'll be on a three-hour boat ride along the Thames, with London shining from the riverbanks as you go.
There's just one problem. You're stuck on a boat with a murderer…
The evening plays out over a three-course dinner with drinks. You can sit back and watch the show unfold, or get stuck in and help the crew track down the killer. How you play it is entirely up to you.
The Poisoned Chalice Cocktail Experience
Shepherd's Bush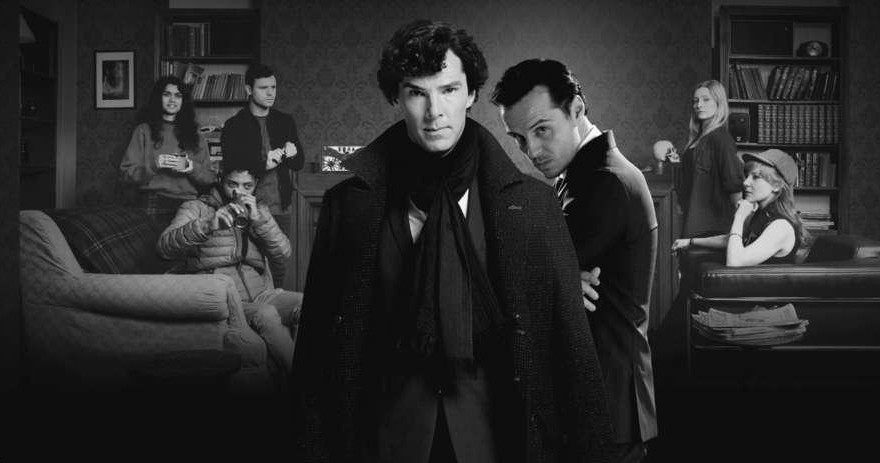 Another great Sherlock Holmes-themed murder mystery night London has to offer is The Poisoned Chalice Cocktail Experience. It comes from the folks who do Sherlock: The Official Live game – one of London's top escape rooms.
The story unfolds as you're baited into Moriarty's lair in the ultimate test. That test: mix the perfect cocktail. You'll have to channel your inner detective to locate the ingredients you need and the recipe for this mighty drink.
Fail, and your mistake 'might be your last'.
Events From the Murder Mystery Company
London-wide
Here's another option to think about if you're in the market for a good murder mystery. The Murder Mystery Company puts on all sorts of private immersive events – their name should give you some clue as to the theme.
It's all done privately, meaning you'll provide the space (they recommend some spots for hire) and they'll come to you to create the experience. That makes them perfect for big parties or team-building events and such like.
They've got a selection of great pre-packaged evenings to choose from, including (get this) a James Bond night where you help 007 find the agent responsible for a governmental assassination. Another sees you in The Mob of 30's New York, tracking down the murderer of your boss.
Murder Mystery at Barts
Chelsea
One of Chelsea's best bars, Barts takes full advantage of their speakeasy vibes to curate a night of mystery and suspense. When you see the venue, you'll also see why exactly it might be the ideal location for a night like this.
You'll have to search out London's first-ever speakeasy, tucked away in the Chelsea cloisters. Once you've found it, familiarise yourself with the setting and the people in it. You'll need to infer what's going on to get through the tough line of questions coming your way.
When it's all done, and the case is closed. You'll have free reign over the bar to take the edge off.
Practical Tips for Exploring the Best Murder Mystery Events in London
These experiences can be done as a duo – just you and your trusty sidekick – but are often best with a bit of a group. Have a think about which way you want to tackle the evening based on the type of murder mystery night you're going for.
Most of these places will cap the group numbers at around six people.
Make sure you book these things as far in advance as possible. Spaces will fill up in the weeks before you want to go, so it's useful to get the jump on everyone else.
London Murder Mystery: Map