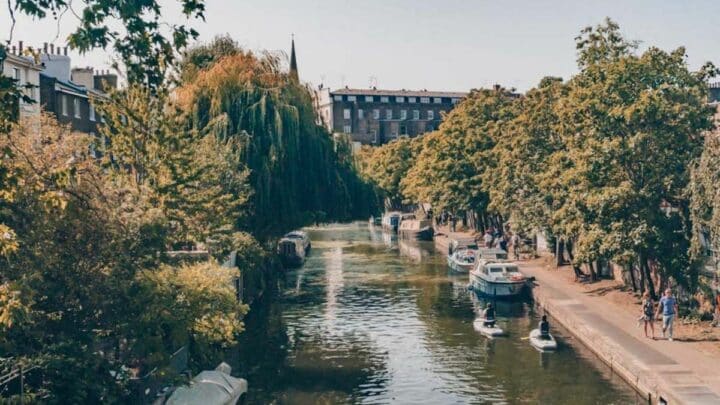 Have you tried paddleboarding in London? We love it – here's why it needs to be your new favourite hobby.
Though some might see the city as something of a concrete jungle, London isn't all pretty cafes and skyscrapers. In fact, there are some pretty cool ways to get your dose of fun… like stand up paddleboarding.
Looking for a new way to scope out the city (and, let's face it, work those core muscles)?
That's why you have to try stand up paddleboarding on London's waterways.
What Is Stand Up Paddleboarding?
Paddleboarding is one of the most accessible water sports, popular with those at all fitness levels.
As the name suggests, stand-up paddleboarding (SUP) is where the individual will stand on the board, using a row to propel themselves.
Stand-up paddleboarding was initially very popular in the ocean but has now transcended into our cities and is becoming one of the fastest-growing sports in London.
The days of the sport being reserved for those who live in sunnier climates is long gone. Paddleboarding has been welcomed into the life of Londoners, and come rain or shine, we will enjoy it!
Whilst purchasing your own paddle boarding gear is a significant investment, there are heaps of places around London where you can rent equipment, enjoy lessons, and meet new friends.
12 of the Best Places for Paddleboarding London
The opportunities to SUP in the capital are enormous. Here are 12 of the best places for London paddle boarding.
Kew Bridge
Kew Bridge is one of the most popular spots in the whole of London for stand up paddleboarding.
Depending on the direction of the tide, SUP tours from Kew Bridge either head towards Hammersmith or Richmond. Both options offer incredible views of the city from a unique, water-level perspective.
The popularity of paddleboarding in Kew Bridge makes this location a great way to meet new people and explore London's sights.
For those with the confidence to explore the water solo, there is a range of local providers to rent a board from. This is a great opportunity to socialise in the area, meeting the eclectic mix of people who make west London their home.
Paddleboard providers: Active360 offer several sessions in the area – these range from beginner taster options to comprehensive lessons for those hoping to head onto the Thames alone.
How to get there: Kew Bridge station is just a one-minute walk from Active360, making it highly accessible from anywhere in the city. Alternatively, following the Thames Path via bike or foot will lead to Kew Bridge. Interestingly, for those who visit on the weekend, there is free parking nearby.
Brentford Lock
For those in search of a more peaceful location, Brentford lock is the place to be.
Brentford Lock is the ideal spot for those new to the sport and is popular with groups of all different abilities, including those with children. The area offers the promise of calmer waters and none of the crowds.
Sit-on-top kayaks are also available here for those searching for something a little different. Additionally, there are many fantastic cafes in the area to enjoy a refreshment afterwards.
Paddleboard Providers: Active360 offer coaching lessons and small group paddleboarding sessions in the area.
How To Get There: Brentford overground station is just a 15-minute walk away, with regular trains from London Waterloo. Alternatively, there is bike storage by the lock or parking on the local high street.
St Katherine Docks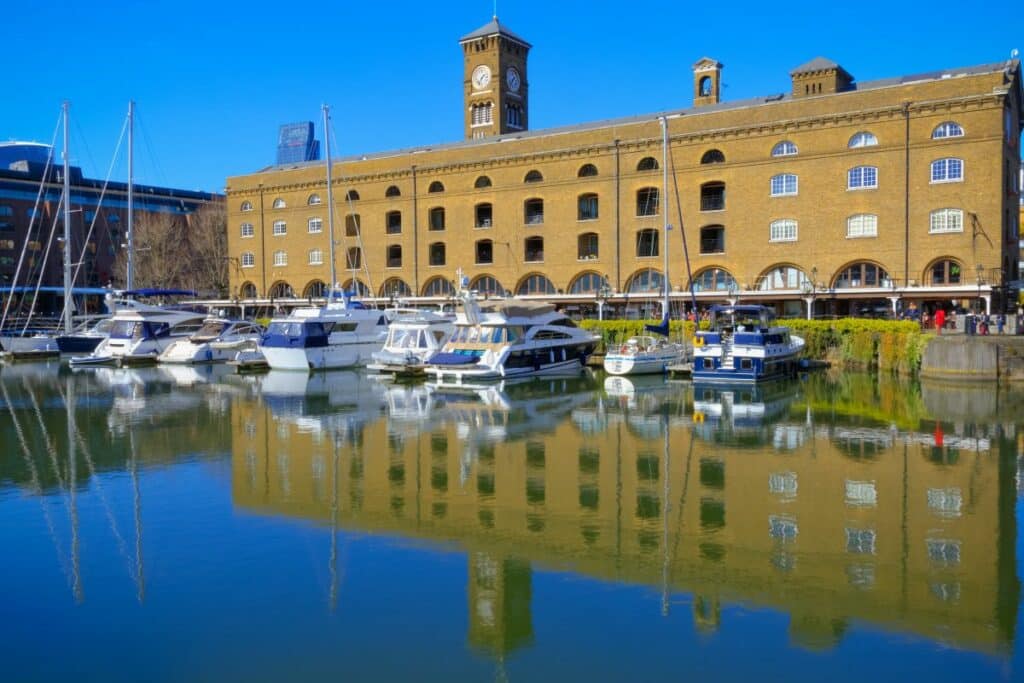 If you've ever thought about observing some of London's most luxurious boats up close and personally, then paddleboarding in St Katherine Docks might be the option for you.
If you're the type of person (like most of us) who love observing the glitz and glamour London has to offer, then paddleboarding in this east London gem will be the spot for you.
St Katherine Docks is a stunning area of London, consisting of a sparkling marina lined with incredible restaurants. Paddleboarding here is an incredibly tranquil experience.
Once you are on the water, you will struggle to believe you are in the heart of central London. The experience on the board transports you to another world!
Enjoy the fantastic bars and restaurants in the area afterwards, or take a short walk into wapping to try out the local pubs and cafes.
Paddleboard Providers: Paddle Boarding London offer a range of activities at St Katherine Dock, including 1-1 classes, group sessions and even paddleboard yoga.
How To Get There: Situated close to Tower Bridge, St Katherines Dock is easily accessible from across London. Tower gateway station is just a ten-minute walk away. Alternatively, enjoy the Thames path route via foot or bicycle.
Thames Ditton
The vibe in Thames Ditton is relaxed and leafy, providing the perfect dose of escapism for Londoners – the ideal spot for a stand up paddle in London.
The beauty of this area is the versatility that it offers.
Firstly, there are many short routes around this area. The gently sloping beach into the river Thames provides the perfect place to paddle and relax. On the warmer days groups enjoy picnics on the riverside after their adventure.
Alternatively, many longer routes can be enjoyed from the base. For those who are feeling particularly energetic, paddling from Thames Ditton to Kingston is stunning.
Paddleboard Providers: Thames Ditton is the original home of Dittons Paddle Boarding, which now offer services all over London. They provide taster sessions, group social paddles, and 1-1 training options.
How to get there: Thames Ditton train station is just over half an hour from Waterloo station. There is also some limited parking nearby.
Limehouse Basin
If paddleboarding amongst the narrowboats through the winding canals is more your vibe, then Limehouse Basin will be the place for you.
From 1-1 sessions for those who want to learn the basics to board rentals for those confident on the open water. Limehouse basin caters for paddleboarders of all abilities.
The beauty of paddleboarding in Limehouse is that you can follow the canal all the way up to Hackney for a full tour of north east London. Perfect for those who are partial to a hipster market or a microbrewery.
Amazingly, there are also organised paddleboard litter picks in the area. A great way to exercise, have fun, and clean up the local space.
Paddleboard provider: Moo Canoes provide paddleboarding lessons and canoe hire in Limehouse. For those looking for an entrance into the sport, the company also offer a 15-minute taster session completely free.
How to get there: Limehouse DLR station is just a 30-second walk from Moo Canoes. The company also offer secure bike storage for those who would prefer to cycle.
Walton-On-Thames
Situated in southwest London, Walton-On-Thames is well worth the journey for an incredible paddleboarding experience.
The delicate architecture combined with the quaint houses and coffee shops makes the area a beautiful place to explore before and after your paddleboard adventure.
All instructors here have an accreditation from the Academy of Surfing Instructors, meaning beginners can rest assured that they are in the best possible hands.
Providers: Blue Chip SUP School is open 9 am – 6 pm every day but can arrange 1-1 sessions outside of these times for anyone who would prefer.
How To Get There: There is a regular train from London Waterloo that takes just over half an hour.
Paddington Basin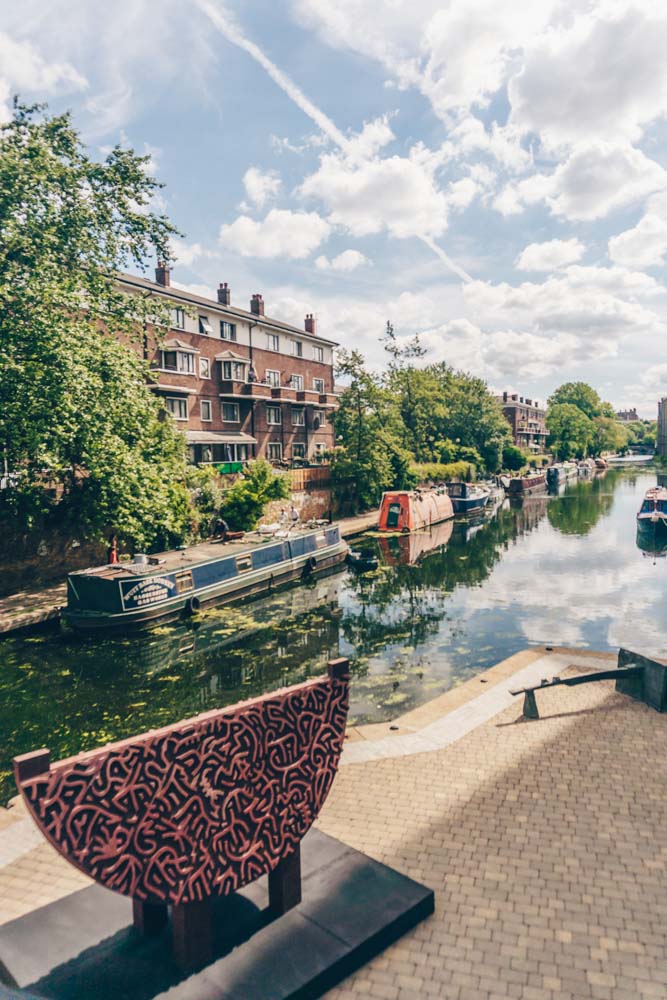 Paddington basin provides the perfect location for paddleboarding.
It is centrally located on calm, quiet waters. This makes it an excellent solution for those who want a taster of paddleboarding.
However, if you have stand up paddleboarding experience, Paddington Basin is the perfect base for exploration. Regents Canal is just a 45-minute paddle away, making this area the ideal spot to discover the canals of London.
Paddleboard providers: Active 360 offer a range of 1-1 lessons and group sessions at Paddington Basin.
How to get there: Paddington basin is just a short walk from either Paddington or Edgware Road stations. There are excellent cycle routes to Paddington Basin and secure storage at Active360. It should be noted that car parking is extremely limited in the area.
Camden Town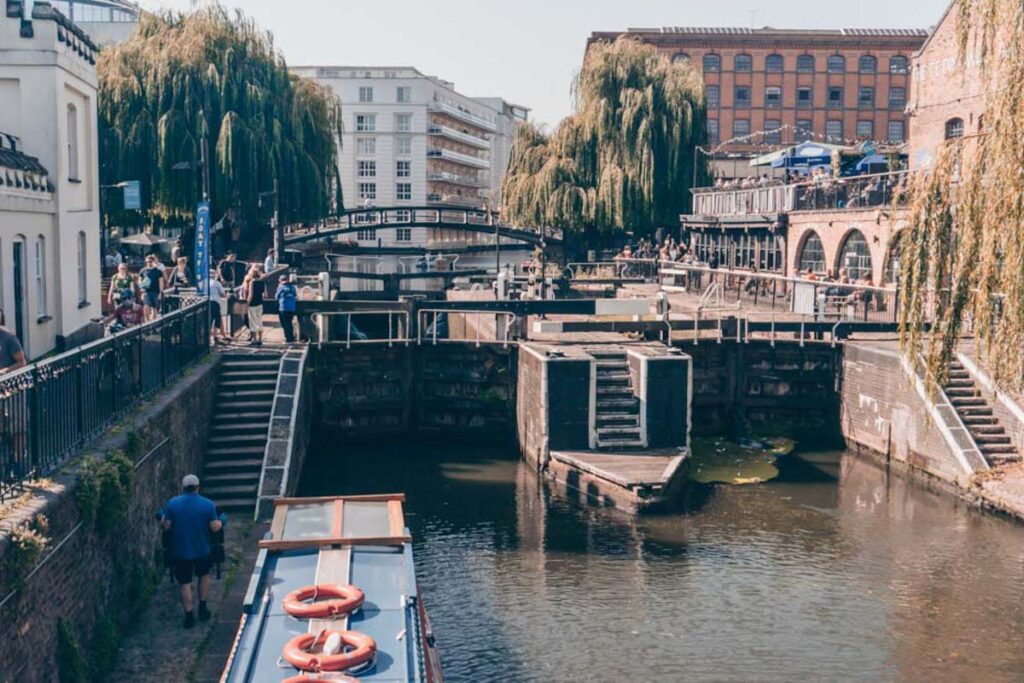 Camden town is an extremely popular area of London.
Locals and tourists alike enjoy this area every day of the week. Trendy music venues and hipster eateries are continually popping up, drawing more interest to this iconic area of London.
However, viewing Camden town from water level offers a whole new perspective.It allows you to see the area in a way that doesn't appear on every 'top 10 things to do in London' list.
Whilst we're not going to tell you that Camden is 'off the beaten track', viewing the area from the canal has a certain charm about it.
One moment you are caught in the hustle and bustle of the street food markets, and the next, you are gliding down Camden's canals with a bunch of new friends.
There truly is no better way to explore central London.
Paddleboard providers: Paddle Boarding London offer private lessons and social tours. Incredibly, they donate a portion of all takings to their charity, The Pirate Castle, dedicated to teaching children water sports.
How to get there: Paddle Boarding London's Camden base is just a 10-minute walk from Camden Town Station.
Kingston Quay
In southwest London, Kingston offers an exciting paddleboarding experience, regardless of your experience level.
The calm waters and greenery transport those involved into a rural land. Exploring the waters of Kingston feels a million miles away from the chaos of central London.
Paddleboard Providers: SUP4 is a fantastic local paddleboarding school. The founder, Rachel, learned her expertise in Denmark. She now uses this wealth of experience and knowledge to teach others in the Kingston Quay area.
How to get there: SUP4 paddleboarding school sits a 15-minute walk from Kingston-upon-Thames train station, which is 40 minutes from London Waterloo.
River Lane – Richmond
For a break from your hectic city life, visit Richmond for an afternoon of paddleboarding.
Whilst the backwaters around Richmond can be enjoyed at any time of the day, it is particularly beautiful at sunset or sunrise. There is no better way to end a day than to watch the sun melt away whilst floating on the glistening water.
Of course, no trip to Richmond would be complete without seeing the famous deer in the Richmond Park. We've lost count of the amount of times we have visited this park, it has to be one of the most stunning in the whole city.
Additionally, the area is packed with incredible pubs and bars, perfect for relaxing after a tiresome workout on the board.
Paddleboard Providers: Back of Beyond Adventures offer unique paddleboarding experiences in Richmond. These include SUP with you Pup and meditation masterclasses.
How to get there: Richmond underground station is easily accessible from most places in London. Additionally, many busses run through the area from all over the city.
Richmond Bridge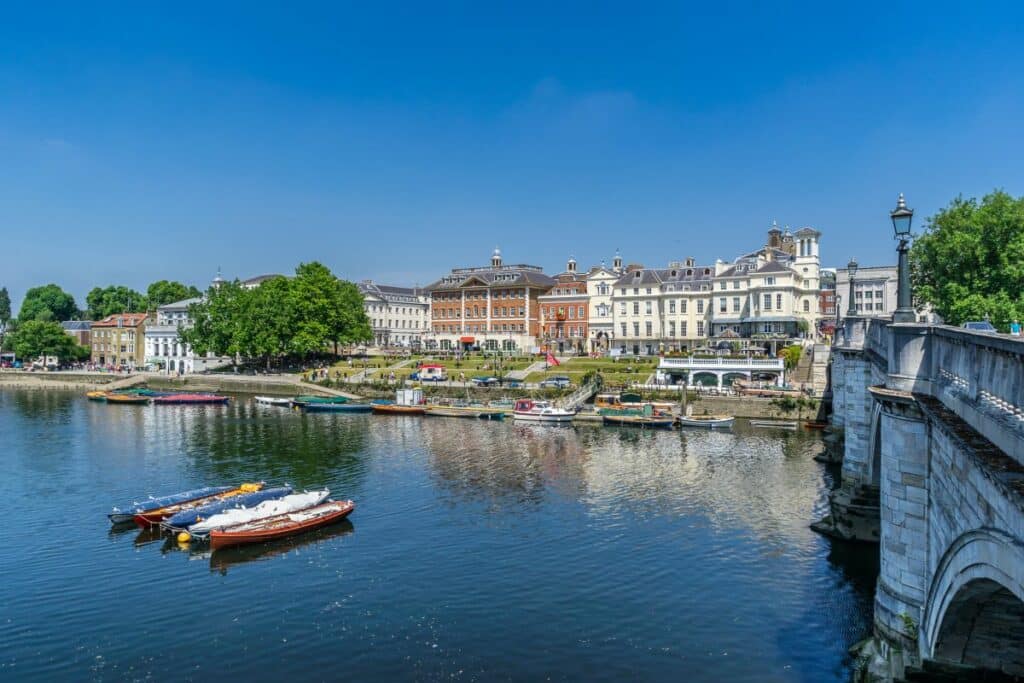 Richmond has become quite the hub for paddleboarding in recent months, and the area surrounding Richmond Bridge is no exception. Whereas places like Camden and Paddington can feel as if you're navigating through the city, Richmond offers nature in abundance.
You can choose to either paddle up towards Eel Pie Island and Teddington, or downstream until you reach Isleworth, Kew Gardens and Chiswick.
Our choice would be down towards Chiswick, where a pint at one of these beautiful riverside pubs awaits.
Paddleboard Providers: London Stand Up Paddle Co. offer training, memberships, and paddleboard hire.
How to get there: Richmond underground station is easily accessible from most places in the centre of London. Or buses run frequently.
Docklands Watersports Centre
If you're looking to up your paddle game, or introduce your kids to the wonders of the water, Docklands Watersports Centre is a great option. They offer paddle sports, sailing, kayaking, and plenty more to get involved with. If you're nervous to go out alone, this is where to start.
Not only can you book into a class or join the membership, but you can actually take courses which can allow you to get official qualifications. Perhaps you're hoping to become a paddle instructor?
Whether SUP is just a side hobby or a hustle for you, this is one of the best places in London for stand up paddle boarding.
Paddleboard Providers: Docklands Watersports Centre is a purpose built centre with plenty of trainers on hand to help get you SUP-ing in no time.
How to get there: Get the Tube to Canary Wharf or the DLR to CrossHarbour.
The River Lea
The Lee Valley is one of the most beautiful parts of London you can visit. It's river and the surrounding area have been an important part of London life for milenia, supplying the city with drinking water and acting as a trade route for the farming communities in the fertile Lea Valley.
Nowadays it's less of a life line and more of a paddle boarding hotspot. You can take classes here as an individual or in groups, either private or public. You'll also have the option to sign up for regular lessons if you can't get enough of SUP.
Paddleboard Providers: Leaside runs an activity centre up in the Lea Valley. They've got heaps of paddle boards as well as other water sport options like kayaking if you're not that comfortable on your feet.
How to get there: Head to Clapton, Lea Bridge or South Tottenham stations, then you'll only have a short walk on your hands.
Chingford
Ok, sure, Chingford is technically in Essex but it's so well connected to London it might as well be a part of this fair city. There's also a pretty great option for paddle boarding classes up there.
That comes in the form of tuition by London Watersports Company. They've taken advantage of one of the largest bodies of water in the London area – namely the William Girling Reservoir – to offer classes in all sorts of water-based activities from windsurfing to dinghy sailing, and of course paddle boarding.
They'll teach you no matter what experience level you are, and once you've got the skills, set you loose on the open water.
Paddleboard Providers: London Watersports Company offer training and board hire. They can even teach you first aid in case of a water-based emergency.
How to get there: Head to Ponders End Station.
Map of London's Stand Up Paddleboarding (SUP) Spots