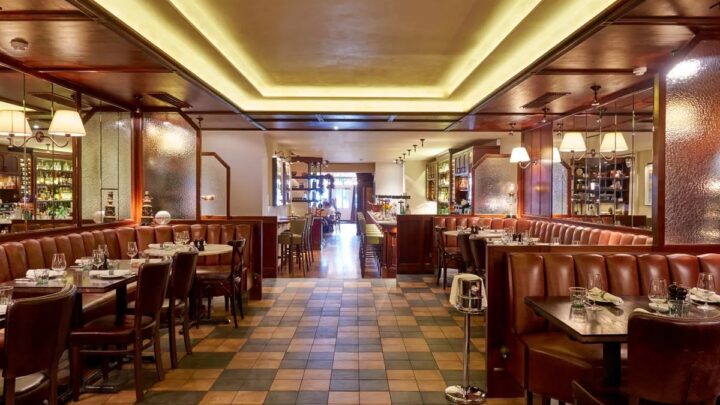 Our guide to the best female chefs London can boast, and the restaurants they've pioneered.
We're all so used to hearing about the male-dominated environment of the kitchen, the testosterone-fuelled man's world that is that space behind the cook line. The reality, while worryingly true at times, has many exceptions.
In London alone, there are a whole host of female chefs who are working at the top of the game. To drive that point home consider that two of London's top five restaurants in the Michelin Guide are run by women, as well as many of the city's most iconic eateries.
Looking to find London's best female-led restaurants? You're in the right place.
Best Female Chef-Led Restaurants in London
Spring
££
Somerset House's wonderful eatery, Spring is one of our favourite spots to eat in London. Full stop. At its helm: Skye Gygnell, an Australian-born who is now a name synonymous with London's female-led kitchens.
Her career, however, didn't begin behind the cook line. She rose to prominence well before that as Vogue's food editor then took what she'd learnt covering the food scene and put it to use.
The result is a menu of produce-driven cooking that changes daily and rolls with the seasons, served in the stunning backdrop of an elegant 19th-century drawing room.
Rochelle Canteen
££
Melanie Arnold and Margot Henderson are founders of Rochelle Canteen and up there with some of London's restaurant royalty. When the restaurant opened its doors in 2004 it was just one large table and a box to keep the cash in.
All these years later it's hard to imagine two women who've had such an impact on the London food scene. Don't just take our word for it: Henderson has even been awarded an OBE for her contributions to British cooking.
The food here is modern European but draws on British ingredients to keep things fresh. If the weather permits, try to grab yourself a seat in the garden – You won't believe you're actually dining in the middle of the UK's biggest city.
Hélène Darroze
£££
It would be easy to say that Hélène Darroze is London's finest female-led restaurant. It has the coveted three Michelin Stars and it's the home of one of the world's most revered chefs Hélène Darroze herself.
A meal here will cost you an arm and a leg (or to put it less metaphorically, about the price of a cheap holiday to Europe) but you will be dining at the table of a true master.
Darroze came up through the French school but inflects her cooking with a level of creativity and attention to detail that you really don't get anywhere else but the very very high end of the dining world.
Koya Ko
£
One of London's best-loved ramen restaurants, Koya Ko has expanded its empire from Soho to Hackney and the City of London. We love the udon on offer here, and the fact that the restaurant is run by one of the most underrated female chefs in London.
Shuko Oda is her name. She spent much of her life between The UK and Japan, and has brought with her flavours and techniques that we wish more noodle spots in London would learn from.
Her restaurants are remarkably paired back and very Japanese in their minimalism and the ideal place to chow down on a hearty bowl of ramen.
Sabor
££
We love Spanish food. It just so happens that another of London's great female-led restaurants also happens to be one of our favourite places to go when the craving for tapas takes over.
Sabor is the project of Nieves Barragan, José Etura and their talented team. The restaurant's name means 'flavour' in Spanish and that's what you'll be getting by the plateload.
They don't take bookings so getting a seat can be tough, but persevere and you'll be eating from one of the best female chefs in London.
Core by Clare Smyth
£££
Hélène Darroze isn't the only lady on the London dining scene to boast an impressive three Michelin stars. If you want to experience the apogee of cooking in this city you'll also have the choice of Core by Clare Smyth.
Clare Smyth, the leading lady at this restaurant used to work under Gordon Ramsey but branched off to do her own thing, opening Core in 2017. It got recognition from the Michelin man four years later and has maintained its reputation ever since.
You'll want to go for one of her tasting menus, pair it with some wines, sit back and enjoy what's sure to be one of the best meals you'll ever have.
Murano
£££
While Gordon Ramsey is still fresh on the mind, now might be a good time to bring Angela Hartnett into the conversation. Probably the chef's most notable protégée, Hartnett appears on tele on the reg, and heads up the kitchen at Mayfair's Murano.
The restaurant opened in 2008 and claimed a Michelin star within four months. The food is modern European and very refined. Dishes like provolone and smoked potato agnolotti, or Aynhoe Park venison with polenta, celeriac and black truffle will be your dinner, and with a three-course tasting menu coming in at £95, it won't break the bank either.
Chishuru
££
We love the West African cooking at Chishuru. Founder and Head Chef Joké Bakare really knows what she's doing in the kitchen, cooking up a storm of dishes that elevate the region's cooking to new heights while maintaining a homeliness that seems totally in keeping with the spirit of the restaurant.
The place ran a thriving trade in Brixton for many years but shut and relocated to Fitzrovia. The new location feels a bit more swanky, but that old charm is still right there.
Sessions Arts Club
££
Florence Knight is probably the city's most talked-about chef in the past few years. Let alone the fact that she's a female, she's been the driving force behind one of the city's most popular restaurants: Sessions Arts Club.
The food she's making is unendingly fun and creative and above all, delicious. The setting for your dinner will be the old dining room of a magistrate's court – filled with potted plants and mid-century furniture with plaster peeling from the walls that aren't covered in art.
Getting a table here can be a nightmare. They release seats every month but they get snapped up quick. The hype is there for a reason – Trust the process.
Practical Tips for Exploring the Best Female Chef-Led Restaurants in London
It goes without saying but make sure you book at these spots. These are some of London's top places to eat and you may not be able to get seats if you just turn up. That said, remember that Sabor is walk-ins only.
Many of these places will change their menus with the seasons. It can be a good idea to keep your eye on what's going on at the restaurant. If you're not too keen on this season's menu, keep the restaurant in your back pocket and go the following season for a different experience.
Best Female Chef-Led Restaurants in London: Map