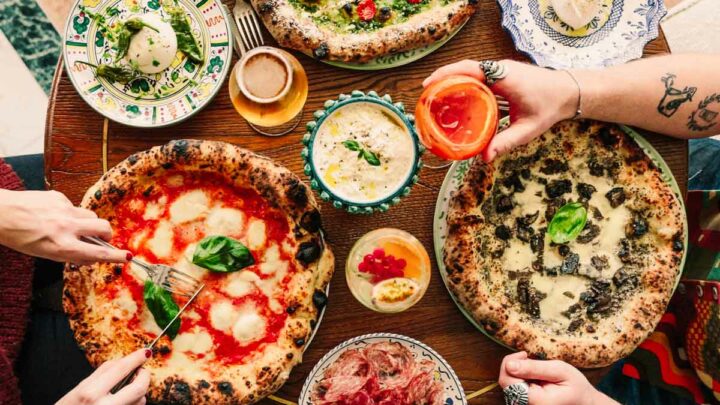 Looking for the best pizza in London? Aren't we all… Whether you're a deep-pan kind of guy, or thin and crispy type of girl, pizzas are one of the nation's favourite foods.
Home to thousands of trattorias, Italian eateries and pizzerias, London is positively oozing with dough-licious restaurants.
We've eaten our way around the city, so that you don't have to. It's a tough job… but hey we're nice like that. Get ready to tuck right in…
Where to Find the Best Pizzas in London
Street Pizza, Gordon Ramsay
££
Battersea and others
Popping up all over London like expletives in a Gordon Ramsay TV show, Street Pizza has pretty much exploded onto the city's food scene. Don't be put off by it being a chain, the pizza here is beyond epic.
The concept is fun too. Rock up, sit down and enjoy the lively soundtrack in this transformed archway with lower-east side vibes. For a flat fee of £15 you can enjoy bottomless pizza, as waiters bring slices to your table – a bit like a posh buffet.
The 'corn and chorizo' is quite the treat, but our top prize goes to the ridiculously moreish 'charred aubergine' which pairs nicely with a 'hard lemonade'.
Zia Lucia
Islington, Wandsworth and others
££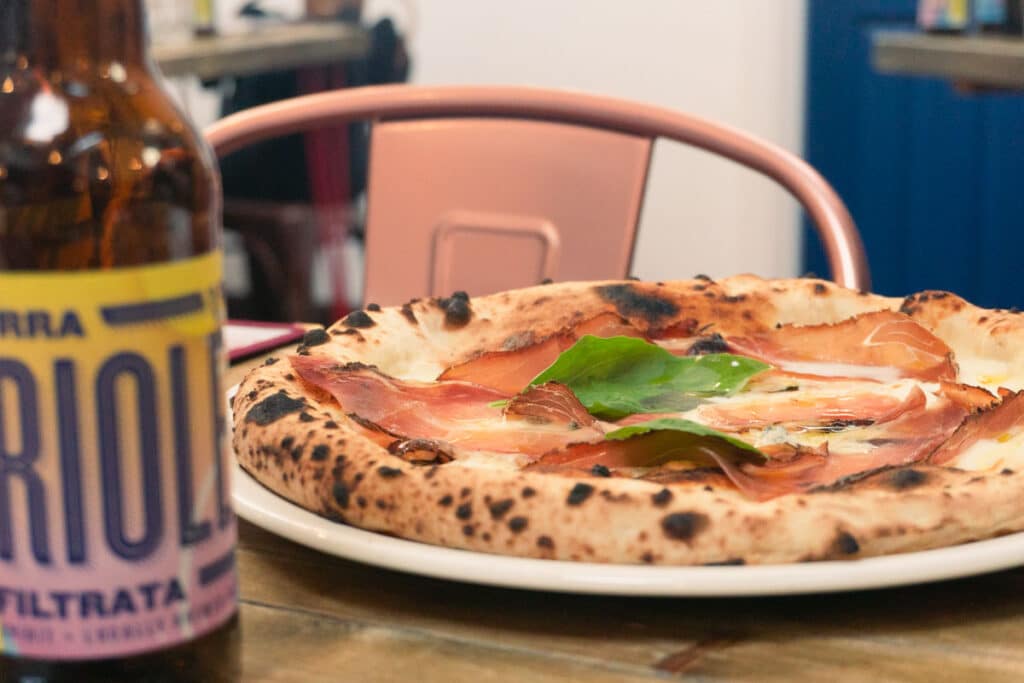 With multi-awards to its name, including 'Best local restaurant' by Time Out, you know you're in for something special at Zia Lucia.
The 48-hour slow fermented dough gives the pizza a delicious flavour and texture, reminiscent of holidays to Rome.. oh, for a holiday.
Still, if you can't get away, this is as close as you'll get to a slice of Italy. Choose from their signature vegetable charcoal base, wholemeal version, or without gluten. That's just the beginning because there are 17 toppings to choose from, including vegan options.
Dribbling with honey and truffle oil and splattered with gorgonzola and fresh sausage, you won't go wrong with the 'Arianna Sbagliata' in this top London pizza house. Bellissimo!
Made of Dough
Peckham – ££
They had us at Cheeseburger pizza… and then we saw Staibano Spritz and were totally sold. You can taste the love that's gone into the fine menu at Made of Dough, which has deservedly won several coveted foodie awards.
The awards are in no small part due to their 48-hour fermented dough that your teeth can't wait to sink into – SO good.
While there are several 'Made of Doughs' dotted throughout the capital, the Peckham pizzeria London gets our vote. Somehow its name feels too ironic for Fulham's loafer-wearing clique.
Passo
Shoreditch
££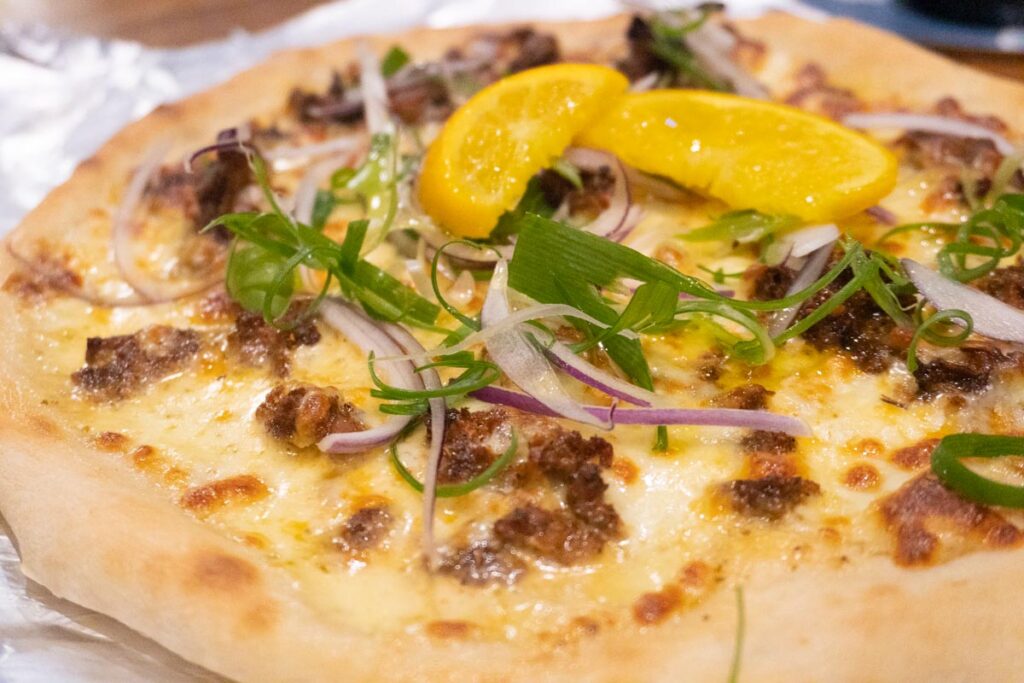 You say pizza, they say pizzetta… welcome to the delicious world of Passo.
The simple menu tells you all you need to know about this artisan pizzeria in London. There are five pizza and five pasta choices, and a door if you don't like it! But trust us, you will.
The Salami with 'nduja honey is a firm favourite, with crispy slices of the good stuff transporting you to food heaven.
If you can't get a table at the Shoreditch pizzeria, you can always take it away, or order a (pretty spenny) home-kit and do it yourself.
Gloria
Shoreditch
££
Have you heard the news? They're bringing sexy back (to pizza) at Gloria.
What more do you expect from a trattoria that names its dishes 'Living on the veg' and 'Dancing Queen'. This fine Italian trattoria is a beautifully designed home-from-home with a touch of kitsch cool, and a lively vibe for knocking back pizzas and limoncello in good company.
Share a Slice
Brixton, Peckham and others
££
The slice is always right in this local pizza pop-up with a social conscience. Not only do the folk at Share a Slice serve up a mean bite, but for every pizza sold they donate another to those in need in the neighbourhood.
It's a lovely concept, doing social good, whilst feeding the hungry bellies of south London. The woodfire oven only adds to the culinary delight of each scrumptious slice, luckily – you don't have to share yours.
La Mia Mamma
Notting Hill
££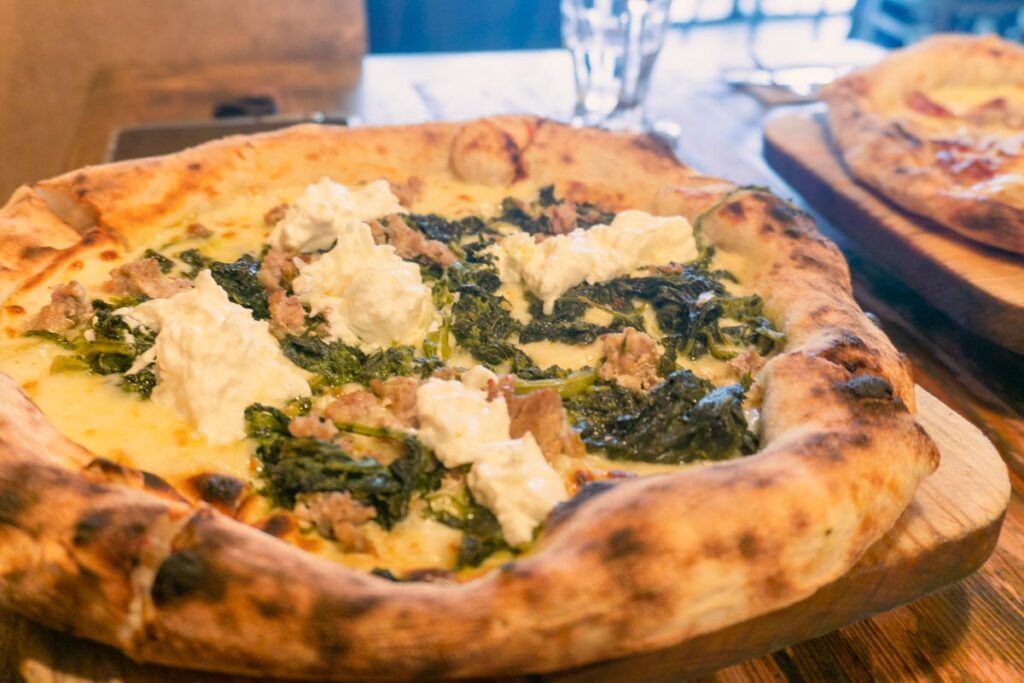 This unassuming London pizza house is more than meets the eye. Inside La Mia Mamma "real Italian mammas" are dishing up real Italian food, with authenticity featuring as the most important ingredient on its menu.
We like the way they switch it up, focusing on a different part of Italian cuisine every month – the perfect excuse to return. And while it's not the cheapest, it's most certainly worth its weight in dough.
Even the most basic 'Bufalina' pizza is testament to its great flavours, with tomato sauce, fresh basil and buffalo mozzarella creating a flavour to savour.
Berbere Pizzeria
Clapham
££
Picking up where the former London pizzeria Radio Alice once stood, Berbere brings all the sourdough vibes to the slick streets of Clapham.
This is an establishment so authentic that it's famous in Italy – boasting 12 sites of pizza goodness in the homeland.
Feast on thick slices of pizza with Instagram-worthy cheese pulls. Along with the bread-based mains, it's hard to resist its rather enticing desserts, which, naturally, include sweet dough balls deep-fried with gelato and peanut butter.
Wandercrust at The Pelton Arms
Kings Cross
£
Wandercrust can be found at the many pop-ups they lay on around London, and at one of our favourite Greenwich pubs – The Pelton Arms.
Everything they do is great, and probably worthy of a full-on brick-and-mortar store.
If you're in a hurry ask for a slither of the American Psycho – a winning combo of ventricina salami, roquito peppers and chilli honey and never look back. This is what you came for.
L'Antica Pizzeria da Michele
Marylebone
£££
If it's good enough for Julia Roberts in 'Eat, Pray, Love' then it's good enough for the rest of us. The London version of the iconic Italian restaurant L'Antica Pizzeria da Michele is undoubtedly one of London's best pizzerias.
Once you've nabbed a table, your next quest is to choose from its mouth-watering menu. Their 'Fried Pizza' is a taste-sensation that must be tried, but with its signature 'Marinara', and spicy 'Diavola' it could go either way. Really, the only way to experience it is to go with friends, so you steal theirs at the same time!
Bocconcino
Mayfair
£££
Let's be honest, pizza isn't supposed to be posh. It was designed to be a fast and affordable meal for the working class of Naples.
But we can forgive the chefs at Bocconcino, who have bent the rules to deliver some of the most sumptuous and decadent pizza in town. Bocconcino isn't your typical pizzeria in London, but then Bocconcino isn't your average restaurant.
This two-tier restaurant is one of the most luxurious in the heart of Mayfair, and manages to make Pizza Parma look like a work of art. With a fine wine and drinks menu to boot, you can't go far wrong.
Voodoo Rays
Dalston
£
Pizza by the slice? Don't mind if we do.
The joy of pizza is that you don't always have to pay a premium to find the best pizza in London. Case in hand – Voodoo Rays.
This simple east London eatery serves up slices starting from £3.50, with mega daytime offers for those who simply can't get enough.
Throw in some New York vibes and generous house pours of booze (including frozen margaritas!) and you're in for a night to remember…
Franco Manca
Brixton
££
If you're all about the sourdough, look no further than Franco Manca.
This pizza powerhouse has grown from a humble pop-up in Brixton's Market Row, to a multi-metropolis chain and is still one of the best pizza London joints you'll stumble across.
If you want the authentic vibes – head to the original Brixton spot, but for families and big groups, it's Richmond's restaurant for the win. There's plenty of space and a fun buzzy atmosphere with just the right flow of customers.
Pizzas are baked in its wood fire oven with banging smoky flavours. While you won't find a vast amount of choice on its menu, what is available is pizza perfection – the side salad is rather tasty too.
Homeslice
Neals Yard
££
Did someone say 20" pizzas <mouth drops to floor like Homer Simpson>! Yes, this could really be all yours at Homeslice – a buzzing pizza parlour with a handful of restaurants across London to choose from.
We're all about the casual vibes of Neal's Yard, where you can sneak away for a slice at lunch, or box up and take back to the office. There are some interesting toppings (savoy cabbage anyone?), but somehow it works.
Lost Boys Pizza
Camden
££
It's always Halloween at Lost Boys Pizza.
This isn't just another bog-standard London pizzeria, no sir. It's the first and only vampire-themed pizza restaurant in London, inspired by the cult 80s film with the same name.
In keeping with the ghoulish theme, pizzas feature a black crust that's very tasty.
If that doesn't whet your appetite, go for 'The Jack Skellington' – a surprisingly vegetarian ensemble for blood-thirsty visitors. And while you won't find any garlic pizzas on the menu, you might be able to bag a cheeky garlic dip.
Crust Bros
Waterloo
££
At last – a reason to visit and not pass through Waterloo. Crust Bros is the culmination of one man's mission to bring taste-busting Italian street food to the discerning palettes of London.
Pizza dishes can be personalised to your liking, or you can just choose one of the creative choices from the menu. We're counting 'Meat Sweatz' – mozzarella, salami, pepperoni and chicken and 'Bufala Soldier' – buffalo mozzarella and basil amongst our faves.
Four Hundred Rabbits
Crystal Palace – ££
When you've got a pizza hunger on, Four Hundred Rabbits has it covered. This London pizza mecca pulls in the crowds for its good food, good beers and good vibes all round.
Choices range from 'The Dirty Vegan' (a faux-sausage fix) to 'The Rhubarb' (goats cheese, pepper and er… rhubarb) – so there really is something for everyone.
There's an impressive beer menu too – tempting you to linger a little longer than planned. With outposts throughout south London, there are plenty of delivery options for those blessed with an SW postcode.
Santa Maria
Ealing
££
A visit to Santa Maria is a must for any self-respecting pizza lover. Indeed, you'll be thanking the pizza gods for this pizzeria the city has come to know as one of its greatest.
Commitment to the pizza cause is something the folk at Santa Maria know all too well. They even brought their clay wood-fire oven all the way from a volcanic region in Italy, which you can taste in every scrumptious slice.
Start with the Santa Valentina – topped with pumpkin cream, smoked mozzarella, Yorkshire pork sausage and Nduja and work your way through the menu.
Crazy Pizza
Knightsbridge – £££
If you're out for a good time, Crazy Pizza brings a touch of theatre and fun to proceedings.
The menu boasts a long list of delicious delights, including a mix of affordable basics (Pomodoro and Margherita), and dishes as mouth-watering as they are eye-wateringly priced.
We're talking the £45 'Tartufo' – a simple mozzarella pizza showered in black truffle shavings. Fortunately, this pizzeria London is one of the best for a fun night out, and housed within one of the city's prettiest settings.
Pizza Pilgrims
Soho, Shoreditch – ££
After a cheeky Friday night drink in Soho, you know pizza makes sense. Just as well that Pizza Pilgrims is easy to find eh?
The unmistakable green exterior continues inside with simple green check tables and unfussy wooden chairs that tell you this place is all about the food and not the fancy. But there's no compromise in its dishes either. The eight-cheese pizza might just be one of the best pizzas in London for cheese-lovers.
Casa Tua
King's Cross – ££
Hidden away on a quiet cobbled street on the way towards Bloomsbury, you can find this gem of an Italian restaurant. Casa Tua does some really nice food, including a great menu of pizza.
Of those pizzas, our favourite is the Marinara – an unusual (and perhaps even untraditional) topping of smoked salmon is kept company by a delicious full ball of Apulian burrata. Cut that into and spread it over your pizza. You will not be disappointed.
Should the weather permit, they've got some tables outside on that aforementioned bit of cobbled street – a lovely place to trick yourself into thinking you might actually be on the continent.
Brooklyn Pizza Crew
Fulham – £
Brooklyn Pizza Crew's founder, Seb Eshraghi spent a long time living in New York. After moving back to the UK he missed the American pizza so much he decided to have a crack at making it himself.
The result became Brooklyn Pizza Crew – an unassuming pizza joint a few minutes walk from Parsons Green tube station. The pizza is BIG. Big, and flavoursome. There's not much space to hang out in the store so be prepared to grab a slice and go.
If ever there was a food to walk down the road munching on, one of these slices is probably it.
Where to Find the Best Pizza in London: Practical Tips
Remember, pizza is perhaps the classic delivery food. You don't even need to leave your house to chow down on many of these great slices. Check on their websites for delivery options.
That said, for the wood-fired varieties – there's really no better way to eat them than fresh out of the oven.
For the more official restaurant-y locations, we'd recommend booking a table. It's London, and these spots are popular. If you don't care for tables and chairs, you can always get your pizza to go and post up in a nearby park.
Where to Find the Best Pizza in London: Map