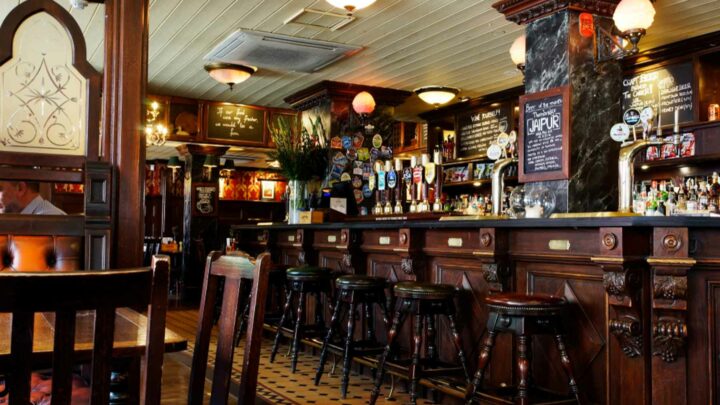 Looking for the best pubs in Fulham? These are the cosiest spots to settle into with a pint in hand.
Not only is Fulham a haven of green juices, oat flat whites and cute dogs – the area is also home to some of the best pubs in London.
So come with us on a trip as we discover the best boozers in the west.
Whether you're looking for beautiful beer gardens, charming riverside pubs, or even the very best gastro pubs in Fulham – we've got you covered.
Best Pubs in Fulham
Brook House
Even though this guide is in no particular order, we're pretty confident that Brook House trumps all other pubs in Fulham.
Famous for their Sunday Roasts (with horseradish cream!) along with a gorgeous interior that rivals a top-end London restaurant, Brook House has truly marked its territory in Fulham. Situated in front of Eelbrook Common with a few seats outside, this is the perfect spot for an after work beer or catching up with friends.
Whether it's a weekday date night, weekend family gathering or pre-football refuel, Brook House will cater for all. Make sure you taste their espresso martinis for some yummy rocket fuel in a glass.
The *only* downside is it takes quite a long time for your food to come (it's popular, so we cannot complain), so leave plenty of room in your diary.
The White Horse
Over on Parson's Green side of Fulham lives The White Horse, also known as the iconic sloaney pony (eek – cringe).
You can't go wrong with The White Horse, the vibe is very "Fulham" if that's what you're looking for – we recommend sitting outside. Quick food and drink, friendly staff and a few steps away from the tube, it ticks a lot of boxes.
The White Horse is famous for its carol singing around Christmas time as well as some incredible BBQ's outside, so keep an eye out. They get booked quite quickly so we recommend booking.
Aragon House
A gorgeous pub in a grade II listed building with two outside areas, Aragon house has a great restaurant and a very satisfying wine list, along with all the classics.
On top of that, it's also a hotel and we'd mark it down as one of the best places to stay in Fulham. Close to all the action, you'll feel cosy and right at home.
A relaxed atmosphere with (apparently) the best BBQ in London. We love Aragon House and we'd highly recommend it if you're looking for a place to watch a football game or just to catch some summer rays in the garden.
The Harwood Arms
Say hello to the only Michelin Star pub in London – if you can get in, The Harwood Arms will blow your mind. Hidden away in the back streets of Fulham lies this gem of a pub with award-winning food.
For all the roast lovers who think they've had the best roast in London, you haven't until you've been to The Harwood Arms. It is the best of the best, served in a relaxed atmosphere without the pretentiousness of some other Michelin-starred places.
Whatever you order, you won't be disappointed. Just make sure you book… at least 3 months in advance.
The Tommy Tucker
Good old pub grub, a charming blend of old and new decor and a lovely atmosphere, it's no wonder that The Tommy Tucker is one of Fulham's most loved pubs.
Add to that a great selection of beers, very tasty Guinness and outside seating, and you're on to a winner.
Food-wise, the chicken katsu burger is delicious along with some not-too-greasy truffle tots – it's quick and easy food that will leave you feeling incredibly satisfied, but don't expect Michelin-star quality.
Book to avoid disappointment, but you can usually just walk in and find a table. Make sure you taste one of their funky cocktails too.
Duke on the Green
The Duke on the Green is a real institution in Fulham. It's been there since 1971 and is a proud local favourite. Famous for its Young's Special real ale and tasty food, this is one of the best pubs near Fulham Broadway.
With very high ceilings, big comfy thrones of seats and a beautiful decor, the Duke on the Green brings you an elevated pub experience.
Make sure you keep an eye out for events or different things on, they have a great pub quiz which is usually buzzing along with a great selection of gins.
The Waterside
Looking for the best riverview pub in Fulham? Look no further than this dreamy spot.
The Waterside has to be one of the most underrated pubs in Fulham, it's very much a "if you know, you know" sort of thing. It's without a doubt one of the best Fulham pubs on the river.
A great place to watch the sunset on the river and even better, they've got heaters for those chilly months when you want to stay out a bit longer. A really great addition to the Fulham pub scene, and far less pretentious or expensive than others.
The Rose
This pretty joint is known for being a 'pub for all seasons', and we have to say that we agree. The beautiful garden at the back of The Rose makes this one of our favourite drinking spots in Fulham.
With a rotating menu, fabulous cocktails, summer BBQs and local craft beer, The Rose is a wonderful boozer.
On top of being a great drinking spot, they also offer a bottomless brunch every Saturday where you can enjoy free flowing Amstel beer, Prosecco, Mimosas and Bloody Mary's along with a fabulous food menu for just £20 per person.
The Rose is also famous for its Sunday night Rose Quiz Night – starting at 7pm, you can fight off those Sunday blues with a chance to win some great prizes.
The Sands End
Another local's favourite situated on a beautiful quiet residential street, The Sands End is the epitome of laid-back authentic British countryside pub in the heart of Fulham.
Whether you're looking to spend a cosy weekend nestled in one of their comfy seats, or a romantic date night dinner spot, the Sand's End will have something for you.
Famous for their Scotch Eggs – we know what you're thinking, it's just a scotch egg… how could someone possibly be famous for a scotch egg? Well, these guys have changed the game and whatever you do, make sure you try one.
Along with a perfect Sunday Roast and beautiful wine list, you will not be disappointed.
Fulham's Best Pubs: Map
The Best Pubs in Fulham: Read Next