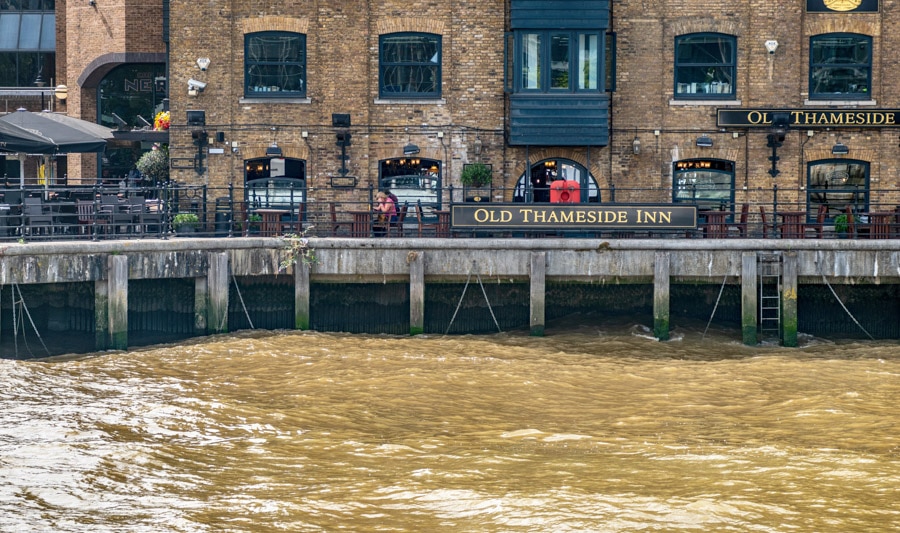 Ready to discover the best pubs on the Thames? These are the spots serving up cracking pints with riverside views.
Oh the glorious Thames. How many times have you walked past a pub on the Thames and thought, 'I need to remember that's there!'. Thousands, right? We know the feeling.
This long, beautiful stretch of river boasts some of the most stunning sunset views and beautiful places to chill out with a pint or two.
But where are the tourist traps? And, more importantly, which are the best pubs? Have no fear, we've put together this guide of the best London riverside pubs guaranteed to put a smile on your face.
Ready?
London Pubs on the Thames
The Crabtree
When it comes to pubs on the Thames, The Crabtree is iconic. It's situated on the quietest and most picturesque stretch of the Thames between Hammersmith and Putney Bridge.
We suggest taking a stroll along the Thames before "accidentally" ending up at The Crabtree. Start down in Hammersmith or, if you're feeling really adventurous, start in Chiswick. Your pint awaits.
This pub ticks all the boxes: seasonal menus, delicious drinks, outside and inside seating along with the largest quiz night in West London. They also have different ales on rotation – who doesn't love a different ale a day?
It does get quite busy so we suggest booking beforehand. Pick a sunny day, get there early and enjoy the beauty that is The Crabtree.
The Gun
Docklands
Views, views, views and more views. The Gun definitely has the wow factor when it comes to riverside pubs in East London.
The quirky interior adds something a little different to the area and the incredible food really levels it up to a pub that's about more than just beers outside. The restaurant and quality of food is top notch (try out the lamb if you can).
These are by far some of the best views of the Thames. We recommend heading over there on a Sunday and enjoying the roast. A great addition to the Canary Wharf area that we bang on about a lot.
Trafalgar Tavern
When it comes to pubs in South London with a river view, there's nothing quite like the Trafalgar Tavern.
An absolutely stunning Grade II listed building that was built on the side of The Old George Inn in 1837. It's not too overcrowded, the chairs are incredibly comfortable and the atmosphere is lovely and relaxed.
Not to mention that the food is to die for. The only downside is with the lack of blinds, the sun can be a bit annoying scorching into the restaurant.. But, let's be honest, that's not really a problem when you live in London and it rarely comes out.
A 10/10 in our books.
The Grapes
Limehouse
Another great addition to East London near Canary Wharf, this stunning pub has everything a pub could ask for. It's a narrow downstairs bar with a small Thames-side terrace and upstairs restaurant dating from 1583! Now that's a lot of history in one place.
It's a good old fashioned pub with reasonable food and drink prices – quite the rarity in the capital.
It must be mentioned that the pub is TINY. So don't go if you're in a rush or expecting a table straight away. We recommend heading there for the seafood platter. The lightly battered fish is so fresh and delicious that our mouths are currently watering just thinking about it.
It's a little piece of history that has survived and the atmosphere makes it worth it. Enjoy.
The Dickens Inn
Tower Hill
You'll be glad to know that The Dickens Inn is another of the many affordable pubs on the River Thames in London.
Drinking here quite literally feels like stepping back in time – in the best way possible. Super friendly staff, great beer, and incredible food. Add to this the stunning views over the river and you're onto a winner.
We recommend going for the fish and chips and to try one of their cocktails (take it from us – the pink one is delish).
The Founders Arms
Blackfriars
Looking for somewhere bang in the heart of Central London with excellent beers, wine, and delicious food? This is your place. Located right on the South Bank between the Tate Modern and Blackfriars, The Founder's Arms is the perfect spot for all things river and deliciousness.
Ideal transport links also make it a great place to meet friends or colleagues for a bowl of filthy fries and mac and cheese. I don't think we need to explain why, you can guess. Filthy. Fries. DROOL.
Tamesis Dock
Vauxhall
The coolest pub on the Thames, Tamesis Dock is a converted 1930's Dutch barge that has been permanently moored between Lambeth and Vauxhall Bridge. Thankfully for us, it's now a walk-on neighbourhood bar with live music and events.
With some of the best views of the Houses of Parliament, London Eye and Battersea Power Station, Tamesis Dock is a seriously cool spot.
It's totally cashless, so don't forget your cards. The staff are really knowledgeable on what they serve and the fact that you get to sit on a boat on the Thames is enough for us. Go there, RN.
Nine Elms Tavern
Nine Elms
Just a short walk from Battersea Power Station and Nine Elms underground, you've got one of the best London pubs on the river for craft beers, pizzas and super quirky cocktails.
The nice thing about Nine Elms Tavern is that it's hidden away so you do feel like you've stumbled across a gem – even if it is packed on weekends.
If you want incredible pizza on the river then this is your place. Frankly, we love every pizza on the menu but we have to give a particular shout out to their margherita – it may be simple, but they do it so, so well.
Battersea Barge
Battersea
Another floating pub! Apart from the slightly slow service, we can't fault this place. The view has to be one of the best river views in West London, and the prices are actually pretty reasonable.
With a whole roster of events throughout the month, keep your eyes peeled for live podcast recordings, DJ evenings, and comedy nights. This is far more than just a bar-ge.
When the sun is out, there's no better place to be than Battersea Barge. It even rocks back and forth (yes, we're aware boats do that but it's still pretty cool). Ask us again after a few pints and we might give you a different answer, though.
N29 Power Station West
Battersea Power Station has really started to make a name for itself in recent months and we can understand why places like N29.
The food is great (in particular, the chicken tacos are divine), the vibe is fun and lively, and the views are beautiful. Despite the crawling cityscape surrounding you, it's easy to feel like you've been transported to somewhere a little bit more exotic.
It is slightly on the pricier side, but if you're just going for a beer then it's very much affordable.
The Ship
Wandsworth
Oh the wonderful ship, The Ship must be one of the only pubs in London whose busiest day of the week is a Sunday. One bite of their roast and you'll soon see why this is one of the best riverside pubs London has to offer.
With stunning riverside views and a VERY lively ambiance, this is a great place if you want to party whilst soaking in those rays along the river.
Drinks-wise, expect the usual Young's line-up, though it's the atmosphere that makes this spot so special.
London's Riverside Pubs: Map
Love this? Save and share on Pinterest.