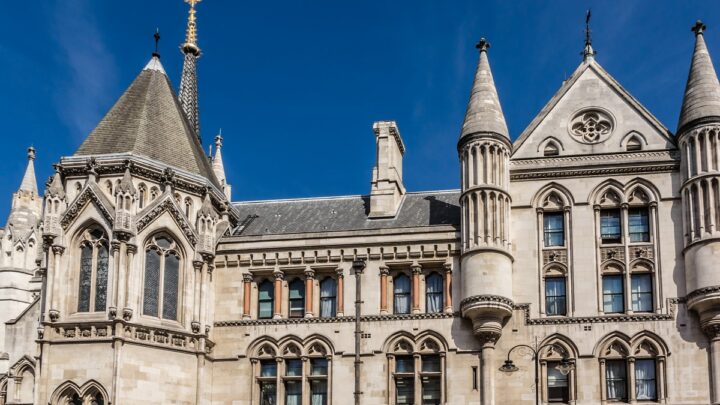 Ready to explore Fleet Street? This little stretch of London has a wildly interesting history spanning newspapers, vicars, and murderers. Here's why you should visit today.
Known for the large number of newspaper printing offices that were housed inside the street's buildings, Fleet Street is arguably one of the most famous roads in the City of London.
Originally established by the Romans as a crucial thoroughfare route, by the time the Middle Ages rolled round there were plenty of Christian churches dotted along the street.
Aside from that, the association with Sweeney Todd (a.k.a the Demon Barber of Fleet Street) has made the area famous for darker reasons.
But that's not the only dark tale that surrounds Fleet Street. As early as the 14th century, Fleet Street was abundant with brothels and taverns – in fact, Ye Olde Cheshire Cheese is among the oldest in the capital (more on that later). Though it was completely destroyed in the Great Fire of London, it was swiftly rebuilt and still stands in the same spot.
Today, Fleet Street is blessed with plenty of brilliant restaurants, bars, and things to do. Ready to explore?
Cool Things to do on Fleet Street
Watch a Show at St Bride's Theatre
Sure, the West End is rather cool, but that doesn't mean you shouldn't explore some of London's very best off-West End theatres – St Bride's Theatre being a case in point.
This spot was first opened in 1891 and is housed in a Grade II listed Victorian building, as are many of the surrounding properties on Fleet Street. It even contains an expansive library with an impressive collection of books for you to peruse.
St Bride's was first established to help alleviate the stress of the print and publishing trade on Fleet Street, though today the theatre is home to many independent shows and events throughout the year. Upcoming highlights include the hilarious Urinetown and a huge dose of magical realism in The Sorcerer.
Sit in the Public Galleries at the Royal Courts of Justice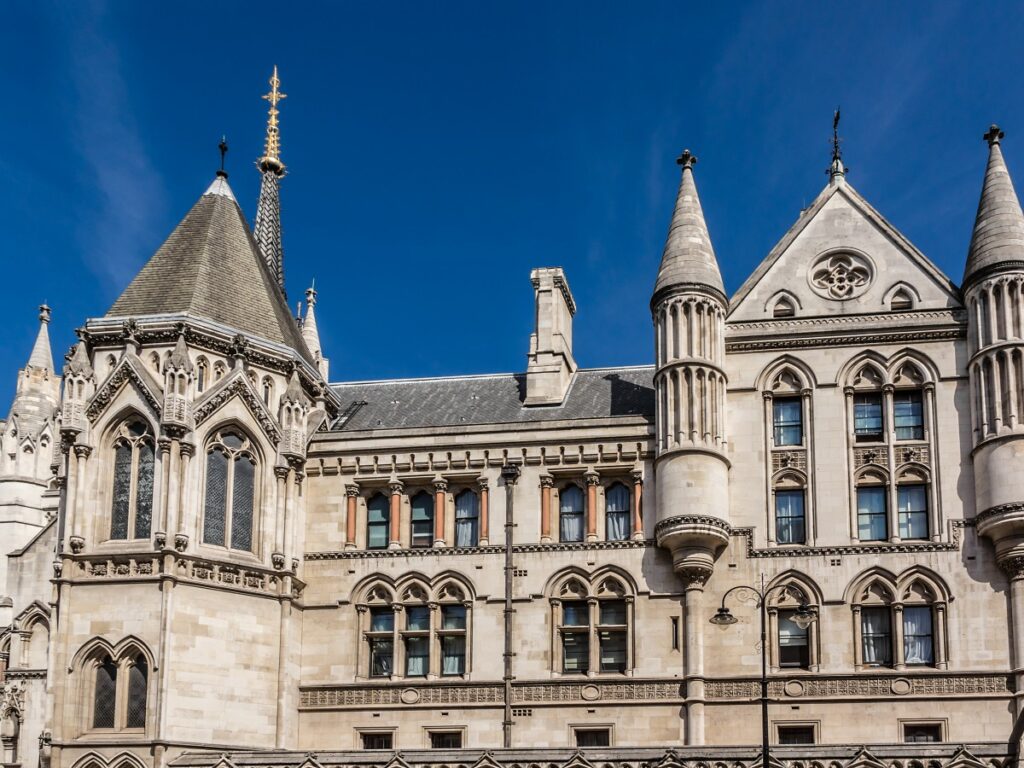 If you didn't know, absolutely anyone can sit in on a public court case in the UK, and with the Royal Courts of Justice around the corner, this is one of the most interesting (and often macabre) things to do near Fleet Street.
Housed inside an ornate Gothic Victorian-era building, these courtrooms are home to some of the most important court cases in the capital – and you won't know what you're going to get until you turn up.
If that seems a little too intrusive to you, book onto a tour here and let an expert guide lead you through the beautiful interior.
Explore Dr Johnson's House
Tucked away on a quiet road just off Fleet Street, Dr Johnson's House is one of the most unusual museums in London, dedicated to the man who created A Dictionary of the English Language – a project published in 1755 after 9 dedicated years.
This dictionary was the most important collection of English words for more than 170 years, until the Oxford Dictionary was released in 1884. Head to the museum to spot beautifully-restored interiors, Dr Johnson's original research, and an impressive library.
Marvel at St Dunstan in the West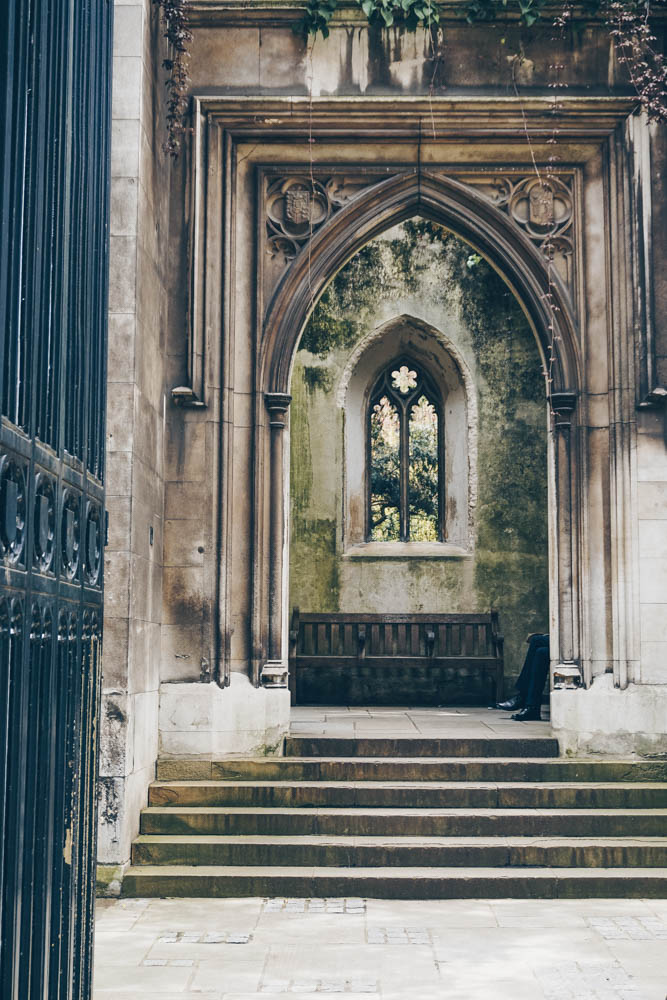 Much like its eastern neighbour, St Dunstan in the West boasts an impressive history – in fact, it has stood on this site for more than 180 years, paying homage to the area's religious past.
It might not hide an impressive garden like St Dunstan in the East, but the statues of Queen Elizabeth I and King Lud are certainly reason enough alone to pay attention to this beautiful religious building.
Check Out Hen and Chicken Court… If You Dare
It's no secret that London is filled with thousands of tiny little passageways – and Fleet Street is no different.
What's so special about this one, we hear you ask? Well, this tiny little court is believed to have been the location where The Demon Barber of Fleet Street, Sweeney Todd, murdered his victims.
Legend has it that Todd killed more than 100 people in his barbers chair – before chopping them up and sending them off to become meat pies at Mrs Lovett's shop.
The Best Fleet Street Restaurants
Chambers
Nestled away inside the Apex Temple Court Hotel, Chambers is one of the best restaurants on Fleet Street. This super-cool spot has a menu that seriously impresses us, with day to night small plates, as well as some heartier offerings on the menu.
Hungry? Head out to the courtyard and indulge in a chicken burger, topped with smoked bacon, salad, red onion, truffle mayo,and sliced cheddar, with rustic cut chips on the side.
Clifford's
Pizza and cocktails are on the menu at ultra-hip Clifford's, which serves up Italian dishes using British produce.
Clifford's roast veggies and nduja pizza is incredibly popular amongst diners, while their elevated take on a Hawaiian, featuring pineapple and chilli jam, is a controversial yet delicious option #teampineapple.
Better yet, head there between 5:30-6:30pm on Tuesday – Friday for Aperitivo Hour, and snag 50% off selected drinks. Win.
The Best Fleet Street Bars
City of London Distillery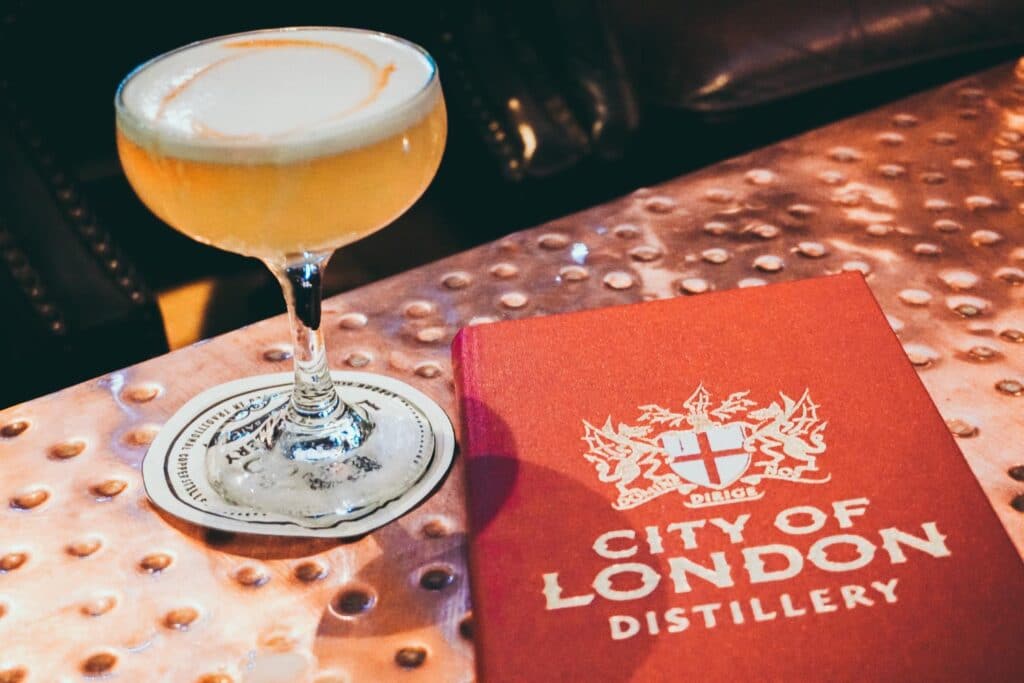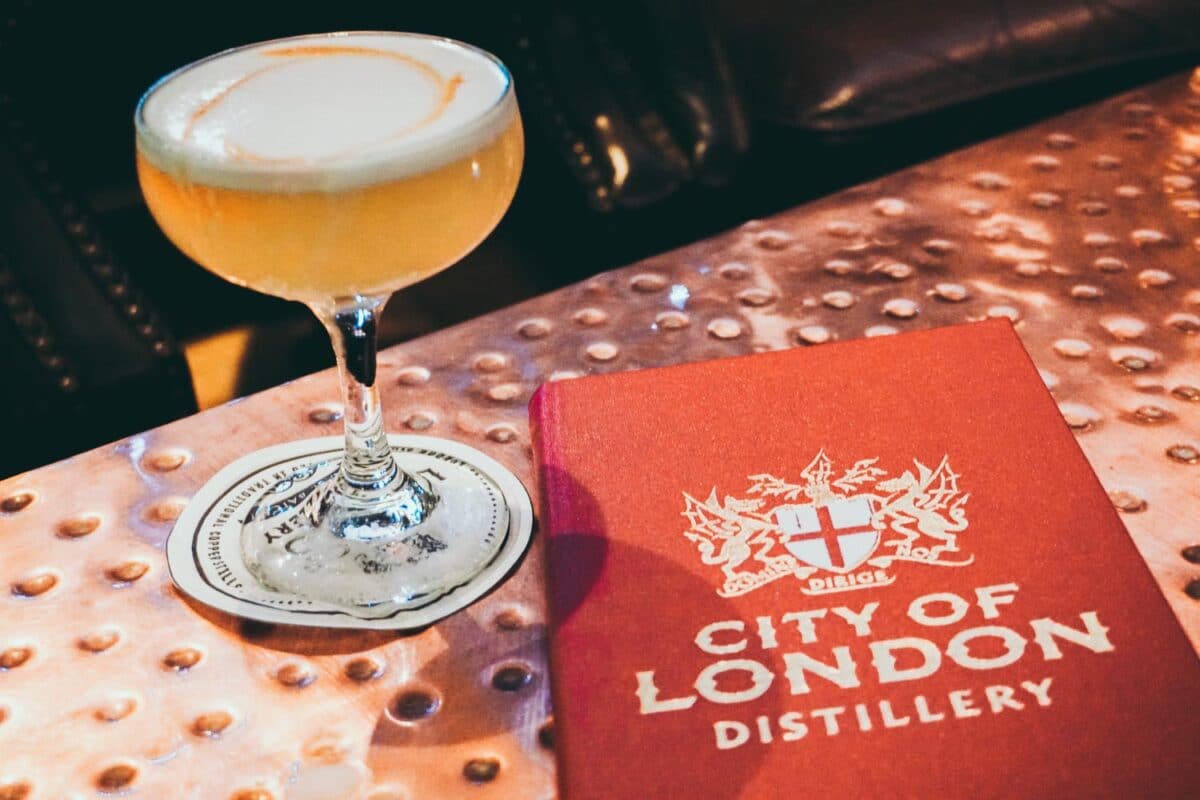 If you're a gin-lover, you'll want to head to the City of London Distillery on your Fleet Street trip – after all, it's the home of Whitley Neill Gin.
You'll want to make your way to the secret cocktail bar that faces the copper stills of the distillery (their names are Clarissa and Jennifer, in case you were wondering). Soak up the ultra cool atmosphere as you soak up the excellent gin-based cocktails – there's no better place to quaff gin in London.
Humble Grape
We've mentioned Humble Grape time and time again here on London x London – we just cannot get enough of their eclectic wine selection and ultra-cool interior. They really do boast some of the best wine bars in London.
The cheese and wine bar boasts more than 400 wines, as well as an impressive small plates menu made using sustainable ingredients.
El Vino
Fleet Street just seems to do wine bars so well. And El Vino is no exception. In a spot that has been frequented so often by journalists in recent years, it's no surprise that this is a hot spot to sit and gossip about the day's news over a glass of wine or three.
Snack on seasonally-rotating small plates and nibbles as you slurp, or head there earlier in the day and have a sophisticated lunch date.
Brilliant Pubs on Fleet Street
Ye Olde Cheshire Cheese
Told you we'd come back to Ye Olde Cheshire Cheese. Apart from having a funny name, this pub is among the oldest in London, with previous patrons including Charles Dickens and Mark Twain.
Take a peep on the boards outside the pub, where the names of every single Monarch during the pub's existence has been written. It's also believed that this pub was used as a brothel throughout history as, in the 1960s, the pub gifted the Museum of London a number of erotic tiles taken from an upper room. Ooh-err.
Today it still retains its antique decor and commitment to great pints – you'll find all the classic Sam Smith beers and ales, as well as a selection of wines and softs.
Punch Tavern
Famed for their weekly pub quiz, Punch Tavern is one of the best boozers on Fleet Street. It might not quite rival Ye Olde Cheshire Cheese in terms of history, but as a former 19th-century gin palace it comes pretty close.
The pub-slash-bar has plenty of character features and a wide selection of craft beers, gins, and whiskeys available for boozers. While softs are on hand for those wanting to steer clear of alcohol.
The Old Bank Of England
Taking its name from the Old Bank of England property it's housed in, where it was a working bank until 1975. If there's one thing for sure, this Fleet Street pub sure knows how to pull a good pint (and even better – it won't break the bank).
The stunning Victorian facade is juxtaposed by the industrial-chic interior, setting the perfect ambience for an evening of casual drinks with friends. Make sure to head out to snap a picture of the vintage Routemaster double decker in the pub garden.
Must-Try Cafes on Fleet Street
PAUL
As much as we love to steer clear of chains, this humble French cafe is an exception. The interior is a whimsical glimpse into old-age Paris, while the simple bread, pastry, and cake options are divine.
Whether you want to grab a quick croissant and cafe au lait as you're exploring Fleet Street or head inside for a deliciously light lunch, there's something to please even the fussiest of eaters here (including a Croque Monsieur, which is basically just a cheese toastie with a little bit of sass).
Di'lieto Sandwich Bar
If you're looking to grab a light snack for lunch, look no further than a sandwich from Di'lieto's sandwich bar. The offerings are simple yet delicious, with the likes of a chicken escalope, crispy bacon and cheddar cheese sarnie setting you back just a fiver.
Also on offer are jacket potatoes and salad if you're in the mood for something lighter.
Practical Tips for Visiting Fleet Street
How to Get There
Since Fleet Street is situated just around the corner from Covent Garden, the best way to explore the area is taking the tube there and then make your way on foot to the iconic street.
Or, you can take a regular train service to City Thameslink and head East towards Fleet Street.
Where to Stay Near Fleet Street
Z Hotel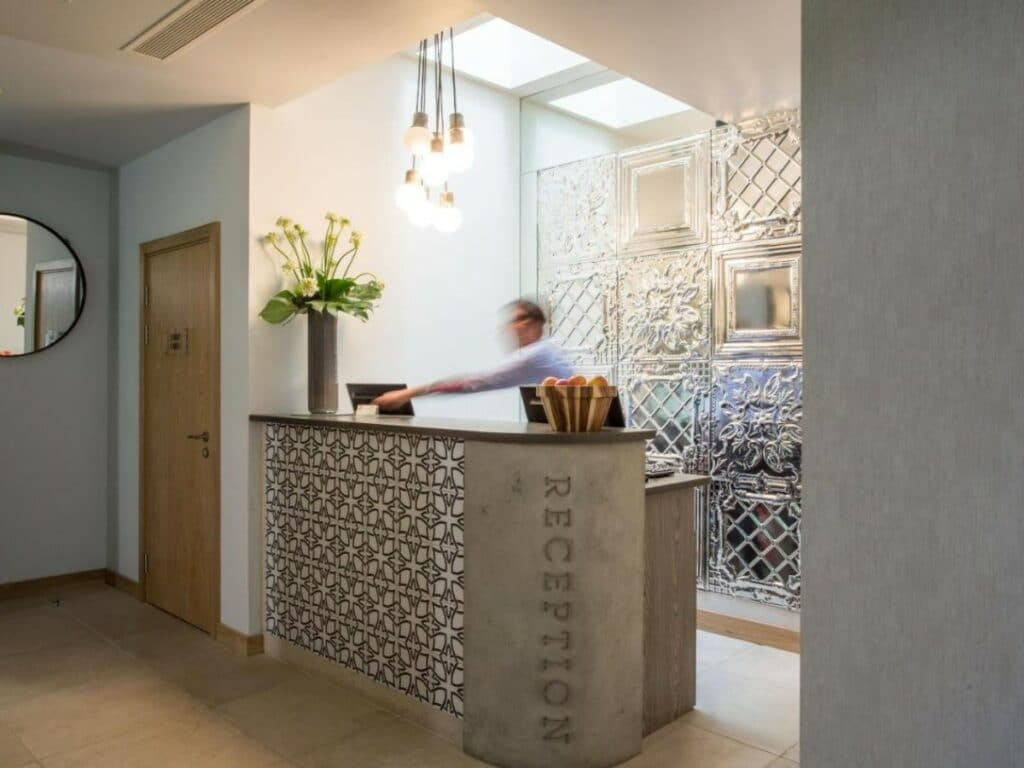 If it's a cosy space to bed down in central London you're after, look no further than the Z Hotel. Rooms are Scandi in style with all the mod-cons of a luxury spot.
Word of warning, though: Opt for the double room, or you might just find yourself packed into the tiny Queen Room with no window.
Apex Temple Court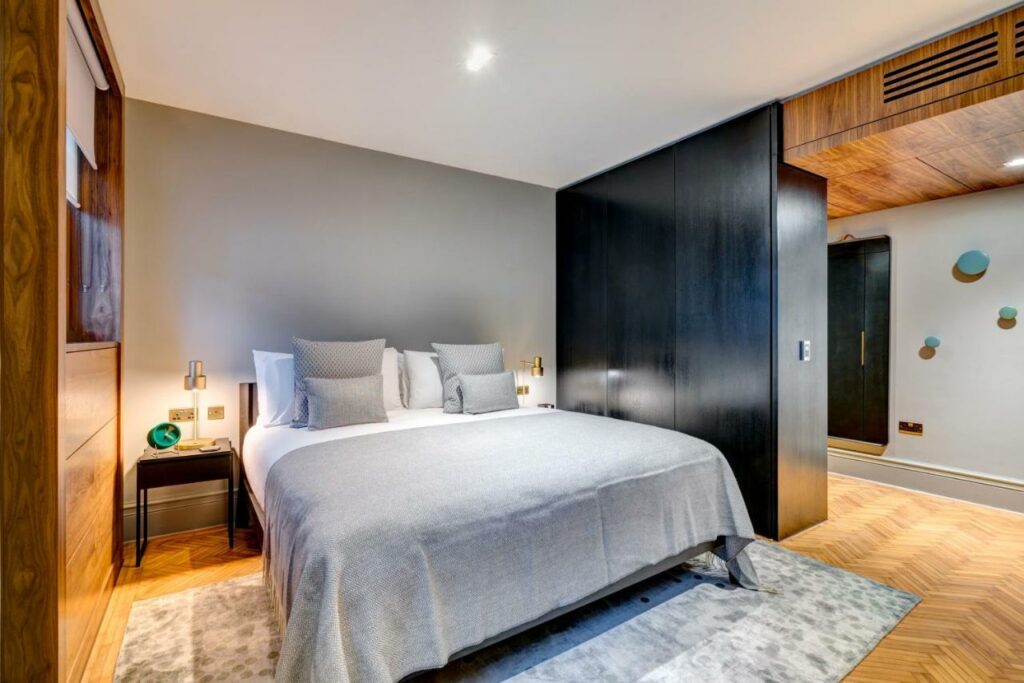 Looking for somewhere special to stay near Fleet Street? Apex Temple Court is just the spot.
Not only do most of the rooms feature balconies with pretty views, but the beds are possibly the most comfortable hotel beds you'll ever lay your head on. Seriously, kudos to you if you can drag yourself out of bed in the morning.
Fleet Street: Map