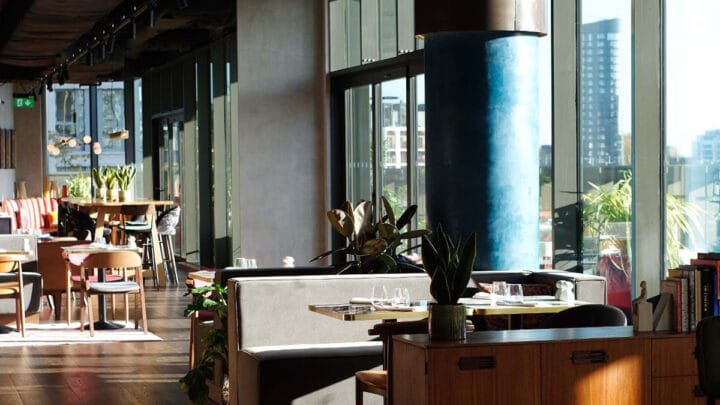 Looking for the best restaurants in Stratford? These are the places to dine you do not want to miss.
With a helpful push from the 2012 Olympics, Stratford has come into its own in recent years – which has resulted in some seriously good food. Only a short tube ride away from the centre of London, it's easy to see why new restaurants are constantly popping up in the area.
From Brazilian BBQ street food and unassuming Thai eateries to breezy rooftop dining, these are the best restaurants in Stratford you need to dine at right now.
Best Restaurants in Stratford
Balans East
££
Balans East is one of the best places to eat in Stratford, especially if you're looking for al fresco dining – its huge outdoor terrace acts as a little bit of a suntrap.
There's plenty on the menu to choose from – including all day brunch – with the likes of a tempting Lobster Benedict and Steak and Eggs at the very top of our list.
If you're in the mood for a good ol' juicy burger, look no further than the Balans Burger, packed with British beef, smoked bacon and topped with gooey Leicester cheese– we're feeling hungry now.
There's also a tasty cocktail menu filled with classics, though choose from The Candy Shop selection for something a little more sweet.
Union Social at The Gantry
££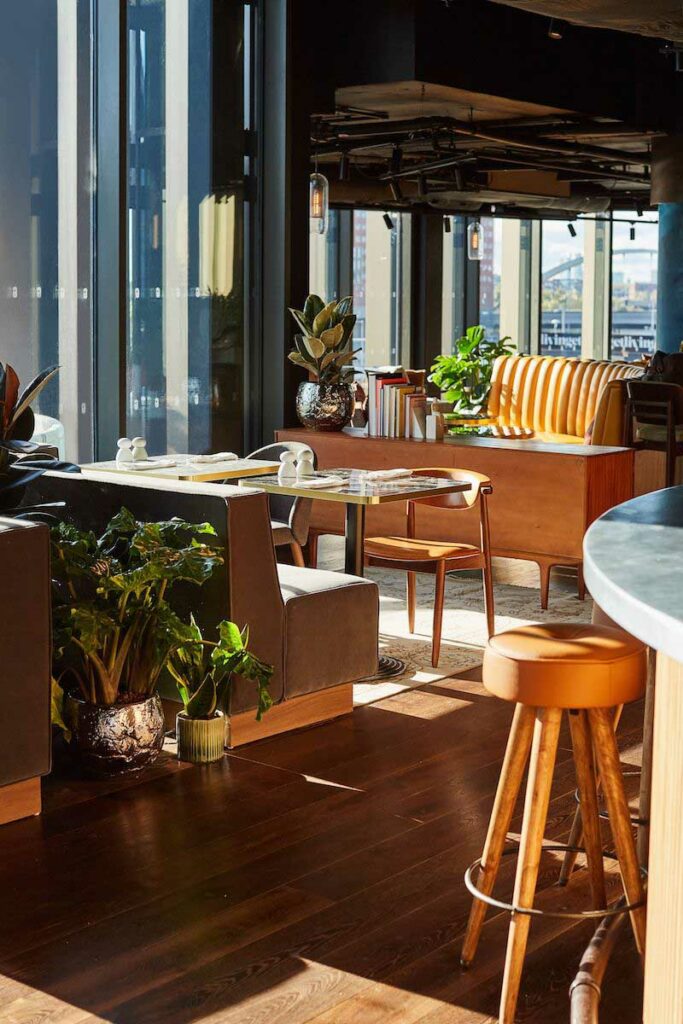 One of the best places to eat in Stratford is The Gantry. Stop by its fabulous bar, restaurant and an amazing rooftop terrace for breakfast, lunch or dinner. Or all three, if you fancy making a day of it.
With an all day dining menu The Gantry suits everyone whether you're in the mood for small plates, large plates or sweet treats. We're eyeing up the miso noodle bowl or the succulent roasted shoulder of Lamb for our next visit.
Choose from dining inside the comfy lounge or soaking up an iconic London view on Union Social's spacious terrace.
Tempted? Read our full review of Union Social at The Gantry here.
Cabana Basil
££
Latin American inspired grill Cabana Brasil brings the heat to Stratford. This Brazilian BBQ street food restaurant grills snacks, sharing plates and mains – so it's about to get real hot and smokey.
Our top picks include the blistered padron peppers and the oh-so-crunchy buttermilk churrasco chicken – and yes, it's finger licking good. From the Brazilian BBQ there's Flat Iron Steak and Cabana Brasil's signature flame grilled Chicken Skewers for all you meat lovers.
Let's talk about cocktails. If you had to try only one, make it the Caipirinha, Palm Tree Punch, Paloma Picante, Bossa Negroni– ok it would be hard to pick just one, treat yourself.
Darkhorse
££
For a fine dining Stratford experience, book a table at Darkhorse and you won't be disappointed. On offer is a North Italian-style inspired menu with a twist, serving up rich and refined dishes.
Choose from two or three courses on its sundowner menu for the perfect after-work dinner and drinks. The fresh tagliatelle with ricotta, chard and oregano leaves is rich and creamy, as it should be, while the panna cotta with honeycomb is the perfect excuse to order from the dessert menu.
From the bar, Darkhorse's organic and biodynamic wines and cocktail menu is equally tempting, with the Brown Buttered Old fashioned and Ultra Banana Daiquiri top choices.
Haugen
££
Missing the slopes? Haugen is an all day restaurant and rooftop bar overlooking the iconic Olympic Park. Haugen's menu is inspired by Alpine dining and boasts indulgent fondue brunches– you just can't say no to a cheesy lunch.
Situated inside The Pavillion, the venue is a magnificent Bauhaus-inspired wood and glass building that mirrors the Alps. You shouldn't miss Apres hour, Haugen's cocktail menu is quite impressive.
On the food menu, Alpine's dining classics Baked Mountain Eggs and Chicken Schnitzel will warm you up after a few hours on the slopes, or just a few hours in the lovely British weather.
The Cow
££
Fancy no-nonsense pub classics made from fresh British produce? Head to The Cow.
It's one of the best Stratford Westfield restaurants to top off a long day of shopping, whether that be for lunch or dinner. As well as this, The Cow's bar has an impressive selection of wines, craft beers and cask ales to enjoy as a pre or post shopping treat. We know how hard you've worked carrying all of those bags.
If you're looking for a meat fix, there's premium prime cuts, seasonal cuts and sharing mixed grills– meat sweats are completely guaranteed.
Not quite lunch yet? The brunch menu's Turkish eggs with yoghurt, garlic and chilli butter sound delicious, if you ask us.
Figo
££
Craving straight up honest Italian food? Si per favore.
Figo's menus fuse tradition and modernity, making it the best Italian restaurant in Stratford for pizzas, pastas and a vibrant atmosphere.
You'll feel like you've stepped into a little Italian village with hearty smells from the wood fired ovens and an open plan kitchen. You'll want to order the moreish calamari to start, followed by truffle-filled ravioli and then a calzone, if you can try to stuff it in.
Believe us when we say that you'll find it tricky to pick just a few menu items – bring a group of friends to sample as much as possible. You can thank us later.
Tapas Revolution
££
Bringing you an authentic taste of Spanish cuisine, Tapas Revolution serves traditional and modern dishes freshly made everyday.
Take your pick from a selection of sizzling Paellas, though we are particularly enamoured with the spicy Paella De Marisco, made with shellfish, squid, tiger prawns, mussels and red pepper.
Fancy a selection of dishes? The clue's in the name – avert your eyes straight to the tapas section and order as many dishes you think you'll cram in, there's far too many tasty dishes to choose from.
No tapas is complete without a sangria, right? That's why Tapas Revolution has a selection of three, ordered by the glass or carafe.
Other Places to Eat in Stratford
The Pie Crust
£
At first glance you might walk past The Pie Crust's unassuming door, but the dreamy Thai food that awaits on the other side is definitely worth a try. Hearty and authentic Thai food that's unpretentious and is all about flavour is what you'll find being served at The Pie Crust.
You'll find the usual suspects, a deliciously flavoursome Pad Thai and green curries as well as stir fried beef and ginger with rice. There's also an express lunch which is kind to your wallet – and you can swap out meat for tofu in most dishes upon request.
All Star Lanes
££
Fancy mouthwateringly crispy buttermilk fried chicken with a side of bowling? Thought so – get yourself down to All Star Lanes. Not your typical restaurant experience, but that's exactly why you need to lace those bowling shoes up and go.
All Star Lanes has a lively and vibrant kitchen serving up your favourite American classics. Sink your teeth into gooey triple Mac n Cheese, American Hot Dogs and Tater Tots.
In the mood for weekend bottomless brunching? Of course you are, order any two mains and enjoy two hours of bottomless prosecco, mimosas or craft beer.
Lotus Leaf
£
Conveniently situated inside Westfield shopping centre, Lotus Leaf is hard to miss with its luminous yellow open-planned kitchen.
The Chinese eatery serves up China's classic Peking roast duck and Shanghainese dumplings– if you've never tried them, you're missing out. But Lotus Leaf has got you covered.
There's also a carefully curated Dim Sum menu to order small plates including pan fried gyozas, steamed buns and sesame prawn toast, perfect for sharing. Or not (we won't judge).
Sufi Turkish Restaurant
£
Wondering where to eat in Stratford? You can't beat authentic and simple yet tasty Turkish food – this cuisine is having a little bit of a moment in London right now. Sufi Turkish Restaurant has everything you could want on the menu including, wraps, kebabs and hearty stews.
This halal restaurant in Stratford grills tender beef, lamb and chicken, folded into wraps with toppings of your choice and all of the tzatziki sauce your heart desires. For lighter bites, there's falafel, hummus and seriously good grilled halloumi cheese– we can never say no to grilled cheese.
Practical Tips and Map for Exploring The Best Stratford Restaurants
Reaching Stratford from Central London is easy, it's in zone 2 and 3. Take the Jubilee or Central line and exit at Stratford station. You can also arrive at Stratford using the DLR line from zones 2, 3 and 4.
If you've only got time to try one restaurant, make it the Union Social at The Gantry. We rave about it here.
Stratford Restaurants: Discover More Stratford Guides