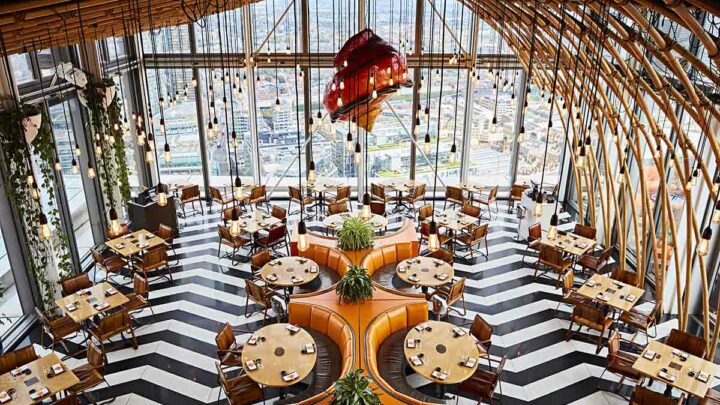 Ready to discover the very best City of London restaurants? We've got you covered with this guide to the best places to dine in the city.
If you've ever spent any amount of time in the City of London, you must have noticed that there's certainly no lack of amazing places to eat, right?
The City is practically bursting with restaurants – from high-end eats to budget in-the-know finds. Safe to say there are some amazing dishes – you just need to know where to find them.
Save yourself the pain of a mediocre eatery with our guide to the best restaurants in the City of London. Ready to explore? Of course you are.
Best Restaurants in the City of London
Duck & Waffle
£££
Situated on the 40th floor of Heron Tower, Duck & Waffle lets you soar above the London skyline and enjoy delicious food at any time of the day – it's one of our favourite 24 hour restaurants in London.
When visiting this London city restaurant, try and swindle a window table so that you can look out over the city and spot as many iconic buildings as you can.
There are plenty of food options here for breakfast, lunch, dinner, and brunch, but we highly recommend the maple-glazed cornbread, spicy ox-cheek donut, and, of course, the name-sake duck and waffle offering.
Make sure to taste the beautiful cocktails too – the Pecan Old Fashioned contains plenty of bourbon and goes down all-too-easy.
Club Gascon
£££
Want a true experience of culinary perfection? Look no further than Club Gascon located in the (ever so slightly) quieter end of The City.
Populated by an extremely friendly and professional team of waiters, and in the kitchen, you can bet that some of the best chefs in the city are hard at work creating easily some of the best food the city has to offer.
The dishes we've tasted at Club Gascon are easily some of the best we have ever had the delight of trying out in London alone. Innovation is Club Gascon's middle name with the likes of loin of lamb grenobloise and glazed white asparagus on the menu.
Sushisamba
££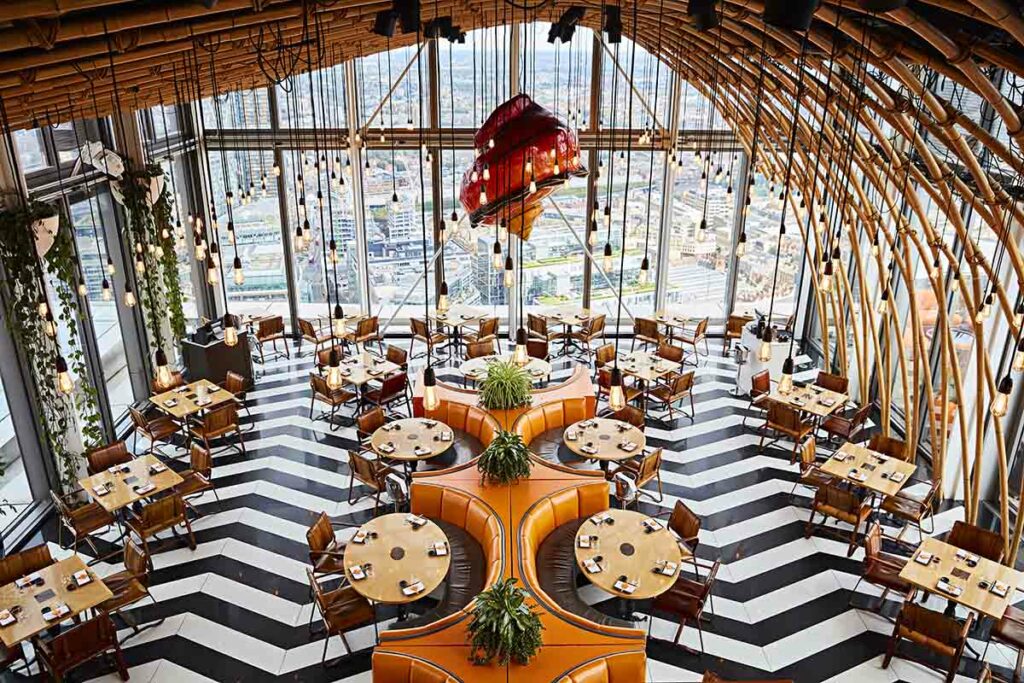 Sushisamba is easily one of the most beautiful restaurants in the entire city – you'll be impressed the moment you step through the door.
The restaurant boasts an incredible view of the streets below, with the largely glass walls allowing sunlight to shine right through.
We're not quite sure how, but the food is even better.
Make sure to try the Samba Covent Garden Roll – a sushi dish stuffed with soft shell crab, bonito flakes, avocado, and plenty of yuzu miso. It's a pleasingly harmonious balance between sweet and savoury and one of the standout dishes on London's dining scene right now.
Sweetings
£££
Sweetings may look like an ordinary seafood restaurant from the outside, but it truly knows how to make the best of all the ingredients it specialises in. This is, quite frankly, a London institution.
Whether you want gourmet fish and chips, a wholesome fish pie, or some delightfully seasoned and cooked shrimp, this place has everything your seafood-loving heart could ever want.
As well as producing perfect seafood dishes, the portions themselves are also incredibly large, so go hungry.
Bob Bob Ricard City
£££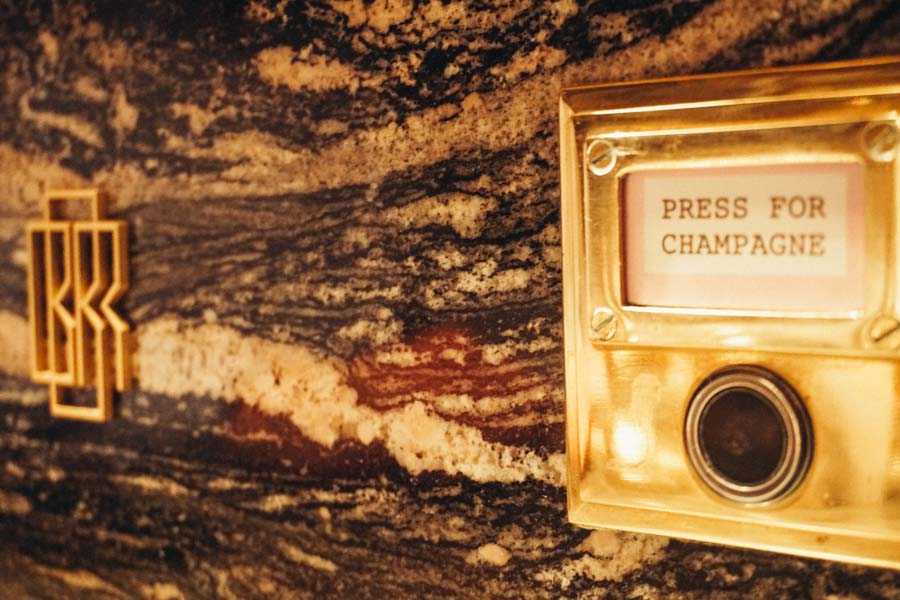 Bob Bob Ricard is one of the most unique looking restaurants in London – you can read our review of their Soho offering here.
This restaurant is a little more on the pricey side, but it is fully worth every single penny. Bob Bob's has a beautiful aesthetic throughout, and the dishes are equally eye-catching. We highly recommend the chateaubriand.
If you want a little taste of the fancy, then make sure to give this place a good go, it's truly great. And don't forget to press the button for Champagne!
Angler
£££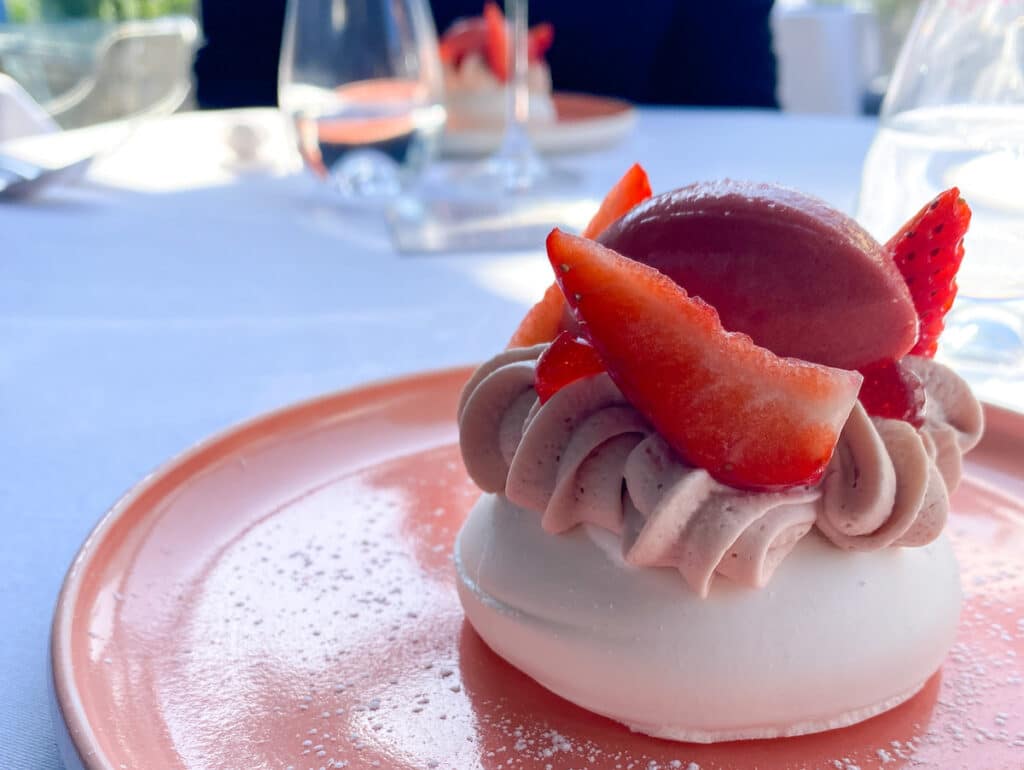 You know that this place means business when you see that it has managed to earn its own Michelin star. It's easy to see why when you visit it yourself.
The menu is packed full of delicious dishes, and each one is prepared using only the finest quality ingredients – we particularly enjoyed the monkfish.
The service was also really attentive and helpful, so you always know what you are eating, which really improves the experience tenfold. This is one of the more pricey options on this list, but it is worth every single penny.
Mei Ume
£££
First thing you'll notice at Mei Ume is that the decor is stunning – it's truly the best Japanese restaurant City of London boasts.
Want some of the best hand-crafted sushi you will find outside of Japan? Look no further than Mei Ume's incredible menu. Everything is clearly crafted with a high level of care and passion that is simply unrivalled by many other restaurants of its ilk.
If you are craving Asian cuisine then it would simply be foolish to miss out on what Mei Ume has to offer.
Darwin Brasserie at Sky Garden
££
Situated on the 36th floor of the building, Darwin Brasserie serves an all-day menu – though it's one of our favourite brunch spots in the city.
We adore the three-course brunch menu, which features the likes of ham hock terrine and eggs florentine, served with caramelised onion hash and slow roasted tomatoes.
If you're dining throughout the day, make sure to scoff the gnocchi with wild garlic pesto – it's well worth the bad breath. Wash down with a carafe of wine and enjoy the magnificent views.
Bravas Tapas
£
Tapas is a wonderful meal to share with friends and families, and Bravas Tapas is easily one of the best tapas restaurants in London.
The menu at Bravas is truly massive and you will find yourself scouring it for every delicious-sounding small bite that you can try out. Grab as many plates as you can, because they are all simply incredible.
We strongly recommend trying out the Galician short rib, the meat is so delectable and delicate to the touch that it practically melts in your mouth.
Three Cranes
£
Want traditional British food but served in ways that are truly unique and incredible? Head on down to the Three Cranes and experience the true splendour of their extensive menu of delights.
From the moment you walk into the restaurant, you feel like you have stepped into another world. The decor is of a modern pub-style and the ambience is warm and welcoming.
The highlight of the menu is easily the pork chop – a delightfully tender cut of meat which is accompanied by oozing garlic butter.
1 Lombard Street
£££
Want to sample some incredibly fancy fine dining without having to break the bank? Try out 1 Lombard Street and their menu, which is filled to the brim with awesome dishes for you to try out.
Top dishes include the Native Lobster Linguine, which has a wonderful medley of flavours throughout, and the lamb chop served with scrumpet and crushed Jersey Royals. It's truly one of the finest restaurants in City of London.
Gunpowder Tower Bridge
£
There are actually numerous Gunpowder branches across the city, but we feel that the Tower Bridge location best reflects the wonder of their food offerings. So, technically it's not in the City of London, but if you venture over the bridge (heaven forbid) you'll find this little gem.
If you're looking for Indian food that is practically out of this world and is filled with complex but also deeply satisfying flavours, then you really cannot go wrong with Gunpowder.
This restaurant is great, especially if you want to try something you may never have experienced before. Every dish on the menu is masterfully made, though the Kerala beef pepper fry will have you coming back for more in no time.
Coq d'Argent
££
This dreamy French restaurant is situated within a wonderful sky-terrace, which allows for wonderful 360-views over the whole city as you dine. The menu has a distinctly French flair to it, and every dish is made with a clear level of passion and knowledge for every single ingredient.
It is evident across the menu that the team behind this perfect restaurant clearly know exactly what they are doing with their ingredients. It is hard not to fall in love with everything about Coq d'Argent – though the Canard (duck breast served with celeriac and duck liver puree) has us smitten.
Jose Pizarro Broadgate
££
This is an incredible place to bring friends or family together to share a meal. There is nothing quite like sitting down at Jose Pizarro and enjoying a glass of wine whilst watching the chefs prepare your delicious food. And the food on offer at this amazing eatery is truly incredible.
If you visit it yourself, you must try out the paella, it is tossed together with a bunch of perfect ingredients and cooked to absolute perfection. The chefs at Jose Pizarro Broadgate are incredibly skilled, and truly have a passion for what they specialise in.
14 Hills
£££
14 Hills is a truly modern and vibrant restaurant right in the heart of London that features a very chilled out vibe that makes it a must-visit spot for drinks with friends at the weekend.
You can start off your evening by chowing down on some of the delicious menu items including highlights such as the lobster mac and cheese, which is deeply satisfying and will fuel you up for the entire evening thanks to its great flavours.
And once you have finished up your lovely meal, simply head over to the bar area to sip some truly gorgeous cocktails in a lusciously decorated setting.
Other Places to Eat in the City of London
The Fortnum's Bar And Restaurant At Royal Exchange
£££
Fortnum and Mason are one of London's foremost shops stocking truly fancy and high-class food, jewellery, clothing, and just about anything else you can imagine.
The brand is well known for its commitment to absolute luxury, and this of course means that their bar and restaurant standing at the Royal Exchange is equally as fancy.
Enjoy your food in a truly vibrant and open-aired space that allows plenty of natural light to seep in. The food itself is absolutely delicious and prepared with care and attention to detail – trust us when we say that you won't be disappointed.
Practical Tips and Map for Exploring The Best City of London Restaurants
Many of these restaurants will fill up bookings in advance – make sure to book a reservation for the likes of Bob Bob Ricard, Cinnamon Kitchen, and Angler.
Discover More City of London Guides