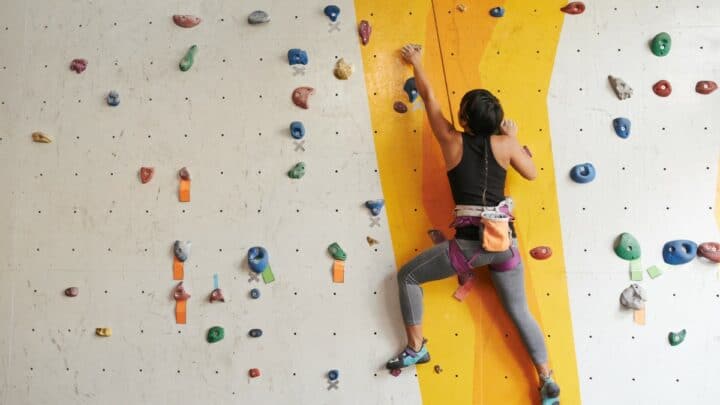 Looking for the best climbing walls London has to offer? Discover the capital's top places to go climbing and bouldering with this handy guide.
Climbing is a really great activity to engage in: it's as excellent for your body as it is for your mind.
Add to this a wonderful community of people seeking adventure, and it's no wonder that the sports of climbing and bouldering are gaining plenty of traction across the UK (and the world).
Whether you're a total beginner interested in seeing if climbing is for you, or you're a seasoned professional on the hunt for the next challenge, there are plenty of climbing centres in London dotted around – and these ones are the very best.
The Best Climbing Walls London
Mile End Climbing Wall
Mile End
Mile End Climbing Wall has to be one of the best climbing centres in London. They cater to both novices and seasoned professionals, so regardless of how experienced you are, you will be able to enjoy (and challenge) yourself on this London climbing wall.
It's primarily a bouldering centre – this means that there are an extensive number of bouldering walls (low-level climbing without ropes). However, there are some top-roped and lead climbing routes too, as well as advanced training areas.
More importantly, the staff at this centre are very friendly, approachable, and are totally switched-on when it comes to looking out for your safety.
They also run courses from this centre, ranging from taster sessions to lead-climbing instruction, so it's a great spot if you want to learn on the best climbing wall London boasts.
The Castle Climbing Centre
Next up is the Castle Climbing Centre – this centre is actually one of the premier centres across Europe.
It first opened its doors in October 1995 and has continued to grow and evolve since. It's now spread across 5 floors and there is still more to come.
If you're a fan of top-rope and lead climbing, this centre will be well-suited to you. It houses over 450 roped and lead routes ranging from 8 metres to 13 metres in height. They also boast an extensive range of bouldering surfaces to suit all abilities.
In this centre there is also a shop where you can purchase climbing gear and the Castle Cafe where you can grab a bite to eat and drink after your session.
Clip N Climb
If you're looking for a centre that will welcome the whole family, Clip N Climb is a great option.
You don't need any climbing experience to climb here as full training and equipment is provided at the centre.
They have a number of different challenges, each varying in design and difficulty, that are sure to test people of all ages and abilities. If you're looking for an extra challenge, you need to check out their infamous DropSlide.
When it comes to climbing walls in London, this one is particularly welcoming. It is a definite must for any family with a passion for making exercise and activity fun and engaging. Though, booking online in advance is a must.
Westway Climbing Wall
If you're looking for one of the biggest climbing centres in the UK, you need to head to the Westway centre.
They boast over 350 routes on 110 roped lines that are up to 13.5 metres tall. They also have over 450 square metres of bouldering area.
If you're thinking about getting serious when it comes to climbing, this is a great place to start. Their centre is NICAL and NIBAS accredited, and they offer high-quality individual and group coaching sessions for people of all ages and goals.
They also have multiple high-tech training rooms, 5 auto-belay machines, and over 250 bouldering problems. This makes this centre a great option if you prefer to train alone – you will never be bored.
The Climbing Hangar
Fulham
Bouldering has significantly increased in popularity in recent years – and it's not hard to see why. All you really need to get started is the shoes, and you can hire those easily from any climbing centre. If you're interested in bouldering, the Hangar is a great place to start.
It has a very relaxed atmosphere, and everyone who works there is approachable and always looking out for your safety. If you're a well-seasoned climber, there are plenty of challenges for you to enjoy too.
Unlike many other bouldering centres London boasts, upon entry, you get to rent a pair of shoes for free. However, you do really need to book in advance – they offer a concession rate for NHS and emergency services staff too.
The Arch Climbing Centre
Multiple Locations
The best thing about the Arch is that there are multiple centres across London.
As such, with one membership, you can access a whole range of walls around the city. There are currently 3 centres in Bermondsey, Burnt Oak, and Acton, with one more on the way.
The goal of this London climbing gym has remained consistent since the first day it opened – they aim to provide the best route setting possible to their customers, and to be equally friendly and welcoming to total newbies and expert climbers alike.
In fact, if you're new to climbing and you're unsure of whether the Arch is for you, you are welcome to pop into any of their London centres for a free coffee, a look around, and a chat with the staff who work there. How lovely is that?
The Font Wandsworth
Wandsworth
If you're south of the river and on the hunt for a world class climbing facility, The Font in Wandsworth is perfect for you. It is also a great option if you want to get involved with the more social side of climbing too.
The Font combines functional fitness and bouldering with specialty coffee, craft beer, and delicious gourmet burgers. Sounds amazing, right? Well, if you're interested, you can actually book a free centre tour to get the lay of the land before you commit.
This centre is modern and friendly, and also offers a range of membership deals. For instance, you can purchase a single session pass, a 10x multi pass, a 1 month pass, or a monthly membership. Shoe hire is available too, for a small extra charge.
Vauxwall Climbing Centre
Vauxhall
As one of the top bouldering walls London boasts, it's only right that Vauxwall Climbing Centre gets a mention in this guide. This brand new and state-of-the-art bouldering spot is one of the most accessible climbing centres in London.
This centre welcomes people of all abilities. Its members range from total beginners to some of the very best climbers in the country. They boast 500 square metres of quality climbing surface, ranging from gentle slabs to steep and technical overhangs.
Everything in this building has been constructed to a very high specification. From the routes to the changing rooms to the check-in system, everything is top-quality. If you want to visit, make sure that you complete the free online pre-registration before you go.
Rock Climbing London: Practical Tips and Map
While they're very similar, technically bouldering and climbing are two different things. Think of it this way: rock climbing is vertical, whilst bouldering is horizontal. It's worth trying both out to see whether you enjoy being harnessed and aiming to get to the top of the wall or prefer bouldering your way across a number of obstacles.
Don't fret if you've never been on a climbing wall before – the majority of these London climbing walls run induction and training classes to help you get your bearings.
London Climbing Walls: Read Next