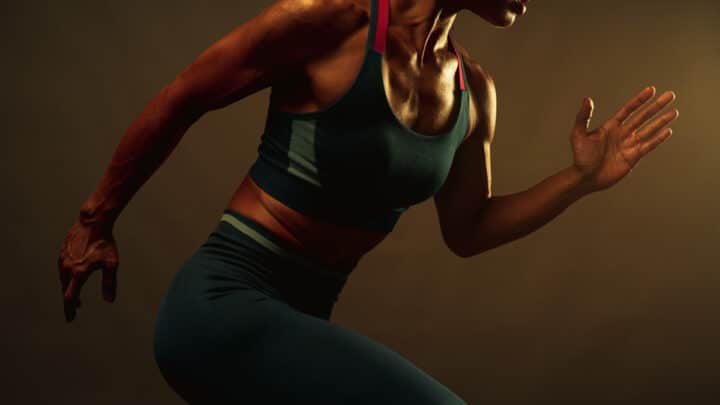 Looking for the best gyms in London? We've got you covered.
Whether you want to attend a trendy new class or get serious about pumping iron, the capital is filled with brilliant gyms that allow you to get fit in fun environments.
Best Gyms in London
StrongHer Space
Bethnal Green
StrongHer Space is one of the best women's only gyms in London. The focus here is on getting strong – no need to feel intimidated by the hordes of men in the weights area, the women are large and in charge.
The gym is fully equipped with all the cardio and weights you could possibly need, so those who want to train solo can do so at ease.
Classes include the likes of The Warrior Method, which is an introduction to strength training for those who are just starting out on their fitness journey, and Lvl, which sees tiny pink weights left firmly at the door – it's time to crack out the big guns.
The best part? Newbies can try out 7 days of unlimited classes for just £25.
Membership: Starts from £99 a month – this includes gym access and classes, among other perks. Gym-only memberships start at £17.50 per month.
Jubilee Hall Gym
Covent Garden
Situated In the central location of Covent Garden, Jubilee Hall Gym is spread out over 5000 sq ft in the Victorian flower market.
With plenty of cardio, weight, and resistance machines, as well as free weights, you can say goodbye to queuing for machines… and say hello to a fitter and healthier you.
The free one day trial is a huge perk of this London gym – try out the gym for size and walk away for free if you don't enjoy it. Though, that's basically impossible.
Membership: From £59.95 per month
Anytime Fitness
Citywide
We'll be honest, Anytime Fitness doesn't do the swankiest gyms in London, but they certainly aren't the worst. What you'll find is a clean, tidy (which counts for a lot in a gym) place to work out with plenty of added extras if you want them.
They do regular classes for everything from yoga and pilates to one-on-one personal training courses. They also have an app where they'll regularly post new workouts for you to follow and even to do at home.
There's also the added bonus that there's pretty much one in every part of town and they're open 24/7.
Membership: From £125 for three months
Blok London
Shoreditch
Let's be real – it's no surprise that Shoreditch boasts one of the coolest independent fitness studios in the capital. If you're looking for high-energy classes to get involved with, Blok London is the gym for you.
With over 25 classes to choose from, including the likes of strength training, body sculpting, and even dynamic vinyasa, you'll be able to find yourself a new favourite or opt for something new each time. Sign us up for calisthenics.
Membership: From £100 a month
Muscleworks Gym Bethnal Green
Bethnal Green
It has to be said that Muscleworks is one of the best bodybuilding gyms London has to offer – as well as being decently priced. If you're looking to make some serious gains, the equipment and support from staff at this gym cannot be beaten.
Both men and women are welcome, and the gym is open 24 hours, so feel free to go for a midnight pump sesh. There's also a protein station – the perfect spot to sit post training and enjoy yourself a shake or bar.
They've coached plenty of the UK's champions in the sport, so you're in brilliant company and you can even purchase some merch – it feels like a real community.
Membership: £29 per month with a £39 joining fee.
Elite Evolution
Elite Evolution was opened by three born-and-bread Hackney lads. Fresh out of uni with a passion for fitness, they decided to open a gym to address the health inequalities of their old neighbourhood.
Apart from running a slick 24 hour gym with everything you'll need to get jacked, they do massage services, sports training for kids and, of course, personal training services.
If that wasn't enough to get you signed up, know that lots of their profits get put back into community outreach programs and charity. Now you can have a healthy body and a healthy mind.
Membership: £29.99 a month.
London Climbing Centres
Multiple Locations
Looking to go rock climbing in London? Look no further than London Climbing Centres. Whether you're a seasoned pro or fancy taking up a new hobby, the staff at these gyms will be able to get you on the wall in no time.
You can opt to tackle the wall yourself in a free climb, or get involved with a class or course. We love the women's social climb at Vauxhall West, though the introduction to bouldering proves popular.
They also offer junior classes, so any little ones looking to get into the sport can do so – the junior club meets weekly to climb and socialise.
Membership: Starting at £48 per month for access to all London Climbing Centres.
Psycle
Multiple Locations
Specialising in cycling, barre, strength, and yoga, Psycle's classes are less about going flat-out and more about toning up and feeling stronger. That's not to say they're easy though. Oh no no no.
Once you've worked out, stop by at the energy kitchen for a wholesome post-sweat snack. The cacao-bomb shake is basically a chocolate milkshake (sans the bad bits) and, we don't know about you, but the thought of that makes the idea of working out a lot more bearable.
Membership: It works via credits – you can either buy a monthly membership which starts at 5 credits (so 5 classes) or you can opt to purchase credits as you go for a strings-free approach to working out.
Kobox
Multiple Locations
You've no doubt seen the Kobox gyms over on the 'Gram in recent years; their neon-lighting and hit music playlists have attracted quite the cult following. If you've ever wanted to get into boxing, Kobox makes it a little bit more palatable.
All genders are welcome in these studios that give off serious nightclub vibes. Prepare for 50 minutes of high intensity boxing for all fitness levels.
If you aren't dripping in sweat and just about ready to collapse on the floor afterwards, you're doing it wrong.
Membership: A single class is £22, though we recommend opting for the multiple classes pack to get the most bang for your buck.
1Rebel
Citywide
When it comes to flashy workouts, 1Rebel is top of the list. And by a quick glance on social media, most people's Instagram feeds too. They offer no-contract, high-intensity work out classes.
Think you, and a bunch of other highly motivated people, in a room full of flashing strobe lights and some very loud electronic music. It's not everybody's cup of tea, but we all get motivated in different ways. We're not judging.
Membership: £179 per month for a year long class pass.
The Refinery
At The Refinery, the mind is just as important as the body. This retro-themed gym focuses on all-round wellbeing – pairing yoga and fitness with holistic therapies to soothe your soul.
We can't think of any better way to round off an AAA class (Ass, Arms, and Abs, in case you were wondering) than with a deep tissue massage.
All four studio rooms have been designed to evoke sheer fun – we're talking curved walls, neon lighting, and music that surrounds you – Disco Yoga anyone?
Membership: Starts at £60 per month, although you can just buy single class passes.
Third Space
Multiple Locations
Described as a luxury health club, Third Space is a rather high-end gym in London (and comes with a high-end price tag). The philosophy behind the name is that the gym should be your third most-used space, behind home and work.
Boxing, yoga, kettlebells… there are plenty of classes to choose from. Or opt for a gym session followed by an hour or two relaxing in the spa. Think of this as less of just a gym, and more of a healthy lifestyle membership.
Membership: £180 a month – though this includes access to all facilities.
Digme Fitness
Multiple Locations
If you tend to get bored of fitness classes easily (we're totally guilty) Digme offers stylish and fun workouts guaranteed to make you break a sweat.
Their cycling classes are fan favourites – flashing lights and funky music is the perfect setting for a 45-min burn. But we also love the HIIT programmes, and the stretch and mobility options for days when we just cannot bring ourselves to go HAM.
Add to that swanky studios and a friendly atmosphere, and you'll be hitting your fitness goals in no time.
Membership: £139 per month for unlimited classes across the capital.
Muscle Bull Gym
Bermondsey
Tucked away near to Maltby Street Market, Muscle Bull is another south London gym for those looking to pump some serious iron.
Hang out at the gym or take a class, it's totally up to you. Popular ones include the high-intensity boxing conditioning and the strength and conditioning options. Or go all out with Andy Parsons guiding you through an intense Fit and Hiit class – you'll be drenched by the end, trust us.
We love that it couldn't be easier to book classes: the gym has a dedicated app in which you can secure yourself a spot instantly.
Membership: From £44 a month
Equinox
Multiple Locations
With locations dotted across the globe, Equinox boasts state of the art equipment, a range of classes, and personal training programmes to boot.
Their trainers are extremely dedicated and take your training seriously, using the latest science to come up with a tailored plan to suit you. And whilst all of their classes are brilliant, Pilates is their specialty – they've got dedicated equipment and over 500 moves to tighten you up in all the right places.
Oh, and did we mention that there's a health spa too? What better way to regenerate those muscles than by hopping into a hot tub, post-workout.
Membership: £240 per month – it's spenny, but you get access to absolutely everything.
Practical Tips for Choosing Your London Gym
Make sure to check out for the joining fee and contract length – lots of gyms advertise cheaper monthly fees but trap you into a 36-48 month contract.
Many gyms offer one-class passes. This is a great way to avoid commitment whilst trying out a few gyms. Find one that suits you and you feel comfortable in – after all, you want to make sure you're excited to work out!
Best Gyms in London: Map