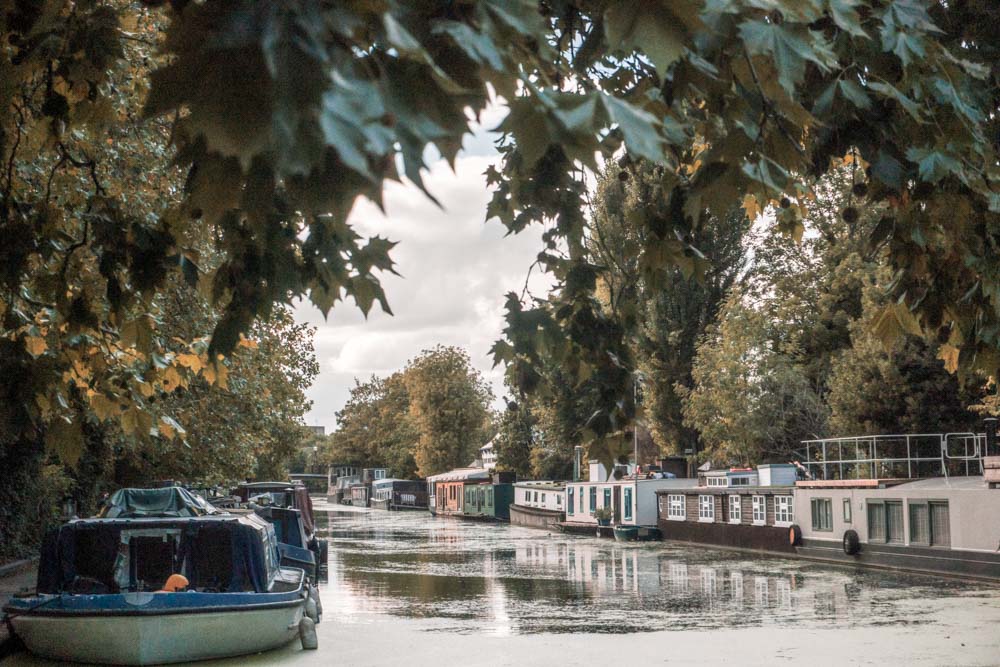 Looking to go boating in London? One of the best things to do in the capital is to take to the water for hours of endless fun.
Whether you fancy yourself as a seasoned canoe-er (that's a word, right?) or want to take things slower from the safety of a cute pedalo in the shape of a VW Beetle, the capital has plenty of lakes – and let's not forget the River Thames – where you can go boating.
Not sure where to start? Here's a handy rundown of our favourite boating spots in the capital.
Best Places to Go Boating in London
Central London
Canary Wharf
If you're wanting to go boating in central London, you'll find most of the best places near Canary Wharf.
Why not indulge a little bit and opt for a BBQ or Hot Tub Boat? Skuna Boats offer these two options, which turn a trip down the Thames into a bougie adventure with your pals.
The Hot Tub Boat, which is basically just a giant wooden hot tub in which you float down the water, starts at £225 and includes 75 minutes on board for up to 7 people. Bubbles and pure bliss await.
Or, choose the BBQ Boat and take in the sights along the river as you chow down on deliciously barbecued grub. Costing £150 for up to 9 people, Skuna provides the boat and the BBQ, you've just got to remember yourself and the food.
Don't forget you can also ride the Uber Boat from Canary Wharf (it runs from Putney to Woolwich). If you don't feel brave enough to navigate the Thames yourself, let your friendly water taxi driver do it for you.
Also, it's way prettier than the tube. Just turn up to the station and scan your Oyster card or book through the Uber App.
Paddington
If beautiful sights and quiet(ish) waters are your top priorities, you'll enjoy boating in Paddington.
Goboat is a popular London boating company with a couple of locations dotted across the capital.
The Paddington location lets you steer yourself through Regent's Canal and towards the leafy Maida Vale and Little Venice areas. Boating in an area that looks like a romantic Italian city? Dreamy.
You'll also be able to spot The London Zoo and go as far as Camden Lock – and it can work out as little as £12 per person for an hour on the water. No need to fret if you're a beginner either, as you'll be given life jackets and all the training you need to become a captain for the afternoon.
The Serpentine
If it's a classic British experience you're after, look no further than Hyde Park's Serpentine Lake.
You can turn up and rent a pedalo between April and November, from 8am until sundown (or about 4pm). Who doesn't love the sheer joy of trying to navigate a lake, only to end up boating in circles?
Or if you fancy kicking back and relaxing whilst someone else does all the hard work, hop on the Solar Shuttle: a sneaky boat that silently snakes its way across the water, powered by the sun. We love an eco-friendly option.
North London
Finsbury Park Boating Lake
Finsbury Park boat hire is not only incredible value for money at just £10 for half an hour, but it's also one of the best places for family-friendly boating in London.
Up to four of you can pile into a rowboat and make your way across the boating lake with your complimentary bag of bird feed (and most likely a few ducks) in tow.
Fancy saving even more money? Obvs. If you dress up as a princess or a pirate and turn up between 12pm and 3pm on Saturdays, you'll save a fiver on boat hire. Though, we can't guarantee you'll win any cool points.
Alexandra Palace Boating Lake
Ally Pally's Boating Lake is one of the more popular North London spots, mainly because you get to choose between a range of animal pedalo designs and it's brilliant for kids.
Whether you fancy peddling VW Beetle, a dragon, or even just an obnoxiously yellow double-pedalo, boating at Ally Pally promises an afternoon of massive LOLs.
From March to October, it costs just £18.95 per group to take to the lake (weather permitting).
South London
Crystal Palace Park Boating Lake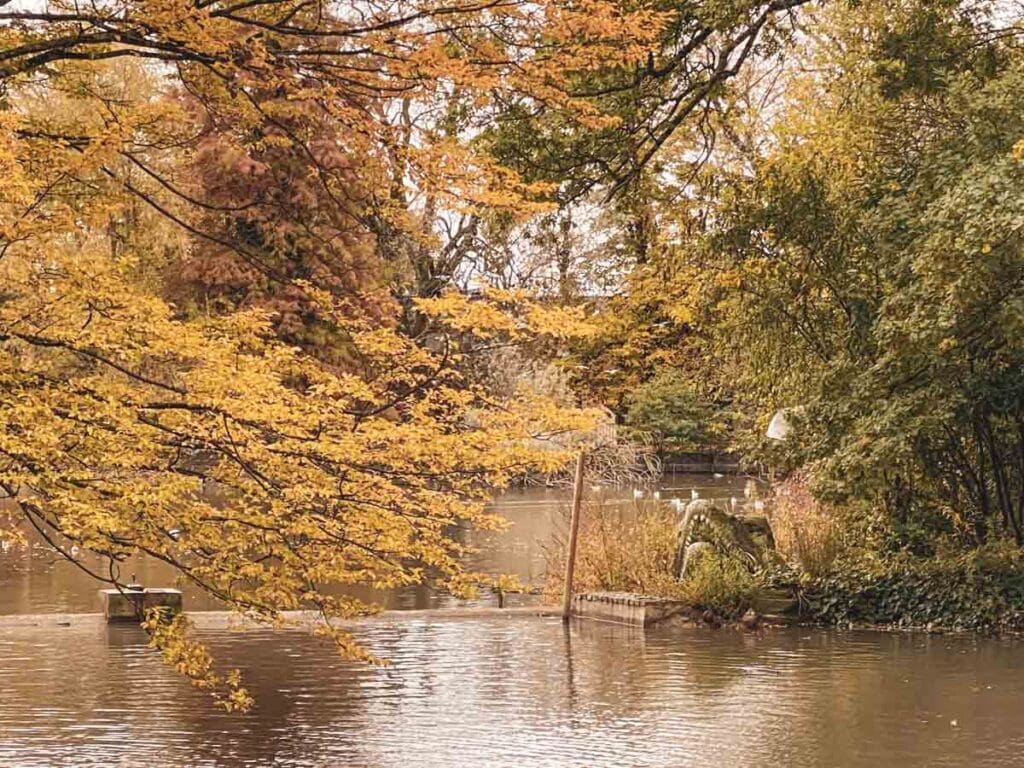 Whilst boating in London is often better in the Summer, Crystal Palace Park Lake comes into its own when the leafy backdrop turns orange and the weather cools.
If you visit just before the boating finishes for the year in October (it reopens in March), you're guaranteed the ultimate London autumn vibes. It's a fiver to rent a pedalo for 30 minutes and life jackets are included for the little ones.
Greenwich Park
Another lovely spot for some pedalo fun is the boating lake at Greenwich Park.
You can rent a pedalo, starting at just £4 per person for 20 minutes, and chill out on the water with the Royal Observatory and the Old Naval College acting as a rather stunning backdrop. And you've got plenty of places in Greenwich to explore afterwards.
Boating is available between Easter and October each year.
East London
The River Lee in Hackney
If you're situated in the eastern fringes of London, head towards The Milk Float on the edge of Olympic Park for the ultimate thrills on the water.
Part cafe and bar, part canoe hire service (thanks to Moo Canoes), it's a brilliant place to spend an hour or two with a coffee or beer once you've navigated the canal – and don't panic, all canoe training is provided before you're let loose.
Canoe hire costs £36 for the first hour and £10 thereafter, with each seating up to three people.
Hollow Ponds
Nestled in Epping Forest, Hollow Ponds is one of the best places to go boating in London.
From around March until the end of September each year, rowing boats can be hired for £10 per half hour (for up to five people).
Once you've been given the lowdown, take to the pond and explore the beautiful woodland surroundings and abundance of wildlife from your floating vessel.
West London
Kingston
Kingston is home to another of Goboat's spots in London. When you hire a boat from this location, you'll start (and end) at Teddington Lock, before making your way towards Molesey Lock via Hampton Court Palace and Thames Ditton Island.
Again, you don't need to stress about prior training, as the boats are easy to use and you'll be given a brief (along with a handy map) before you're left to captain your boat.
Richmond Bridge
For boat hire at Richmond Bridge, you'll want to head towards St Helena Pier where you'll be given a traditional rowing skiff. While you can bring the whole family on board, this is a dreamy romantic spot where you can watch the sunset from the water.
If you want something a little bit bigger, you can also rent out a 12-person boat – although some experience will be required for one of these bad boys.
Want to take a tour on a river boat in London? The Richmond Circular Cruise departs from the Landing Stage on the hour between 12pm and 4pm.
Climb aboard Princess Freda, a charming Dunkirk ship with a whole lot of history that the crew are just dying to tell you about. You'll spend 45 minutes passing the likes of Hampton Court Palace and Ham House, while the skippers give out some interesting tidbits.
You'll need to book tickets in advance, at £10 per adult.
Boating in London: Practical Tips and Map
Most of the places to go boating in London will run between Spring and Autumn – make sure you check whether the boats are available before you go. Also, check whether the price is for one person or per boat before you turn up, as you don't want any nasty surprises.
Like we already mentioned, you won't need any prior experience for casual boating in London (unless the website states otherwise). Boat hiring services will always give you the 4-1-1 before they trust you with a boat, anyway.
Looking for More Outdoor London Guides?
Check these out…