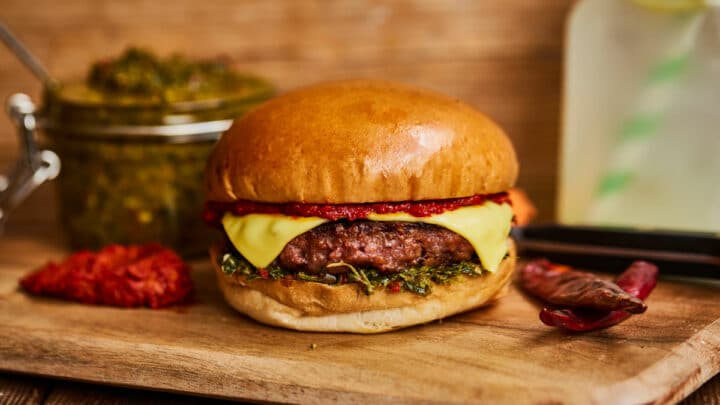 Looking for the best restaurants in Chiswick? Look no further – Chiswick is a beautiful Thameside district with a restaurant scene to be proud of.
Words by Sam Jeans
Leafy Chiswick has a magnificent restaurant scene, but what might be even more impressive is the sheer diversity of restaurants packed into such a small area.
From Argentina to Japan, Texas, Europe and the Middle East, Chiswick's culinary delights take you all around the world.
We won't lie, whittling down this vibrant district's best places to dine was tough, but let's crack on and investigate the best restaurants Chiswick has to offer.
Best Chiswick Restaurants
La Trompette
£££
If you're searching for a modern European or French restaurant, Chiswick offers Michelin-starred cuisine courtesy of La Trompette.
La Trompette is a primarily French restaurant, but they offer an eclectic range of modern European and international cuisine spanning Italy, Spain and Japan, courtesy of Iberico pork cheek, tortellini and sashimi.
A three-course dinner will set you back the best part of £80, but it does have a Michelin star, so you're getting what you pay for with high-quality dishes cooked with excellent ingredients and beautiful presentation.
The restaurant has a relaxed and welcoming atmosphere with upmarket vibes without being too high-brow.
Vinoteca
££
Wondering where to eat in Chiswick? Head to the High Road and its many side roads, and you'll find some amazing restaurants, including the superb Vinoteca, a wine bar and restaurant with a great menu and a monumental wine list.
This inventive venue has snowballed in popularity thanks to its superb global wine list and online shop.
The menu offers delicious small plates and mains like ham hock terrine, smoked trout, roasted pear and ricotta gnocchi. An unpretentious yet vibrant menu packed with exciting flavours.
On the second Sunday of every month, Vinoteca hosts a three-course feast celebrating European regional cuisine – so be sure to check that out.
And one other thing – make sure you've got some extra cash to walk away with a bottle from their incredible selection.
Buenos Aires
££
The Argentinian restaurant Buenos Aires brings a meat-packed menu to West London.
Steak is an Argentinian institution, and they never get it wrong, so you're truly spoilt for choice here if you're a steak fan.
If you can't choose which road to go down, that might lead you towards the steak sampler board or mixed grill, which offers you 6 oz of rump and sirloin, plus chicken, chorizo, peppers and veg for under £30.
The restaurant has a lively, welcoming atmosphere and outstanding service. A real gem that has developed into one of the district's favourite culinary haunts.
Villa di Geggiano
££
Villa di Geggiano represents Italian cuisine – specifically Tuscan cuisine – with all of Siena's rustic charm and sophistication.
You can tell this restaurant takes real pride in its vibe, with its gorgeous eclectic interior design and familial atmosphere.
The classic Italian menu features three distinct categories that Italian food enthusiasts may already know – antipasti (starters), primi (firsts) and secondi (seconds). The food is beautifully crafted and balanced between robust and delicate flavours.
An Italian restaurant in Chiswick that brings true Italian cuisine to this district's brilliant culinary scene.
Hare and Tortoise Chiswick
££
The Hare and Tortoise is a charming and sophisticated Japanese restaurant with a superb reputation for its no-fuss Asian cuisine.
The venue is sleek, simple, and modern, and the menu is packed with tempura, sashimi and nigiri, and rice, noodle and ramen dishes. The noodle and ramen dishes are sublime, with plenty of choices representing both Japanese and other Asian cuisines.
If you're craving a sushi fix or a high-quality, authentic Japanese restaurant, Chiswick's Hare and Tortoise is waiting for you. Sushi fans – definitely check out their sushi boxes.
Prices are very reasonable in an area where you'll generally pay above the London average for most meals.
Honest Burgers Chiswick
£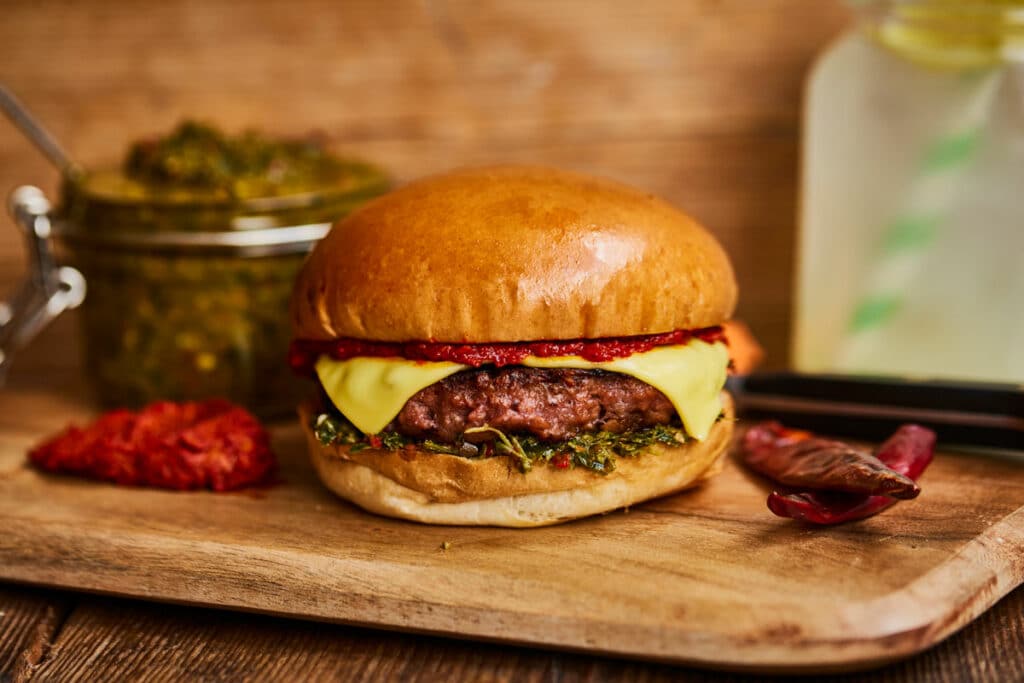 Next door to the Hare and Tortoise is Honest Burgers, one of a handful of restaurants for this growing chain.
Despite the menu being obviously burger-centric, it's by no means uninventive, especially for veggies and vegans who have a choice of 3 delicious patties.
The sides are excellent too, and make sure you check out their monthly specials. Honest Burgers has your back if you don't fancy a full-blown sit-down meal but don't want to skimp out on quality.
Megan's at the Flower Market
££
Highly successful small chain, Megan's, has some beautiful venues scattered throughout the city, but this is undoubtedly one of their best – and it's established a tremendous reputation which suggests just that.
The fresh, bright Mediterranean decor is fantastic, and the menu will wow you with exciting Turkish and Mediterranean flavours.
Open kebabs are the headline act here. They're all genuinely mouth-watering and will fill you up with little trouble.
Vegans – check out the open 'lamb' kebab – it's incredible. Halloumi dishes are available in abundance too. Another stunning restaurant from this blossoming chain.
No 197 Chiswick Fire Station
££
Chiswick's wonderful ambience seems to flow in and out of its many restaurants, and No 197 Chiswick Fire Station is no exception with its charming menu and decor. You'll find a sophisticated vibe here, but it's not pretentious, either.
Fresh, minimalist decor meets thoughtful food that spans everything from seafood to burgers and flavour-packed nourish bowls.
The restaurant's clean, healthy style isn't just for show either – they hold 3* with the Sustainable Restaurant Association.
D Grande
££
Tex-Mex cuisine isn't something you see too often in London, but it might just become your new culinary addiction.
The Tex-Mex restaurant, D Grande, was formed by two genuine Texans, so it certainly ticks the authenticity box. Poppin' flavours, heat, spice and grilled meats are the name of the game – and make sure you lasso yourself some quality margaritas, including the famous frozen margarita.
The food is spice-packed, but you'll still find plenty to tuck into if you don't like the heat. An innovative menu features loads of varieties of enchiladas, fajitas, burritos and tacos, which can all be purchased for one or two people.
You'll also find delicious tortillas, quesadillas and chilli con carne. So many classic Texan and Mexican dishes are represented, a no-brainer for those who love Mexican food but are yet to fully explore Tex-Mex.
Piano
££
The first thing that strikes you about Piano is the gorgeous interior – it's a swanky venue.
The cuisine can be described as upscale Persian food, which means mouthwatering grilled meats, stews, spice-packed salads, and veg.
You'll often find DJs, live music, and the occasional belly dancer on weekend nights. The Piano restaurant Chiswick is a fun place to eat, with mouthwatering food representing emphatic, vibrant and spicy flavours.
Yet another feather in the hat of Chiswick's diverse restaurant scene.
Little Bird
££
Further south, you'll find Little Bird, a small and cosy restaurant focusing on freshly made small plates.
The small plates and bowls menu are perfect for grazing away for lunch or dinner, and there's a luscious cocktail menu too. A lovely little restaurant for relaxed drinks and food, perfect for a catch-up with friends.
Annie's
££
Next door to the river, you'll find Annie's, a charming independent restaurant set in a warm, rustic venue.
It's worth highlighting that quite a few smaller independent restaurants in Chiswick are worth supporting. Annie's is one of them.
Mains include European classics like beef bourguignon, shepherd's pie, and fish and chips; though simple, they really get it right.
Friendly staff and a super-relaxed vibe earn this restaurant superb reviews, and it tops it off with an excellent wine and cocktail list.
Other Places to Eat in Chiswick
Chiswick House Café
££
Chiswick House and Gardens are well worth a visit, with a stunning Italian-inspired house set in well-kept gardens.
If you're closer to Chiswick Park, restaurants are a little thin on the ground, but you'll find one nestled in the gardens. The dog-friendly Chiswick House Café has a wonderfully leafy backdrop and a generous menu of sandwiches and pizzas.
Despite not taking food as seriously as restaurants on the High Road, the excellent sourdough pizzas easily hold their weight.
The Roebuck
££
A modern gastropub, albeit effectively a restaurant, The Roebuck, brings alpine cuisine to London.
The delicious menu fuses cuisine from the Alps, Bavaria and other mountainous regions with robust dishes like venison, fondue and steaks. The fondue is gorgeous, and there's a hearty pizza menu, too.
The Roebuck's gastropub vibes are laid back and relaxed, perfect for families and groups of friends. And, if you're there on Sunday, seriously consider the highly-rated roast.
Practical Tips for Exploring The Best Chiswick Restaurants
Chiswick is well connected to the rest of the capital – you can access Chiswick via Chiswick Park Station or Turnham Green. There's also a National Rail station further south.
Competition among the best restaurants in Chiswick is super-hot, especially down the Chiswick High Road, essentially the district's main high street. So, if you're searching for places to eat in Chiswick, head to the High Road.
While many of the best Chiswick restaurants are packed around the High Road, you'll find some quieter choices south towards the river. Chiswick high street restaurants are pretty much all excellent, so you won't go far wrong.
Chiswick Restaurants: Map