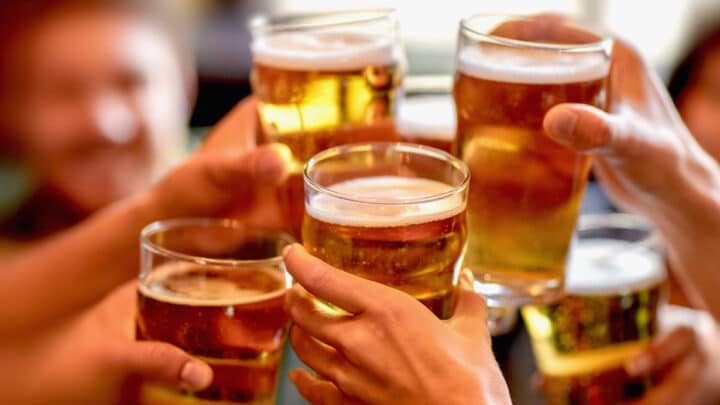 Looking for a new spot to unwind after a long day? Or is your old pub just not the same anymore? Here are some of the best pubs in Chiswick for you to try next time you fancy a pint.
It can be intimidating to find a new watering hole while exploring London. Everyone has their own preference for what qualities they look for in their pub of choice – for us, a roaring fire, a decent pint, and great grub are must-haves.
There is nothing to fear, though, as Chiswick has some spectacular pubs, all with a charm of their own that will make anyone feel at home.
Also, keep your eyes peeled for Pubs in the Park – a Chiswick event that sees plenty of the pubs in the local area take to Chiswick Park for a big booze-up. This year, it's taking place between 2nd and 4th September.
Ready to explore?
The Best Pubs in Chiswick
Black Lion Pub
Forgive us – this pub is *technically* in Hammersmith, but it's a goodie. There are few pubs around that can claim an association with ghosts and bring back the traditional pub game of skittles.
The Black Lion is just that pub, with a skittles alley where the likes of Sir Michael Redgrave once played.
This pub is supposedly the home of the Hammersmith ghost, James Millwood, who haunts the pub. After being mortally wounded, he wound up in the pub after ironically being mistaken for another ghost haunting the area.
Unlike its spooky visitor, this pub is incredibly warm and welcoming – just like a traditional English pub should be.
The Bull's Head
Take a pew out the front of this Chiswick pub and you'll be blessed with riverside views of the Kew Rail Bridge and Kew Gardens on the opposite side of this stretch of the Thames.
The Bull's Head is an 18th-century tavern that has been here in one form or another for over 300 years. So it's safe to say it knows a thing or two about cracking pints.
It has well and truly cemented its status as a gorgeous place to relax next to the river on any Sunday.
If the weather becomes a little moody, you've got the choice of one of the numerous rooms to grab a seat with your beverage of choice. And there's plenty to choose from.
The Bell & Crown
For some traditional British comfort food, the Bell & Crown offers incredible feasts that'll warm you up on a chilly day.
The atmosphere is more than welcoming in this riverside pub, bringing a countryside feel into the city of London.
There's a vast range of different ales for you to try. We think you will be hard-pressed to find a favourite in just one visit.
There is a rumour floating around that ghosts used to turn the beer pumps on during the night, which we think is absolutely hilarious (yes, we are definitely terrified).
The Old Pack Horse
The Old Pack Horse is your friendly neighbourhood pub where you always feel welcome. Despite being frequented by various big-names throughout history (namely criminals and writers – an odd combo, we admit), this place feels like a home away from home.
The food is amazing and offers a contemporary twist by serving Thai food and cycling through various craft beers from the bar.
Pets are also welcome here, so bring your fur friend along while you grab a pint.
The Lamb
The Lamb is another local on the High Street that stands out from all the other pubs. This is more the spot for anyone looking for a casual and relaxed place to de-stress after a long day at the office.
The food is hearty, and the drinks menu is… inventive, to say the least. But, all the traditional ales, wines, and soft drinks are still there, so there is no need to panic.
The City Barge
When it comes to Chiswick river pubs, there is a high chance that you have walked past this little 14th-century pub without even knowing it.
The City Barge sits on the Thames with gorgeous views on its terrace on a summer day.
The inside is like a time capsule with an old-school vibe yet modern accessories. It's the type of place you'll want to bring your grandparents to grab a beer.
The food menu boasts all the pub favourites you could want (we're talking fish and chips, pies, and burgers – the works) and goes perfectly with any one of the many beers on tap.
The George IV
As the name The George IV suggests, this pub in Chiswick takes it to another level with sophisticated decor, and, by George, the high ceilings add to this aesthetic.
This Chiswick pub creates dishes fit for any King or Queen, with British cuisine being their speciality.
A British-focused charcuterie board is particularly interesting and something we recommend trying. The menu changes seasonally, so boredom will never come into play when heading down to this pub.
The Pilot
Are you a beer enthusiast or cider fanatic? The Pilot serves a vast range of different ciders and beers for you to sample, with a few snack options on the side.
This ultra-casual pub feels more like an episode of "Cheers", where everyone gathers for a drink at the end of the day.
Sample some local breweries at this pub, like GammaRay, or go for an old favourite such as Guinness. This is a contender for being one of the best pubs in London.
The Chiswick Pavillion
People-watching fanatics will rejoice to hear that when it comes to pubs, Chiswick has some of the best ones to just sit back and enjoy watching the world go by.
The Chiswick Pavillion is no different with the drinks, food and views to participate in some people-watching.
The inside is rustic yet modern, giving it that cosy atmosphere. There are many local beers to sip on while snacking on their pub grub, but the outside is the place to be. The pub hosts live music every Thursday, so head on down if you are in the mood for some tunes.
Crown and Anchor
Built back in the 1830s, the Crown and Anchor is one of the top pubs Chiswick has to offer. It's also a sister to The Lamb, so you can expect all the same excellent drinks at hand.
The pub changes its menu seasonally, but they will always promise hearty British pub classics – burgers and pies, for example.
If you're like us and love a pub quiz, this pub hosts a weekly one. Get your team together and brush up on your pop knowledge. When it comes to Chiswick riverside pubs, this is a stellar one.
Chiswick Pubs: Map
Discover More London Pub Guides