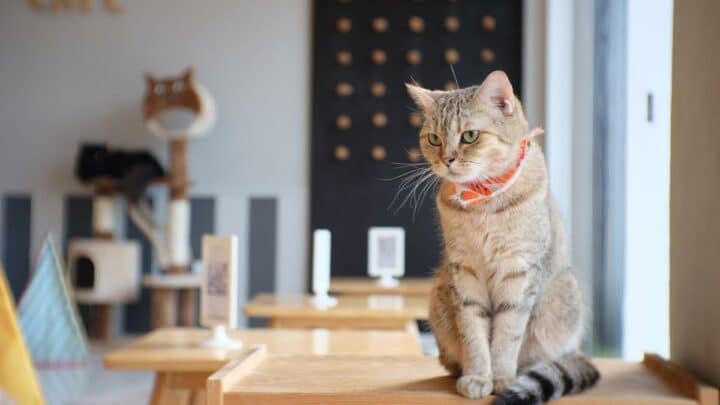 Looking for the best cat cafes in London? These brilliant spots will have you fe-line fine in no time.
We love cafes. We love cats. Whoever thought of putting them together was a genius, in our books.
There's nothing quite like a cat purring in your lap as you guzzle your morning coffee (unless you're a dog person of course). These brilliant cafes in London have got the memo – providing a safe place for cats to live and a place for us all to cuddle them.
Coffee and cats, what's not to love?
Best Cat Cafes in London
Lady Dinah's Cat Emporium
Bethnal Green
Lady Dinah's is by far the most Instagrammable cafe in London – as well as the most famous cat cafe. Spread out across two-story with stunning views of Bethnal Green Road, Lady Dinah's brings home the vote for best cat cafe in East London.
There's something quite magical and ethereal about this cat cafe as you sit and watch beautiful cats jump and wander around the rooms. It's important to note you can't actually pick the cats up, but you can obviously stroke them and let them come to you.
There's a £15 minimum charge for 90 minutes of cat and coffee time, and it's a great location close to Shoreditch if you're looking to head there for some food or drink afterwards.
Java Whiskers Cat Café
This Central London cat café has got everyone talking at the moment. Java Whiskers is more than just a place to cuddle cats, but it's on a mission to rescue homeless cats and give them a new home.
There's nothing more depressing than heading to a pet cafe to be greeted by sad looking animals. Luckily, that's not the case here – the cats are happy which means the customers are happy too.
The staff will happily tell you any information you're after about each individual cat, and the food is pretty tasty too. If we had to pick, we would probably say that Java Whiskers is the number one cat cafe London boasts.
Whiskers and Cream
Whiskers and Cream is where luxury tea meets adorable furry friends. It's a cute and cosy spot, the perfect place for either a rainy Sunday afternoon or a midweek pick me up. Go on, you deserve it.
Right on Holloway Road is North London's best cat cafe. And, to be quite honest, the delicious pastries and cakes are even more of a reason to visit.
It's important to note that it does cost £10 to visit, which is quite normal for cat cafes in London. The money helps with looking after the cats, their food and vet visits.
La Maison Du Chat
Pimlico
The official home of cats! La Maison Du Chat is by far one of the cosiest cat cafe's in London located in a cute Pimlico coffee shop.
We'd even go as far as to say that this cat cafe in London is one of the best afternoon tea spots.
We also like the French name, who doesn't love putting on a French accent?
The great thing about La Maison Du Chat is the fact that it's quite small so the cats really do come to you and you can have some good old cuddles.
And, it gets even better, they offer a 'yoga with cats' class!
Head down there if you fancy a good stretch whilst having the extra cuteness of cats purring around your head and feet whilst you pose.
Paws Cat Cafe
Tonbridge
This offering might be just outside of the capital, but it's well worth the venture. The Paws Cat Cafe is seriously cute, in all senses of the word. Better yet, the admission price is just a fiver. Bargain.
What they offer is a "cat therapy experience", and we are ready to be cured. Let life's stresses melt away as you cuddle with your new furry friend.
Practical Tips for Visiting London's Cat Cafes
You will most likely have to pay a fee to head into the cat cafe which, although is annoying, goes towards the cats wellbeing. We'll forgive.
Most of the cat cafes require some sort of reservation beforehand so make sure you call them up or check online for any information.
Don't scare the cats, let them come to you. Definitely don't go straight up and pick them up, however much you think you're a cat guru. They are much smaller than you and will get scared.
London Cat Cafes: Map
London Cat Cafes: Read Next