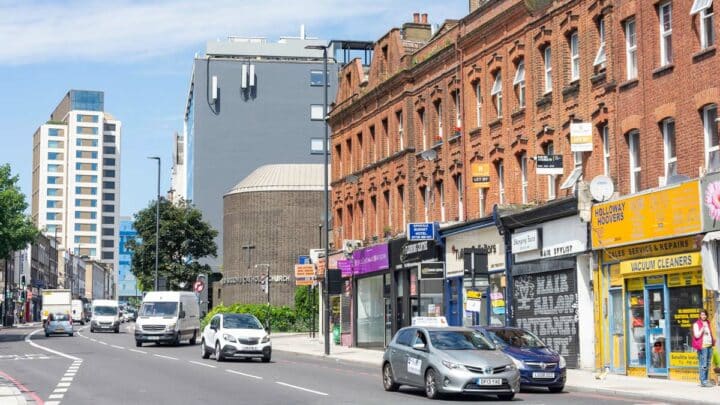 Heard of the Holloway Road? Don't fret if not – we've compiled this guide to bring you the best things to see, do and eat in the area.
Dating back to 1307, Holloway Road has been a transport hub since medieval times – a huge road that bisects North London.
Although, Holloway Road today boasts mixed communities and cultures, builders' caffs, trendy shops and great food. What it lacks in leafy scenery, it makes up for in cool spots.
It's close to all the fun of Islington and Hampstead, and the road itself is full of everything you'll ever need and more (even a made-to-measure wiggle dress).
Ready to explore? Let's go.
​​Cool Things to do on the Holloway Road
Catch a Movie at the Odeon Cinema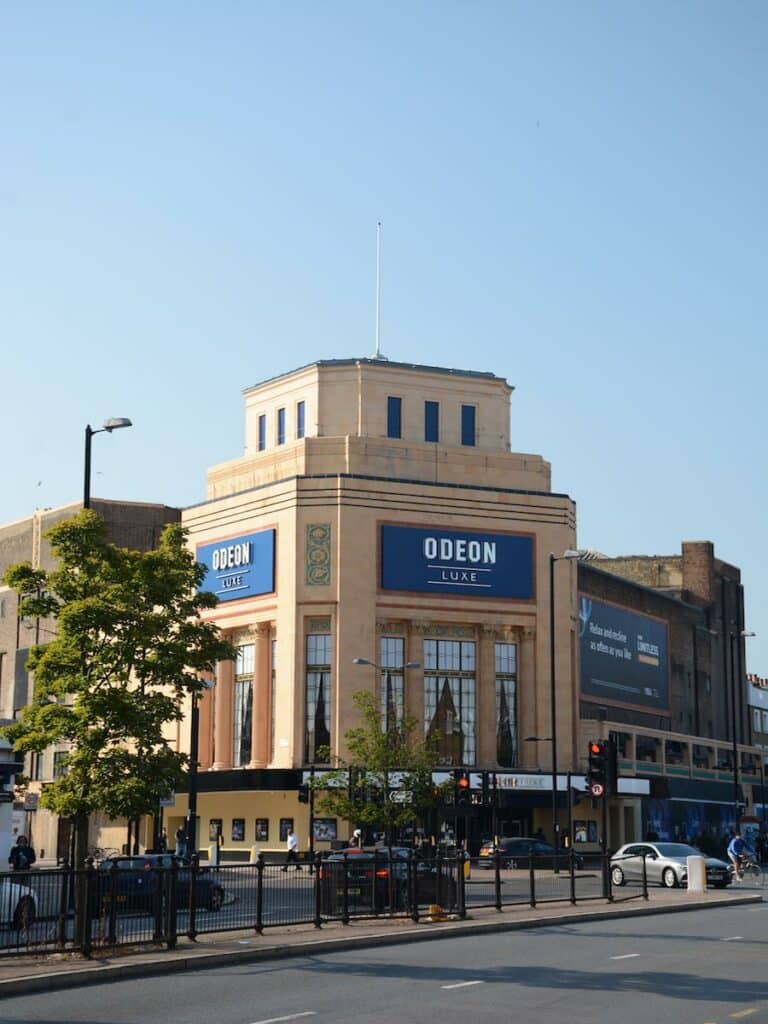 Whilst we usually tell you to avoid chains in favour of independents, the Odeon Cinema on Holloway Road is one of our favourite cinemas in London. Mainly because the building is an incredible Grade II listed art-deco building built in 1937.
Although the cinema needs a little bit of love and could do with a makeover, the prices are great, and the building itself is stunning.
Book your tickets online and enjoy some good old fun at the cinema. Splash on an extra big popcorn, pick your film and sit in an incredible building full of history.
Nags Head Car Boot Sale
Just off the Holloway Road opposite the cinema is one of the best car boot sales in London. Saturday is a traditional market day with stalls selling a bit of everything from gowns to hand crafted items and batteries.
But Sunday is the ultimate car boot sale where every week is a surprise as to what you'll find! It's a truly great spot to get lost and find something you didn't know you needed, but once you see it you have to get it.
You'll need a sharp eye, but it's great for vintage, furniture and cheap clothes! Students get 20% off.
The Spoke
A restaurant and pub that offers just three things: coffee, burger and cycling. It used to be a pub, but now it's just a place where cyclists can hang out over delicious coffee. Supposedly one of the best burgers in North London, this place is seriously cool and worth a visit.
Islington Central Library
A stunning building on Holloway Road, Islington Central Library is the perfect place for book lovers to spend an hour or two. Whilst the outside is spectacular, the inside has been recently renovated and boasts a very generous collection of books spanning all genres.
The Best Holloway Road Restaurants
Sambal Shiok
Feeling a little blue and need a warming bowl of goodness? Sambal Shiok has got you covered with its to-die-for special laksa, filled with tasty king prawns, poached chicken, coconut milk and mega-fiery shrimpy broth.
This spot is Holloway Road's best comfort food and a little secret amongst locals. If you're feeling a little ill or under the weather, then this will perk you right up and give you the boost of energy you need.
Keren View Vegan Restaurant
Holloway Road has something for everyone, and that's why we love Keren View Vegan Restaurant. If you're vegan, vegetarian, and just veggie-curious – this is the best vegan restaurant in North London.
The entire menu is delicious, but if you're feeling a little lost on what to go for, we recommend going for the dnish (stewed potato and peppers with chilli) and brsen (stewed brown lentils with kale). It's cheap and absolutely delicious – you'll soon understand.
Holloway Road Bars
Big Red
Pool tables, jukebox, live music and a seriously good bar – this drinking hotspot is one of the best bars on Holloway Road.
We love.a late night bar and Big Red delivers all the goods. They've also got a great range of beers and spirits with some good old rock n' roll. We love the American décor and the burgers are a great addition.
Go with friends or alone, but by the end of the night you'll be sure to have met a whole range of new people as you dance into the night or sit back and play some pool.
Islington Sports Bar & Grill
The best bar to watch football in London. In fact, not just football, any game! Whether it's big games, niche games or even the dirty fouls in a shrine to sports – they will show it.
A fun sports bar serving good pints and a great atmosphere to get into the sport. Although, only go if you're in the mood for drinking a few drinks. We've been told you might get told off for just buying one drink whilst watching a game – eek.
Brilliant Pubs on Holloway Road
The Horatia
A traditional North-London pub with a lively atmosphere and late licence, live bands and even dance lessons.
We love this pub not just because of the tasty beers but because it's a seriously fun spot for activities. Check out their 'What's on' section on their website and you'll find a range of up-and-coming events.
From the usual pub quizzes to art lessons or live football showings on the projector, there's always something to look forward to at this Holloway Road pub – and that's exactly why we love it.
The Lamb
A wonderful, renovated pub with craft beers, live Irish music as well as up-and-coming acts playing. The Lamb is a proper pub with excellent Guinness.
Our favourite part about the pub is that on Monday nights, it's ukulele night. Either bring one or borrow one and join in on the fun, singing songs from the last 60 years. All levels welcome, join in and play as much or as little as you like.
Ukulele night gets our vote. Lost for a first date idea? Head to the lamb on a Monday night.
Must-Try Cafes on Holloway Road
The Travel Café – Islington
Very rarely does a café get 10/10 for coffee, but The Travel Café definitely does. The coffee alone makes it worth a visit but on top of that, it has a great selection of food.
We recommend going for the toasted bloomer, ham and cheese with a coffee and fresh orange juice if you're feeling a bit extra. The café has such a warm atmosphere with plenty of plants, and the staff are very friendly.
You could easily just spend an hour there chatting and sipping on coffee. It's truly wonderful.
Rabbit Hole Café
Rabbit Hole Café is a spot where the coffee is as good as the brunch – a big yes from us.
The prices are low and the menu is vast – Rabbit Hole Café is one of the best cafés on Holloway Road. Order the Rabbit Hole Salad (we promise it's not just rabbit food) and thank us later.
Practical Tips for Visiting Holloway Road
How to Get There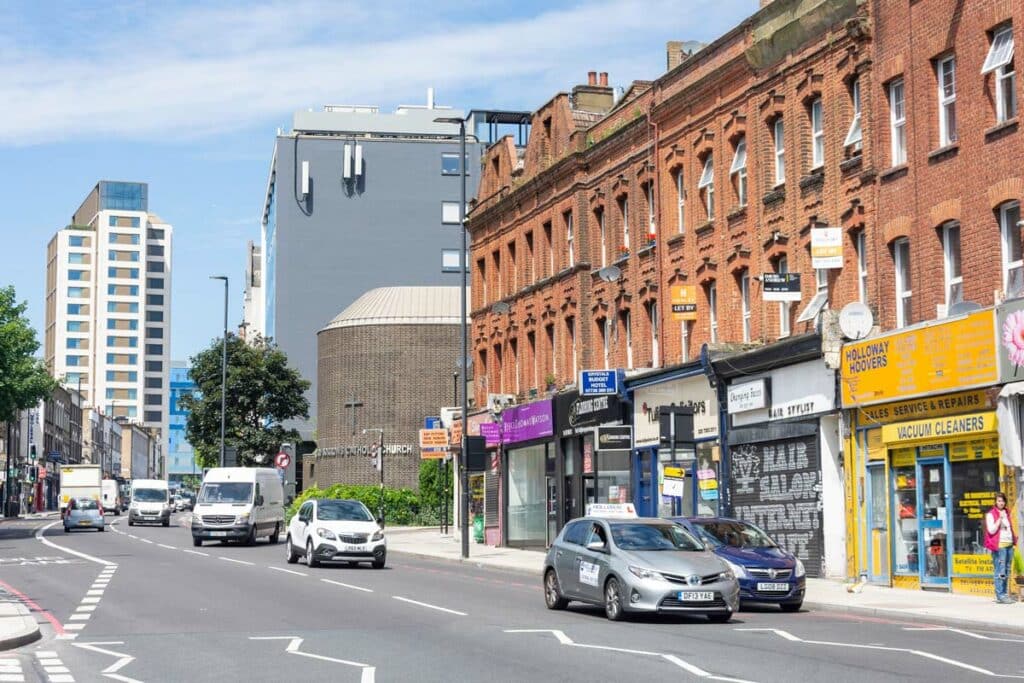 Holloway Road is serviced by plenty of public transport options – tube stations on the road include Highbury & Islington and Archway, or you can take the DLR to Upper Holloway.
Where to Stay Near Holloway Road
Angel Townhouse
Situated just five-minutes on foot from Holloway Road, Angel Townhouse is a cosy boutique hotel where every room has been carefully designed to create a luxury stay. We're talking baths in-room, fluffy beds, and impressive views.
Check Rates and Availability for Angel Townhouse
Arch Hotel
Right by Upper Holloway train station and just five minutes from Hampstead Heath is this excellent 4* hotel – you're right bang in the centre of all the magic.
Rooms are comfortable, clean and stylish, filled with all the amenities you could possibly need for a relaxing stay.
Check Rates and Availability for Arch Hotel
Holloway Road: Map
The Holloway Road: Read Next