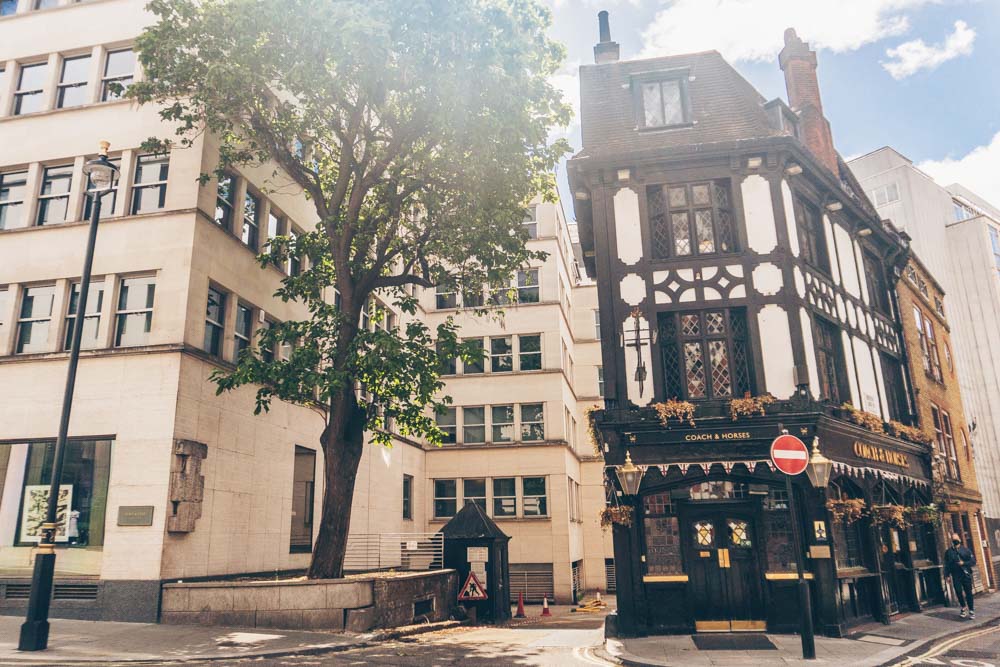 Brimming with swanky hotels, Michelin-starred restaurants and big-name designer stores, only a select few are in on the secret… that Mayfair is also home to some rather brilliant pubs.
Looking for the best pubs in Mayfair? These are the ones you shouldn't miss.
The Best Pubs in Mayfair
Coach & Horses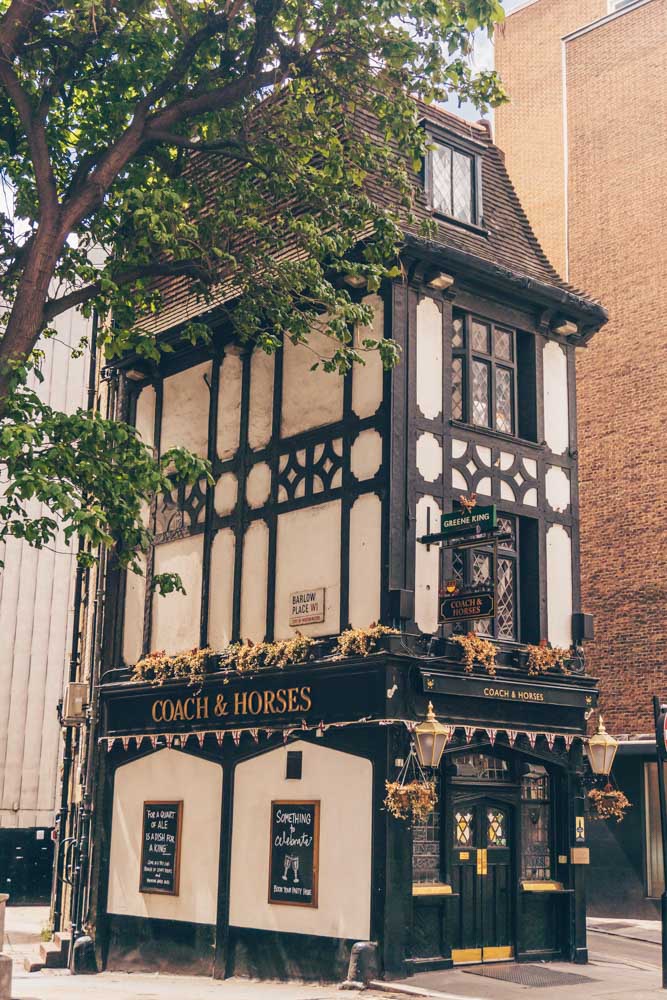 If you're a bit of a history aficionado, you have to check out The Coach and Horses (this one's on Bruton Street – there are two) – it is one of the oldest pubs in Mayfair. It's been standing since the 1770s.
Maintaining many of its original features, this Grade II listed pub feels like a trip back in time; it's a super cosy spot to catch up with friends or to stop for a traditional pub lunch.
The Coach and Horses is believed to have been one of the first properties constructed on the famous Bruton Street, which has been home to a string of famous residents over the years.
Some of these residents include Lord Berkeley, The Duchess of York, and Her Majesty Queen Elizabeth, though I can't imagine most of them nipping into The Coach and Horses for a swift half…
The Punchbowl
Even pub-goers back in 1729 used to head to this pub to enjoy a swift tipple and a good old catch-up with their chums. As one of the earliest established pubs in Mayfair, it's safe to say that The Punchbowl is proper old. Don't believe me? Many of its Grade II listed features are still on show, even after several refurbishments over the years.
They actually have three different dining and drinking experiences to suit whatever you're in the mood for.
If all you fancy is a pint of scrumptious ale whilst perched on a bar stool, you can visit the 'Pub', if you're feeling a little peckish, you can head to the 'Dining Room' for some exquisite culinary delights, or, for a private dining experience, you can visit 'The Club' – very fancy.
The Windmill
After a day of shopping on nearby Regent Street, The Windmill pub is just a stone's throw away, and is a fab place to unwind and indulge in a couple of bevs.
If you're a bit of a beer connoisseur, you will be happy to know that The Windmill has six different cask ales on tap, and also features a huge range of seasonal local guest ales.
One of the highlights of The Windmill is the spectacular Secret Garden roof terrace, which is the perfect little haven to escape from the hustle and bustle of the city.. not to mention, incredibly Instagrammable if that's your thing.
The pub has also teamed up with Sipsmith meaning you can sip the night away on some award-winning, 'gintastic' refreshments.
The Footman
The Footman is another fabulously historic pub in the heart of Mayfair – first opening in 1749, they've been pulling pints ever since.
Once called The Running Horse, this was a popular hangout for the footmen working in the poshest households of Mayfair, but after the trend for these guys dwindled, one of them actually purchased the pub, and named it after himself, The Footman!
This three floored pub has so much history attached to it, and it's the perfect spot to unwind, much like the Footmen that were known to frequent here for a good old gossip and a tipple.
The Goat Tavern
What is it with London pubs and fantastic names? The Goat Tavern in Mayfair is exactly what you'd expect from a traditional English pub, and, get this, there is even a life-size goat statue above the main door.
Filled with goat paintings, drawings, photos and other related décor, this place really takes the goat theme to the max, and I am so here for it.
Cosy atmosphere, an impressive selection of craft beers, ales and lagers on tap, a fabulous selection of wines from around the world and spirits galore, The Goat Tavern has it all, and is topped off with wonderful staff and a really friendly vibe. You have really 'goat' to visit this pub.

Ye Grapes
In the heart of Mayfair's Sheperd Market, a small yet enchanting square that is brimming with Victorian pubs and boutique shops, is Ye Grapes.
Aside from having a rather odd name, Ye Grapes is a charming little pub that feels like it belongs more in a rural village, rather than being smack-bang in the centre of one of London's most upmarket districts.
Offering some super tasty local real ales and international beers, that range from guest appearances, all the way to some fantastic regulars, such as Spitfire, Wandle, and a few Ye Grapes branded brews, which are scrumptious.
This is a super cosy spot, and the perfect place to head to for an authentic English pub experience. They also have a fab menu, featuring some classic pub grub, which is always welcome after a long day of hitting the shops, as well as some Thai dishes, which, though incredibly random, definitely works really well.
The Market Tavern
Another gem to visit in Mayfair's Sheperd Market is The Market Tavern, which is discreetly tucked away from the hustle and bustle, and offers pub-goers an intimate drinking experience.
This is a brilliant spot for beer enthusiasts, as these guys have ten hand-picked ales and lagers on tap, that they rotate on the daily; whatever your preferences are, there's definitely something for you at The Market Tavern.
One of my personal favourites is 'Bloody 'Ell', because it really does make you shout that out-loud after you take a sip of this intense but nonetheless enticing blood orange IPA.
The Guinea
If you like your pubs old, like established in 1675 kind of old, you can't pass up a trip to The Guinea.
Hidden away down one of Mayfair's charming mews, The Guinea is a really traditional English pub, and it's most renowned for its fabulous Grill Room, which was established in 1952, and churns out some of the finest steaks in the country.
To accompany your steak, this place has an enormous wine list with some super pricey bottles – we're talking up to a mere (sarcasm) £2,450.50 for a bottle of Château Latour. But fear not, there are some much more affordable and super delicious options as well; you can get a glass house red, white or sherry for 3 quid. That's more like it.
The Clarence
If you can't quite afford a drink at The Ritz, head to The Clarence, where you can sink a pint whilst overlooking the iconic hotel – same difference really!
Yes, this fabulous pub overlooks The Ritz, and offers good old British hospitality, delicious pub grub and a whole host of different drinks to suit every taste.
Named after the Duke of Clarence, this pub is famous for being the place in which Sir Alexander Bell's first successful telephone call was made from. How cool is that?!
The King's Head
Formerly owned by the Duke of Albemarle, The King's Head pub in Mayfair has been standing since 1710, and its name is believed to be credited to King Charles II.
The King's Head has a lot of personality and character, and offers visitors a really authentic pub experience; it's also really close to loads of must-see landmarks, like Buckingham Palace and The Ritz.
Make sure you check out the cellar bar, which is super cosy, and is the perfect little hidden spot to escape to if you fancy hiding away from the hustle and bustle of London above you.
The King's Arms
If The King's Head doesn't quite tickle your fancy, there's always The King's Arms instead!
Founded in 1742 as the Three Jolly Butchers (which I think is a fabulous name, personally), it was renamed as The King's Arms in 1785, and is one of the oldest historical public houses in Mayfair.
Cosy and warm on the inside, with a string of sumptuous craft beers and local ales on tap, as well as offering a fantastic Beer Garden, this place is the perfect spot to enjoy a pint, a pie and football game all-year round.
The Iron Duke
On a good day you'll likely spot The Iron Duke from the drinkers gathered on the strip of pavement out front soaking in rays. It's a popular spot for locals and the afterwork crowd but also filled with people that walk past and can't help but nip in for a drink.
Although The Iron Duke is a Fuller's pub they do a special menu of tarted-up pub food that pushes the boat out past what you'd expect from a regular chain-pub menu. Expect to see Mr. Barrick's pork pies and toasties with filling like wild mushroom, emmental and truffle oil. There are of course a range of Fuller's beer on tap.
The Running Horse
Serving the local drinking scene since 1738, The Running Horse is Mayfair's oldest pub. It was given a handsome makeover back in 2013 at the hands of Dominic Jacobs who has time as bar director of Sketch to his name, and James Chase of award-winning Chase distillery fame.
That makeover tarted things up a bit but the pub still retains a lot of traditional charm and a solid range of beers. The hungry and food obsessed will also find much to love about their menu of pub grub. Owners like these two don't miss a trick in the hospitality game.
The Audley
The Audley isn't your run-of-the-mill boozer. The history of this place dates back in a loose breadcrumb trail to 1127 and the current set up will make you feel like you're in another era. Set into an elegant Victorian building, dark, polished wood makes up nearly every surface and the walls are adorned with pictures of what the place has looked like over the years.
It's low-key fancy – not the sort of place you'll be getting off your face in come the weekend – and there's a bit of ceiling art by Phyllida Barlow (no less) to prove it. Art and swank would be superfluous though if they didn't have a great spread of beers to back it up, which they absolutely do, alongside a small menu of bar food that's well worth a sample.
Pubs in Mayfair: Practical Tips and Map
If you're planning to eat you'll want to book a table – especially at the weekend. A lot of Mayfair pubs lean hard into their cooking and a meal is sometimes more of a draw for Mayfair punters than a cold pint.
Don't be surprised to pay a lot for your pint. This is Mayfair afterall…
Pubs in Mayfair: Map
Looking for More Mayfair Guides and Tips?