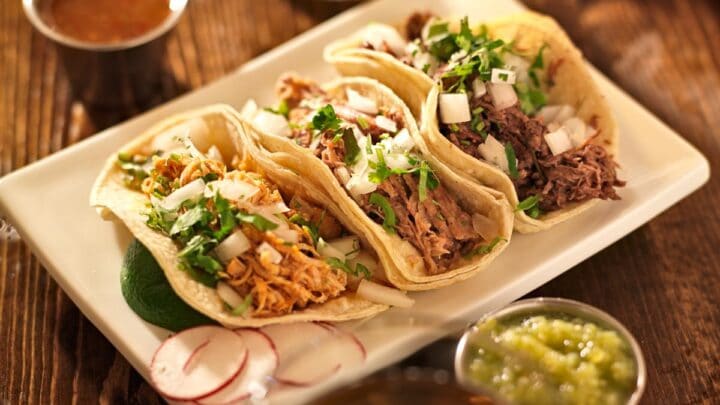 Looking for the best restaurants in Wimbledon? From swanky eateries to laid back gastropubs, don't miss these brilliant places to eat.
Picture this: You walk down the Wimbledon village, restaurants lined up next to each other like ingredients on a chopping board. Hues of blue, white and black compete for your attention against the grey background of London.
Which Wimbledon restaurant will have you coming back for more again and again? Which eatery will beckon you closer with its rich aromas and flavours?
We've taken the guesswork out of your restaurant search. This guide explores the best Wimbledon places to eat right now.
Best Restaurants in Wimbledon
The White Onion
£££
Wimbledon Village
On the high street, you'll find a quaint restaurant beckoning you closer with its aromas of French cuisine. One of the best places in Wimbledon you can stop by is The White Onion for a bite to eat.
The contemporary restaurant has a welcoming steel blue exterior that catches your eye among the blacks, browns, and greys of High Street.
The White Onion prides itself in serving accessible yet top-quality French cuisine made with seasonal ingredients.
Throat feeling a little scratchy? Their international wine list and sommelier, Pedro Borges, ensure that you find the best wine pairings with the French European menu.
67 High St, SW19 5EE
Giggling Squid
££
Wimbledon Village
The Giggling Squid stands on the corner in a grey building that seems unsuspecting. Upon entering, bright blooming flower walls and tropical Thai decor welcome you.
This Thai food and tapas restaurant will give your tastebuds an exotic ride. Only authentic Thai ingredients go into these delectable dishes.
Our only regret? Not having eight arms to jam all the yummy (and halaal) Thai tapas in our mouths.
26 High Street Wimbledon, SW19 5BY
Takahashi
£££
Wimbledon
Takahashi is a Japanese and Mediterranean fusion restaurant. Blending the flavours of the east with the west. This tiny restaurant with only a handful of seats will give you quality dishes every time.
Taka, the restaurant chef, prepares each dish with handpicked ingredients and a delicate dining touch of elegance.
There are a la carte menus and set menus with wagyu beef and fresh seafood. You'll feel like a guest of honour at this modern and traditional restaurant.
228 Merton Rd, SW19 1EQ
The Ivy Cafe
£££
Wimbledon Village
While food is essential, the ambience at a restaurant is just as important. The Ivy Cafe has excellent food, ambience, and so much more.
Flower covered arches and pillars decorate this easy-going but stylish cafe. Even more greenery and flowers envelop the courtyard seating.
The beauty of this cafe doesn't just end on the outside. The interior is decorated tastefully with chic tables, chairs and paintings on the walls.
You'll want to try the hearty shepherd's pie or crab linguine. Both are top choices with locals and first-time diners alike.
75 High St, SW19 5EG
Black Radish
£££
Wimbledon
Close your eyes and imagine you're in Paris sitting at one of those cool and modern bistros just off the side of the Eiffel Tower. At Black Radish in London, you don't have to pretend (maybe pretend a little for the Eiffel Tower).
This swanky restaurant's menu is small but gives each curated dish a modern twist. The inventive menu has dishes like a soy milk chocolate mousse with sesame ice-cream.
Definitely worth a try if you're looking for a breath of fresh culinary air.
28 The Ridgeway, SW19 4QW
Other Places to Eat in Wimbledon
Wahaca
££
Wimbledon
London is getting high on spice, and Wahaca is an active participant. The sweating, the crying, the red faces and burning tongues are all worth it.
In 2005, Masterchef winner Thomasina Miers opened a Mexican restaurant named after Oaxaca, Mexico. Today, this eatery has expanded to over 25 restaurants, and Wimbledon is fortunate enough to be one of its locations.
Dip into Wahaca's Wahaca-mole, which is their original take on a traditional classic. They also have mouth-watering tortillas, quesadillas and other Mexican street foods.
35 The Broadway, SW19 1QD
Carol's Creperie
£
Wimbledon
Oh, Crepe! You didn't think this list would be complete without a bit of dessert on the menu, did you?
Carol's Creperie makes sure there's a dessert in London for everyone to enjoy. Vegans, vegetarians, and gluten-free sweet tooths can also enjoy their buckwheat battered crepes.
The creperie serves both savoury and sweet crepes at a deliciously low price too. Eat to your heart's content at the crepe buffet.
7 Wimbledon Bridge, London SW19 7NH
The Hand in Hand
££
Wimbledon Common
The locals love stopping in at this pub in Wimbledon for a bite and a pint. Sit by the roaring fire in winter or the lush lawn in summer.
The Hand in Hand is the spot you drop by for comfort food and a good 'ol pint to cure homesickness. This is the only pub on the list but deserving of a spot for their hearty Sunday roasts alone.
This cosy pub is also dog-friendly, so you'll always have a friend to snuggle up to. Now we know why it's called Hand in Hand. You'll never want to let go or leave.
6-9 Crooked Billet, London SW19 4RQ
Practical Tips for Exploring The Best Wimbledon Restaurants
Follow the locals. If there is a long line outside of a restaurant, it's usually a great place to eat or drink.
Read local directories, magazines and blogs (you're on the right track by reading this one) to find the best restaurant reviews and recommendations.
Book in advance to ensure you have a seat. Restaurants like Takahashi only have 12 seats available. It would be a shame to miss such great food because of limited seating.
Take advantage of pre-theatre dining prices. Wimbledon Theatre is on Broadway Street, just a few metres from many restaurants. Some restaurants will have specials before 6:30 pm and 10 pm after shows.
Wimbledon Restaurants Map
Looking For More Wimbledon Guides?