Looking for the best pubs in Hackney Wick? Look no further – these are the top spots for a cracking pint.
Move over Shoreditch, Hackney Wick is the not so new hipster hotspot. And with this elusive title comes plenty of cool pubs, taprooms, and craft beer.
We love drinking in Hackney Wick – it's a brilliant place to sip cocktails canalside and watch the sun set before heading to one of Hackney's many music events.
Whether you're after somewhere chilled to grab a post-work pint, excellent pub grub, or even a place to battle your friends at an arcade game or two, Hackney Wick has got it covered.
Read on to discover the top Hackney Wick Pubs.
The Best Pubs in Hackney Wick
The Lord Napier Star
Right by the station, The Lord Napier Star is a focal point of Hackney Wick. They claim to be the only pub in Hackney Wick (though we're not quite sure that's true).
Every inch of their outside facade is covered in graffiti and political messages, something they wanted to preserve and carry through to the inside. They've been pouring pints since 1996 and the energy is electric.
Inclusivity is this pub's middle name – expect great drinks and one of the best roof terraces in Hackney Wick.
The Lock Inn
The Lock Inn is a proper independent neighbourhood pub situated on the beautiful banks of the River Lee.
Excellent beer, good service and lovely decor await at The Lock Inn. If you're after a cosy pub with tasty pub grub then this one's for you – their beef burger is not short of legendary. Wash down with a Solero cocktail (yes, it tastes exactly like the ice cream) and you can thank us later.
They also host live music evenings most weeks, check their website to see who is up next.
The Italian Job Pub
It's not just pasta and pizza that those Italians do so well – The Italian Job Pub is the first Italian craft beer pub in the UK and we can vouch that their beers are absolutely delicious.
They serve a superb selection of the finest draught and bottled craft beer in a fun and happy surrounding. The beers are served on rotation and are updated on a daily basis.
Have no fear if you're not a beer fan, they also have a carefully sourced selection of wines and spirits alongside authentic Italian street food and gourmet burgers. What's not to love?
Number 90 Bar + Kitchen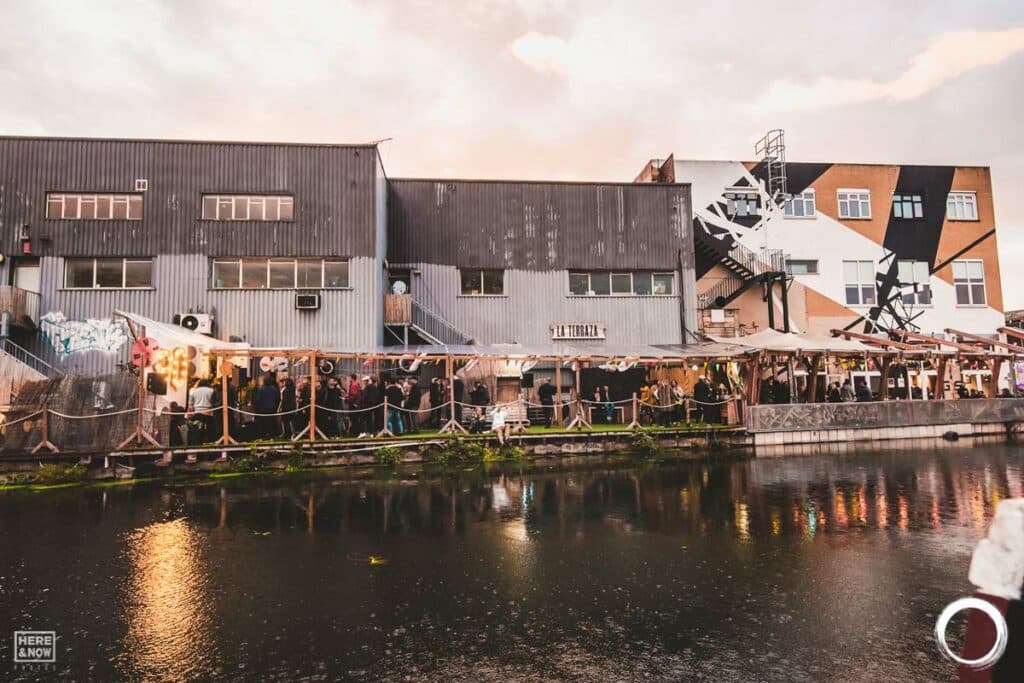 Number 90 Bar + Kitchen is a real institution in Hackney Wick. Sitting right on the canal you'll feel as though you've been transported out of London. And, if you're lucky, you'll catch a gorgeous sunset to go with it.
Live music and different DJ's play most evenings on the huge waterside terrace, and it's slowly becoming one of the best music venues in London. It's like an enchanted forest that gets more and more fun as the night goes on.
They also have some great 2 for 1 cocktail options, so it's worth checking their website to see when all the action is happening. This is a great place to go for a drink with a large group of people or for celebrations.
Howling Hops
One of London's favourite taprooms (and ours, too), Howling Hops is one of the best pubs in the area. They boast huge tanks behind the bar and, aesthetically, it's a 10/10 before you've even tried the beer.
They also have a wonderful outdoor beer garden which is perfect for summer day drinking. If you're looking for something a little different, this is your place. We adore the buzz in this area and especially this quarter.
Crate Brewery
We love Crate. Crate have made it easy for themselves and us by excelling in two areas: beer and pizza. The bar/pub is located in an old factory with recycled decor and its own micro-brewery.
If you know your beer then you'll most likely be pretty impressed at Crate. Their Citra Sour is delicious, as is their tangy Cider. Not to mention that the packaging is cool AF.
Although the prices aren't quite as cheap as other pubs in the area, it's worth it for the quality and location.
Old Street Brewery & Taproom Hackney Wick
A great microbrewery in Hackney Wick that always attracts the crowds (be prepared to fight tooth and nail for seats). The interior of Old Street Brewery is super cosy with a lovely atmosphere and, of course, delicious beer.
It's smaller compared to the adjacent breweries but they serve tasty Mexican-style street food and great beers with a few incredibly interesting options. You also can't fault the service; the staff are always friendly.
Four Quarters East
Four Quarters East is the ultimate laidback pub in Hackney Wick. Featuring great arcade games from the 80s and 90s, delicious beer, cocktails and pizza – what's not to love?
The gorgeous canalside pub has plenty of seating both inside and out and, although the food choices are slightly limited, they make up for it in beer and games.
If you ask us, nothing quite beats sipping a craft beer whilst destroying your pals at a game of Donkey Kong.
Pearl Hackney Wick
Pearl Hackney Wick is a little bit of an all rounder. Beers? Tick. Coffee? Tick. Quick lunch? Double tick. This is a wonderful spot for a drink with an extremely chilled atmosphere – the cafe is decorated with vintage furnishing, after all.
Whether you fancy a boozy brunch (excellent value too, may we add, or a quick coffee to go, this Hackney Wick pub is one of the most popular spots.
Hackney Wick Pubs: Map
Best Hackney Wick Pubs: Read Next