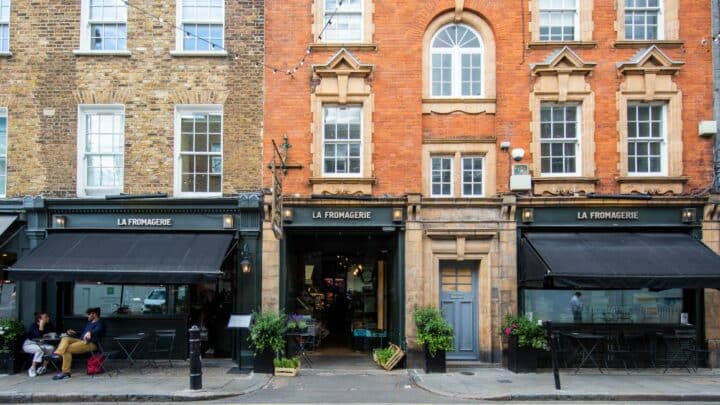 Looking for the best cheese restaurants and bars in London? Get ready to discover the top spots in the capital to get your fromage fix.
Cheese, glorious, cheese. London is pretty cheese mad, and we couldn't be happier.
Did you know there's actually a chemical reason as to why we love cheese so much?
It's scientifically proven to have the same effects on your brain as a drug – we just can't help but love cheese.
So here we have it, some of the best cheese restaurants in London that serve the cheesiest dishes out there. The meltiest and tastiest cheese dishes coming straight up.
Best Cheese Restaurants in London
Pick & Cheese – The Cheese Bar
££
Did you know that the world's first cheese conveyor belt restaurant is in the heart of Seven Dials Market? Yes, you heard that right. A conveyor belt of cheese.
You get to choose from a regularly changing list of cheeses, all sourced from around the UK. The best part is that there's an option of bottomless plates of cheese, that means as many plates from the belt as you like for 1 hour 15 mins, every Wednesday. And, as you might expect, booking is essential for this.
Pick & Cheese is one of the best cheese restaurants in London. No more sushi conveyor belts, we're all about cheese ones.
Gloria
££
Enter the glitzy Italian that has taken London by storm. We couldn't help but include Gloria in the best cheese restaurants in London… Mainly because they make their pasta in an actual cheese wheel.
This is not the place for a quiet cheesy dinner, this is a restaurant with a show – we're talking oversized desserts, ultra-stylish decor, and friendly Italian waiters.
And, if all else fails, you won't regret pasta in a cheese wheel – it's an experience in itself.
The Cheese Bar
££
We'll make a bold claim: The Cheese Bar in Camden is one of our favourite spots for grilled cheese sandwiches in London. Not only that, they serve all the classics like molten cheese fondue, freshly made Burrata and a deliciously indulgent Blue Cheese Raclette.
Whatever you choose, be sure to leave some room for dessert (or more cheese).
The dining room plays host to a seasonal cheese-focussed menu, from a whole baked Baron to slow braised beef shin risotto. We recommend going between 3-5:30pm for their cheese boards, grilled cheese sandwiches and snacks.
The Orrery
£££
The Orrery is a gem of a French restaurant in London. Situated in the most stunning of dining rooms, there really is no better place to devour a plate of cheese and wine.
They have evenings fully dedicated to cheese where you get to select multiple cheeses for tasting and they get paired with different wines – past ones have included sessions around Mountain cheeses.
Oh, and they even have an in-house 'Frommelier' – what a job!
Champagne + Fromage
Multiple Locations
££
Champagne and cheese, name a better duo. The French really have nailed this combo.
And, in multiple locations around the capital (the Covent Garden location is our favourite, though) Champagne + Fromage have this in bucket loads. It's no wonder that they're the best cheese restaurant London boasts.
This cheesy restaurant serves plenty of premium champagnes as well as a huge selection of cheeses to pair with – go for a charcuterie board and you won't be disappointed.
Champagne + Fromage has our vote for the best cheese restaurant in central London and beyond.
La Fromagerie
££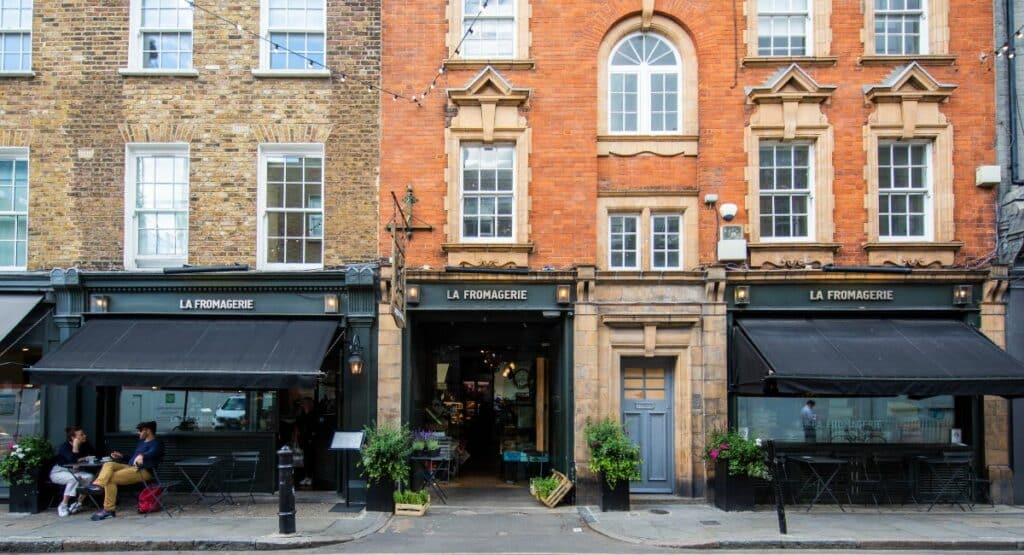 La Fromagerie in Marylebone Village serves some of the best cheese in London, and you can sit down at the cafe for breakfast, lunch or afternoon tea. They don't take reservations so you should get there early and prepare to wait (especially on weekends).
We particularly recommend heading there for late afternoon drinks, or with friends to chat over an excellent charcuterie board. The ultimate cheese and wine restaurant London boasts, we think.
Oli Baba's
£
Oli Baba's is the OG of halloumi fries – in fact, they claim that they are the first creators of the incredible dish. We think it would be rude not to pop into this London cheese restaurant for a taste.
Some say the halloumi fries are so good that they could be their own food group. Crunchy, salty, tasty and sweet all in one – thanks to their special sauce, pomegranate, and coriander topping. This is our favourite halloumi cheese spot in London, if you couldn't tell.
Cheezelo
££
When a London cheese shop boasts the motto 'smile with more cheese in your life,' you know you're in for a good time. It's in the name, really: Cheezelo.
Their famous cheese platters are the best thing to order but we also can't get enough of the grilled sandwiches, raclette and fondue (it's some of the best raclette in London, we think).
If you've got something to celebrate then Cheezelo is your spot. A cheese birthday party would definitely go down in history as the best birthday idea ever, we're sure you'll agree.
The Cheese Wheel
£
The Cheese Wheel is, without a doubt, the best pasta stand in London. Believe us when we say that this is the ultimate spot for feel-good comfort food that couldn't get any cheesier.
Situated in Camden Lock, the giant 40kg Wheel of Grana Padano, is the star of the show.
They only serve one dish – fettuccine alfredo – which is made with their creamy white wine, garlic and chive sauce with a selection of different toppings to choose from. Will you go for smoked pancetta lardons, wild mushrooms, pesto or sheep milk cheese?
Practical Tips for Exploring London's Cheese Bars & Restaurants
Book reservations in advance – especially from Gloria (it's a bit of a mission to get a table here).
We can't quite think of a duo better than cheese and wine. Ask what pairings the restaurant offers – a lot of the time it's best to go with a tasting menu to make sure you get the full cheese-perience.
Cheese Restaurants in London: Map
Cheese Restaurants in London: Read Next