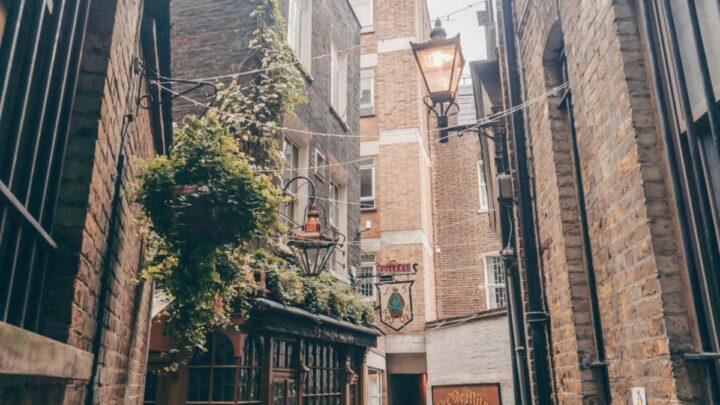 Home to some of the best boozers you'll find globally, London's pubs showcase great drinks, tasty food, and unmatchable fun. There's never been a better time to explore the best pubs in London.
London pubs have it all, whether you're in the mood for perfectly poured pints, confidently crafted beers, thirst-quenching tumblers, or sinful shooters.
Luckily for you, you won't need to look at the bottom of an empty pint for the definitive guide to the best pubs in London.
We've been lucky enough to drink our way around plenty of London's pubs – from award-winning pints to delicious lunches, we've got your back.
These are our picks for the best pubs in London…
The Best Pubs in London: Top Picks
The Ivy House
Nunhead
The Ivy House on Stuart Road in London has a heartwarming history and an even more pleasant atmosphere. Though it almost closed down in 2012, the Ivy House rose from near ashes to become one of London's best pubs.
There is never a shortage of fun times at the Ivy, with locally brewed ales, tantalising food, live music, and plenty of entertainment evenings running throughout the month.
We think that The Ivy House is a true English great. Guests are treated to an authentic pub experience set to the background of hearty wooden interiors and a cosy open fireplace (the marker of a great pub, if you ask us).
Jerusalem Tavern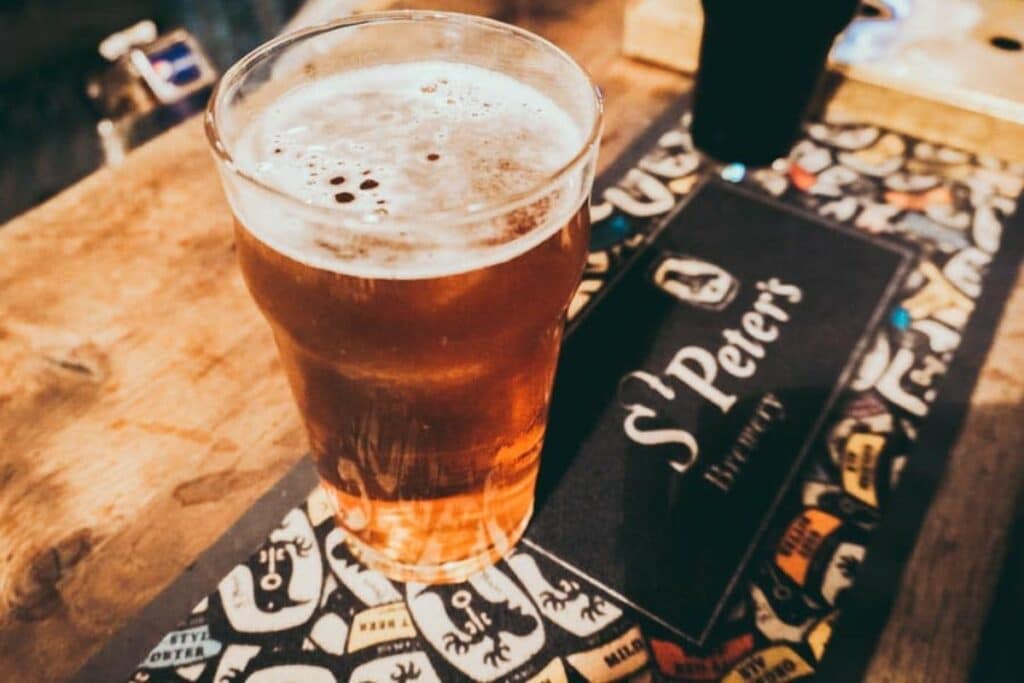 Situated in Farringdon, the Jerusalem Tavern has everything you would (and should) expect from a classic London pub. The flooring, tables, and painted walls have a somewhat tattered look, but what Jerusalem offers is anything but worn out. In fact, this just adds to its charm.
Jerusalem packs a punch with ales that come with a whiskey accent and a wide range of other premium drinks on the menu.
Brewed in Suffolk, patrons of Jerusalem can even buy five-litre mini-kegs of the now-famous ales to take home with them to save for later.
The Faltering Fullback
Finsbury Park
May we introduce you to The Faltering Fullback – a dreamy spot that's equally great for chilling in the pub garden as it is cheering on your favourite sports team.
Taking inspiration from classic horseshoe bars and 1970s pool halls, you'll find this great pub is always packed. And for a good reason, with quality drinks served by a warm and vibrant team of staff.
Featuring several scenic outdoor garden areas and a rowdy main room, The Faltering Fullback is unique and one of the best garden pubs in London.
Best Pubs in Central London
The Harp
Covent Garden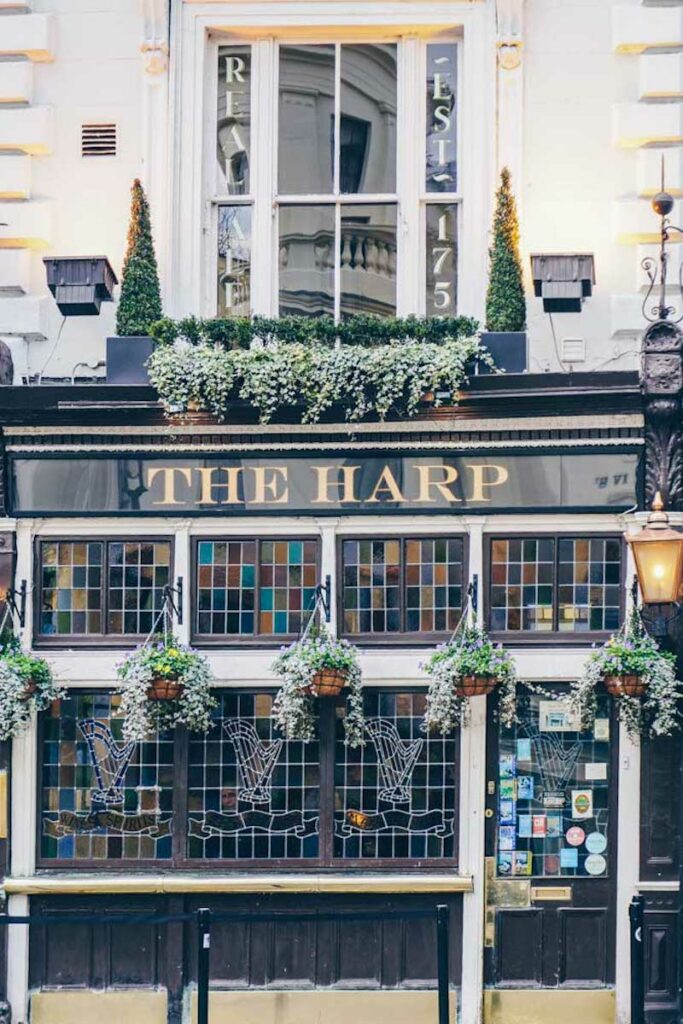 Just around the corner from Charing Cross Station, The Harp is wholeheartedly focused on drinks and fun. It's a small venue that rivals some of the larger British pubs in London.
The menu includes several locally brewed ales, guest brews, a range of ciders, and drinks from around the country. Each showcased behind the bar in glistening glass cabinets and served by some of the friendliest staff we have ever encountered. There's no denying a drink at The Harp.
Winning the "Campaign for Real Ale National Pub of the Year" in 2010, as well as numerous other awards, few come close to its spot as one of the best pubs in London.
Ye Olde Mitre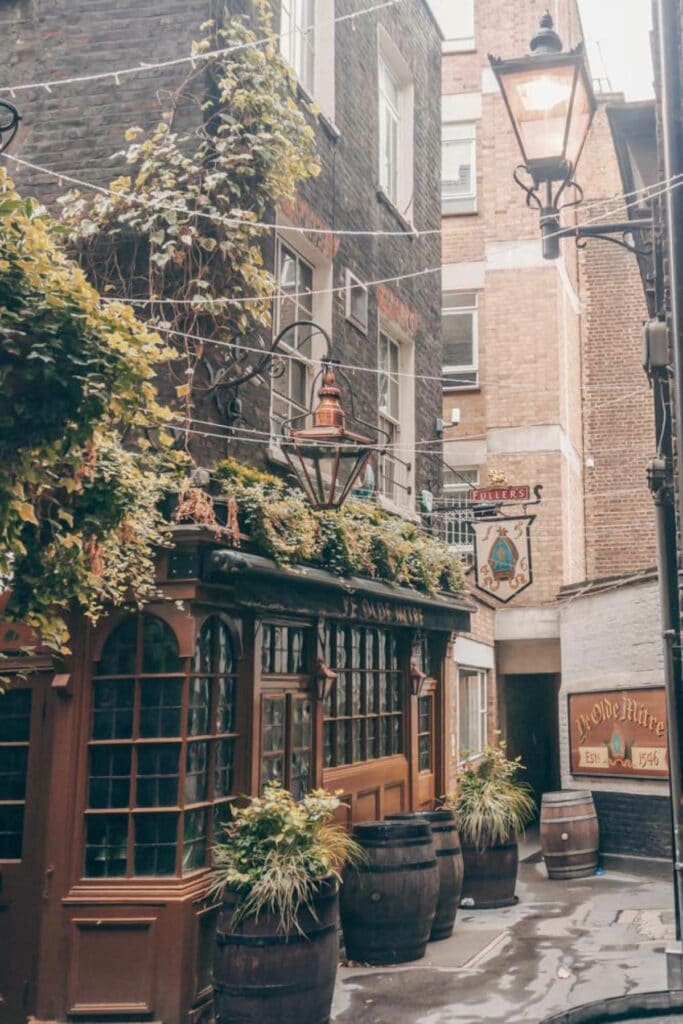 Being one of the oldest pubs – and arguably, the best pub in London – Ye Olde Mitre rests firmly in the backbone of pub culture. The modelled interior looks like it's been swept from the 1930s, yet the pub itself dates back to the 15th century.
The drinks at Ye Olde Mitre are also anything but dated. With beverages of a wide variety, tasty and trendy bar snacks, and a reasonable food menu, this gem delivers everything and more.
This London classic has featured in several blockbuster movies (such as Snatch), adding to its already far-reaching reputation.
The Ship & Shovell
Charing Cross
Charing Cross Station is located right next to another great London pub, The Ship & Sovell. Spanning the width of Craven Passage, it's both charming and authentically British.
Patrons can look forward to a variety of drinks. The Ship & Sovell favours the range of beers crafted by Badger Beers. Although Badger Beers takes first love here, The Ship & Sovell love any ale and craft beer, and after spending a few minutes in the pub, so will you.
Treat yourself to a pint in this token British pub in the heart of London – you won't regret it.
The Porterhouse
Whereas most pubs are small, cosy, and quaint, The Porterhouse is one of the largest bars in London. Located in Covent Garden, you will keep returning to this one again and again.
A boozy blast is on the menu with an extensive list of drinks, including The Porterhouse's staple collection as part of its heritage as the best Irish pub in London – grabbing a Guinness is a given. There's also a range of draught and bottled beer and a surprisingly excellent cocktail selection.
The Grenadier
The Grenadier has a lot of unique features to it; it's located in Belgrave Square and is, without a doubt, beautiful.
Visitors to the pub can delight in a seasonal menu filled with the best foods made by The Grenadier's own chef at one of the best gastropubs in London.
Other than that, most come for the selection of ales The Grenadier offers. The tasty ales housed in hand-pull casks come in both local and foreign tastes, adding endless variety to the pub's selection.
Best Pubs in East London
Brewhouse & Kitchen
Nestled between three railway arches, Brewhouse & Kitchen is conveniently close to the train station and boasts relaxed vibes only.
What makes the Brewhouse & Kitchen stand out is its menu – it's absolutely massive. This is great news for anyone out on a pub crawl with high aspirations.
A little perspective: their menu includes over 70 brews, a vast gin range, many different spirits, and an extensive wine list. It's no wonder it is one of the best pubs in east London.
The Heathcote and Star
Leyton
Looking for a perfect pub in Leyton? The Heathcote and Star is an excellent spot if you love stylish interiors, a unique selection of pub game classics (table tennis, ping pong, and pool), and a healthy variety of drinks.
Along with its plethora of drinks, this pub also has a great food menu that features a number of unique items based on popular London pop-up restaurant dishes – we love the classic bangers and mash (that's sausage and mashed potato, to all you non-Brits out there).
Dirty Dicks
Islington
Dirty Dicks, which sits a few minutes away from Liverpool Street, boasts a fully wooden interior from floor to stool to ceiling. This makes the pub the very image of a classic British hangout.
With a menu that offers the perfect gastropub elements, you'll find bite-sized bar treats, mouthwatering main meals, and, above all else, drinks galore. Draught beers are a speciality at Dirty Dicks.
Best Pubs in North London
The Holly Bush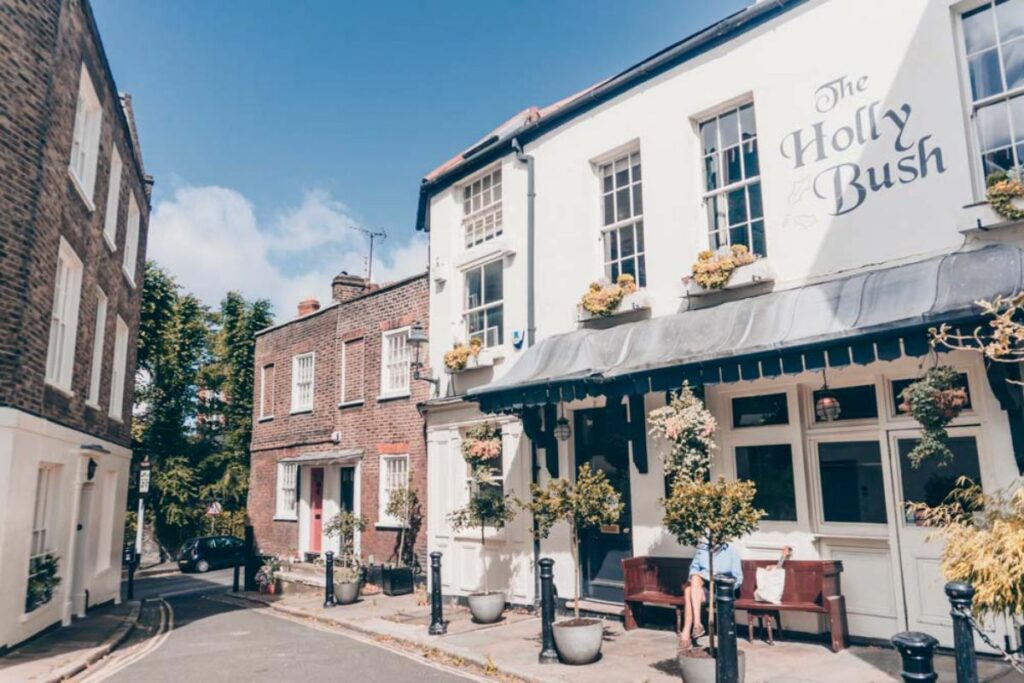 The Holly Bush has all the trimmings of an eye-catching spot, being one of the most beautiful pubs in London. The original building opened in 1790, and since then, the venue transformed until 1928 into the pub we know today.
The setting of The Holly Bush makes for smooth summer afternoons and comfortable nights spent around some great gastro grub and even better drinks. Both its food and drink options are divine, with its ales and desserts being highlights from both sections.
What's more, you're right around the corner from Hampstead Heath – perfect for post-roast walks on a Sunday.
The Arnos Arms
Arnos Grove
The Arnos Arms is one of the most loved North London pubs you'll find today. Its stylings and interior are gorgeous, with high-end finishings tucked into every nook and cranny.
With both the interior and exterior giving off an overwhelming sense of enjoyment, you can rest assured that you are in the right place for a good time. The menu features classic British pub favourites – the juicy burgers are a particular winner – alongside a drinks menu that caters for every taste.
With two beer gardens surrounding the pub, The Arnos Arms is excellent for any time of day drinking and eating.
The Stag
Hampstead
Another great pub in Hampstead, The Stag prides itself on quality. We struggle to think of another pub that has both an outdoor beer garden and private heated cabanas. This adds to the authentic vibe and originality of The Stag.
Expect to spend a lot of time here (especially in the winter) as the seasonal menu items and the variety of 24 on-tap beers will have you hooked.
Featuring tailor-made drink and food deals for every day of the week, there's never any reason to give The Stag a skip. With these specials running year-round, The Stag is one of the best pubs in London for food and drink.
Best Pubs in West London
The Viaduct Tavern
Just a stone's throw away from St Pauls' Cathedral, the Viaduct Tavern is a historic London pub in the city's heart. It is easily recognisable with its red wooden exterior and resonates with a cosy and welcoming aura.
The menu is just as alluring, and you'll find classic greats served with fresh ingredients. An ode to the fine craft of gin, the bar stocks a large variety of different gins as well as modern craft beers.
The Viaduct Tavern is also a pet-friendly pub, so you can even bring your four-legged friends along for a night out.
The Aeronaut
Acton
Dripping in neon lighting and eclectic decor, The Aeronaut in Acton needs to be on your pub crawl bucket list. Boasting a variety of seating options styled after a banquet hall, this is the perfect spot to bring your friend group on a boozy evening.
The two beer gardens catch every bit of welcomed sunshine, and the famous circus shows the pub hosts make sure that the party never stops.
Best Pubs in South London
The White Cross
Sitting right on the edge of the Thames River, The White Cross is just as legendary as the very river it borders. With popularity dating back to the 1860s, it remains one of the best pubs in southwest London.
The White Cross boasts a seasonal menu that always serves up great meals, while the assortment of ales on tap keeps your thirst at bay.
Locally known for the big screen broadcasts of rugby, the crowd is always social and lively during the sporting season.
The Riverside
Vauxhall
Centred in the St George Wharf complex in Vauxhall, The Riverside is a tranquil pub perched right on the Thames River. It has an outdoor terrace that comfortably seats around 200 eager drinkers – no need to scramble for a seat.
The bar comes stocked with a massive selection of continental lagers, craft ales, a wide variety of wines, and delectable cocktails. And regardless of whether you're hungry or not, the mouthwatering bites on the menu will grab your interest – the mussels, clams, and wild pesto are highly recommended.
The Effra Hall Tavern
The Effra Tavern is a quintessential London pub at its best. This old spot is one of the best pubs in South London, and with its place in the heart of Brixton, many call it their favourite.
The menu serves up delicious meals, including some true pub classics that are rustic, hearty, and filling AF. Alongside their food selection, their collection of ales, spirits, and gins will have your cup overflowing.
The fact that The Effra doesn't brandish neon lighting or some sort of niche interior styling in a bid to be different does exactly that – this is a non-pretentious pub classic that guarantees great food, even better drinks, and most importantly, fun.
London's Best Pubs: Map
The Best London Pubs: Discover More