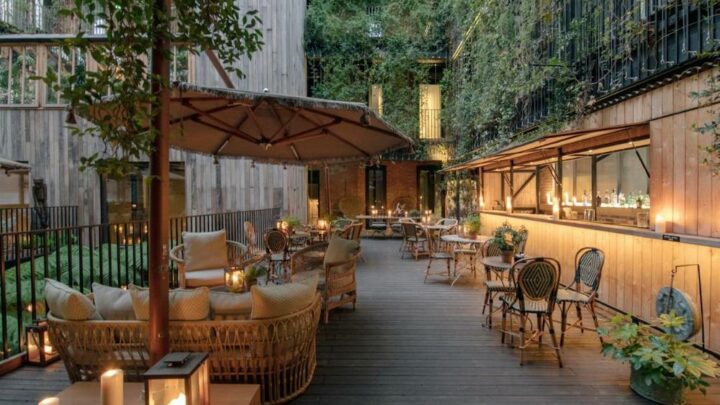 Looking for the best terrace restaurants in London? Here's our guide to all the best spots in the capital.
Is there anything better than enjoying dining al fresco? No, we didn't think so. That's why we've created this guide to the best terrace restaurants in London.
From roof terraces and beach club terraces to sunken gardens and even barge boats, we're pretty certain you'll find an outdoor terrace restaurant that you like in this guide.
Let's dive in.
Best Terrace Restaurants London
Coppa Club
Multiple Locations
Coppa Club has a few locations dotted around the city, but its Tower Bridge location across the water from the Shard is best for al-fresco drinks.
Coppa Club's riverside terrace gives you elevated views across the River Thames and an iconic snapshot of the Tower of London. Eat and drink here all day long, Coppa Club's breakfast menu has artisan pastries and for lunch and dinner there's pastas and sizzling dishes from the grill.
With a panoramic view, it'd be rude not to sit on the terrace or in your own private igloo and sip on pornstar martinis or a raspberry mule.
The Mandrake
Fitzrovia
It would be criminal not to mention The Mandrake when talking about the best London terrace restaurants. This hidden hotel's terraces, Jurema Terrace and The Courtyard, are so pretty they've won awards.
Set over two floors, Jumera Terrace on the ground floor is a hanging garden filled with jasmine and passionflower– it's giving Bali-esque vibes. Head up to the second floor and you'll find a glasshouse dressed in exotic medicinal plants.
Both bars serve botanical cocktails and dishes from The Mandrake's South American inspired restaurant YOPO. On Sunday's enjoy an al-fresco botanical brunch and free flowing cocktails or champagne to the soundtrack of music curator DJ Karen Lopez.
The Culpeper
Spitalfields
The Culpeper is an accumulation of great spaces, with a ground floor pub, first floor restaurant and even rooms to stay in on the third floor. On the top floor there's a brilliant rooftop garden that even supplies the restaurant, and cocktails with produce– it almost looks like an allotment.
This outdoor space has its own bar serving signature cocktails and a unique view of London's towering skyline.
The Culpeper is a sun trap, but just in case the weather is a little dreary there's an intimate glass greenhouse, perfect for sipping on Grapefruit Collins cocktails in.
The Prince
West Brompton
Nestled in West Brompton, The Prince is many things, consisting of a pub and three restaurants playing host to some of London's most exciting new chefs.
But, you didn't come here for that, out back there's a gorgeous sunken garden, with a wisteria hanging roof and flower covered walls. Come rain or shine The Prince's terrace is the place to be with a retractable roof and weekday drinks deals, you can't go wrong.
Barge East
Step aboard Barge East, a restored and converted boat turned restaurant in Hackney Wick.
This iconic boat-turned-restaurant has to be the most iconic outdoor terrace restaurant in London.
Serving seasonal menus cooked by talented chefs using handpicked homegrown ingredients from Barge East's gardens in every dish. If boats aren't for you, Barge East's canalside garden is complete with rustic tables and lush greenery.
Barge East is one of the largest outdoor dining and drinking spaces in London where you can enjoy street food, bottomless brunch and cocktails.
Peggy Jean
On a sunny day there's nothing better than drinking by the river, and Peggy Jean ticks all the boxes for this outing.
Down on the banks at the River Thames in Richmond you'll find Peggy Jean, a restored former Jesus College Oxford barge. Offering unparalleled views of the river, it's the perfect location for dinner and sundowners.
Peggy Jean serves an all day menu that's in keeping with its riverside theme, freshly baked pizzas, fresh calamari and day boat fish and Tomahawk sharing steaks– all cooked over fire aussie BBQ style.
Rochelle Canteen
Liverpool Street
Converted from the bike sheds of an old Victorian school, Rochelle Canteen is a hub for Shoreditch's creatives and anyone who likes good food and drinks.
This relaxed space serves up a modern, seasonal menu that changes daily. The menu may be small but the flavours certainly aren't and the team behind Rochelle Canteen aim to please hungry bellies.
Taking influence from modern Europe you'll find tasty dishes like Sutton Hoo Chicken Salad and Pork Chop, Aubergine and Chimichurri on the menu. Rochelle Canteen's outdoor space fits right into Shoreditch's cool vibe with tables scattered outside the old bike shed in a quiet and secluded spot.
Parrillan
Taken from the Spanish word Parrilla– Parrillan literally means grill and that's exactly what this restaurant is all about, cooking food over fire.
Its location in Coal Drops Yard has a beautiful covered and heated terrace on the viaduct level of the former Vicotrian coal store. Make yourself at home on Parrillan's expansive terrace nestled in between mediterranean plants.
The menu here consists of Spanish para picar, arroces, soups and stews with a tasty selection of meats, seafood and vegetables all cooked over bespoke mini-grills tableside.
Gin lovers are in for a real treat, there's a whole menu dedicated to gin and tonics. The wine list mostly features Spanish wines, cavas and sherries by the glass or bottle if you're staying for the long haul.
Plaza Pastor
King's Cross
Below Parrillan is a colourful covered terrace that knows all things Mexican. Plaza Pastor imitates Mexican vibes, and has late night DJs Thursday through Saturday that'll have you sinking tequilas until the AM.
Tacos, tostadas and quesadillas are all made in-house daily and we promise you they're so delicious and taste just like you hopped on a flight to Mexico.
Plaza Pastor's Mexican-spiced rotisserie chicken is also pretty dreamy and so are the tortas, Mexican sandwiches– you'll probably want to order it all.
As for drinks, everything is tequila fueled, of course, and there's all kinds of Mexican inspired cocktails on the drinks menu, you can work your way through them one drink at a time and as for the hangover, that's tomorrow's problem, right?
Le Pont De La Tour
Tower Hill
Former 19th Century tea house warehouse alongside Tower Bridge, Le Pont De La Tour literally means… Tower Bridge in French. This luxurious riverside French restaurant boasts iconic London city views and the best part is you can dine on its glorious terrace.
Combining traditional and innovative French cuisine with Parisian chic, Pont De La Tour is one of the best restaurants with a terrace in London.
We love this spot for its covered terrace with candlelit outdoor tables and fairy lights wrapped around the terrace; it's also a romantic spot for a date too. Sip on French wines with a snapshot view of the Tower Bridge and feast on Homard, roast native lobster, garlic butter and sauce choron.
Caravan
Inside a Grade-II listed grain store is Caravan, a drinking and dining space for all day dining.
Set in the industrial Grand Square just behind St Pancras and Kings Cross Station, this spot nails minimalist ambience.
Outside, there's a huge sunkissed outdoor terrace just across from a beautiful fountain installation and it is the ultimate place to pause in the busyness of the city.
Pull up a chair and sample small plates, grains and bowls and gooeys sourdough pizzas. Caravan's coffee is ground in-house and crafted with balance, flavour and versatility. There's also a free-flowing batch filter Monday through Friday's, so Caracan could be your new remote workspace.
As for the hard stuff, there's cocktails aplenty with a few twists, the chef's margarita with toasted cumin sounds spicy and tempting.
Forza Wine
Forza Wine is a laid-back bar offering stunning city views and amazing wine, of course.
Forza Wine is definitely for the people, it offers views for all the seasons with its indoor space and a lovely terrace that captures the sunset well.
Forza Wine takes inspiration from its older sibling, Forza Win, a much-loved Italian restaurant. Forza Wine offers snacks that compliment its wines and it's all very moreish, with Bruttata, Figs and Hazelnuts, Clams Spuds Chilli and Garlic and Peach Melba soft serve on the menu. You can also order the entire snack menu, this is perfect for an evening of sipping on Italy's finest wines.
Not in the mood for wine? There's plenty of Italian cocktails too and obvious choices like Aperol or Campari spritz spring to mind.
Limin Beach Club
Take a trip to the Caribbean at Limin Beach Club and sip rum cocktails and feel the sand beneath your toes, sounds good right?
Limin Beach Club is South Bank's answer to a holiday, it's quite literally beach day every day here.
It's the only Trinidadan restaurant in Central London with a menu made up of sharing bowls and platters, although the menu is made for sharing once you've tasted the flavours sharing becomes optional.
Limin Beach Club has thought of everything to make your experience authentic, with a sand filled terrace, chilled out vibes, seriously good food and equally good drinks and of course lots of music– let the rum flow at Limin Beach Club.
Sea Containers
Southbank
Sea Containers restaurant is an all day dining experience with views of the River Thames.
Its quirky outdoor terrace not only boasts stunning views, it's playful by design with an old red phone box, a big green apple, an overly large egg and a huge hand clutching champagne.
The menu here is designed to be shared and celebrates seasonality with ingredient-led cooking by expert chefs. Comprising small plates with crab on toast and sea bass ceviche tacos and large plates include the SeaCo cheeseburger and succulent duck breast with mustard cabbage.
Just here for sundowners? Sacontainers Riverside Spritz and the SeaCo Gimlet with gin, prosecco, fresh mint and cucumber fit the vibe perfectly.
The Exhibit
Independent neighbourhood restaurant and bar, The Exhibit, is a multi purpose venue that also offers a cinema and event space.
In the heart of Balham, The Exhibit is a hub for happy hours, bottomless brunch and late night drinks with a huge outdoor terrace.
Set over three floors, and with a full length floral balcony on the top floor there's plenty of outdoor space to explore here. The terrace is covered in lush greenery with seats even sprawling out onto the street and this spot catches the sun for those steamy hot summer days.
This is well and truly a spot for all day drinking and there's even a happy hour every day between 5pm and 7pm. Snag two-for-one bottomless bubbles, as well as a very long and impressive cocktail list.
Dalloway Terrace
Located in the Bloomsbury Hotel, Dalloway Terrace is one of London's best outdoor terrace restaurants.
It's easy to see why, the terrace is a flower-covered kaleidoscope of colours and warm lights. The blooms change with the seasons but the chilled and elegant vibe remains the same. Dalloway terrace offers all day al fresco dining too, including a weekend brunch with Oak Smoked Salmon and Poppy Seed Bagels and Buttermilk Pancakes.
Drop by for afternoon tea and satisfy your sweet tooth with Golden Raisin Scones and Lemon & Basil Drizzle Cake. Dalloway Terrace, with its beautiful blooms have set the scene for cocktails al fresco style and the orgasnic infusion cocktail menu doesn't disappoint.
Petersham Nurseries
Covent Garden
Petersham Nurseries is a dreamy place to tune into nature in the big smoke. Home to two restaurants, a lifestyle shop, deli and a plant shop so you can take some of that nature home with you.
It makes sense that Petersham Nurseries has a huge secluded outdoor terrace that's a little known secret just off Floral street. Petersham Nurseries serves only the finest produce combined with Italian flavours for lunch, dinner and afternoon tea.
Wines here are also sourced from Italy and, well its outdoor space is also giving Italian vibes with plant pots on the tables and decadent plants growing up the walls– an unbeatable al-fresco spot in Central London.
Sager + Wilde
Bethnal Green
Sager + Wilde on Paradise Row is uniquely set in an old railway arch, it doesn't get more trendy than that.
Inside is bare brick and minimalist decor, and outside is a large terrace with long banquette tables and benches. This could be one of the coolest London terrace restaurants, having an old railway arch as a backdrop is something different.
Sager + Wilde also serves up some yummy modern European food too, Tuscan Sausage Ragu and Cured Trout are the kinds of inriguiging dishes you'll find on the menu.
Acme Fire Cult
Acme Fire Cult is a live-fire concept from chefs Andrew Clarke and Daniel Watkins, we assure you it's nothing short of spectacular. As for the location it's essentially a carpark in Dalston with a moody terrace complete with black decor, low lighting, plants and wooden benches.
The BBQ here doesn't follow the rules, think more charred vegetables than sausages and burgers, the chefs wanted to steer clear of typical man food.
The vibe here is laid back, but loud. The covered terrace is always busy whatever the weather, and you'll always find good beers on tap and even better food on the barby.
Double Standard
King's Cross
A little oasis amongst the busy King's Cross, Double Standard's terrace is a stylish place to be, enclosed with lush greenery.
A great place to retreat to and enjoy delicious hearty fare as well as sip amazing cocktails. There's also a boozy bottomless brunch on Sunday's which is always a lively affair or head here on Mondays and Tuesdays for half price drinks.
Double standard is known for its slushy cocktails, famous burger and DJs, all paired with its 70s inspired bar space and sun soaked terrace.
Bentley's Oyster Bar & Grill
Piccadilly
Having served oysters and champagne to Londoners for over 100 years, Bentley's Oyster Bar & Grill is a London institution. Whether you like oysters or not, you can't fault this place with its marble-topped bars, grill restaurant and fabulous heated outdoor terrace.
The terrace is for all weathers, dressed in foliage and plenty of pretty outdoor lighting, it's the best place to feast on Bentley's signature fish pie, shellfish cocktail and cornish dressed crab.
Practical Tips for Exploring London's Outdoor Terrace Restaurants
In the summer months, the terraces can get pretty busy – it's worth booking (and specifying that you would like a terrace seat) before you go.
London Terrace Restaurants: Map