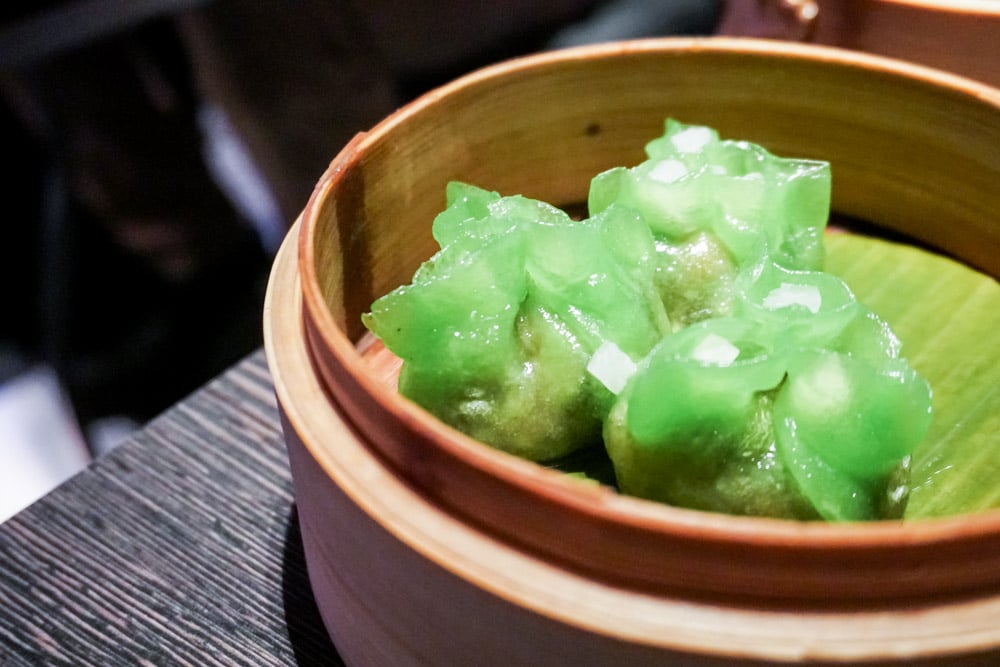 Looking for the best dim sum restaurants in London? These are all the top spots serving parcels of deliciousness.
Equatable only to an Asian version of tapas, dim sum is one of the tastiest kinds of food out there – parcels of meat, veggies, and soups served in piled-high bamboo steamers.
And, while there are plenty of Chinese restaurants in London, whether they have dim sum menus is a whole other story.
That's why we've created a guide to all the best London dim sum restaurants – serving everything from Xiao Long Bao and Cheung Fun to steamed or fried dumplings.
Ready to eat?
Where to Find the Best Dim Sum in London
Royal China Club
Get ready to chow down on world famous dim sum that's fit for a King… Now the name makes sense.
Savour Royal China Club's Hong Kong style dim sum, eye up the bamboo steamers as they're brought to your table filled with seafood dumplings and Shanghai style juicy pork dumplings with crab meat.
Everything about Royal China club is swish and elegant, from the presentation of its mouthwatering dishes to its five star service– you and your tastebuds will be well looked after here.
Yauatcha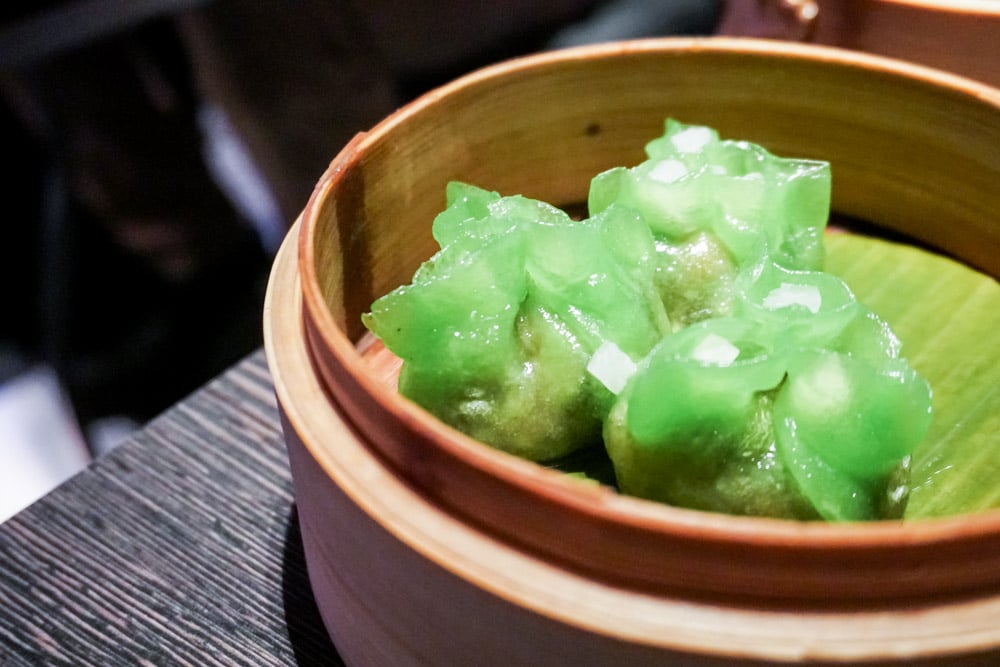 The best thing about dim sum is you could eat it for breakfast, lunch or dinner– that's why Yauatcha serves it all day long.
You're in for a real treat at Yauatcha, the dim sum menu here has everything from steamed dumplings and cheung fun to bao buns with soft shell crab or a Hong Kong staple, char siu (honey roasted pork).
Weekend brunch offers delightful sharing platters, which is great when you want to try a bit of everything. It's the brunch that keeps on giving, included in the reasonable £68 price tag for two is half a bottle of champagne– cheers to that.
Dumplings' Legend
Dumplings are legendary at Dumplings' Legend and you must try the succulent steamed prawn dumplings. The best thing about the Dumplings' Legend menu is the dumplings sets for two or more people, if you can't pick between dishes it's all done for you.
Dim sum platters are also available at Dumplings' Legend – and we think that it's the best dim sum in Chinatown. For dim sum with a kick, spicy pork xiao long bao has all the Chinese spices down to a tee, and make sure you slurp up all the soup from the dumpling, it's the best bit.
Phoenix Palace
An Oriental masterpiece, Phoenix Palace is decked out in traditional reds, Chinese dragons and lanterns that hang from the ceiling.
This dim sum restaurant near Baker street is frequented by hungry businessmen as well as families who have all come for the same thing– the best dim sum in London.
Steamed dumplings include the zingy Wasabi Prawn Dumpling and, from the fried dumplings menu, the Crispy Lobster Dumplings are the best choice for an indulgent Chinese dish.
Din Tai Fung
Taiwanese restaurant Din Tai Fung knows a thing or two about crafting the best Xiao Long Baos.
Every dumpling is delicately rolled out and filled with Chinese specialties like juicy minced pork or steamed prawns. There's a knack to eating Xiao Long Baos, poke a hole with your chopstick and then pick it up – but quickly slurp up the soup before it gets messy.
Chilli crab, pork and veggies are all on the steamed buns menu, they should be a staple to any dim sum order. Save room for some special Chinese sweet treats, red bean Xiao Long Bao with chocolate lava is too good not to order.
Bun House
Bun House in Soho has a playful dim sum menu, and the best part is it's open all day long.
The all-day Cantonese cafe serves fluffy hot buns and delicious Cantonese small plates.
It's the best dim sum in London for flavour and style, and is available for dine in or takeaway. With four buns for £11 it's hard to say no to beef brisket buns, curry chicken buns or the sweet salted egg yolk bun.
The salted lemon wings and fried milk ribs are tasty Cantonese dishes for the meat lovers, and equally as good is the wok fried fuju napa cabbage for any veggies in your group.
Hakkasan
The Michelin-starred Cantonese restaurant, Hakkasan, is the talk of the Chinese food world. It started in London and has now expanded to 10 locations worldwide. With restaurants in Hanway Place and Mayfair, Hakkasan's food is elegant with a contemporary flair.
A dim sum lunch at Hakkasan is nothing short of luxurious in style and flavour, wagyu beef shui mau is dressed in black garlic and the fried black truffle duck puff are good enough reasons to pay Hakkasan a lunch time visit alone.
Red Farm
Covent Garden
Red Farm restaurant in Covent Garden puts a modern spin on the Chinese dim sum concept. Red Farm is a popular New York dim sum eatery, and its London equivalent brings a green market sensibility to modern Chinese food.
Serving up clean dim sum, Red Farm's inventive creations like Black Truffle and Chicken Soup Dumplings come with straws in so you can focus on slurping and less about mess.
Red Farm has a pre-theatre menu with spicy crispy beef and crispr kale cutlets if you're just stopping by for a quick bite.
Shikumen
Looking for a London dim sum spot with dishes that are bursting with flavour? Shikumen in the Shepherd's Bush Dorsett Hotel is an indulgent affair for the senses, with perfectly steamed dim sum and Peking Duck on the menu.
Shikumen's seasonal dim sum menu is for lunch only and has all things steamed, fried and rolled. Dim sum platters are a great way to try a selection and the sticky rice in lotus leaf is a melting pot of Chinese flavours.
Vegetarian dim sum in London can be hard to come by, but there are vegetarian dishes like steamed vegetables dumplings and the vegetarian dim sum platter on the menu at Shikumen.
Courtesan
Just up the road from Brixton Market, Courtesan is part dim sum restaurant and part late-night cocktail restaurant– the best of both worlds. The retro, 1920s Shanghai-style restaurant serves up creative and modern dim sum.
Deep Fried Sea Bass with a sweet wasabi sauce is a dish you wish you could enjoy everyday, and the Szechuan Style Ribs are braised and then fried in a spicy Szechuan batter.
If you're dining at Courtesan on the weekend, you'll be treated to cabaret shows and burlesque dancing– saucy.
Pearl Liang
Closeby to Regent's Canal is Pearl Liang, a sleek oriental dining room with a room-length blossom mural.
With not one but two dim sum menus, you're spoilt for choice. Lunch and dinner menus differ so you could dine here all day and never eat the same dish – enjoy the Spiced Prawn Ravioli at lunchtime and enjoy the crispy paper-wrapped sesame rolls after dark.
Once you're finished sampling the entire menu, this cosmopolitan restaurant has an elegant cocktail bar serving Shanghai sour martinis, it'd be rude not to stay for a drink or two.
Hutong
City
We couldn't talk about the best dim sum restaurants in London without mentioning Hutong. Sitting atop of level 33 of The Shard, hutong gets a big tick for location, but the food is equally as impressive.
Northern Chinese food paired with panoramic city views are the best things about Hutong.
The experience menu will see you sampling a range of Hutong's contemporary and sometimes fiery dishes, sichuan fried beef with a chilli glaze and mushroom and spinach dumplings are certainly dishes to write home about.
A Wong
Pimlico
The upmarket London dim sum restaurant, A Wong, has the Cantonese lunch tradition nailed. A Wong's Chinese food, heritage and a selection of historical recipes which can be ordered from its dim sum lunch menu.
If you've never tried salt and pepper French bean fritters, then you must order them during your visit, you won't be disappointed.
A Wong's dim sum lunch is so delicious you'll never want to lunch anywhere else. Crispy wontons with sweet chilli jam are an unforgettable taste and you must order. If you are stuck on what to pick, allow the chefs to make a bespoke selection for your table.
Imperial Treasure
One of the best fine dining Chinese restaurants in London, Imperial Treasure has an assortment of authentic dim sum on the menu.
The restaurant group has over 20 restaurants including two Michelin stars. Crafted by Hong Kong chefs, Imperial Treasures Iberico Pork Shanghai Soup Dumplings and Crispy Lobster Beancurd Rolls are out of this world good.
Imperial Treasure is a bit of a splurge, so maybe best for a special occasion, but with Baked Venison Puff with Black Pepper on the menu it's easy to see why.
Practical Tips for Eating Dim Sum in London
Dim Sum is traditionally served during brunch hours, so make sure you check whether the restaurant is serving dim sum later.
It's also good to check with servers how many pieces your dim sum dish is, you don't want to be left hungry.
Some dim sum restaurants get very busy and require booking, always check online before you go.
Best Dim Sum in London: Map
Best Dim Sum in London: Read Next