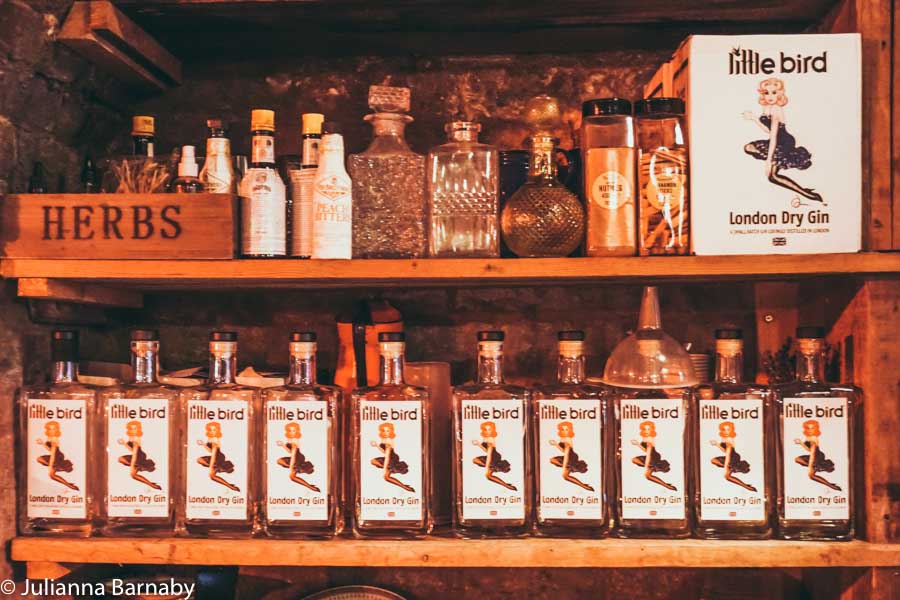 London has had a long love affair with gin – no surprise then that there are a tonne of cool gin distilleries, tours and experiences in the city. These are the gin experiences and gin distilleries in London that you shouldn't miss.
We're pretty sure that London is at least 50% fuelled by gin. Our obsession with all things gin has been going for centuries and, with a slew of cool distillery openings in the past few years, shows no sign of abating.
But where can you find the really good stuff? You know, the kind of gin that makes you stop after your first sip to bow down and recognise the fact that what you are drinking is pure fabulousness – almost, but not quite too good for the likes of you.
Gather round, friends, we're about to discover the best gin experiences in London. Cool distilleries, tastings and experiences for your next tipple.
Best Gin Distilleries in London
After more than a century where gin fell out of favour in the capital, it's back with a vengeance. Praise be for that. Here are our favourite gin distilleries in London.
The London Distillery Company
Bermondsey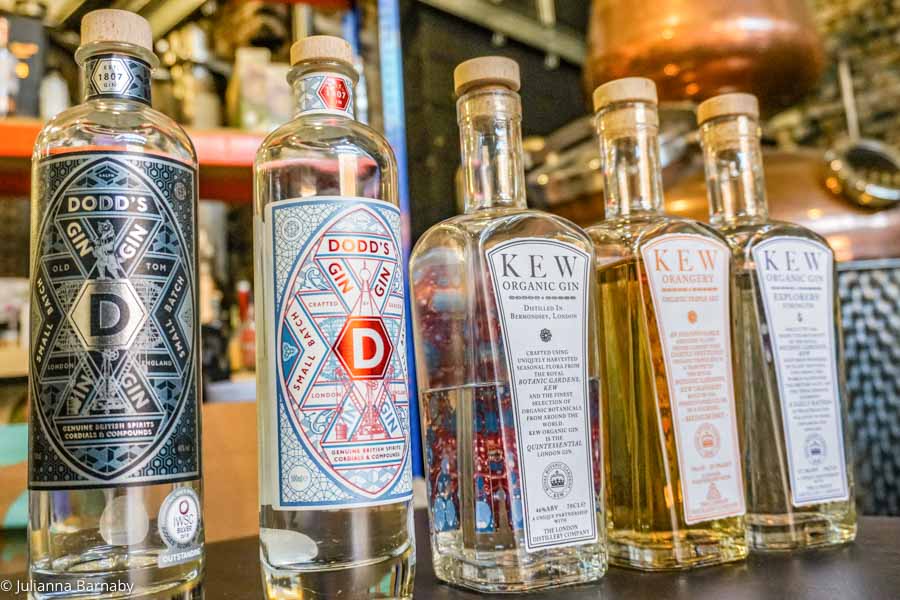 If you like a bit of variety with your liquor, then you'll love visiting The London Distillery Company.
They were the first whisky distillery in London in over a century, and their fabulous rye Whisky will make you glad it came back.
Of course, we're all about the gin – and it's excellent. Inspired by the botanicals of English gardens, the 'Kew' series really is a masterclass in British gin (and one of our favourite tipples in the summer months).
You can discover what we're talking about yourself with a tour of the tiny Bermondsey gin distillery. It's one of our favourite gin tasting experiences in London, walking you through their entire collection and the production process.
Half Hitch London
Camden
There's a certain thrill that comes with sampling a small and exclusive batch of gin like that distilled at Half Hitch London.
Even better if it's concocted from all kinds of carefully-selected and obscure ingredients, like Malawian black tea and bergamot.
Located in the bustling Camden Market, we love swinging by this stall to sample some gin. There's also usually a batch being distilled right before your eyes, in a copper pot.
Don't let the humble setup fool you; owner Mark Holdsworth knows his stuff. He spent fifteen years working for Bacardi, before venturing off to do his own thing. And a great thing it is.
City of London Distillery
The City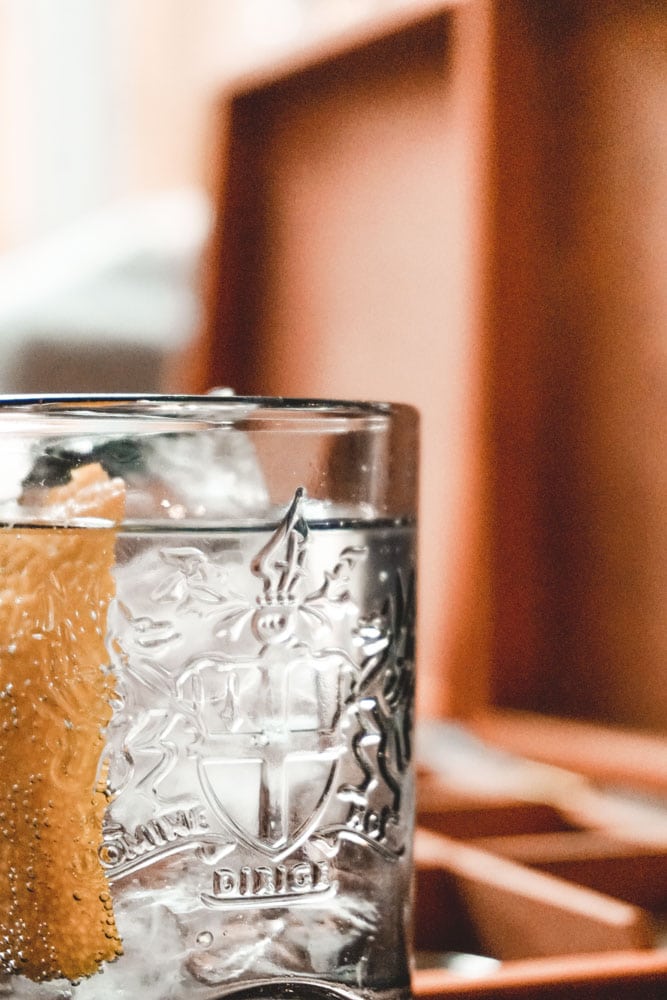 Gin has been a country-wide obsession for many centuries, however there was a long lull in production in the heart of the capital.
All that has well and truly changed now, and the City of London Distillery was at the forefront of that revolution.
Since launching their flagship gin back in 2012, they've expanded their range to include six delicious tipples.
Our personal fave is award-winning City of London Dry Gin, although we also get a hearty dose of local pride sipping The Square Mile with its distinctive logo.
The best way to experience their range is to take their famous City of London gin distillery tour in London. You'll get a behind the scenes peek at production, as well as a taste of three gins.
They also do a "design your own" gin lab experience as well (we've done it and it. is. brilliant). Otherwise, head down to their subterranean bar – one of the best gin bars in London – for a cheeky tipple or two.
Read More: Here's why I picked the City of London's distillery bar as one of the coolest bars in Farringdon
East London Liquor Company
Bow
So we all love gin (obviously), but sometimes it's nice to have a little bit of choice. Enter the East London Liquor Company, that also produces whisky and vodka as well.
It's hard to believe that not long ago, this was the first gin distillery in East London in over a century. It might have been awhile, but gin (& co) was back with a bang.
Today the distillery has won many awards and also runs some of the best London distillery tours.
There are three standard tours to choose from (from 30 minutes to an hour-and-a-half), as well as a regular calendar of special events as well.
If you ask us, you can't miss the classic London Dry Gin, with its subtle but noticeable hit of cardamom.
Beefeater Gin
Vauxhall
With all these new-fangled hipster distilleries, you'd be forgiven for thinking gin in London is a young person's game.
You'd be sorely mistaken, however. In fact, there are still a few old timers around the place such as the famous Beefeater Gin.
The unusual name is drawn from the nickname for royal palace guards. It was bestowed upon the distillery soon after it opened its first factory in Chelsea in 1876.
Well over a century later, it's still one of the most popular British gin companies. They also run one of the best gin tours in London.
These include a "smell tour" of ingredients used to give gin its characteristic flavour.
Mother's Ruin
Walthamstow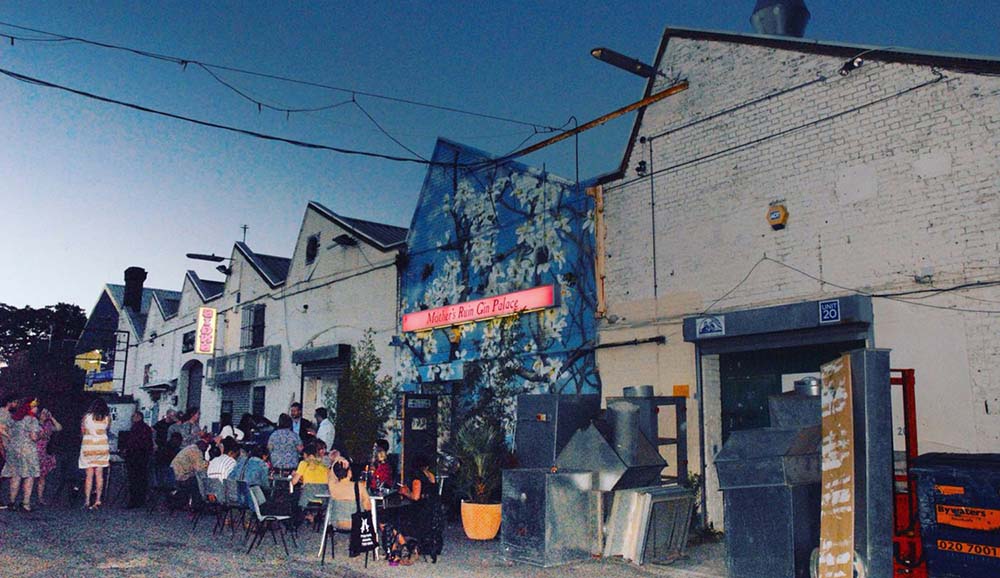 Before gin became the tipple of choice for stylish Londoners, it was feared it would be the downfall of society as the Georgians knew it.
It was a 'mother's ruin!', it was declared – responsible for turning otherwise prim and proper women into utter drunkards (we can relate).
Fears of the impending social apocalypse didn't come to fruition, luckily. Instead, 'Mother's Ruin' became the name of a pretty fantastic gin distiller in London.
We particularly love the 'Gin Palace' in an old WWII munitions factory. Inside, you can sample over 80 different types of gin, guilt-free.
Sipsmith
Chiswick
Who hasn't dreamed of starting a bar or distillery with their best friend, especially after a few fine drinks have been consumed?
Well, the brains behind Sipsmith actually put the chatter into action. The two best friends opened their distillery in 2009 and have been going strong ever since.
Numerous awards show it was a mighty fine call, while we can certainly attest the gin is delicious.
To find out what all the fuss is about you can take a distillery tour. The standard price includes a behind-the-scenes look as well as some tastings.
They also do a fabulous cocktail class, which is one of our favourite gin experiences in London.
Graveney Gin
Tooting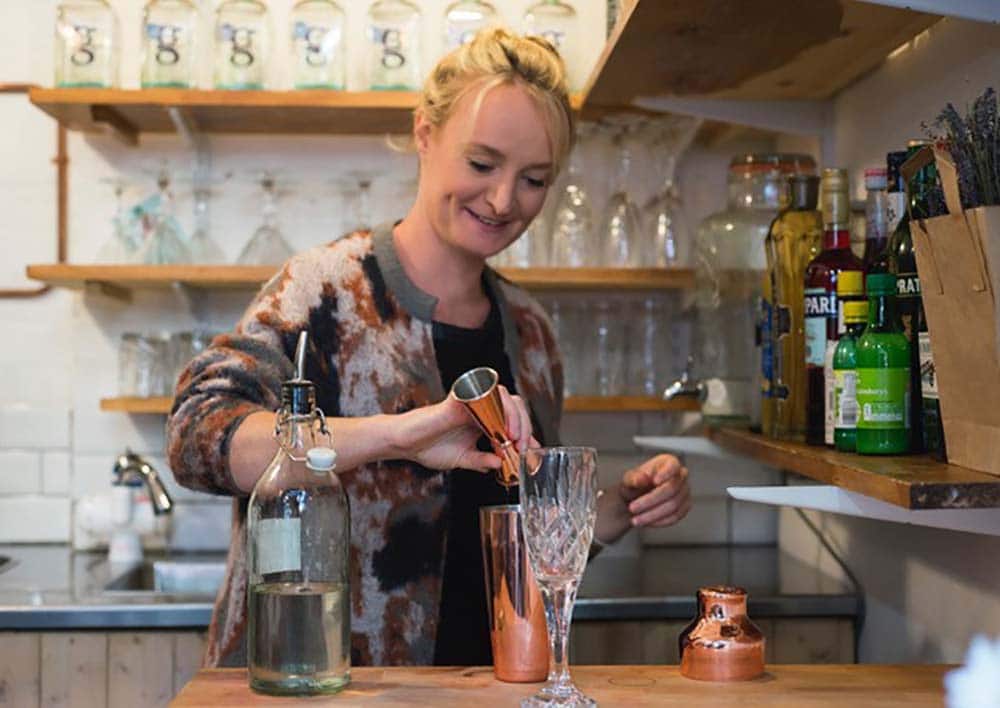 Graveney Gin is just the small-batch London gin distillery that Tooting needed – even if it didn't know it.
Distiller and long-time gin fanatic Victoria Christie (who was drinking G&Ts well before it became cool again) first started producing this organic gin in South London after a masterclass at The Ginstitute. Fast forward a couple of years and she'd released her first batch of the stellar Graveney Gin.
The rest, as they say, is history. Each batch is made using a 30l copper still and fresh botanicals – making it one of the most unique tipples in the city.
Portobello Road Gin
If we haven't yet convinced you that London is really, really into its gin – we present to you: The Distillery.
This simply-named venue is basically a gin lover's playground, offering up four enticing levels of gin-related debauchery and its own distillery producing Portobello Road gin.
Amongst the fun there are multiple tasting spaces, including the oh-so-fancy Boardroom for group tastings. Then there's two bars, the distillery and the Ginstitute (scroll up for more information about that).
If you're looking to wow the gin lover in your life or just experience one of the best gin tastings in London, then you'd better head on over to this gin paradise.
Read Next: Cool Things to do in Notting Hill
Highwayman Gin
Kentish Town
When we call this one 'small batch', we mean really small batch. As in, sixteen bottles a day, distilled in a humble copper pot behind the bar.
Plus, it's not just the teensy tiny production that makes Highwayman Gin one of the most unique gin tastings in London.
There's also the fact that the best place to taste it is at nearby Ladies & Gents, a tiny bar in Kentish town that holds gin masterclasses using Highwayman. It's located in a former public loo.
What a place to enjoy a gin night in London. Sure, that's pretty much peak London. But we are here for it.
Jensen's Gin
Bermondsey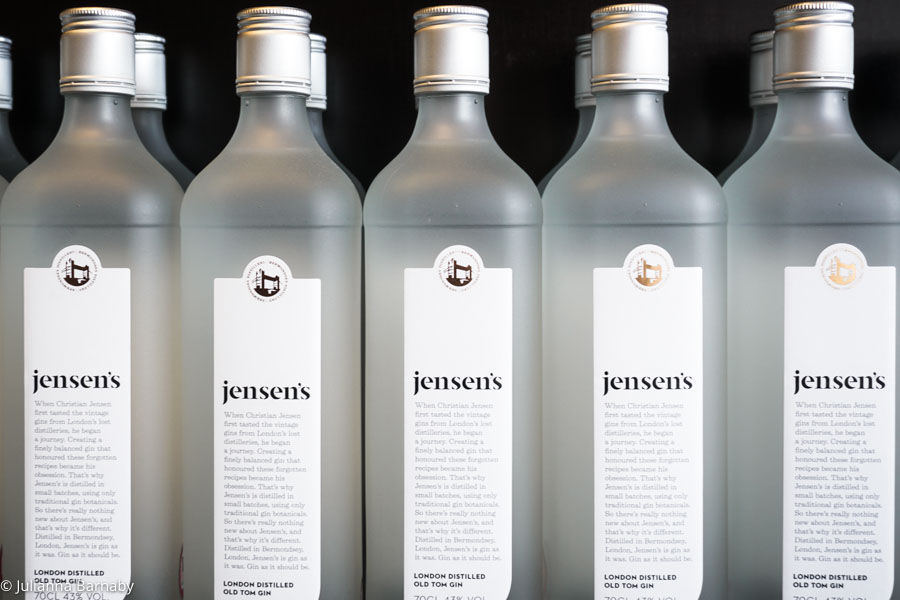 There are plenty of London gin distilleries trying all kinds of weird and wonderful things. Then there's those that remain true to traditional methods and ingredients.
Jensen's Gin proudly produces 'gin as it should be' – gin that's true to its origins and traditions. Their fabulous Old Tom gin is even replicated from an authentic 1840s gin handbook.
It's obviously working, as this Bermondsey gin distillery is one of the best loved in the city.
You can sample their gin from their home in one of the archways at the end of Maltby Street Market on weekends, or email them to book in for a distillery tour.
Heading to Bermondsey? Why not combine a visit to Jensen's with a trip to the Bermondsey Beer Mile – London's coolest collection of craft beer breweries.
58 Gin
Acton
The Aussies have certainly made their mark on the London food and drink scene, and it's not just with coffee shops. We've also got the Land Down Under to thank for what's on offer at 58 Gin.
Coming from abroad, owner Mark isn't afraid to tear up the rule book and do things his own way. It was this attitude that saw him garner the nickname "Moonshine Mark" as he tinkered away with his recipe.
Eventually, he hit the jackpot and the first batch of 58 Gin was crafted. Crisp and soft with nine distinct botanicals, the gin was an immediate hit.
58 Gin runs a gin distilling experience in London, where you can learn more about the process. You'll then have a chance to craft your own gin to take away with you (more on that later).
Hayman's Distillery
Balham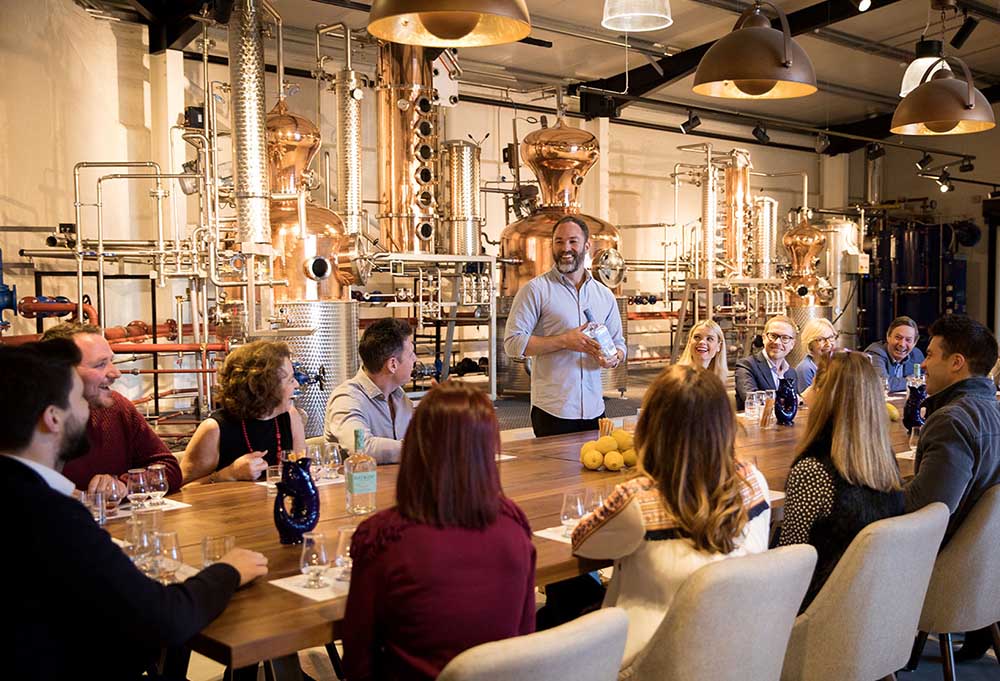 They say if you're onto a good thing then why change it – and that's certainly the ethos of Christopher Hayman, chief gin maker at Hayman's Distillery.
Considering that Christopher is a fifth-generation London gin producer, we're certainly not about to disagree with him.
Then there's the fact that his gins – and especially the 'Deeply Rested', if you ask us – are pretty damn fantastic.
All in all, his traditional approach and recipes have obviously paid off. If you want to learn more about Hayman's methods and sample some delicious gin (and of course you do!), then they run both tours and a cocktail masterclass.
Sacred Distillery
Highgate
Back in the 1800s, as gin mania really took hold in London, times got desperate. Such was the demand for gin that pretty much anything that could be distilled, was – regardless of taste.
It would take centuries for London to shake off its bad gin-related hangover, and it wasn't really until the late 2000s that people started taking London gin seriously again.
At the forefront of that movement was Ian Hart of Sacred Distillery.
If there was someone to lend a hand to restoring London's gin reputation, he was a good pick, having a degree in science from Cambridge. As well as a pretty intense passion for gin.
Ian blended his analytical approach and passion for gin to create a pretty amazing product. Each bottle of Sacred gin is well-thought out and exceptionally produced, but with plenty of heart.
To experience it for yourself, you can tour the distillery, learn to make your own gin or try your hand at a cocktail masterclass.
King of Soho
Soho is proudly unique and non-conforming, so you'd expect any gin distilled there to offer something that bit different.
With 12 botanicals and made according to 11th century methods, the King of Soho doesn't disappoint. Made by the son of late Soho personality Paul Raymond, this tipple is a love letter to the borough.
You'll find this gin on offer at various bars and clubs around London. They also have semi-regular pop-ups where you can give it a try.
Gin Lane 1751
London Bridge
Named after the infamous painting that depicted the debauchery caused by gin in the 1700s, Gin Lane 1751 is one of my favourite distilleries.
They hark back to a Victorian style of gin, complete with charming vintage bottles. You know, the kind you finish and then can't convince yourself to throw away.
The 'Victoria' pink gin is my go-to for a cocktail, however all of their four gins are pretty fantastic.
Other Gin Tastings, Tours & Experiences in London
Discovering London's Gin in a Mini Cooper
Looking to dive deeper and learn more about gin on a gin tasting in London? Here are some great tours which will take you under the surface and introduce you to some of London's best gin experiences.
It's more British than crumpets and corgis – discovering London's gin in a retro Mini Cooper.
We know there's some steep competition, but this might just be the best gin distillery tour in London.
Over two hours, you'll drop by two gin bars and also tour a distillery. A passionate local will be your driver, full of insider information and gin history.
Three gin drinks are included in the price, so you can expect to step out of the Mini feeling quite merry.
Borough Market & Beefeater Gin Tour
Take in some of the best tastes on offer in London with the Borough Market and Beefeater Gin Distillery Tour.
They're two of our favourite hotspots in the capital for food and drink and we're pretty confident you'll love them too.
Get the insider perspective on the market's history and premier stalls. Then, move on to Beefeater's gin where you'll tour the distillery and – of course – sample some varieties.
As it's a small group tour, you might even meet some new gin-obsessed buddies.
Gin Journey
If you love drinking gin, be assured you're in good company worldwide. Knowing this, Gin Journey has set up gin-related events in cities all over the globe.
Of course, any company that specialises in gin journeys has to have plenty on offer in London. After all, it is the home of gin (and that's not just my London bias talking).
Every Saturday, three separate tours are run visiting the neighbourhoods of Soho, Shoreditch and Bermondsey. On each journey, you'll get to explore five amazing venues and sample the gins at each.
Led by a gin expert, it's a great way to learn about gin and also meet some other gin enthusiasts to drink with.
The Ginstitute
Tucked inside the four-storey gin wonderland that is The Distillery, the Ginstitute is a mecca for gin lovers from all over the world.
Learn everything you could possibly want to know about the history and production of gin at their London gin masterclass.
Once you've filled up on gin knowledge, and, of course, gin – you'll have the chance to craft your own. You never know, yours might just be the next big thing!
What sets this London gin distillery "make your own" tour apart is that they keep your recipe on file. So, if you do fall madly in love with your personal recipe you'll be able to re-order it forever more.
Make Your Own Gin at 58 Gin
We've already mentioned how 58 Gin's owner got the moniker 'Moonshine Mark' thanks to his constant tinkering. Well, it makes sense that he'd offer you your own chance to experiment with gin.
This gin class in London will help you learn about what goes into a perfect bottle of gin. You can also hear about the history of the drink in London and further afar.
From there, it's your turn to have a go at distilling the perfect bottle for yourself. Someone will be on hand to help you from going astray, but you'll have definite creative control.
As well as your own wax-sealed 500ml bottle, you'll also leave the three-hour experience with a 'gin gift bag', which sounds pretty good to me.
Sipsmith Supper Club
Sipsmith have a good range of gin-related activities you can take part in. Some of these are the kind of straightforward fun you'd expect from a distillery: tours, tastings, the occasional cocktail masterclass.
But they also have something else that should be on your radar – a gin supper club. That's basically exactly what you'd think it is: a supper club with gin pairings. Wait, it gets better.
The people they team up with to do the cooking are the folks from La Trompette, a Michelin-starred restaurant and neighbour to Sipsmith. They cook up a delicious menu of French food that goes rather well with a few of Sipsmith's drinks.
Secret Gin Tour
Perhaps you want to learn more about gin. Perhaps you want to drink a lot of the stuff while you do – it'd only be right, in the name of education that is. Then, perhaps you'd not want to restrict yourself to just one distillery.
We understand your predicament. Not to worry, we can also highly recommend this distillery tour from Secret Food Tours. It's so good they actually won awards for it. So what do they do?
Well, they'll take you on a tour of some of London's best, including a few that are mentioned in our guide here.
You'll be starting off at an emporium with hundreds of bottles to taste and once you've completed your research you'll be off on your way to cruise through the streets of Soho and track down a few more distilleries, and then a few more.
When all's said and done you'll have hit all the top spots in under four hours and learnt a whole lot about England's gin culture in the process.
Map of London's Gin Experiences and Distilleries
Click here for a map of the distilleries and experiences featured in this guide.
Practical Tips for Exploring London's Gin Distilleries
Want to taste gin like a pro? The first step is to ditch the tonic, ice and garnishes and taste the gin neat then dilute with some water for the second tasting.
There are a lot of different opinions about which glass is best for sampling gin – whichever you go for, make sure it's sparkling clean so nothing interferes with the flavours and aromatics of the gin.
Gin should be tasted at room temperature – both extreme heat and cold can affect the flavours.
Smell first – swirl the gin and smell it from a couple of inches away.
Taste the gin neat first and then diluted with water – both will help you pick up the flavours and botanicals of the gin.
If you really love gin and want to try even more delicious concoctions, try the Craft Gin Club – they deliver great gin straight to your door.
London Gin Guide: Read Next