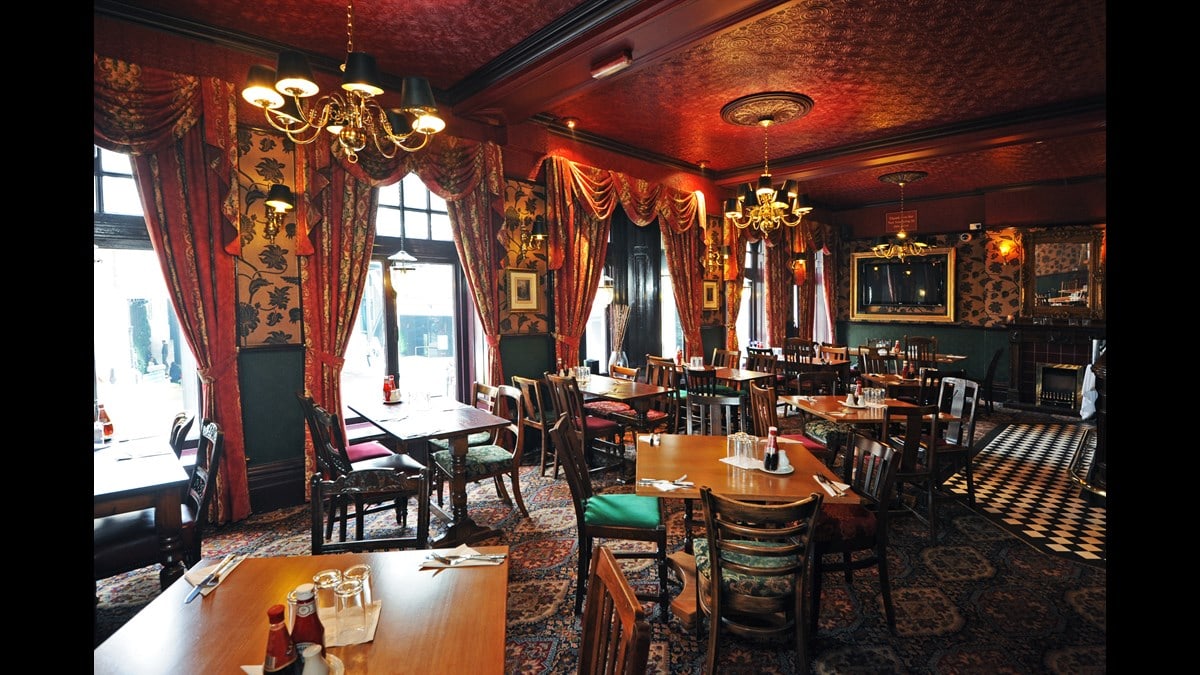 Glitzy Knightsbridge has a surprisingly high number of excellent pub boozers. Looking for the best pubs in Knightsbridge? Brimming with centuries worth of history, and the art of the perfect pint completely mastered, here are some of the best drinking holes the area has to offer.
The Best Pubs in Knightsbridge
The Nag's Head
A few minutes' walk away from Knightsbridge tube station is the little gem of a pub that is The Nag's Head.
You'll notice a few things upon entering this old-fashioned boozer.
Firstly, all mobile phones are banned. Remember the days when we would all actually sit and chat to each other over a drink instead of having our eyes glued to our screens? Well, The Nag's Head is very traditional and emphasises the importance of good conversation (or just staring moodily into your pint).
Then there's the landlord, Kevin. Warm, welcoming and incredibly charismatic, he makes you feel right at home as soon as you step foot in the door.
Aaaaand then there's the decor. Is there such a thing as clutter-chic? That's exactly the look The Nag's Head has achieved, however unwittingly. Cartoon pictures, garden tools and vintage penny slots – it's certainly unique. Pop in at the right time and you'll catch the pub's frequent live jazz gigs.
Paxtons Head
Knightsbridge is full of chic and swanky cocktail bars, but sometimes, nothing beats a chilled pint and some friendly service devoid of any type of snob-factor.
Paxtons Head is a stone's throw away from Knightsbridge tube station (you really can't miss it), and offers its customers an authentic London pub experience.
The sound of football commentary mixed with blokes 'oo-ing' and 'aa-ing', glasses clinking and a general whirl of chit-chat filling the air, Paxtons Head is just a good old-fashioned pub.
I'd also recommend heading here for a bite to eat; they've got a great menu filed with classic pub grub, all of which is very reasonably priced considering it is located in London's most upmarket stomping ground.
Tattersalls Tavern
For a no-frills pub in the heart of Knightsbridge that serves ice-cold pints on the cheap, Tattersalls Tavern is your best bet for a tipple.
A stone's throw away from Harrods and Harvey Nichols, this place can get a little bit packed, particularly on Friday and Saturday nights, but in the week, it's a lot quieter.
With a brilliant selection of the highest quality cask ales from their Suffolk brewery, as well as some fantastic hand-picked beers from across the UK, Tattersalls Tavern is a wonderful spot for self-proclaimed beer connoisseurs.
The Bunch of Grapes
Keeping up the tradition of a nice tongue-in-cheek pub name, The Bunch of Grapes is a historic pub in the Knightsbridge area.
Housed inside a Grade II listed building that was originally constructed in the mid-19th century, The Bunch of Grapes maintains its Victorian charm to this day, despite being sheltered by more contemporary surroundings.
Step inside, and you will see a rather enchanting string of authentic features, from carved woodwork, decorative glass divisions, to gorgeous painted mirrors, the pub exudes an oldy-worldly vibe.
Nestled on the trendy Brompton Road, there's undoubtedly a lot of competition nearby, but The Bunch of Grapes is a classic, and IMHO, one of the best drinking spots in Knightsbridge for some good old-fashioned English hospitality.
The Gloucester
Brimming with history, The Gloucester is a classic English pub, nestled on Knightsbridge's vibrant and trendy Sloane Street.
There's been a pub on this spot since 1795 and somehow The Gloucester has managed to retain many of its original features, with the result of making you feel like you've literally hopped back in time.
The pub has earned itself something of a reputation for its hearty AF pies. Go for either the British Chicken & Woodland Mushroom Pie or the Steak & Ale Pie for a real treat. You won't regret it.
The Bauchamp
The Bauchamp is one of those places that has something to suit every mood. Want to relax in style? They've got a lounge. Dinner for two? This way to the restaurant, sir. Some entertainment after your food? There's a club and bar on the second floor.
It's the pub we're here for though. A very eccentric space you'll find on the ground floor. Why so eccentric? Take one look at the Union Jack-bedecked ceiling and baroque upholstery and you'll see exactly what we mean.
In true British style you'll be treated to great service from the bar team and a good selection of beers to choose from. You're in knightsbridge though, so they've also got an excellent selection of wines and champagnes.
The Admiral Codrington
Could you find a more British name for a pub than that? Probably not, but let's get on with the important stuff. The Admiral Codrington might sound posh, and that's because it is. You won't be chinning pints with London's working class boozers.
More likely you'll be sipping on a glass of wine with someone who has an admiral in their family tree, and maybe tucking into the Codrington's menu of pub food while you're at it.
That's because this place is as much a gastropub as it is a boozer. The food, a spread of British classics made with quality ingredients, comes highly recommended. You may need to splash out a bit to afford it though.
---
Still looking for more pubs? Check out my guide to the best pubs in neighbouring Belgravia.
Pubs in Knightsbridge: Map
Looking for More Knightsbridge Guides?