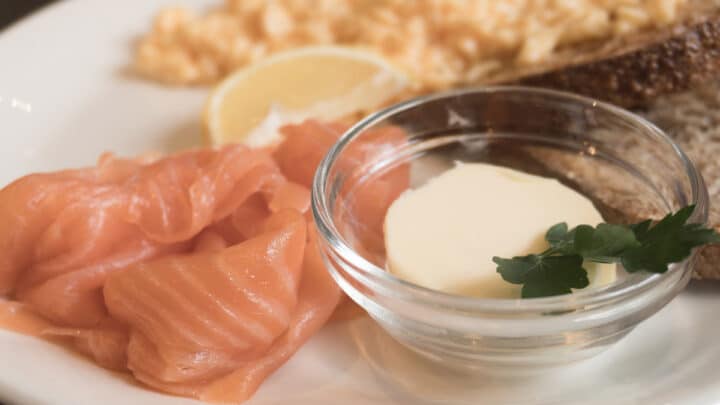 Hungry? Delve into the best brunch and breakfast spots in Notting Hill with this guide.
There's stiff competition for the title of best brunch in Notting Hill. Indeed, if ever an area was ideal for lazy brunch places, it's this amazing West London spot. This chic neighbourhood is packed with breakfast and brunch spots that make for the perfect leisurely meal.
Looking for Notting Hill's must-try breakfast places? We've got you covered.
Best Breakfasts and Brunches in Notting Hill
The Laslett
Chic boutique hotel The Laslett is one of our favourite places to bed down in Notting Hill, but we'll let you in on a little secret… You can enjoy their excellent breakfasts even if you aren't staying in the hotel.
The breakfast menu is brimming with classic favourites – like Smoked Salmon on sourdough, eggs any style, buttery-flaked pastries that come with homemade jam – it's all delightful.
Wash it all down with a range of teas and coffees – or perhaps a Bloody Mary or Champagne cocktail if you're feeling celebratory.
Breakfast and brunch at The Laslett is available from 7:30 AM to 11 AM on weekdays and on weekends from 7:30am until 3pm.
Farm Girl
One of Notting Hill's best-known cafes, Farm Girl also just so happens to be one of the best places for brunch in the area too.
The cafe's signature Aussie cuisine pairs fresh flavours and nutritious superfoods for a wholesome start to the day. Think Açai bowls, Turkish eggs and avo on toast (of course). Although they are on the pricey side, the portions are generous.
It wouldn't be such a great brunch spot without a wide selection of drinks. There's no alcohol on the menu, but you can get a variety of delicious coffee, lattes, and teas.
After something a bit different? Try the Liquid Gold tea; it has turmeric, ginger root, honey, black pepper, and lime.
Conscience Kitchen
Conscience Kitchen is a sustainable and ethical restaurant and coffee house that's spot on with its awesome brunch offerings.
Their Egyptian-influenced menu is full of awesome ingredients sourced from small-scale farmers and suppliers, with a focus on eradicating unethical trading practices and understanding the impact of climate change on the hospitality industry.
What about the food? It's incredible. Fruity yoghurts topped with nuts and oats, Provence figs with grilled manouri and, best of all in our opinion, crumbed brisket. Yes, that's right, brisket for brunch. It's unbelievable!
Eggslut
Pretty unsurprisingly given its name, Eggslut is all about eggs. If you can think of it and it uses eggs as the main ingredient, they probably have it.
Opt for classic eggs or try eggs with bacon, cheese, sausage, portobello, and more. Ingredients are sourced from British farmers and there's a focus on only using the freshest and best-quality produce in the menu.
Not sure what to go for? Try the house specialty – coddled eggs sat atop a potato puree, topped with grey salt and chives and served with slices of baguette.
Not only is it delicious, it's eggcellent value as one of the most affordable brunch spots in the area.
Kuro Eatery
Any brunch guide would be incomplete without the kind of chic restaurant that is Kuro Eatery. The paired-back simple decor is flooded with natural light from the large windows from which you'll be watching countless punters queuing for your seat.
The food is expertly made, and draws on an eclectic set of global cuisines. You'll find ingredients from places as far flung as Korea or as near as the Continent. What happens when these things mix is a little bit of magic, and a brunch you won't quickly forget.
We love the green shakshuka with sheep labneh and mushroom congee with mayak eggs.
A word should also be said for Kuro's coffee and baked goods which are so good that they've actually opened a coffee shop and a bakery on separate sites. Need we say more?
Los Mochis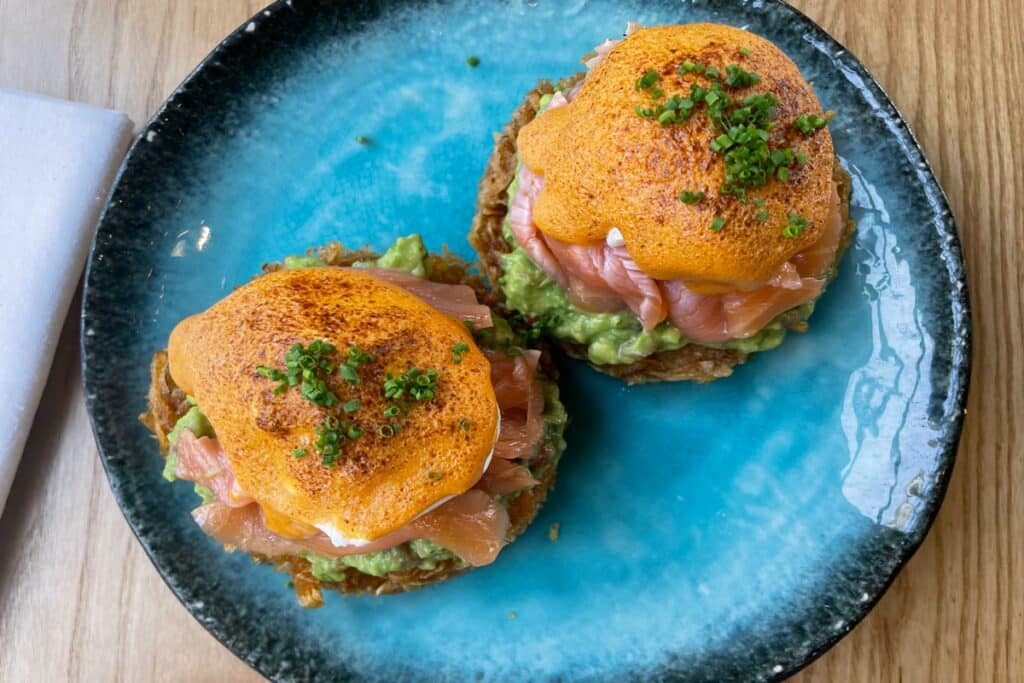 Set into one of the stylish, tastefully coloured houses that typify the style of building in this part of London is Los Mochis, a Mexican restaurant with a pretty killer breakfast and brunch menus.
There's not too much difference between the two menus, they're both heavy on various presentations of the huevos – and those huevos should be eaten on the house-made hash – but breakfast has more options for healthy things like acai bowls and granola.
If you're tucking into brunch, it's probably the right time of day to indulge in a cocktail too. They're all pretty delicious and will taste even better if you've managed to snag yourself a spot in the sun on Los Mochis' wrap-around patio.
But, out front of a building this pretty, you just may end up the subject of some stranger's Instagram post.
Beam
Beam is a cafe-cum-brunch spot with some seriously laid back vibes – that chill stops at the kitchen door though. The food they turn out never fails to delight.
The food has its roots in the middle east, though you'll find more traditional English forms of brunch/breakfast if that's your style. The salmon and scrambled eggs made with Scottish, oak-smoked salmon is a case in point, and excellent.
We also wholeheartedly recommend the cakes you'll see at the counter. If you're indulging in a cup of Beam's coffee, which is some of the best in the area, these sweet bites will be the perfect accompaniment.
Sunday in Brooklyn
In London by way of America, Sunday in Brooklyn regularly draws in the punters for boozy weekend brunches and light breakfast plates during the week.
And boy, do those cocktails hit the spot. They are often light and fresh, with fruity notes that mean they slip down all too easily. Don't let them fool you either – they pack a punch.
American-inspired is the style of food, but is playful with its origins and not afraid to stray from the path of tradition. You'll find classics like scrambled eggs and egg sandwiches, as well as less-American dishes like shakshuka.
If you've got the appetite, their steak and eggs are not to be missed.
Golborne Deli
Of all the indie brunch spots in West London, Golborne Deli stands out as a long-time local favourite.
The deli is known for its tantalisingly good range of produce, so it's quite fitting that they put on one heck of a breakfast.
This is a menu that celebrates the best of Mediterranean cuisine – the breakfast menu features an extensive choice of filled ciabattas like the enticing Tricolore – a tasty mix of avocado, buffalo Mozzarella and tomato with basil pesto.
The breakfast and brunch menu is available all day – perfect for those days when you want an indulgent lie in followed by a late brunch.
Did we mention that the coffee is great too?
Lowry & Baker
We couldn't write this best brunches guide and not feature Lowry & Baker – a self-described breakfast and brunch restaurant.
You can't help but be charmed by Lowry & Baker, not least because of their totally banging all day brunch menu. Offering the kind of food it's worth crossing town for, they pride themselves on the fact that they make most of their ingredients in the cafe.
Homemade granola? Naturally. Homemade brioche topped with eggs or berries and ricotta? Coming right up. Corn fritters stack? Not to be missed! There's a reason that people find themselves returning to Lowry & Baker again and again.
Granger & Co.
You'll find Bill Granger's Aussie Granger & Co.s dotted all over London but the Notting Hill outpost is particularly good.
Serving breakfast until 12pm, Granger & Co is a firm favourite among the locals, thanks to their fresh breakfast items that are designed to start your day off the right way. Fruit and grains, eggs, toast, and classics including ricotta hotcakes. Fancy hair of the dog? Grab one of their boozy aperitifs!
There are plenty of vegetarian and vegan dishes, as well as meaty options – it's a bit of a cliche to say there's something for everyone – but it really is true in this case.
Ottolenghi
Ottolenghi is one of the long-standing darlings of London's culinary scene. For good reason – his Middle Eastern-inspired menus are full of gastronomic hits you're never quite able to replicate at home with the same success.
You can get the whole menu to take away, but if you want to eat in, you'll need to be quick: there are only ten seats inside the cafe. Add to that some of the best baked goods in Notting Hill it's safe to say that the competition for those seats is fierce.
Delve into the chocolate and hazelnut brownie, or take a bite of the polenta cake with pistachio. Whatever you opt for, you won't be disappointed.
Bluebelles of Portobello
Located right on Notting Hill's famous Portobello Road, Bluebelles of Portobello is a wonderful coffee shop that also happens to do a pretty wonderful breakfast.
The menu ranges from bakery items, egg pots, cereal pots, or a French toast croissant with fresh berries (yum), and there are vegan options and gluten-free options available too. We're huge fans of their range of eggs – Benedict, Royale, or Florentine.
If you want the full local experience, choose to sit outdoors on a sunny day – so very Notting Hill.
The Tin Shed
The Tin Shed is another Notting Hill brunch spot that is popular with the locals. They are open every day for breakfast, brunch, and lunch, and you can enjoy bakery treats, vegan dishes, eggs, or a full English breakfast.
Begin with a ginger shot to blow away the morning blues before grabbing their awesome homemade baked beans on toast or the buckwheat banana pancakes with fruit compote, almonds, coconut, yoghurt and beautifully indulgent maple syrup.
Enjoy a leisurely morning as you indulge in their homemade meals – it's the perfect place for an authentic West London brunch experience.
Daylesford Organic
Daylesford Organic is such a household name that it might come as a surprise that they have a few select London outposts – including this one in Notting Hill.
They are open every day, with indoor and outdoor seating. Their food is organic from their own organic farms, and they hold themselves to high environmental standards. We love their rolled oat porridge, and chestnut mushrooms on toast with shallots and baby spinach.
When you're finished eating, this is the place to stock up on homemade breads, artisan cheeses, fresh fruits and vegetables grown in their own garden or meat from their farm in the Cotswolds to bring home.
Electric Diner
You can trust the people behind Soho House to get brunch right… and they do.
The Electric Diner serves a French-American menu, with a lot of delicious dishes to choose from. Where a lot of Notting Hill's breakfast spots double down on healthy dishes, Electric Diner isn't afraid to throw in a few indulgent dishes too.
Case in point? The Philly Chilli Cheese Dog – a hearty dish laden with flavourful chilli. Same for the Honey-Fried Chicken, which manages to be simultaneously crispy and moist.
Go hungry, you won't regret it.
TAB X TAB
TAB X TAB is a cool and modern cafe based in Queensway, with a semi-industrial feel to it full of shiny concrete and a semi-open kitchen where you can see the skilled team of chefs cooking up your brunch-y storm.
As well as the plethora of baked goods that'll whet your appetite upon entry, we love the blueberry vegan pancakes and the St James halloumi sando. An awesome eggs avo-tine as well will absolutely hit the spot.
The coffee brewed by Kiss the Hippo roasters is very moreish too.
Gail's
You can't go wrong at any of the Gail's across London and that's true of the branch on Portobello Road. The baked goods, pastries, and menu items are all lovingly made on site and, best of all, they're seasonal.
Although the breakfast items are limited on the menu, they're all wonderful. Toasted sourdough with island chocolate & hazelnut spread? Don't mind if we do. Baked eggs with soldiers? Um, yes please!
If you want something less breakfast, they have an incredible range of gorgeous soups available.
Eggbreak
Eggbreak is another egg-based restaurant that excels in serving one of our brekkie staples in just about every imaginable way.
Our faves? Well, if we had to choose, then the John's Sabich egg benedict or sweet potato with poached egg and goat's cheese. Or even the eggbreaky melt, a potato bun with roasted red pepper jam that has to be tasted to be believed.
Vegan? No worries, they've got you covered with warm pitta and homemade hummus, thyme-roasted mushrooms, and gorgeous smashed avocado with chilli and lemon.
Map of Notting Hill's Breakfast and Brunch Spots
Looking for More Notting Hill Guides?
Must-Try Coffee Shops in Notting Hill