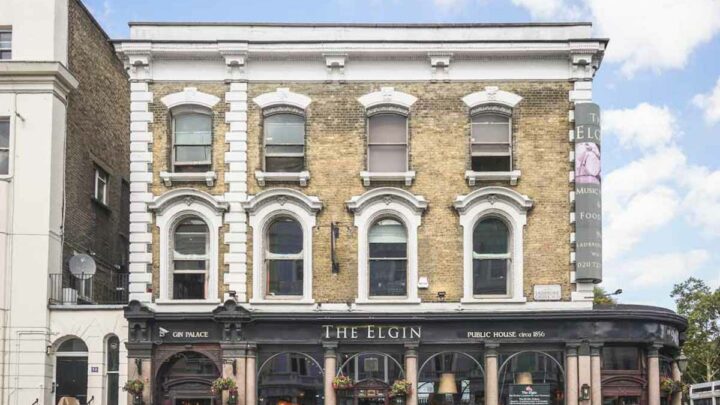 Notting Hill's pub scene is as varied as it is comprehensive. At first glance, you might think that Notting Hill wouldn't offer much in the way of pubs, but you'd be wrong.
The eclectic streets that provide a backdrop for many a colourful Instagram shot and the raucous annual carnival are home to just as diverse a range of boozers.
From long-standing favourites like The Elgin to elegant gastropubs like The Cow, these are the best pubs in Notting Hill you shouldn't miss.
The Best Pubs in Notting Hill
The Elgin
The Elgin has been a personal favourite Notting Hill pub for a long time. As one of London's old Victorian gin palaces, they've stayed true to their heritage with a whopping 40+ gins behind the El Gin bar.
Not a gin fan? Don't fret – there's an extensive (and thoughtful) selection of beers, wines and other sundries to choose from too.
The Elgin is one of the area's more eccentric offerings – don't be surprised if an evening trip finds some live music performances frequented by all the area's cool kids.
The Churchill Arms
Sitting on the cusp of Notting Hill and Kensington, there's no missing the beloved OTT exterior of The Churchill Arms.
Ever come across a picture of that pub that's swathed in a thick canopy of bright blooms (or Christmas trees during the festive season)? Chances are it was The Churchill Arms.
Aside from the bonkers exterior, this Fuller's pub has a lot going for it. The interior (just as crazy – in case you were wondering) is a maze of cosy nooks in which you can sip your pint.
Interestingly, The Churchill Arms is widely credited as being the first pub in London to serve Thai food – the menu is just as authentic and delicious today and makes a refreshing change from the standard gastropub fare.
The Cow
One of the original London gastropubs, Tom Conran-owned boozer The Cow recently celebrated its 25th birthday.
The fact that it's remained just as treasured by locals and those in the know should tell you everything you need to know. Serving largely Northern European cuisine (with a distinct emphasis on seafood), it's not hard to see why The Cow inspired so many pubs to try to emulate a little bit of its magic.
It's refreshingly low-key – letting the food and drink speak for themselves.
The Windsor Castle
The Windsor Castle feels like it's been plucked out of a home counties village and tucked on a backstreet near Notting Hill Gate. The slightly out-of-the-way location means it doesn't get quite as rammed as some of its nearby neighbours.
Be thankful as it's got a gorgeous beer garden and a cosy fire from which you can take your pick depending on the season.
The Mall Tavern
Beer is very much the name of the game at The Mall Tavern – there's an impressive 20 taps to choose from – a guaranteed way to please even the fussiest of beer drinkers. Though, we should also mention that they knock up a killer cocktail for those in the mood.
This cool pub near Notting Hill Gate is also a great contender for a hearty Sunday roast, though we have to be honest, the menu is a winner all week long.
The Eagle
A perfect haven of good food and drink in the heart of Ladbroke Grove, The Eagle is the kind of boozer everyone wishes they had in toddling distance of their home but very few actually do.
What's not to love about this Ladbroke Grove pub? Two voluminous tanks of Truman's Raw Lager – a kolsch style beer that's served directly from the tank sit ready for eager punters, comfy seating and the food, well the food is just excellent.
It's large enough that you can always find a seat, cosy enough that you never want to leave.
The Ladbroke Arms
Feeling a little more Notting Hill than Ladbroke Grove, The Ladbroke Arms is a favourite with locals in both vicinities – so much so that you'll have to jostle for space on the terrace on a sunny day.
The menu is rather ambitiously priced, but delivers on quality. It's not at all unusual to see a gastropub offering British food but few do it as well as The Ladbroke Arms. Unsurprisingly, it does storming trade at the end of the week thanks to its stellar servings of Sunday roasts.
The Sun in Splendour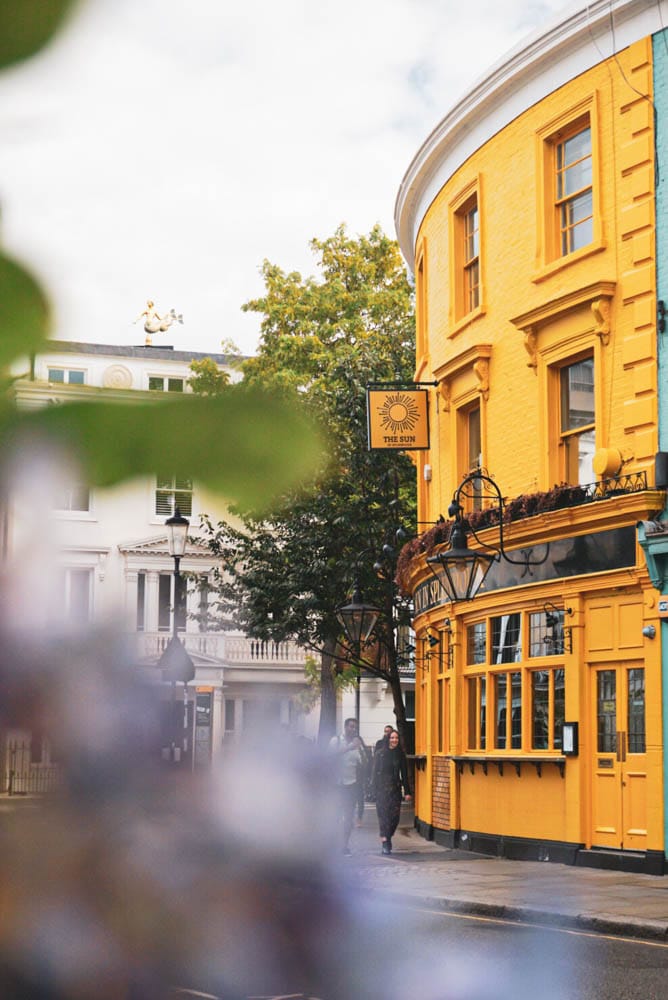 There's no missing the bright yellow exterior of The Sun in Splendour – it's a good thing too as this is one of the Portobello Road pubs you won't want to skip.
It's rumoured to be the oldest boozer in the area – they say that practice makes perfect and never is that truer than in this unashamedly unpretentious pub.
Sure, the menu has expanded over the years and it sure features a lot more wine than it would have in days of yore, but at its heart The Sun in Splendour is a good old-fashioned (though smart) drinking spot.
The Prince Albert
The Prince Albert isn't afraid to shake things up when it comes to pub life. It might look pretty traditional from the outside, but an ever-changing rotation of street food dishes and the famous Gate Theatre upstairs sets it apart.
The location (the pub is only a few steps away from Notting Hill Gate) means it does get busy. The pretty fairy-light lit beer garden is a cosy spot for an al fresco drink in sunnier months.
The KPH
You'd be forgiven for walking straight past an unassuming KPH, which sits on the corner between Ladbroke Grove and Lancaster Road. Though, you'd be a fool – it's one of the best pubs Notting Hill has to offer.
The KPH has long been a historic music venue, but in recent years has had a total revamp. Now the venue is a modern – almost hipster – pub, sans the precocious atmosphere.
The food is great, the decor is pretty, and they've got a wide selection of drinks… what else could it possibly need? We think it might just be the best pub in Notting Hill.
Walmer Castle
Situated on Ledbury Road, Walmer Castle is an iconic pub in Notting Hill. Set over three floors, the pub retains a traditional British feel downstairs, whilst upstairs can be hired for private parties and is a slightly more upmarket affair.
Drinks-wise, expect all the classic ciders and beers, alongside cocktails and a wide selection of whiskey – the Copper Dog is their poison of choice and is also incorporated into plenty of dishes on the food menu.
Better yet, the pub is dog-friendly and actively encourages drinkers to bring their furry friends along.
And if you're still not sold, we'll let you in on a secret: David Beckham and Guy Ritchie actually bought this cracking pub back in 2018. Keep your eyes peeled – Posh Spice might just make an appearance.
Notting Hill Pubs: Map
Looking for More Notting Hill Guides?