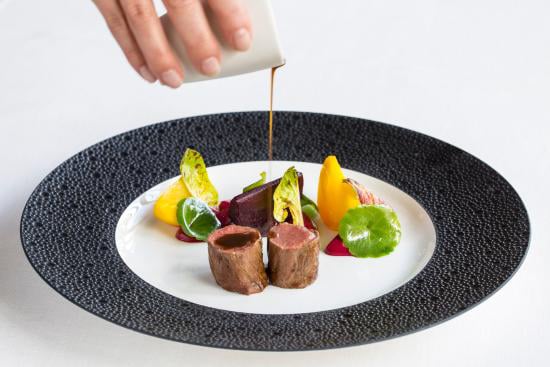 Our insider's guide to the best restaurants in Belgravia.
For fine-dining restaurants and upmarket places to eat, you can't do much better than Belgravia. The neighbourhood is one of London's poshest and is bordered by the equally ritzy neighbours of Knightsbridge and Chelsea.
Where there's money, there are quality restaurants. But which of them are the ones you should be eating at? It's a tough call, but we've put this guide of the best in Belgravia together to help you in your decision.
There aren't really any options for a cheap eat, but if you want some glitz and glam with your meal, Belgravia is the place.
Best Restaurants in Belgravia
Pétrus by Gordon Ramsey
£££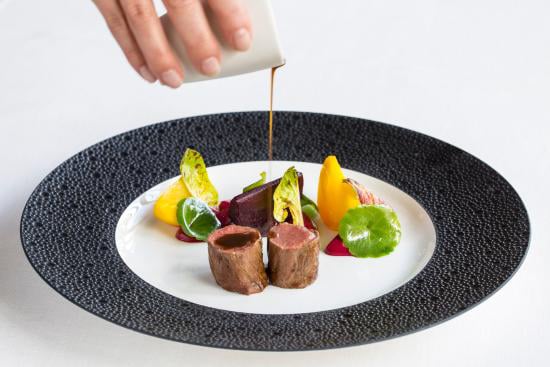 We've said it before and we'll say it again. Ramsey is so much more than just the shouty chef you're used to on tele. Before he became a household name for his temper he was dishing that anger out to chefs in a series of Michelin-starred restaurants all bearing his name. Pétrus is one of those places.
In a neighbourhood full of fine dining spots, this place is still one of the best restaurants Belgravia has to offer. Ramsey's artful approach to presentation and dedication to pushing the boundaries of the classic French/English cookbook is here in force. You will not be disappointed.
Salloos
£££
One of the coolest spots in Belgravia has to be Salloos. This is one of the oldest, if not the oldest Pakistani restaurants in London. With a beautiful townhouse for a home, it also totally captures the razmataz of Belgravia dining.
The food is a far cry from your run-of-the-mill curry house. At Salloos you'll be dining off white tablecloths and in a setting that could just as easily be the backdrop of a French fine-dining restaurant. The food is truly excellent. You must – and we repeat, must – get the lamb chops.
Theo Randall at the Intercontinental
£££
Being the swanky part of town that it is, you're going to find a lot of nice hotels in Belgravia. In those hotels you'll find nice restaurants. One such place is Theo Randall at the Intercontinental, a fine-dining Italian restaurant with a Michelin Plate award.
Randall came up through the River Cafe, one of London's most famous restaurants and a place that has produced a baffling number of world-class chefs. If you need any proof that Randall is among the best of that bunch, it was under his stewardship that the River Cafe won its first Michelin star.
His namesake restaurant at the Intercontinental takes the same high-brow Italian food his reputation was built on and delivers it with a kick. We suggest the tasting menu, a tour de force of what Randall is capable of.
Pantechnicon
££
Pantechnicon is one of those fantastic dining hubs that boasts several fantastic restaurants. With a stunning neoclassical building for its setting, you'll find across its many floors a handful of cuisines and one rooftop restaurant.
That rooftop is all the more special for the fact that Belgravia dining rarely comes with a view – especially one as impressive as the vistas of Green Park from Roof Garden.
Don't get too carried away with the promise of a good view and overlook Sachi though. That's Pantechnicon's resident Japanese restaurant – the elegant look and stylish sushi counter make for an equally charming place to eat.
Muse By Tom Aikens
£££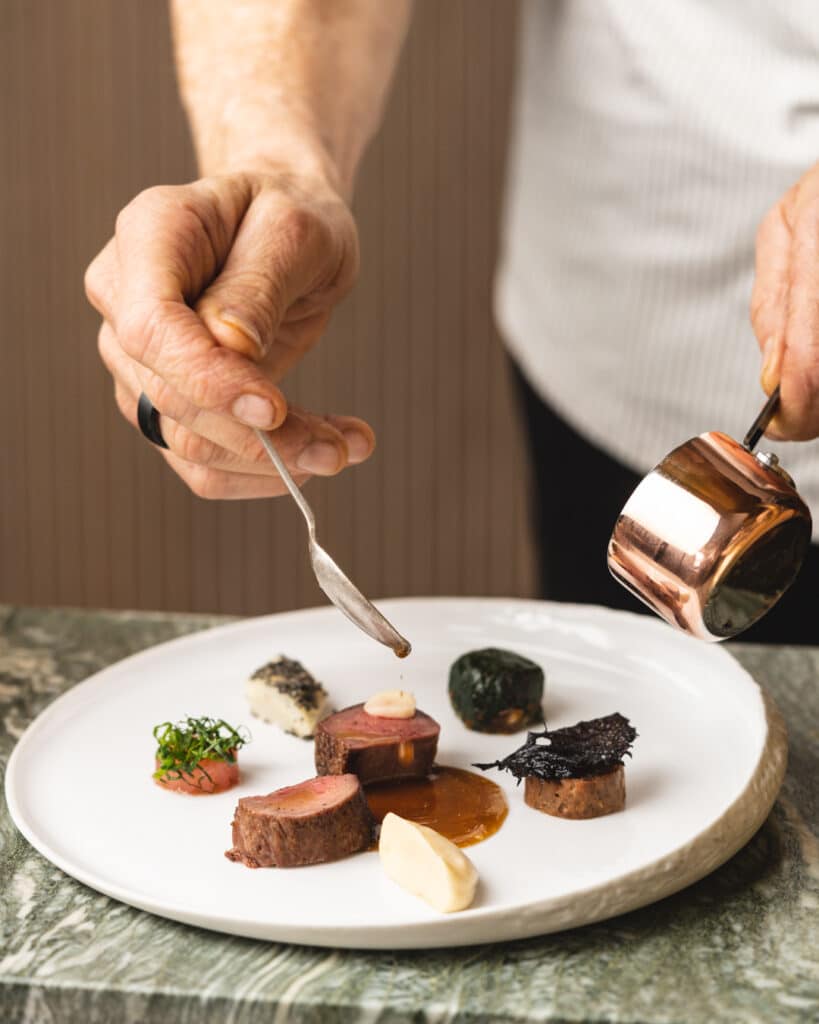 To add another star-studded restaurant to your Belgravia dining options, let's talk Tom Aikens. The chef is a wunderkind, achieving two Michelin stars by the age of 26, was shot to fame, even having the honour of carrying the Olympic torch as part of the relay in 2012.
One of his latest ventures in a career spanning too many grand restaurants to reproduce effectively here, is Muse. It's super conceptual, taking from key moments of his life to inspire dishes.
Plates of seafood will be introduced with stories of Aikens' mishaps at the beach, bread will be served with side notes on his memories of smelling freshly baked loaves as a child. It will, to some people, come across as unabashed narcissism, but there's no denying that the food is the product of a chef at the absolute top of his game.
Hunan
££
One of our favourite Chinese restaurants in London, Hunan does things differently. Instead of ordering from a menu like you would elsewhere, at Hunan you tell the chefs what kind of flavours you like and they create a bespoke menu for you.
Everything that they bring out is a surprise, and all of it usually very good. The Hunanese influence means things can get spicy (and we mean really spicy) but of course you can let them know that's not what you're into and they'll lean into the restaurant's Taiwanese influences instead.
Boisdale of Belgravia
££
A classic British restaurant that matches a theme here by being located in one of the neighbourhood's townhouses, Boisdale of Belgravia is a bit of a classic dining spot.
They do things right, blending the sophistication of a gentlemen's club with the atmosphere of a 40s jazz club. The space boasts a couple of restaurants, a gorgeous courtyard and even a cigar terrace.
Our favourite of the above is MacDonald Bar and Restaurant. They regularly have live music to accompany your meal and the atmosphere is one that inspires a good time. You can't beat it.
Other Places to Eat in Belgravia
A couple of other options to consider for dining out in Mayfair
Mosimann's
£££
Mosimann's is one of the most exclusive restaurants in London. They've got a reputation for cooking some of the best Nouvelle Cuisine in the country, let alone the city. It's served in a truly divine setting – literally. You'll be eating in a former church, with all of the grandeur the structure imbues still in place.
There's a catch though. You have to be a member to eat here. That membership costs £1,500 a year. You can get lunchtime memberships for £600 but you won't be able to go for dinner. The choice is yours, should you have the cash to burn.
Practical Tips for Exploring The Best Belgravia Restaurants
Belgravia is one of the swankiest parts of London and as such eating out here comes with a hefty price tag. It's the kind of neighbourhood you go to for a fancy meal, not a cheap bite.
If you are looking for something a bit less up-market you might find it in nearby Chelsea or Knightsbridge – they're also pretty posh, but Chelsea in particular has more of an eclectic spread of restaurants.
Make sure you book ahead, or at least call to ensure you can get a table. The restaurants in this guide are popular and will fill up quickly, especially at the weekend.
Belgravia Restaurants: Map
Read More Guides for Belgravia and Nearby