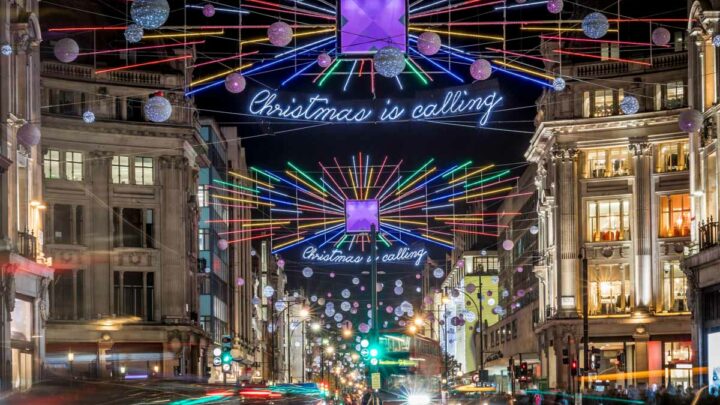 With Christmas fast approaching, London neighbourhoods are announcing their light switch-on dates. Here's the lowdown.
Would you believe it: Christmas is on the horizon once again. It always seems to swing around so fast. Not that we're complaining. We love the festive season, and we especially love it in London (We might even go as fast as to say it's one of the best places for it. Sorry New York, sorry Germany).
We've got top markets and excellent food to indulge in, but one of the most exciting parts of the year, we happen to think, are the Christmas light switch-ons. With the festive period about to get into full swing, London's neighbourhoods are announcing the dates of their switch-ons. Here's what we know so far…
Dates for Christmas Light Switch-Ons
The lights come on at different times throughout November. Some are still yet to announce their switch on dates, but here are the ones that have been confirmed.
Oxford Street – 2nd November
Carnaby Street – 8th November
Covent Garden – 7th November
Seven Dials – 7th November
Marylebone Village – 9th November
Regent Street – 9th November
St James' – 9th November
Kew Gardens – 15th November
Belgravia – 15th November
Mayfair 16th November
Chelsea – 18th November
St Katharine Docks – 24th November
What to Look Out For
Oxford Street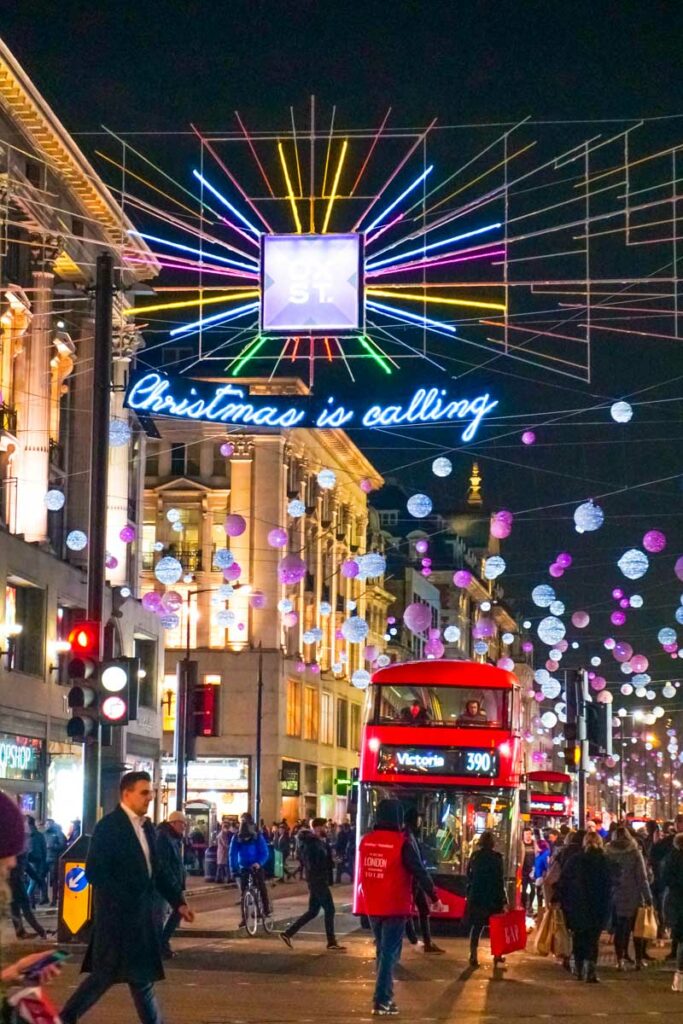 The big one of the year is usually Oxford Street. This year they have partnered up with Starlight, a charity that supports children in hospital, aiding their recovery and their wellbeing during their stay. They've invited the public to sponsor a star in their light display with all the proceeds going to charity. You can do that here.
Oh, and as usual their light display is made of recycled material, making it 75% more energy efficient than your regular setup.
Marylebone Village
Marylebone Village is doing a bit more than just turning on their lights. To go along with the 9th of November's switch on they've got charity tombolas, candle painting workshops, a ferris wheel and even a pop-up Santa's Grotto.
Regent's Street and St James'
In other news, the lights on Regent's Street and St James' will get a few extra locations. Those will be at Glasshouse Street, Heddon Street, Quadrant Arcade, St James's Market and Swallow Street.
St Katharine Docks
For the night of their light switch on (24th November) St Katharine Docks will be dishing out free mulled wine and mince pies. Their lights are especially beautiful as they are right on the waterfront, adding another element of sparkle.
More to Come
Of course there are more big announcements to come, Bond Street, King's Cross, Leadenhall Market and (our low-key fav) The Churchill Arms. We'll have a full guide with more information and what's best to see coming very soon.
And if you're wondering about the Trafalgar Square Christmas Tree, that's going to be on from December 7th.
Christmas Light Switch-Ons: Practical Information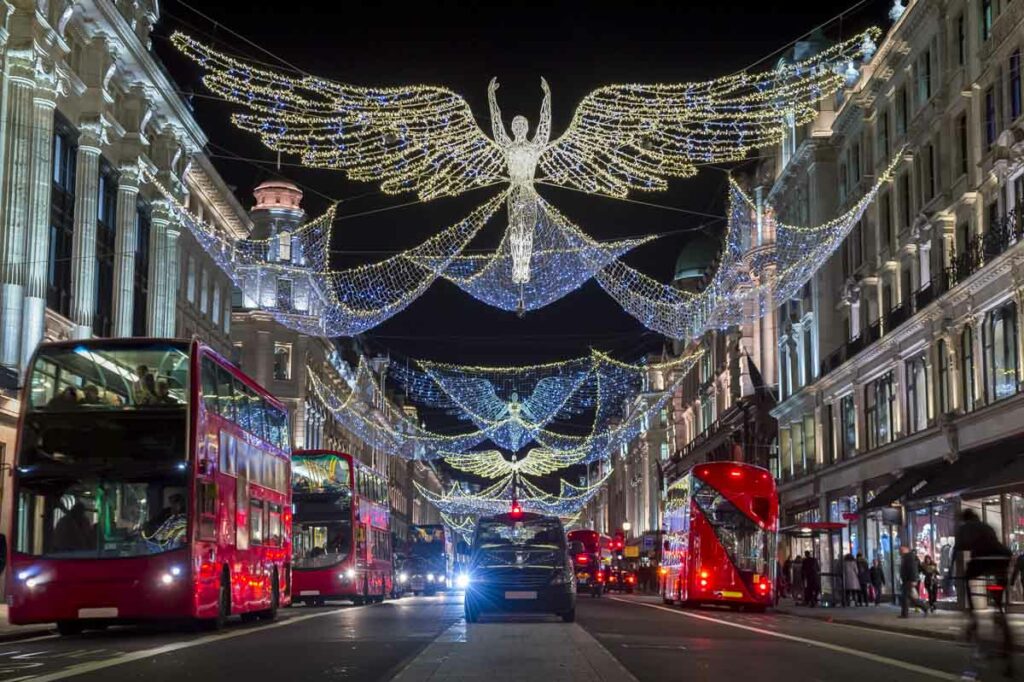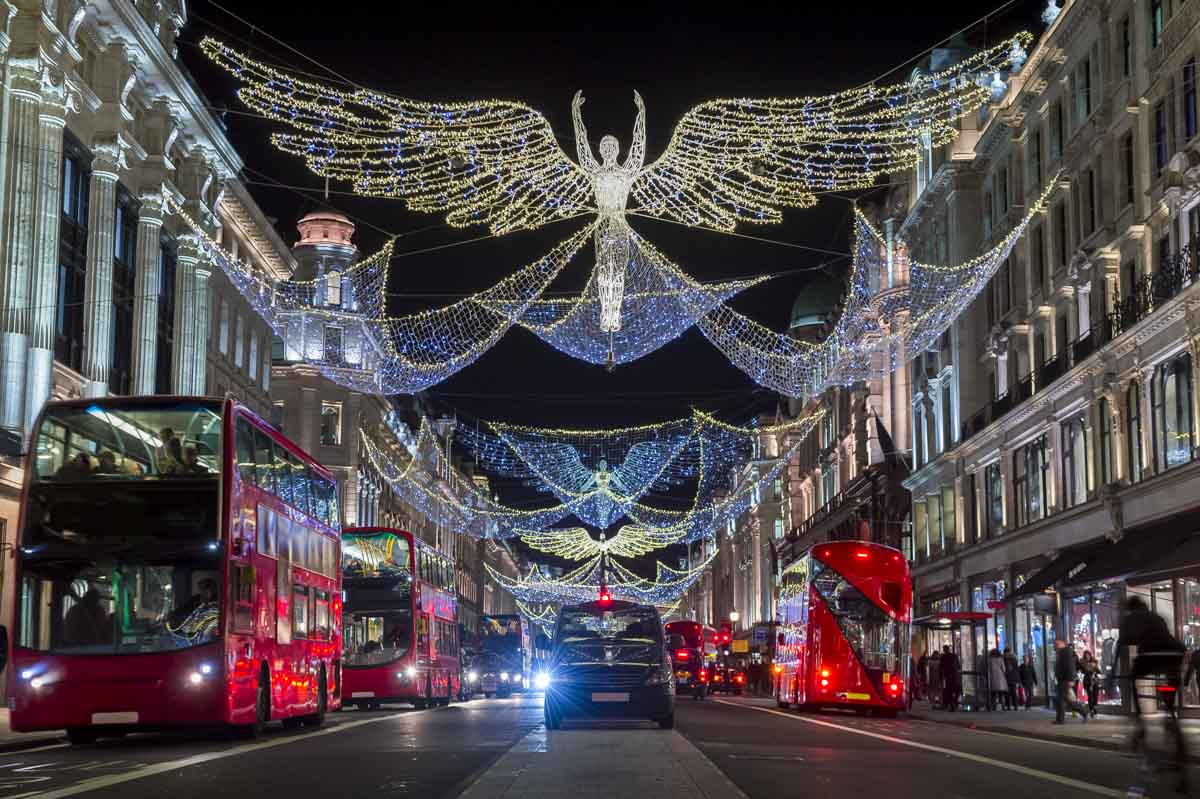 When: Throughout November
Where: Citywide
Christmas Light Switch-Ons: Map