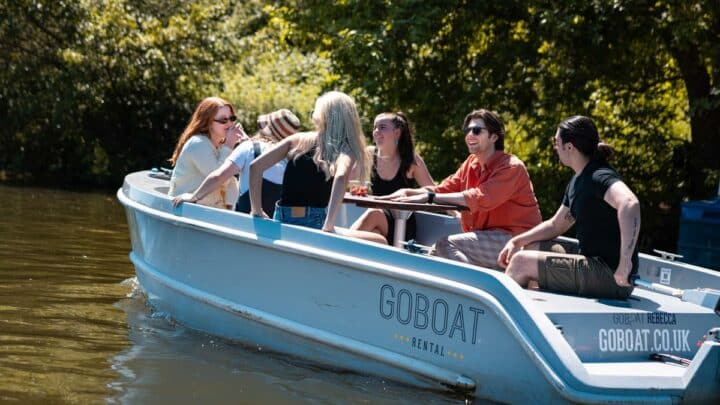 Looking for the ultimate jaunt around London? How about zipping around London's waterways? Here's why you need to book yourself a GoBoat RN.
* This article is sponsored by GoBoat *
We know, we know. The capital is jam-packed with epic experiences. But, how many let you become captain and navigate your way through London's waterways? Not many, huh? That's what we thought.
Enter GoBoat, the eco-friendly boating company that allows you to do just that.
They offer one-, two-, or three-hour self-driving boat trips that allow you to admire London's top sights from the tranquillity of the water. All you need to do is pack a picnic.
Here's what you need to know.
Fancy renting a GoBoat? Use the promo code 'LONDONXLONDON' for 20% off all bookings at the 3 London locations (Kingston, Canary Wharf, and Paddington). Valid from 13th September until 31st October.
The Ultimate Self-Drive Boating Experience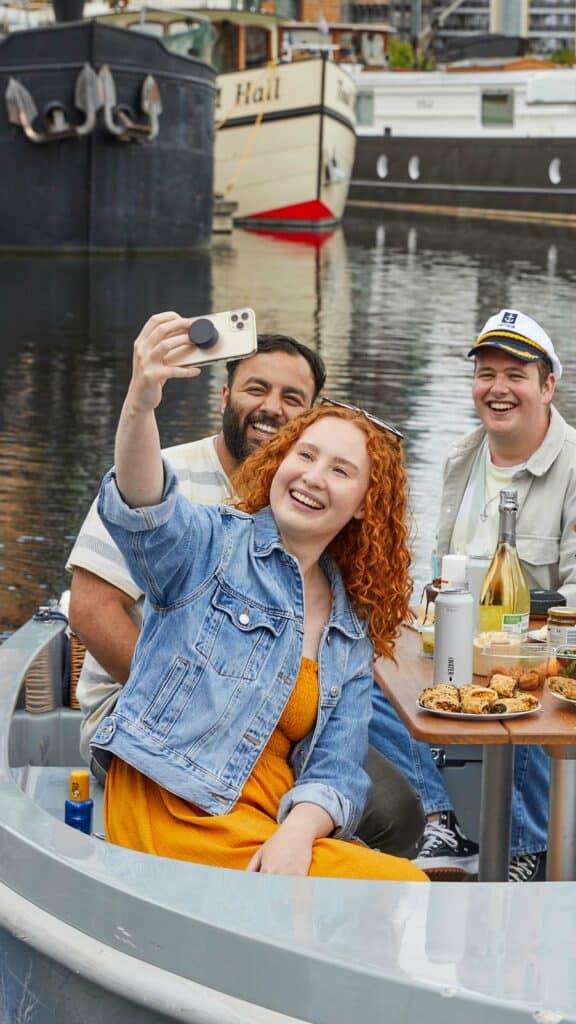 Groups of up to 8 are able to charter a private picnic boat from three locations in London: Paddington, Kingston, and Canary Wharf.
Not got a clue how to steer a boat? Don't worry, it's simple enough. Visitors will be given a safety briefing and a full tutorial before being let loose. Life jackets and buoyancy aids are also provided.
Once you're fully clued up, that's when the fun begins.
Enjoy a chilled-out cruise at 4mph as you take in some of London's most impressive sights, including Hampton Court Palace (Kingston), London Docklands (Canary Wharf), Little Venice, and Camden Lock (Paddington).
Three Stunning Routes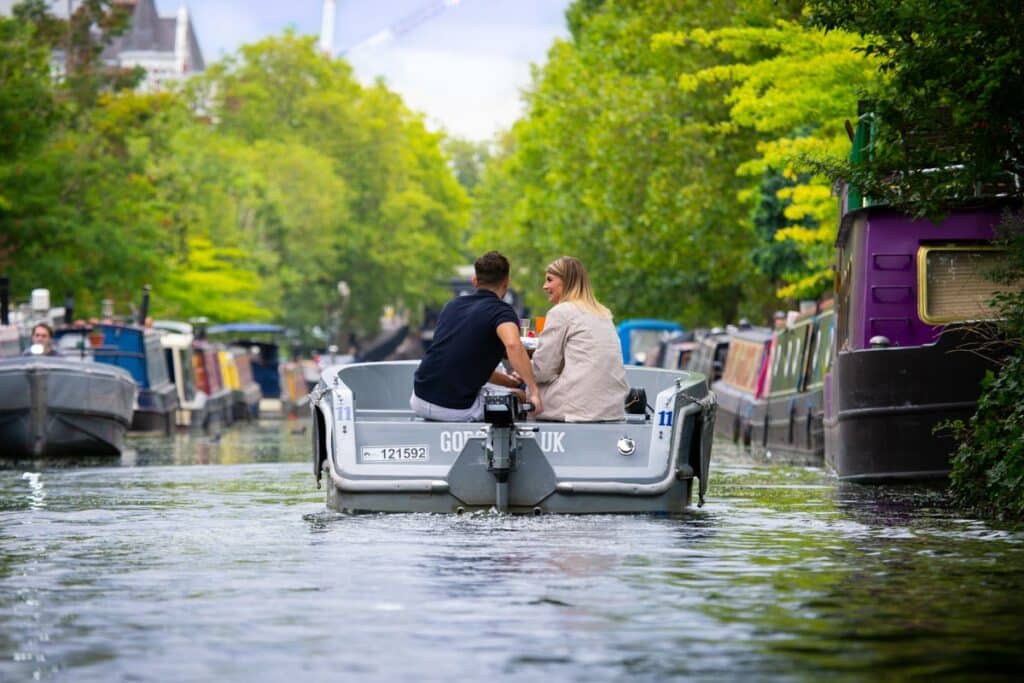 With three London routes to choose from, you're guaranteed to spot plenty of London landmarks along the way.
Oh, and there's no need to stress about time management either, depending on whether you've chosen a 1, 2, or 3-hour journey, the friendly staff will be able to give you an estimated spot along the route where you should turn around to avoid those dreaded late-return fees.
Kingston
There are two routes to choose from if you're travelling from Kingston.
The first is towards Teddington Lock, passing by Kingston Rail Bridge and Trowlock Island. And we're not kidding when we say that this one might just be the most beautiful.
The second route sees you sail towards the magnificent Hampton Court Palace passing Ravens Ait and Thames Ditton – from there, it's a gentle swoop back around to where you started.
Paddington
Now, we don't like to pick favourites, but the Paddington route is pretty epic. Don't believe us? How does jetting off around the likes of Little Venice, Maida Hill Tunnel, and Camden sound? Very cool, we think.
It might be the only alcohol-free location, but the chance to spot London Zoo and float along the edge of Regent's Park more than makes up for it. Who needs booze when you've got views?
Canary Wharf
If you're a nervous captain (not that you need to be, it's ridiculously easy to drive these boats), Canary Wharf is the best route for beginners.
With the safety net of a more enclosed adventure, you'll pass the London Docklands, Billingsgate Market, and Wood Wharf. This is where you can find a quiet spot for a floating picnic before performing a 360-degree spin and heading back to where you came from.
A Fully Electric Boat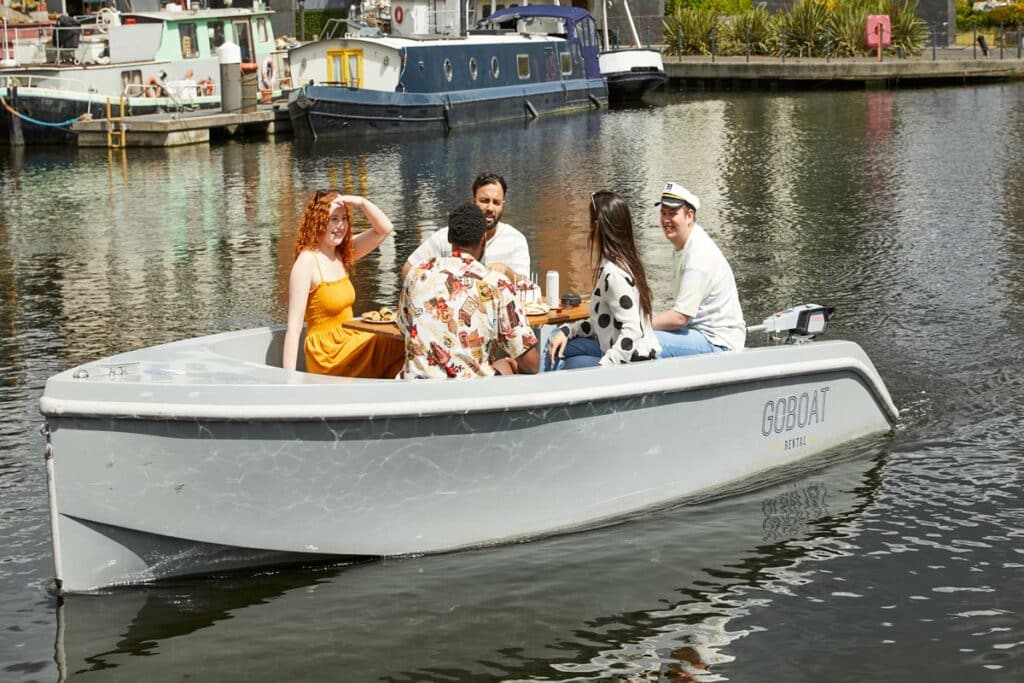 No need to worry about shouting over a roaring engine, GoBoats are packed with an almost-silent electric motor. Eco-friendly AND quiet? We love.
In fact, that's just the tip of the green iceberg, as the deck and table on each boat have been crafted from sustainably-sourced forestry wood, and the foam kernel is made of 80% recycled PET – the equivalent of 600 plastic bottles. Pretty impressive, if you ask us.
Sustainability aside, each boat has a central table surrounded by seating, which is ideal if you're travelling with groups of friends and family (or for a work colleague outing – shiver).
Though, don't feel the need to fill all 8 seats; this experience makes for a great date. You're more than welcome – in fact, you're encouraged – to bring your own picnic and there are plenty of blankets in case things get a little chilly throughout the day (and ponchos, should it rain).
Fancy renting a GoBoat? Use the promo code 'LONDONXLONDON' for 20% off all bookings at the 3 London locations (Kingston, Canary Wharf, and Paddington). Valid from 13th September until 31st October.
GoBoat: Practical Information
Alcohol can be consumed on the boat at the Kingston and Canary Wharf locations (Paddington is alcohol-free), but the captain must always remain sober. That said, limits apply – 2 cans of beer per person or 1 bottle of wine/prosecco for every 2 people.
Can't drive? Not a problem – you'll get a full safety briefing before you're let loose on the water.
Children and dogs are welcome on GoBoats, though all children will be fitted with life jackets which must be worn throughout the ride.
Prices for the GoBoat experience are as follows: 1 hour = £95; 2 hours = £135; 3 hours = £175.