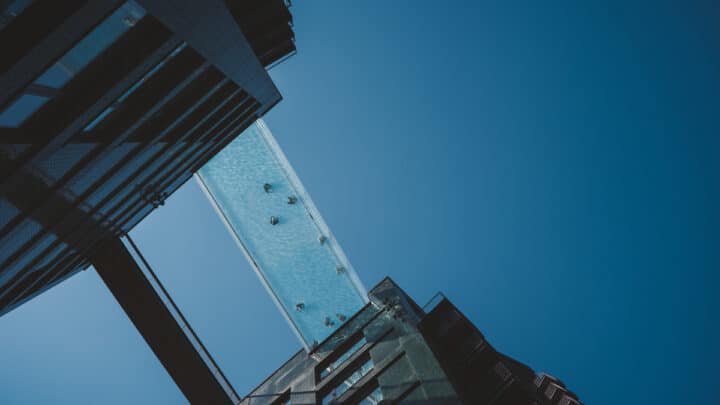 London's Sky Pool is the hottest place to cool off in the capital. Here's what you need to know before you go.
We're sure you've seen a picture of London's Sky Pool (if not, where on earth have you been?). It took the world – and, more importantly, Instagram – by storm when it opened last year.
It's said to be the first floating pool in the world, and visiting is not for the faint hearted. If you get vertigo, look away now. Just staring at it makes us feel a little wobbly.
Dying to take a dip? Here's what you need to know.
Wait, What is the London Sky Pool?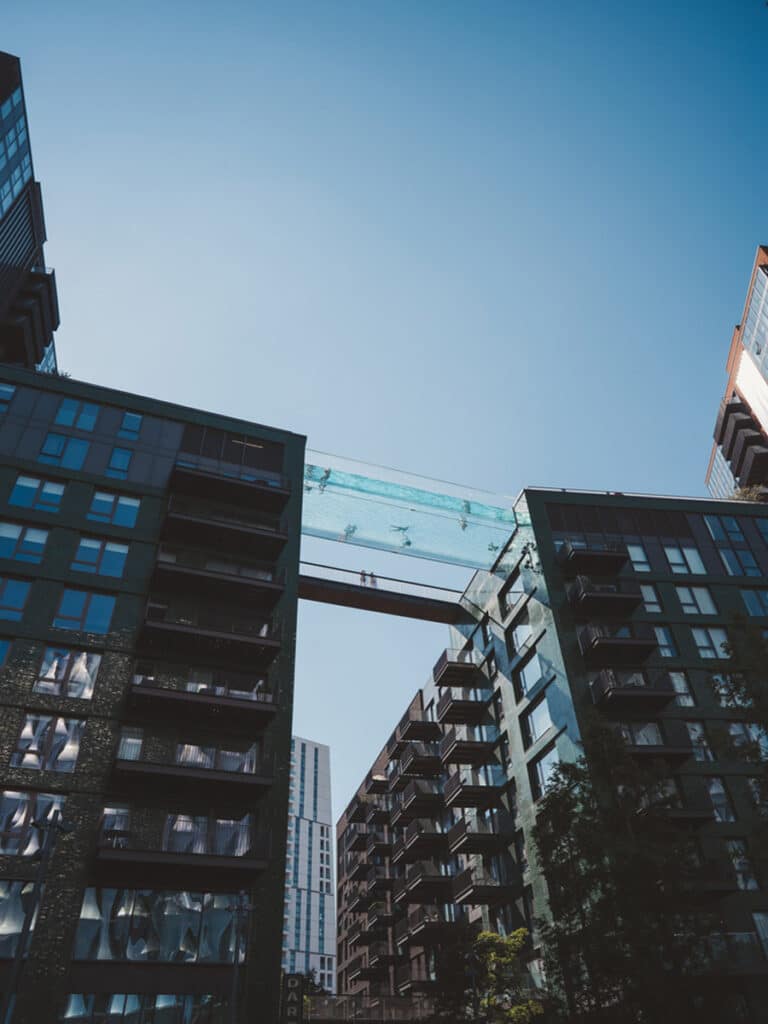 The glass bottom Sky Pool in London is a swimming pool at the Embassy Gardens development in Nine Elms, close to Battersea Park. Suspended a whopping 35 metres above the ground (for context, that's ten storeys high), it forms a sort of swimming pool bridge between two tall apartment buildings.
It definitely isn't for the faint hearted and is said to feel like you're swimming in the clouds. It was built and contextualised by EcoWorld Ballymore and is said by Architectural Digest to be "the world's largest single piece of load-bearing acrylic". Pretty scary stuff.
The acrylic frame weighs 50 tonnes. That's 50 tonnes suspended in the air – yes, we also have our mouths wide open.
Interestingly, the structure of the pool was actually fabricated in the US by acrylic engineers Reynolds Polymer, and then shipped from Texas in a three-week journey. It was designed by the structural engineers Eckersley O'Callaghan and HAL Architects.
When Did it Open?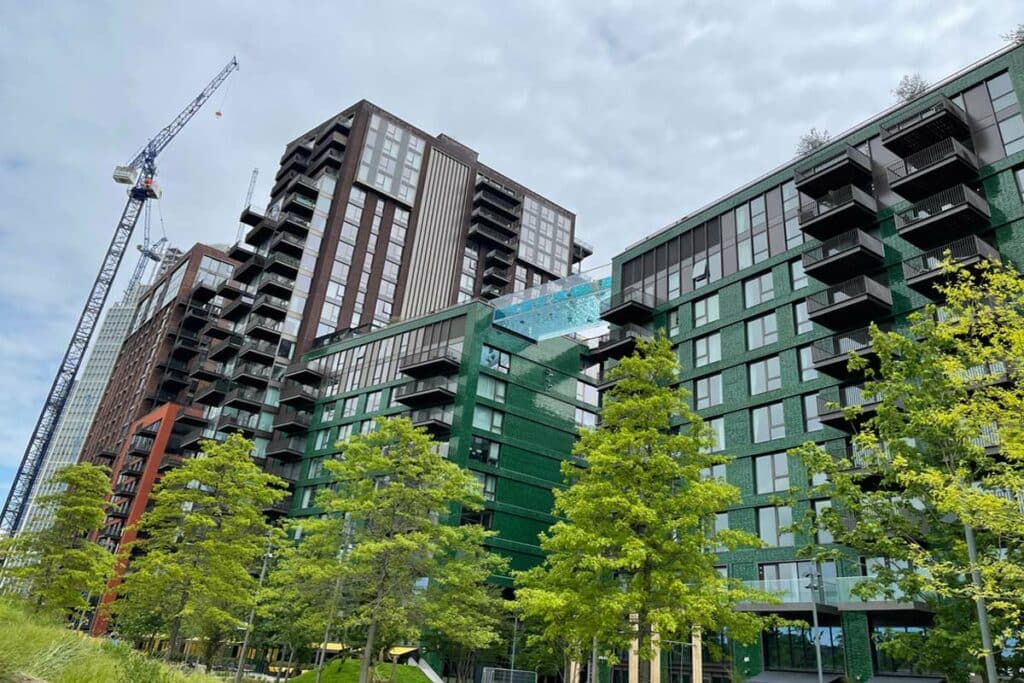 The pool officially opened to the lucky residents of Embassy Gardens on the 19th May 2021 – you'll probably remember a really short clip taken by BBC News which featured a few people in the pool and was viewed over 10 million times.
They had a pretty incredible opening ceremony hosted by broadcaster Roman Kemp which featured a performance by Aquabatix, a synchronised swimming team. Now that is a party we would have loved to attend.
Can I Swim in the Sky Pool?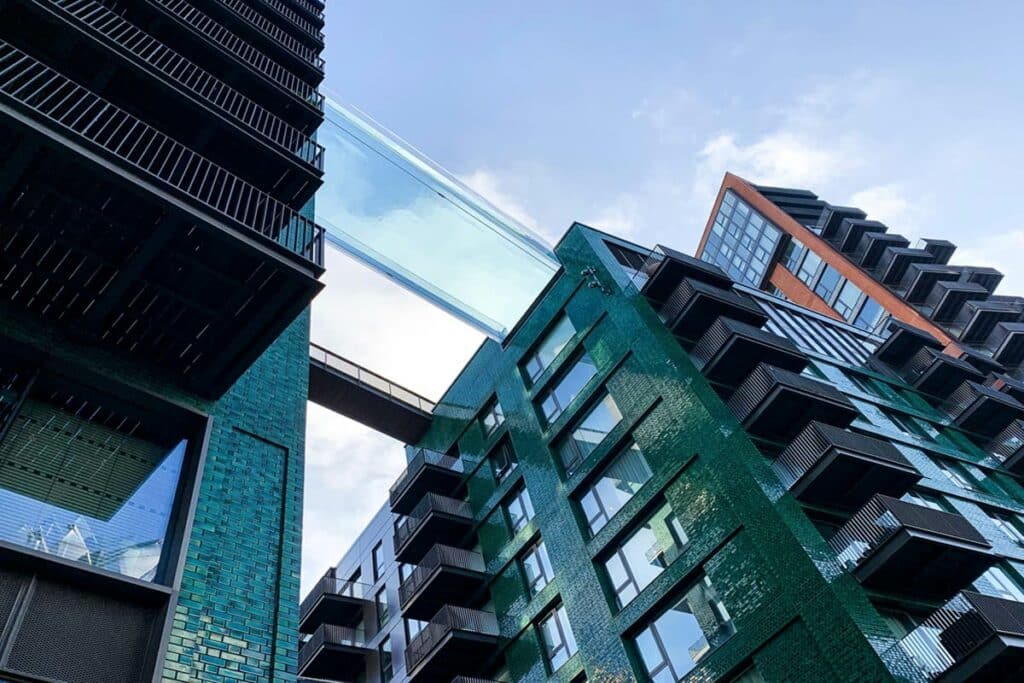 We're sorry to be the bearers of bad news – the pool isn't open to the public and only to residents living at the Embassy Gardens. So, unfortunately, you can't just hop in the pool and splash around like a mermaid, but you can watch in wonder from below and still take it all in.
Of course, where there's a will there's a way. You could make friends with someone who lives at Embassy Gardens, or you could even rent one of the apartments and have full access to the pool in doing so.
It's a pricey option for a swim, but if you really want to, we're sure you'll find a way (it's on the 10th floor in case you do get in).
And Why Should You Visit?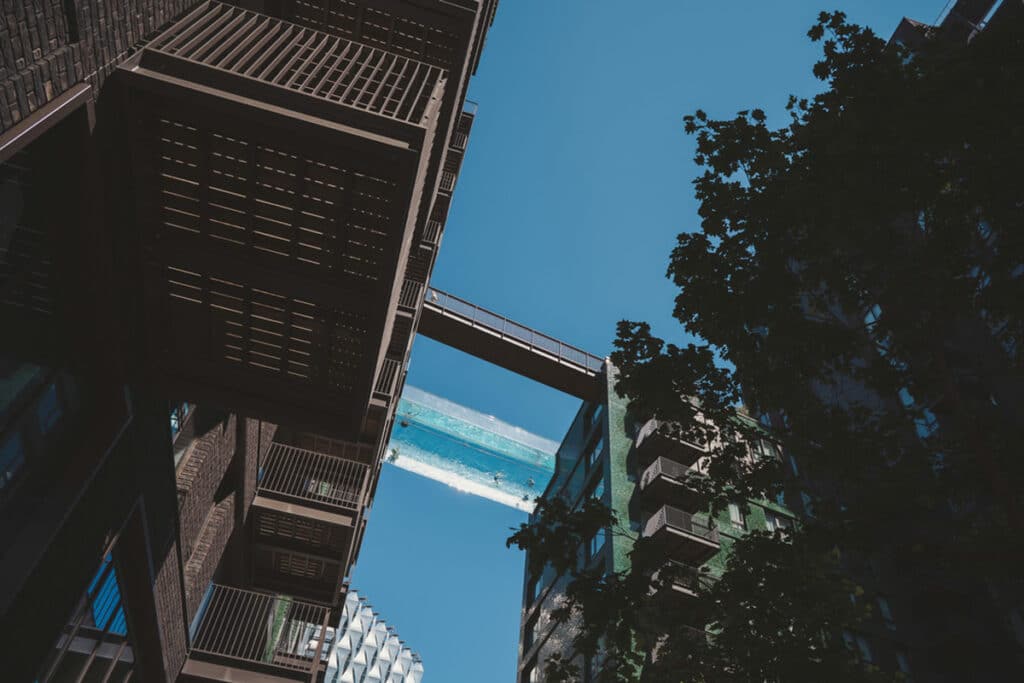 Well, it's worth a visit purely because of its architectural wizardry. It's rare that you find a one-off pool floating in the sky between two giant buildings, especially in London.
Don't believe us?
Architecture critics have also been gushing over the pool – esteemed critic Oliver Wainwright has been incredibly generous with his review of the Sky Pool, describing the pool as a "liquid blue block suspended against the sky" that had the "gravity-defying quality" of a painting by René Magritte.
Wow. If that isn't a compliment, we don't know what is.
Aside from that, the actual visit to the Sky Pool London won't take very long, so whilst you're in the area you should go for a walk around Battersea Park and visit some of the (many) wonderful things South West London has to offer.
In fact, Battersea is one of our favourite parks and we recommend grabbing a coffee from the Pear Tree Cafe before taking a stroll. If you're lucky, you might even catch some live jazz as they have bands playing during the week looking over the water.
Practical Tips for Visiting the London Sky Pool
The sky swimming pool in London is a pretty incredible sight, so make sure you visit on a sunny day to get the perfect picture.
As we've mentioned, it's very difficult for the general public to get into the Sky Pool. Your best bet is to make friends with someone who lives at Embassy Gardens at get in as a guest. How? We'll leave that up to you. It's time to get creative.
London Sky Pool: Map