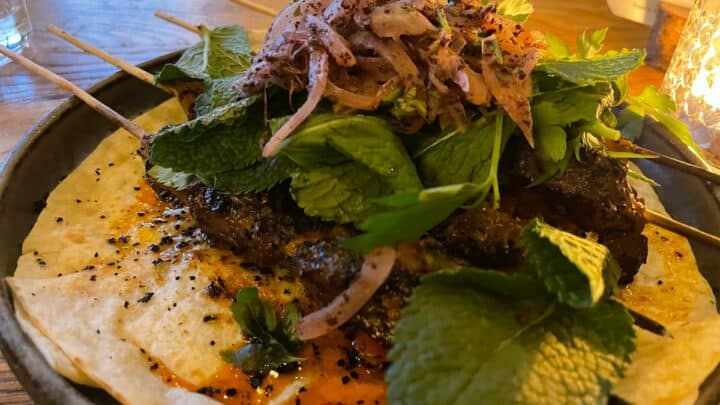 We review The Counter – Kemal Demirasal's modern-Turkish restaurant that's quietly been getting very creative with charcoal in Notting Hill.
If you were looking for a restaurant serving creative Turkish food in a contemporary – some might say hipster – setting, it's safe to assume you'd start looking in East London. What about if we told you that your best option is all the way on the other side of town, in Notting Hill.
The Counter is a UK-first-time venture from Turkish chef Kemal Demirasal, once a wind surfing champion who taught himself how to cook and went on to take the Turkish food scene by storm.
His Notting Hill HQ has been open for about a year, quietly doing steady business and honing, in a very artisanal way, a menu of charcoal-heavy, modern Turkish food.
Its first year has not been a flashy one. There have been no queues around the block. They've not had to suspend reservations. You can bet it won't stay that way for long.
Counter – The Full Review
The Food
We sat down, hungry, unaware we were about to try some of the best food we've eaten this year.
A portion of lamb liver skewers were our first taste of what The Counter is about: getting creative with Turkish food – and as was revealed over the spread of small plates that made up our first course, they do this so very artfully.
Those skewers are the perfect example. Eaten on their own, they might be described as overcooked, but when wrapped in flatbread laden with tabbouleh, that charred livery funk transformed into something simply magical.
Suspicions that The Counter might actually be up to some very creative cooking were further confirmed by a dish of chocolate babaganoush – reason alone why you should be making time to eat here. Smoky, sweet, utterly delicious and unlike anything we've tried before.
Plates of lamb tartare and vine leaves (dolmades), served here deconstructed, came next but were upstaged by that babaganoush or the kibbeh that followed. Even still they would have passed muster at any other restaurant.
But that kibbeh…
Chewy rather than crispy, packed with the most fragrant, deeply flavoured minced beef (is there a touch of cheese in there?), sauced with tahini, they were a perfect finish to a first course that had very much wowed thanks to the quality of the cooking.
For mains, we had a kofte kebab. Sure, it might not have been as outside-the-box as the small plates but there's only so much you can tamper with a dish that probably predates civilisation.
We ate it with sides of tomato salad and a bowl of pilaf rice that was seasoned with dried fruit and spice and ended up tasting something like a savoury christmas cake – one that was in perfect harmony with the kebab.
The Drink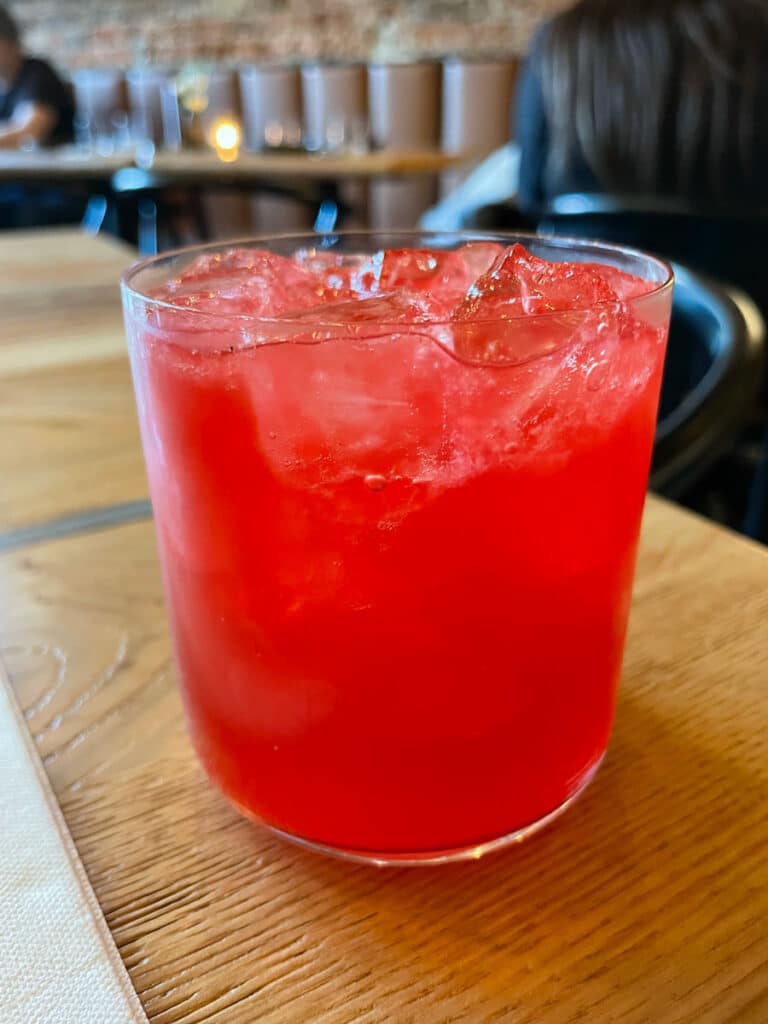 We had a couple of cocktails before moving onto the vino. Both of them were superb. We started to wonder if they were actually worthy of their own bar.
First, cocktails: the kazandibi – drink form of a Turkish dessert made of hazelnut-fat-washed bourbon (jeez), salted caramel, touched with orange and cinnamon. It's probably time to mention that drinks at the counter are ridiculously creative.
They spin on classics – the kazandibi resembles something like an old fashioned – but manage to be something completely their own. They're also downright delicious.
At least that's certainly true of the two we tried – the other being a şalgam, something like a Turkish margarita made with fermented black carrot juice (!) and a mezcal base, hints of pandan and a touch of spice.
The Look
The Counter looks cool. Nice red-brick is left exposed, as are a few bits of pipe and such. The tabletops may have been made from salvaged wood and the waiter's station looks taken straight out of some stylish mother's front room. The result is a sort of effortless design that is perfectly tasteful.
Even though it seems like this stuff is all cobbled together, it's totally in unity. The addition of some low lamp lighting gives the relaxed feel of a living room at a dinner party.
The other thing you'll notice about The Counter is the counter itself – a bartop behind which the kitchen knocks out the food. From the tables you can catch the occasional lick of flame leaping off the grill, but sat up there you'd be front row at some prime food theatre.
Final Thoughts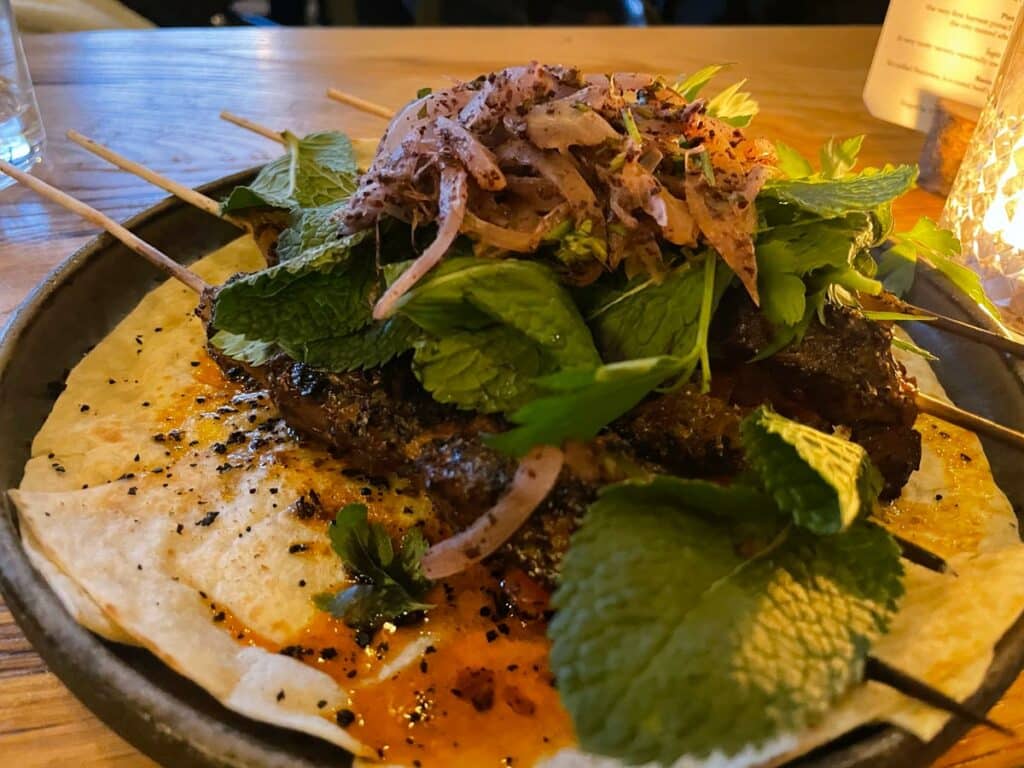 This is somewhere you need to have on your restaurant list, and not the one of places you never get around to visiting. We're spoiled in London for restaurants that are taking old techniques and making them modern. Few are doing it as well as The Counter
The Counter – Practical Information and Map
Price: ££
Address: 108 Golborne Rd, London W10 5PS
Map
Review 5 / 5
Dining At: Counter - The Full Review
The Counter
This is somewhere you need to have on your restaurant list, and not the one of places you never get around to visiting. We're spoiled in London for restaurants that are taking old techniques and making them modern. Few are doing it as well as The Counter