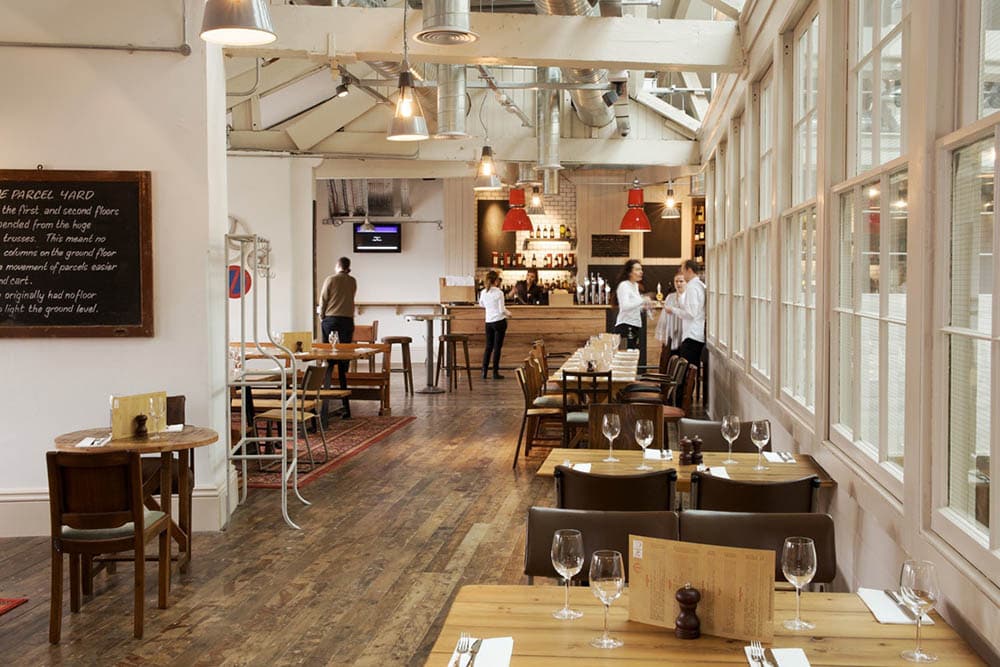 King's Cross isn't short on a great pub or two. Whether you're looking for a swanky gastropub or a traditional boozer, these are the King's Cross pubs you shouldn't miss.
The Best Pubs in King's Cross
The Fellow
You might not think that you'd find an awesome pub just around the corner from bland King's Cross, but The Fellow comes as a much welcome surprise.
It's a gastropub downstairs, cocktail bar upstairs – there's even a hidden roof terrace dotted with punters making the most of summer.
This isn't any old stick-in-the-mud drinking spot – the wine list alone is enough to prove that. Add to that some legendary pub roasts and a craft beer lineup to satisfy any aficionado and you can see why The Fellow is a local favourite.
King Charles I
A long-standing local favourite (their nickname for it used to be the Craic House – which pretty much says it all), the charming interior of King Charles I is pretty small. It packs in the character though – cosy without being too rammed, it's a place where people know each other by name but are still friendly to unfamiliar faces.
I should mention that the decor errs on the weird side of things – taxidermy and a few random signs are just the start.
There's no food (though you're welcome to order in for delivery to the pub) and only a small selection of wine – it's an old-fashioned, characterful pub and makes no apologies about it.
The Lexington
Sitting on the cusp of King's Cross and Angel, The Lexington started its life as The Belvedere Tavern way back when in 1780. It appeared in its current iteration in 2008 and has been a mainstay of the local pub scene ever since.
More than just your standard boozer, the downstairs bar offers a wide selection of American and British beers – complemented by a well-curated list of American whiskeys. Upstairs plays host to a roster of live music across all genres.
The Lighterman
Boasting a cool location right next to the Granary Square section of Regent's Canal, The Lighterman sits firmly within gastropub territory.
The contemporary building may not look much like a pub but when it comes to its menu – packed with classics like Dexter beef burgers and fish and chips – it's pure British gastropub all the way.
The Parcel Yard
Before you roll your eyes at its location right bang next to the Harry Potter Shop, know that The Parcel Yard is the King's Cross station pub that will surprise you. Refuting the well-known truth that station pubs leave a lot to be desired, The Parcel Yard rocks up with a beautiful interior (it's housed in the station's Victorian offices), great people-watching opportunities and a perfectly pleasant if unadventurous line-up behind the bar courtesy of Fuller's.
The Queen's Head
The bright blue sign hanging above Victorian pub The Queen's Head gives it serious curb appeal – but there's much more to love about this quaint drinking spot.
This is a beer-lover's dream – the eclectic range of kegged beers and cask ales change pretty frequently. Nevermind if an old favourite disappears – you're guaranteed to find an equally tasty replacement.
In the mood for something a little punchier? They've got an impressive whisky list packed with keenly-priced rare finds like Bruichladdich's Octomore and Ardbeg's Perpetuum.

The Norfolk Arms
At a time when so many pubs are part of ever-expanding chains, indie King's Cross pub The Norfolk Arms comes as a breath of fresh air.
The focus on food marks it as a gastropub – but the excellent tapas and a la carte menu wouldn't look out of place in a (good) continental bistro. The wine list is gently-priced – rare in this part of town. Reservations recommended.
The Star of Kings
Although it's scaled several notches on London's development ladder, there are still pockets of King's Cross' lively music heritage if you know where to go. The Star of Kings is one such place – a quirky pub that somehow manages to pull off an extensive craft beer menu, cocktail list, food menu and booming sound system that fuels many a night out in the area.
There's little pretension here, but character by the buckets. Want to go all out? Hire the karaoke room which comes complete with a Lucky Voice sing station.
The Driver
This behemoth of a pub straddles five floors – so whatever mood you're in, you probably won't go wrong at The Driver.
Five floors sounds a bit overwhelming, so let's break it down – floor one – the main pub and dining room. Floor two – a smaller bar, three, the saloon, four the penthouse and five a cool roof terrace that hosts summer barbecues and DJ nights. It's stylish, fun and there's always a seat.
The Scottish Stores
I wouldn't blame you if you'd avoided the building housing The Scottish Stores until its current iteration – before it became one of the nicest pubs in King's Cross, it was a rather dodgy strip club. Turns out you can teach an old pub new tricks.
These days it's all spruced up – with the gorgeous wood panelling restored and a craft beer lineup that erases any doubt about its transformation.
King's Cross Pubs: Map
Looking for More King's Cross Guides?
Check these out…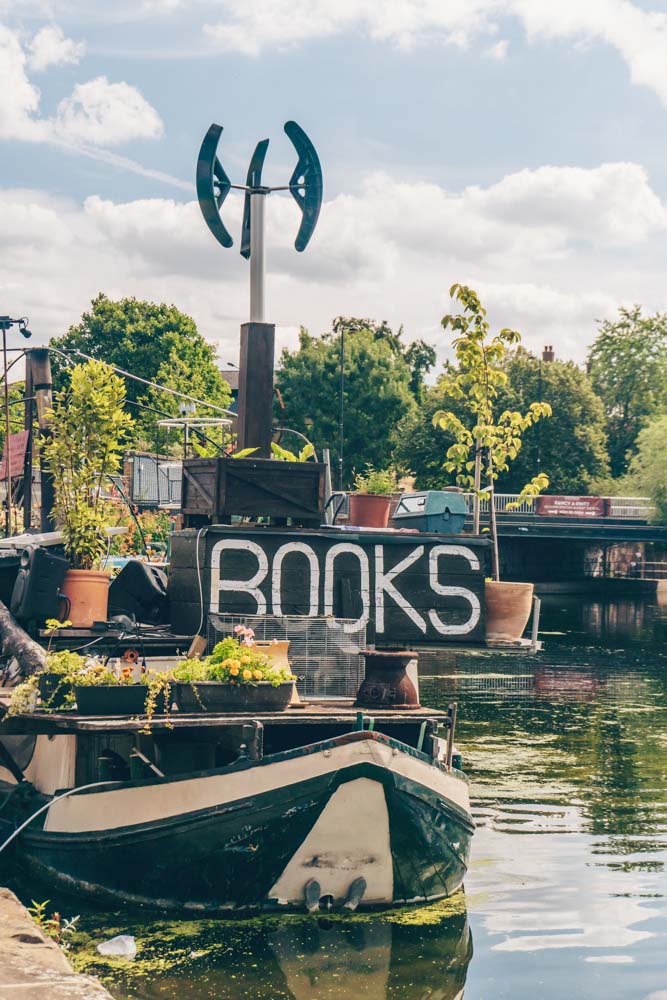 The King's Cross Area Guide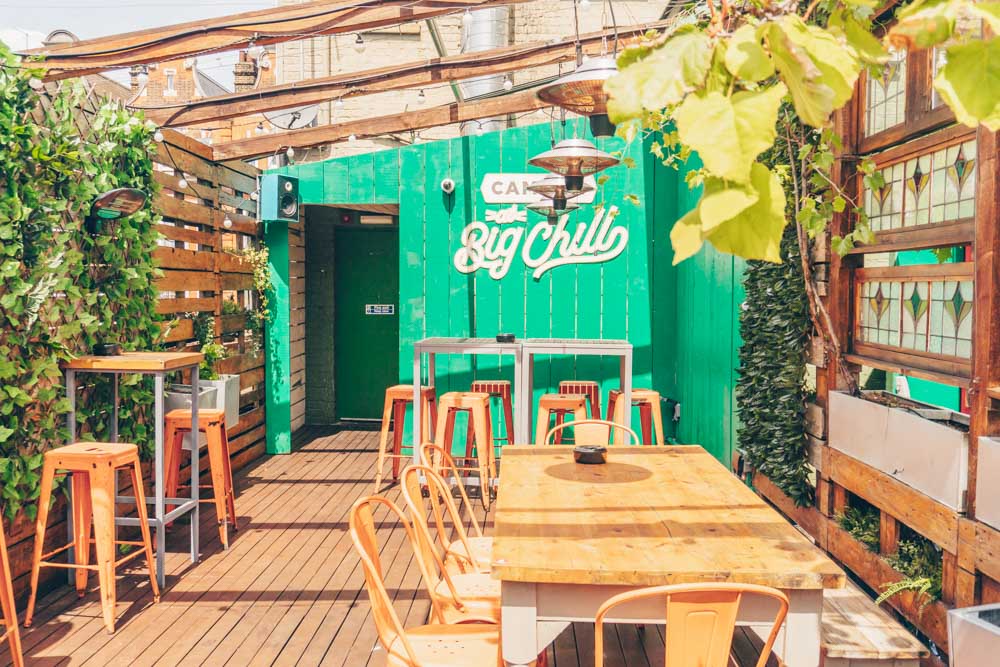 Best Bars in King's Cross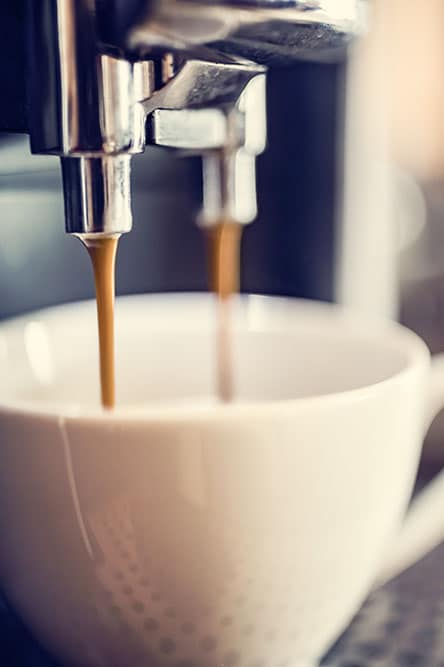 The Best Coffee Shops in King's Cross