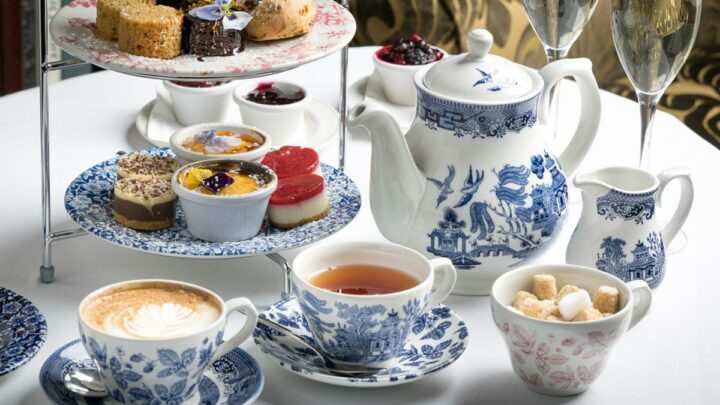 Looking for the best tea shops in London? We British folks know a thing or two about our tea, so it should come as no surprise that London boasts plenty of fabulous tea rooms.
It's quite the stereotype, but it's true – British people love tea. Our tea is the best and this is a hill we will die on.
Whether you're a PG Tips kind of person or you swear that Yorkshire Tea is the best, we can all agree that nothing quite beats a cup of that sweet, sweet nectar.
Tea is tradition – it's what we use to bond, to chill out, and to even make friends.
Tea. Is. Life.
And where better to start looking for the best tea shop than the capital itself? Let's go.
The Best Tea Shops & Tea Rooms in London
Fortnum & Mason
Piccadilly
If you only have time to visit one London tea shop, make it the pioneers of tea, Fortnum & Mason. By far, the best tea shop in London.
It isn't even really a tea shop, it's a whole multi-story store. For over three centuries, Fortnum & Mason has had the task to sell the most aristocratic of teas. The selection of tea is totally unmatched and leagues above others.
We recommend going a little off-piste with your tea and stepping out of your comfort zone. Why not give Chocolate Violet Tea a go? Or even better, Gin & Tonic Tea. Yeah, we'll take that one.
Mariage Frères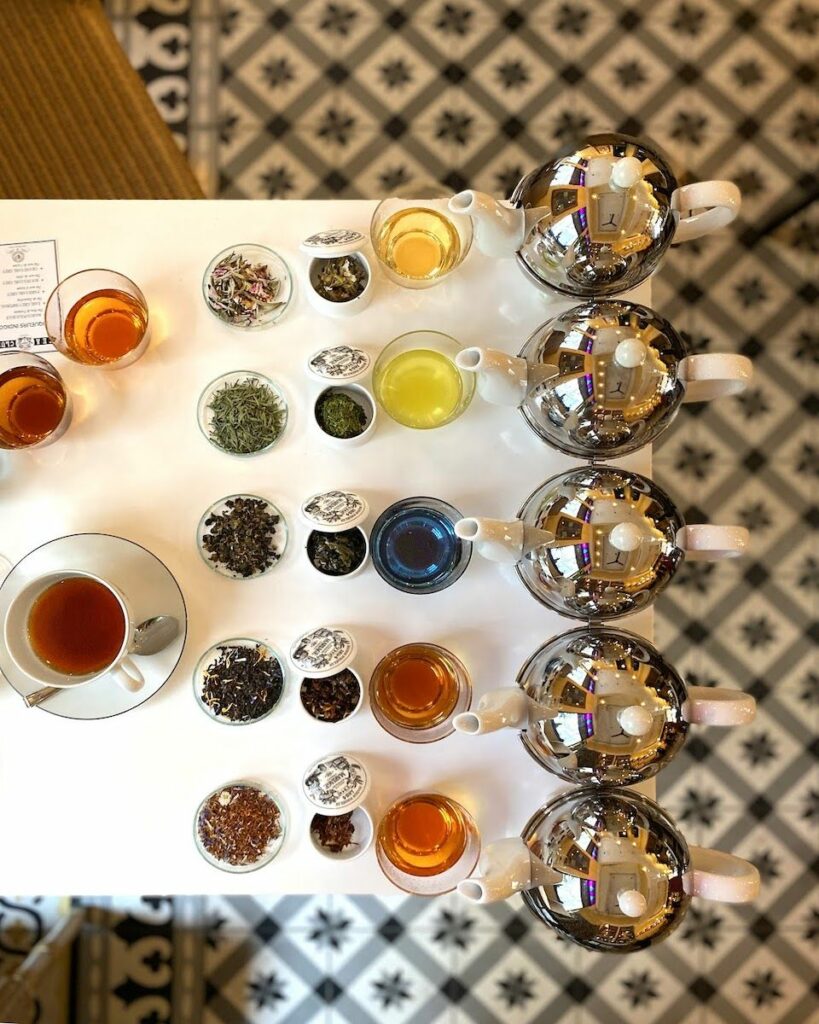 Yes, it is a French tea brand but who said we had to stick to the quintessential English stuff? Mariage Freres, dating back to 1845, knows how to tea.
It's sophisticated and sexy, as expected of the French. On the ground floor, head down to the Comptoir de Thé to see what a sea of tea looks like.
At Mariage Frères, upstairs you can try out the Salon De Thé, a stunning room you'll never want to leave. And then on the floor above that, you'll find the Musé du Thé. You guessed it, a tea museum full of all the tea accessories you might need for a perfectly elevated cuppa.
Does this spot serve the best tea in London? We think so.
Postcard Teas
Postcard Teas takes the crown for the cutest tea shop in London. We recommend trying one of their London Blends (go for the London Rose), it's a pretty incredible tea experience just trying it.
With blends of English, Chinese and Japanese teas – Postcard Teas is a great place to buy small batches of very high quality tea.
On Sunday mornings, they also create a morning of tea tasting based on different themes or teas (aged teas, oolong teas etc.) Not for the faint hearted – this is for the real deal tea lovers.
London Tea Exchange
Did someone say the widest selection of single estate premium teas from across the globe? Yes, we did.
The London Tea Exchange has a mind boggling variety of tea with expert staff and a great bit of kit for the ultimate tea tasting experience.
It's basically a museum of tea and the best tea shop in East London. It's also a great place to unwind after a long day shopping in Brick Lane markets. Enjoy the soothing music and get whisked away with delicious teas.
Candella Tea Room
Known as one of the best places in London for afternoon tea and best scones in London, it's hard to beat Candella Tea Room.
Full of antique plates, drawing on the walls and great ambiance with jazz music in the background. You can smell the strong beautiful scent of tea before you even order!
We suggest going for the full shebang: tea, mini sandwiches, scones and cakes. Opting for the full experience is worth it… trust us.
East London Tea Company
An event space in East London that offers the entire collection of East London Tea Company's collection of teas (now that's a mouthful), to come in and try.
They even have click and collect for any orders placed online.
We know it's not your super traditional tea room but it has to be one of the coolest tea shops in the capital (of course it is, it's in East London.)
Customer feedback is central to how they develop their blends, and their teas have been vetted by the mobs so they know what they're doing when it comes to delicious tea. Go check it out for yourself.
The Chinese Tea Company
Anyone who is into Chinese tea or simply wants to know more about it, then you've hit the jackpot. Look no further because The Chinese Tea Company is your place.
It's small and cosy with the most beautiful shelves of teas, pots and cups. We suggest checking out their website and booking onto one of their tea tastings – we think it's one of the best tea tastings in London.
Traditional and perfect with reasonable prices and great teaware.
Camden Tea Shop
An award-winning tea shop in the heart of Camden Market with an incredible ambience and selection of tea. The Camden Tea Shop travels the world to find the best new and exciting delicious teas and experiences.
Currently, they've got over 100 different teas so fear not – you won't be pigeon-holed into normal tea. This is far from normal tea. Think green teas, black teas and even rare teas – you can even grab gifts and tea brewing products.
They have a lovely view of Camden Market and boast professional staff. The Camden Tea Shop is top quality, in every sense of the word.
Whittard of Chelsea Regent Street
West End
Now, Whittards is a brand that has many tea places in London, but the Regent Street shop is the very best.
The ethos behind Whittard of Chelsea is all about taking some time away from the real world and giving yourself the luxury of wonderful leaf teas (as well as gorgeous aromatic coffees and creative hot chocolates).
This would be our number one recommendation for a tea shop if you're looking to give some English tea to a foreign friend or someone who's feeling a little nostalgic. It's a great treat and insight into English culture, as well as being absolutely delicious.
You'll quickly be enticed by some free samples, enjoy.
My Cup of Tea LTD
Head down to the flagship store nestled in the heart of Soho and walk into the dreamiest and most exciting tea shop in London. London teas, as well as global teas, are available to smell, touch, and taste.
It's all sold by weight at My Cup of Tea, alongside a very special selection of teaware. They host tastings and workshops and mainly just want to share their vast knowledge of teas with you.
We love the fennel tisane, a homemade blend of deliciousness. Or maybe go for an expertly prepared matcha? This tea shop is next level.
Tea2you
This is the best tea shop in South London, right in the centre of Borough Market. Tea2you are a specialist purveyor of fine teas. They search high and low to find the best quality tea and pay such attention to detail.
It's a hidden gem – you can buy loose teas or tea bags as well as get hot drinks to take-away. A little trick, if you buy a hot drink they'll give you a refill of hot water in the same cup so you can just keep on sippin.
The business also supports a school in the Himalayan foothills. This truly is one of the best tea shops London boasts.
T2 Tea
Multiple Locations
Originating from Melbourne, Australia, T2 Tea has over 20 years of brewing experience and has stories all over Auz, the UK, the US and Singapore. They have one of the largest collections of tea we've ever laid our little British eyes upon. Swoon.
Yes, the tea is spellbindingly good but we really recommend having a mooch around for some great tea sets, cups and saucers. They are quite expensive but it's definitely worth it.
Practical Tips for Exploring London's Tea Shops
Classic British tea is English Breakfast Tea, with a little bit of milk and some sugar if you like it sweet. Though, we recommend trying some of the more unusual teas too – it makes for a lovely souvenir.
If you don't know where to start, book in for a tea-tasting experience. During the tasting, you'll get to try multiple teas and you can then purchase your favourite.
London Tea Rooms & Tea Shops: Map