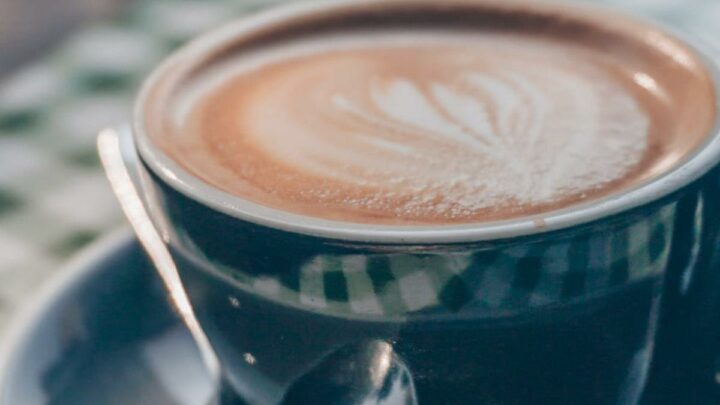 Need a caffeine boost? Or a cosy spot to chat with a friend? This guide to the best coffee shops in London has you covered.
Coffee aficionados will understand that there's a massive difference between an average cup of Joe and a quality brew. Even so, it can be hard to tell where to find the best coffee in London.
That's where we step in. We've singled out the best coffee shops across London so you don't need to waste another day on a dismal cup of brown sludge.
Let's dive straight in and take a look at the best coffee shops London has to offer.
Tip: Fancy something stronger than coffee? Here are some of the best bars in London to grab a cocktail or three. Wink.
Best Coffee Shops in London: Top Picks
Monmouth Coffee Company
This cosy coffee shop in London has everything you need, from coffee accessories like ceramic filter cones to bags of whole-bean and ground coffee.
Monmouth is very focused on sourcing their beans from small producers worldwide rather than large companies to ensure a unique and tantalising taste (that's guilt-free). What's more, they have their own roasters on-site, and coffee connoisseurs the world over know that fresh roasted is always optimal for great-tasting coffee.
They'll spoil you for choice with their healthy stock of sweet treats to compliment your morning brew. They're also forging ahead on the eco-friendly front by doing away with paper cups and offering reusable rent-a-cups instead.
Attendant
This Australian-based coffee company is another contender for the best coffee shop London has to offer. Attendant is the perfect spot if you love to bask in a beautifully decorated environment while sipping a singularly fantastic cup of coffee.
They source their green beans from small estates and farms, which are subsequently roasted and ground on the premises, so your brew is the best it can be. The food is picture-perfect too, so take a snapshot for your Instagram before you dive fork-first into the delectable locally-sourced dishes.
Don't ask them for coffee syrups, though, because they won't encourage using the flavour-altering liquids in their perfectly pure brew.
The Black Penny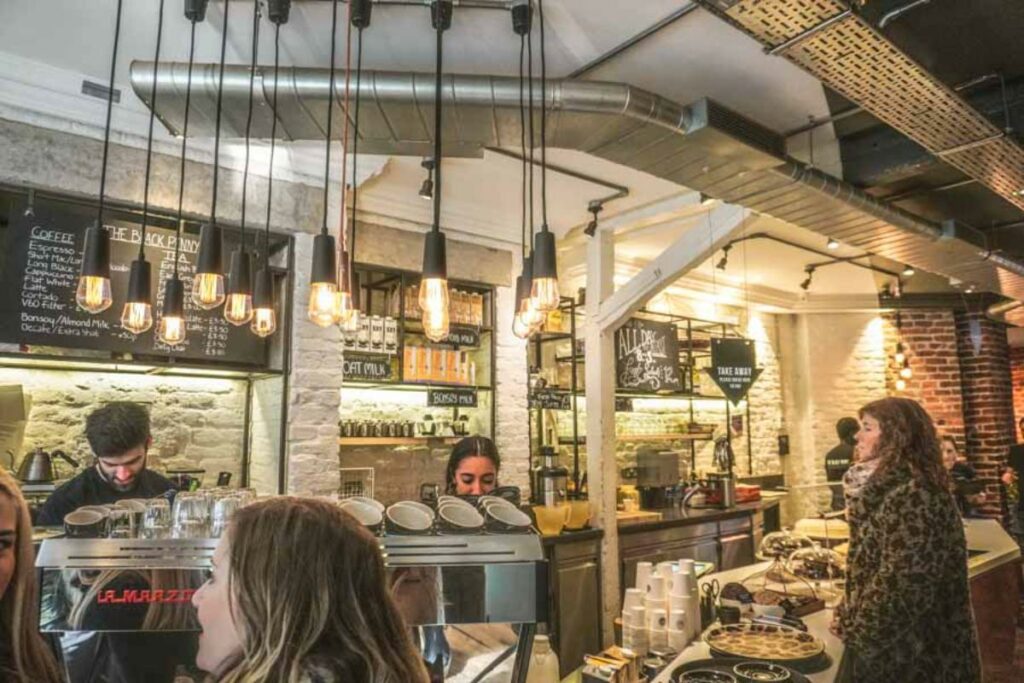 The Black Penny is where industrial chic meets appetising delights and arguably the best coffee in central London. The food is scrumptious, the decor moody, and the coffee is on point.
They have several different blends available at any given time, as well as some alternate brew options such as cortado, buttered espresso, and syphon coffee.
The locations have an area in the back where a calendar of events take place, such as poetry readings and music performances, to name but a few. Overall, it's a top-notch café well worth the hype.
Best Coffee Shops in Central London
Flat White
The owner founded this independent coffee shop in London to fulfill their desire to find a creamy flat white in the city.
Its roots are firmly planted in both Australia and New Zealand coffee lore, and expats from the two countries often congregate there for their daily cuppa. Flat White is firm on ethically sourced coffee, so the beans they use come from Drop Coffee Roasters in Sweden.
It's a company renowned for being one of the best, and the flavours of their single origins are proof enough that they deserve the title. With daily deliveries of artisanal breads and pastries from local producers, this little coffee house also produces an impressive avocado-centric menu.
Notes
Covent Garden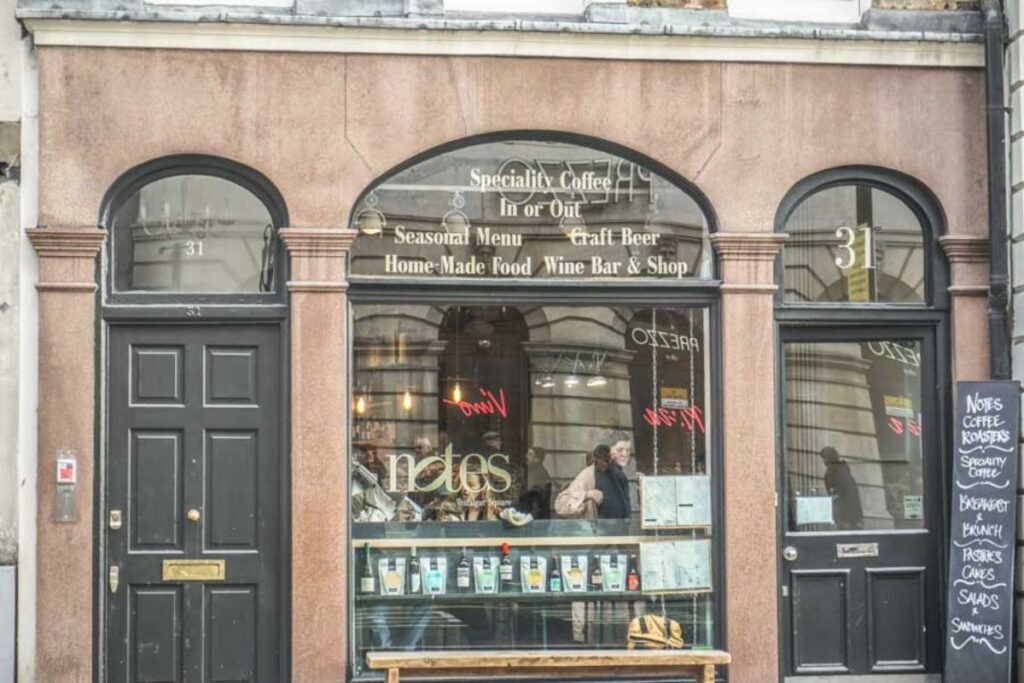 Notes is a coffee chain that stays open until 9:00 pm on average. The stores have a solid industrial interior design and a generally trendy ambience, making it a perfect place to study or work while you sip away on a latte.
Their coffee is a delicious single-origin, small-batch roasted in East London before it's shuttled across to its stores. They take every care to ensure the high-grade quality and taste of their beans.
They also offer a popular charcuterie and selection of cocktails in the later hours.
Caravan
One of the few late night coffee shops in London, Caravan is a piece of coffee heaven that offers ample space and fantastic foods to please your palate.
It's become an area favourite for breakfast owing to its great menu and delicious, ethically sourced coffee. Java magicians roast the green beans on a Loring Smart Roaster at the company's headquarters in Islington, and you can taste the freshness in every sip.
Pop in for a cocktail after work or coffee and a pud (the rhubarb and ginger polenta is incredible) at brunchtime.
Best Coffee Shops in East London
Look Mum No Hands!
Shoreditch
If you're looking for a London coffee shop with a lot going on, this is it. Not only is Look Mum No Hands! a bike workshop complete with cycling merchandise, but it's also a wine bar that happens to be a fantastic coffee shop to boot.
Cyclists looking for a hot cup of java after their morning ride aren't their only patrons, though. They've become very popular in recent years thanks to their hearty no-frills brunches and exquisite espresso-based drinks.
They use the renowned London coffee roaster Square Mile, whose Red Brick blend is the foundation for their delectable coffees. They might not use a slow-drip method, but the coffee is excellent all the same.
Alchemy Coffee
Shoreditch
A truly quirky coffee shop in London, at Alchemy they serve your brew in a conical beaker and glass cup set in a truly scientific fashion.
The decor might be shabby chic and slightly industrial, but there's nothing shabby about this cup of java. The taste they coax from their lightly roasted beans in an 85-year-old machine is astounding.
If you prefer standard mugs over beakers, don't fret. Their lattes come in dark ceramic mugs complete with seahorse foam art. Unfortunately, they close at 3:00 pm, so it's more of a morning or brunch excursion.
Origin
Shoreditch
This minimalist espresso coffee bar in London considers coffee an art, and they're willing to travel the world each year in search of the finest beans to prove it.
The black and white decor mixed with the rich smells of their exquisite brew makes Origin a chic haven for those seeking their daily dose of caffeine. Space is a luxury there, but it's worth the pilgrimage, even if you have to grab a takeaway cup.
Ozone Coffee
Shoreditch
If you're looking for a cool coffee shop in London, try Ozone Coffee for a java experience you aren't likely to forget in a hurry. The decor leans towards industrial shabby chic with trailing plants to freshen up the colour palette.
Their beans are omni-roasted in house, so no matter how you prefer your coffee, it'll taste like perfection. Sometimes there might be a bit of a wait for your cup of Joe, but once your lips touch the black brew, you'll forget all faults.
Best Coffee Shops in North London
Greenberry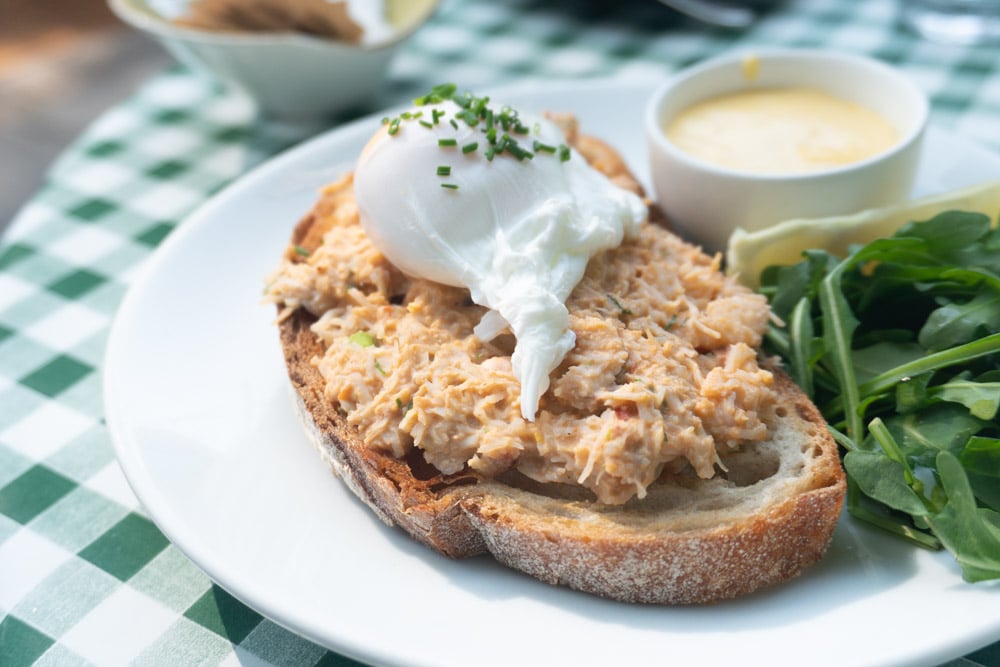 With more rustic charm than an English country garden, Greenberry will lull you into a cosy food coma with its incredible menu. And what could be better than a cup of their delicious coffee to get you going again?
It may be a café-slash-restaurant, but the coffee is totally bingeworthy. This neighbourhood loves their weekend brunches, so book in advance to avoid missing out on the ultimate quaint café experience.
Primrose Bakery
Primrose Hill
Cake and coffee: it's the ultimate soulmate pairing. Settle down for a cupcake or three to go with your mouthwatering coffee in this delightful pastel bakery.
Primrose Bakery is full of whimsy, and the cake flavours range from standard to inspired (yes, cocktail cupcakes, we're talking about you). They also have gluten-free and vegan options for discerning clients, which are so good that you'll barely notice the difference.
Tip: Travel a little further to neighbouring Camden and try these amazing activities.
The Little One
Primrose Hill
Who would've thought some of the best coffee in north London comes from such a tiny establishment?
No matter, because there's pavement seating for caffeine seekers to nurse their cup of liquid joy at this little gem. People come to The Little One for the crepes and the coffee, and they don't leave disappointed. Their cheese pastries are a big hit as well.
Best Coffee Shops in South London
Federation Coffee
Brixton
Located near the Brixton Market, this little gem doesn't seem like much on the inside.
The decor isn't too fancy, but a good honest cup of coffee requires no environmental embellishments. And that's exactly what Federation Coffee serves in abundance: really fantastic coffee. Plus… the lack of power outlets means fewer digital nomads are able to hog the small space.
This makes it the ideal café to sit back and enjoy the best things in life: small talk and small sips of java goodness. Their coffee-soaked banana bread is rather good too.
Tip: Visiting Brixton for the first time? Take a look at our Brixton area guide.
KataKata
Brixton
Walking into this vegan coffee shop in London feels like a warm embrace.
KataKata exudes bright and colourful energies, and its exquisitely crafted vegan dishes will have even the most hardcore meat enthusiast in thralls of culinary delight. The crepes in particular are divine.
The coffee is similarly impressive, featuring rich, dark aromas that strong coffee lovers will adore. What's even better is that you can have any milk alternative you want to go with it.
Kiss the Hippo
Kiss the Hippo is the place to go for an excellent brew in Richmond. It's hard to find a local who doesn't rave about their tasty coffee and desserts.
The adorable foam art adds to the experience, from sweet fleurettes to seahorses and monkeys gracing the tops of their foam-capped lattes.
The decor and menu are simple, but who needs fancy flourishes when the coffee speaks for itself?
They even host coffee-making classes, so you can become a brewmaster yourself.
Best Coffee Shops in West London
The Tin Shed
If you're looking for cute coffee shops in London, Notting Hill should be the first pitstop on your list.
The area itself is a feast for the senses, so naturally the coffee shops must also keep up appearances (and tastes).
The Tin Shed won't disappoint, with classic espressos and flat whites to satisfy even serious coffee drinkers, and food that is downright phenomenal.
The garden patio is a big pull for patrons as well—who wouldn't want to enjoy their brunch in a picturesque little courtyard?
Tip: Spending the day in the area? Here're some of the best things to do in Notting Hill.
Coffeeology
Hammersmith
This is a little café with a big heart. The interior is inviting and cosy, and they have a decent array of appetising cakes and brunches on offer.
Coffeeology's speciality brew easily ranks with the best coffee in West London because the taste is simply sensational.
They use Allpress beans to create their captivating taste and emphasise how dedicated they are to creating the perfect artisanal coffee experience for you.
It's no wonder it's a firm favourite in the neighbourhood.
London Cafe Guide: Map
Discover More Coffee Shop London Guides