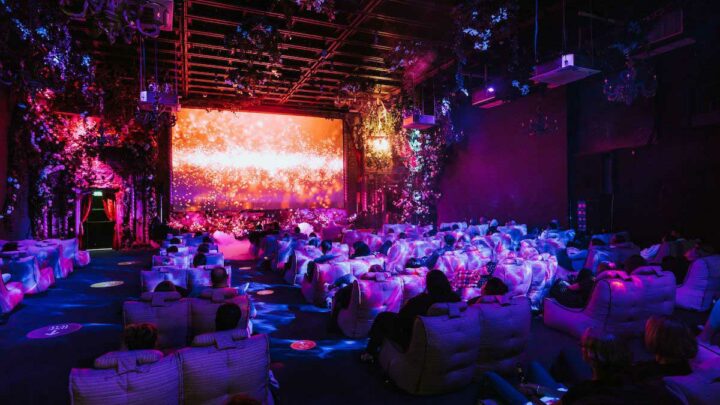 Looking for the best cheap cinemas in London? There's no need to break the bank at these brilliant spots.
A trip to the cinema is always exciting, but not if the price tag for your seat is hefty, right? It's time to ditch the big named cinemas and head to small independent cinema houses and support local businesses at the same time.
Whether your cinematic preferences are for arthouse, classic films, foreign language films or Hollywood releases– one of these cheap cinemas in London is sure to hit the spot.
Cheap Cinemas in London
Prince Charles Cinema
Prince Charles Cinema is the last independent cinema still operating in the cine-famous West End. This repertory cinema shows a rotating programme of cult, art house and classic films as well as recent Hollywood releases.
Prince Charles Cinema prides itself on being the only indie cinema in the West End and with that comes the repertory film nights Monday through Thursday, linking genres, actors and directors shows in 35mm. You can also enjoy sing-a-long events and marathon movie nights at Prime Charles Cinema.
This cinema is so old school you'll even find ushers in your film screening– it makes for an exciting cinematic experience.
BFI Southbank
One of the top cinemas in the UK, BFI Southbank specialises in seasons of classic, independent and non-English language films. Operated by the British Film Institute, BFI Southbank has four screens open seven days a week at its scenic riverside location.
The cinema also hosts the highly anticipated BFI London Film Festival showcasing 300 films, documentaries and shorts– it's a cinematic experience you won't forget in a hurry.
Don't forget to swing by the BFI Riverfront bar and restaurant for pre or post film snacks, it boasts views of Waterloo Bridge and The Thames.
Peckhamplex
Peckhamplex is a multi-screen cinema showing the latest blockbusters and 3D films– it's the best cinema for cheap cinema tickets in London. In fact, all tickets are just £4.99 all day every day, so what are you waiting for?
This independent cinema was converted from a supermarket in 1994 and has shown commercial, mainstream, independent, art house and foreign language films ever since. Its small price tag has remained unchanged everyday for more than a decade.
Peckhamplex also hosts Peckham and Nunhead Free Film Festival, the Young Filmmakers Competition and Peckham Film Festival– it's a well loved venue in the art world and beyond.
Backyard Cinema
Wandsworth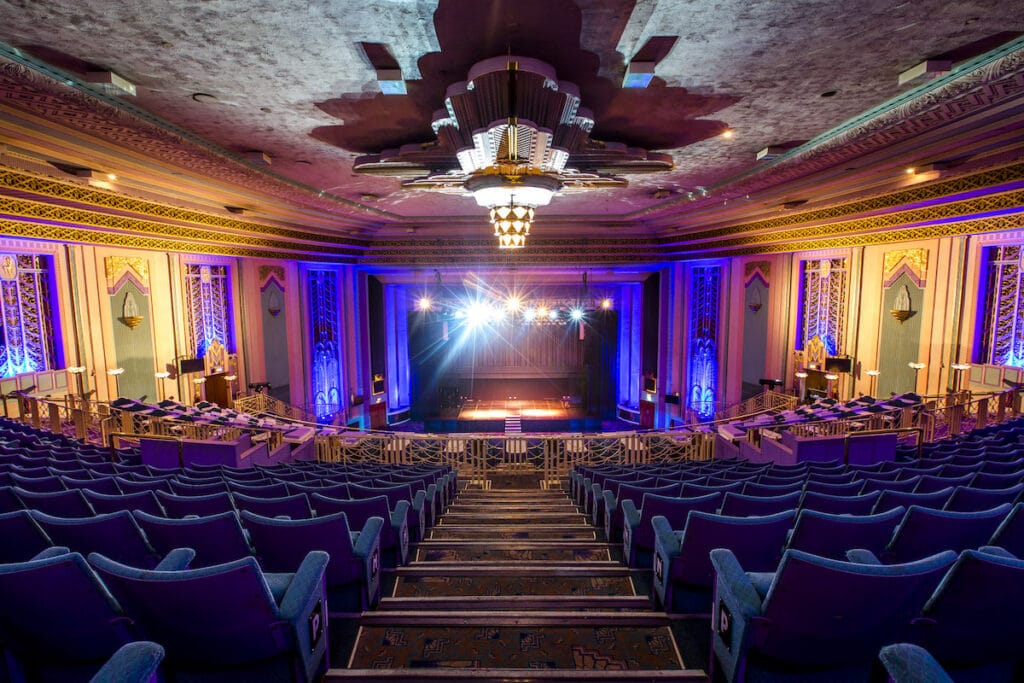 Backyard Cinema takes London venues and turns them into immersive cinema experiences– it once held screenings at Mercato Metropolitano.
Now in its permanent home, the iconic Wandsworth Studios– Backyard cinema has transformed it into a cinema lovers playground.
Choose from two themed movie theatres, the Studio Bar, The Annex and The Yard serving themed pizzas and Argentinian steak sandwiches.
There's also a sand-filled Indoor Beach Cinema with a flamingo bar serving palm tree cocktails– kick back on the Miami shores and enjoy the show. You won't find anywhere else in London like this, and especially not with cheap cinema tickets for a themed showing.
ArtHouse Cinema
An intimate two-screen cinema housed in Crouch End's former Salvation Army Hall, ArtHouse is your neighbourhood cinema.
This dynamic cultural venue may be small– but its ideas are larger than life and challenge the status quo. Class, race, gender, sexuality and religion are celebrated through the medium of film at ArtHouse.
This independent cinema collaborates with actors, directors, writers and filmmakers to bring you new and classic works that reflect our multicultural world.
Monday's are the best at ArtHouse Cinema, all tickets are just £5 for all showings– you won't want to miss this cinema deal in London.
The Lexi Cinema
Kensal Green
Lexi Cinema is run by volunteers with strong links to its local community and a charity project in South Africa.
Giving 100% of its profits to charity, this single-screen cinema shows a mix of arthouse, blockbusters and foregein films. Lexi Cinema also hosts Q&A events with filmmakers giving an in-depth insight into the film world through lively discussions.
Don't forget to stop by the Lexi Bar before your showing for sweet and salty snacks, beers, wines and more.
Head to Lexi Cinema for cheap cinema tickets on Mondays, all showings are £7 all day long. Tuesday through Thursday before 5pm, tickets are just £8 if you fancy an early screening.
Phoenix Cinema
Finchley
Phoenix Cinema on Finchley Road opened in 1912 as East Finchley Picturedrome– and it's now one of the oldest continuously running cinemas in the UK. This retro cinema is worth a visit with the likes of Benedict Cumberbatch, Dame Judi Dench and Maureen Lipman as patrons.
Showing mostly arthouse cinema, this single-screen independent cinema also showcases opera, theatre, ballet & dance and art live– stop by Phoenix Cinema for anything arty.
On Monday's at Phoenix Cinema, tickets are just £7 all day long and Tuesday through Thursday tickets are only slightly more expensive before 5pm.
The Castle Cinema
Passionate about films? So is this crowdfunded community cinema on Chatsworth Road.
The Castle Cinema's Hackney location is over 100 years old and many of its original features still remain inside. It started out as a single screen cinema then a bingo hall, a shoe factory and a snooker club– and now back to its cinematic roots.
Its art deco bar with elegant marble chairs is a great place to hang out before your film, and inside the boutique cinema room you'll sit on retro hotel seats underneath a curved ceiling with fancy gold plasterwork.
The Castle cinema shows circa-1913 movie house screening features and independent films, and is one of the cheapest cinemas in London– Mondays screenings are just £6 all day long.
Cine Lumiere
South Kensington
Interested in watching forgein language films? Cine Lumiere showcases contemporary French, European and world cinema.
Part of the French Institute, this art deco cinema shows French classics on Sundays and has a packed schedule of classics, new releases and special screenings week in week out.
Named after the Lumiere brothers, Cine Lumiere is a cheap cinema in West London to immerse yourself in French cinema with likeminded people.
Genesis
Bethnal Green
Inside a renovated 19th Century building is Genesis, an arthouse cinema. Showcasing blockbuster and independent films across five screens and making arthouse cinema accessible for all.
Genesis also hosts film festivals, Q&A's, poetry slams and more.
Visit Genesis on a weekday, all screenings are considerably cheaper than weekend showings.
If you do fancy treating yourself, book seats in the luxurious Studio 4 or Studio 5 and watch your film in style in one of the comfy armchairs with blankets and footstools. Genesis has all your snack cravings covered too, from pizzas, light bites, cocktails and beers– perfect for pre or post show.
Rich Mix
Rich Mix is East London's home for culture and creativity. This dynamic community arts hub for film screenings, art shows and spoken word performances really champions diversity.
Located in the culturally diverse Shoreditch, Rich Mix showcases independent films and blockbusters across its three-screen cinema.
Accompanying your cinema trip, Rich Mix's Cinema Bar affordable drinks, gelato, small plates and lite bites. The Cinema Bar also serves sweet and salty popcorn and other savoury snacks so you can crunch your way through your film screening.
Stratford Picturehouse
Stratford
Inside Stratford Centre is a cheap cinema in London showing mainstream to forgein films across four big screens.
Stratford Picturehouse is run by a leading UK film company combining cinema and home entertainment. This cinema is a landmark building winning numerous architectural awards. Stylish, light and airy and a focal point for the local community and alike.
Tickets are £7 all day everyday at Stratford Picturehouse with your choice of the latest blockbusters, forgein films and the occasional classic. The picturehouse also shows Opera and theatre shows.
Snacks are covered here– head to the bar serving alcohol, sweets and salty savoury treats.
Rio Cinema
Dalston's Rio Cinema is a Grade-II listed art deco cinema house. Rio's history is rich and spans 112 years– first starting out as ones of London's very first cinemas. It was even bombed in WW2, but luckily it was restored to retain its iconic art deco interior.
Rio Cinema is now recognised as an iconic landmark, for both its blue and pink art deco exterior and its quirky film showings.
This cheap cinema in East London offers cheap Mondays, Double Sunday Bills– two films for the price of one and matinee showings before 5pm Tuesday through Friday.
Practical Tips for Booking London's Cheapest Cinemas
To avoid disappointment, always book tickets online for your film screening. Make sure you select tickets that sit together for you and your whole party.
Check for deals, a lot of cinemas have cheap Mondays or cheaper showings before 5pm.
A lot of the cinemas offer memberships– if you think you may become a regular this will save you money in the long run with lots of free tickets up for grabs.
Check if you're allowed to bring your own food in– most cinemas have snack bars with refreshments and some do not allow outside food into the venue.
Cheap London Cinemas: Map
Cheap Cinemas in London: Discover More London Entertainment Guides