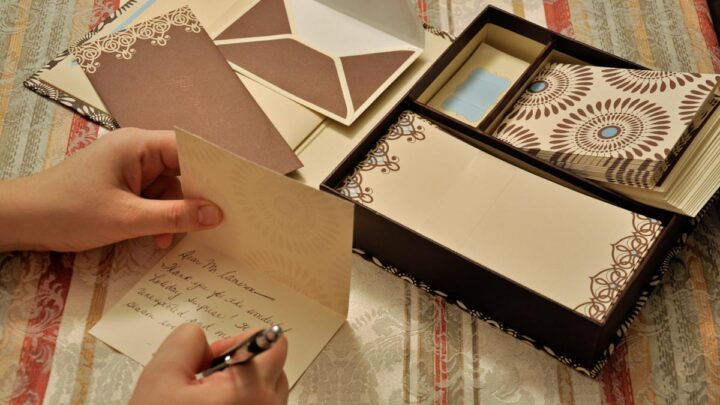 Tired of the same old boring stationery? Head to these cool London stationery shops.
Best Stationery Shops in London
Choosing Keeping
Choosing Keeping – a beautiful Shoreditch stationery shop is just a few metres from the Columbia Road flower market. This quaint store has an extensive selection of desk accessories and stationery, from office paperweights to art supplies and patterned notebooks.
The brick-and-mortar shop is open every day (except Mondays) from 11:30 am to 5:30 pm.
21 Tower Street, Hackney, Shoreditch WC2H 9NS
Present and Correct
Present and Correct is ideal for the minimalist. This quirky stationery shop's designs are simple yet have a vintage feel to them. This retro shop will have you feeling nostalgic for the 60s and 70s. Find a cylinder flip clock or vintage stamps and envelopes.
Present and Correct is open every Tuesday to Saturday from 12 pm to 6 pm. If you'd like to avoid the rush, you can also buy a few stationery needs at their online store.
23 Arlington Way, Angel, Islington EC1R 1UY
London Graphic Centre
London Graphic Centre is a Stationery Shop in Covent Garden for the future David Hockney or Banksy. This two-story stationery shop in London has all the art stationery and supplies a novice or expert artist in any medium could need.
London Graphic Centre is open Monday to Saturday from 10 am to 6:30 pm. On Sundays, it's open from midday to 5:30 pm. If you're not in London, you can still order from their online store.
16-18 Shelton Street, Covent Garden, WC2H 9JL
Lead Tin
Lead Tin is an art supply and stationery store in London's Battersea. Products from all over the world line their shelves, including Austrian, Swiss and Japanese stationery.
Aside from the great art supplies, you can also stock up on stationery like notebooks, planners, and pens.
The shop hosts a variety of workshops for aspiring artists, such as drawing, knitting, candle making, and sculpture, among others. Lead Tin opens Tuesday to Sunday from 10 am until varying times in the afternoon.
If you love visiting art galleries in London, drop by their sister shop, The Last Supper Art Gallery, a few metres from Lead Tin.
36 Webb's Road, Battersea, SW11 6SF
Mount Street Printers
Mount Street Printers has been fine printing since 1989. Today, they not only print but also sell stationery in London. Buy from their selection of prints or take advantage of their in-house printers and customise your stationery.
Their stores are open Monday to Friday from 8 am to 6 pm. On Saturdays, they open a bit later at noon and stay open until 6 pm. You can also order their products online directly from their website.
4 Mount St, London, W1K 3LW
The Journal Shop
Shoreditch
The Journal Shop opened after the owner took a trip to Japan. Inspired by Japanese craftsmanship, the owners have brought that same philosophy with them to London through The Journal Shop's storefront.
This shop specialises mainly in journals, bullet journals, notebooks, and planners, which perfectly fits the name. There's no more need to scribble on loose papers and sticky notes. The journal shop has your back.
2, Unit 6, BOXPARK, 10 Bethnal Green Rd, London E1 6GY
Pemberly Fox
Posh stationery is London's forte, and Pemberly Fox is where all Londoners come for a pencil bag restock. Choose from their elegant, ready-to-write collections or personalise your stationery set.
Looking for something blue and something new? Pemberly Fox is especially popular with brides-to-be. They have excellent wedding stationery and invitation packages and take care of everything from table cards to menus and thank you cards.
The only thing they won't give you is something old.
Worlds End Studios, 132-134 Lots Road, London SW10 0RJ
London Stationery Shops: Map
Looking for More London Shopping Guides?